Bar Exam
Raise a glass as we toast to the best watering holes in the region.
Baltimore is known for the illustrious corner bar—the comfy dive down the block where the Natty Boh is always cold and everybody knows your name. But the city's nightlife scene has boomed in recent years, resulting in upscale lounges, energetic music venues, trendy wine bars, and down-home bistros. We decided to cover all that ground and give you the region's 25 best bars, from Hunt Valley to Annapolis and everywhere in between. Plus, we name the 10 best happy hours, offer a rundown of the city's burgeoning wine bar scene, urge you to drink local, and hear from some area writers about their favorite haunts (and how Ernest Hemingway fits into all this). So raise a glass as we toast to the best watering holes in the region.
Bertha's
Fells Point
When we convened a meeting to hash out this list of Baltimore's 25 best bars, we held it at Bertha's. The iconic Fells Point pub was nearly empty when we walked in after work (yes, after work), and it took our pupils a moment to adjust from the bright September sunshine to the comforting dimness inside. As we discussed the contenders over drafts, the bartender and patrons didn't hesitate to jump in and offer their two cents. Only the moose head hanging on the wall remained silent. By the time we finished, several empty pint glasses, a plate of mussel shells, and the meat of the list you're now reading sat on the bar in front of us. Happy hour, as it's apt to do at Bertha's, had subtly morphed into night, and the joint was now hopping. As we made our way out, the jazz trio was in full swing, and the soulful sounds flowing from a stand-up bass and saxophone followed us onto Broadway. One down, 24 to go. 734 S. Broadway, 410-327-5795.
B&O American Brasserie
Downtown
Many hotel bars tend to lack their own identity—they're merely extensions of whatever Sheraton or Hilton they're attached to. Not so with B&O American Brasserie, the bar/restaurant adjacent to the new Hotel Monaco. The low lit, railroad-themed space is the perfect escape after a hard day's work in the city. While smooth jazz lightly plays over the speakers, burrow into one of the oversized leather chairs at the bar, where former Ixia staff mix creative cocktails. Try the Manhattan—the secret ingredient (maple syrup) adds sweetness that complements the bourbon. In between drinks, munch on pork croquettes, meatball sliders, or one of B&O's flatbread pizzas. But before you return to the cold, windy streets of downtown Baltimore, be sure to sip a warm Washington's Nightcap—a soothing combination of Madeira wine, Drambuie, apple cider, and a candied nut garnish. The drink is fancy, but comforting, just like B&O itself. 2 N. Charles Street, 443-692-6172.
The Brewer's Art
Mt. Vernon
Above all the chic and ultra-hip spaces in the country, The Brewer's Art was recognized by Esquire readers as "America's Best Bar." Most befuddled of all was the bar's staff, writing on their website, "Uh…we're #1?" It's that sort of national recognition, and subsequent down-to-earth response, that does make Brewer's one of our favorites. Once inside, you see two different worlds come to life. In the upstairs bar and restaurant, with its museum-like design, lawyers and artists alike sip on goblets of the bar's house-brewed ales, like bitter Resurrection. Patrons can snack on Brewer's famous rosemary garlic fries, while sitting at a window table and watching Mt. Vernon foot traffic pass by. But head downstairs to the bar's cavernous basement and you'll find hipsters sipping Natty Boh cans and couples talking intimately in one of the nearly pitch-black rooms. The real fun happens in the enclave to the right of the bar, where miscreants seem to congregate and drink into all hours of the night. 1106 N. Charles Street, 410-547-9310.

Cat's Eye Pub
Fells Point
Cat's Eye Pub is the kind of place that out-of-towners hear about and travel to Baltimore to experience. There's always an amazing band on stage, anything from zydeco and classic rock to blues and reggae. It's the sort of place where the guy next to you will buy you a drink—just because. And the bartenders (a lot of whom have been there for more than a decade) are not only known for their generous pours, but also their inviting attitude. Since Cat's Eye sees so many non-natives inside its walls, the bar wants to represent Baltimore well: We're kind of a mess (flags, pictures, and ships on the walls), the bar seems to say. We're really friendly. (Expect to know everybody's name by the end of the night.) And we just want to have a good time. (The dancing never stops.) Next time you have friends in town, instead of going to the Inner Harbor or a touristy crabhouse, take them to Cat's Eye—then they'll really know what Baltimore is all about. 1730 Thames Street, 410-276-9866.
Club 347
Downtown
Calvert Street downtown is almost eerily quiet on a Monday night, the working masses long gone, until you walk through the open door of Club 347. Instantly silence turns to funk, and the deserted block becomes one of the liveliest spots in town. It's a low-maintenance place with a few fried finger foods on the menu, basic alcohol behind the bar, and soul on the stage. Not every night features live music, but the Monday night jazz jam brings a reliable procession of talented guitar players, bassists, drummers, keyboardists, saxophonists, vocalists, and even the odd spoken-word performer. They look out from the stage to see a diverse crowd sitting around circular tables or at the corner bar, most nodding their heads or tapping their toes. When one band stops, the calm buzz of the crowd fills the room until the next starts. Inside Club 347, it's never silent. 347 N. Calvert Street, 410-591-5855.

The Club Charles
Station North
We have a love-hate relationship with Club Charles. On the one hand, we love its Art Deco by way of Twin Peaks décor, its eclectic jukebox, and its let-your-freak-flag-fly ethos. (How many bars do you know that have a trapeze for occasional aerial performances?) On the other hand, it can be a little intimidating to enter this bastion of cool where everyone's hair is always perfectly disheveled and jeans exquisitely distressed. Walking the gauntlet is worth the anxiety, though, because Club Charles is, underneath it all, a very good bar. The drinks are strong but still drinkable and the vegetarian-friendly bar menu surprisingly tempting, even to carnivores. Plus, if you happen to come on a night when next-door Zodiac is hosting a free dance party, you'll be hard- pressed to find a more entertaining spot in the entire city. 1724 N. Charles Street, 410-727-8815.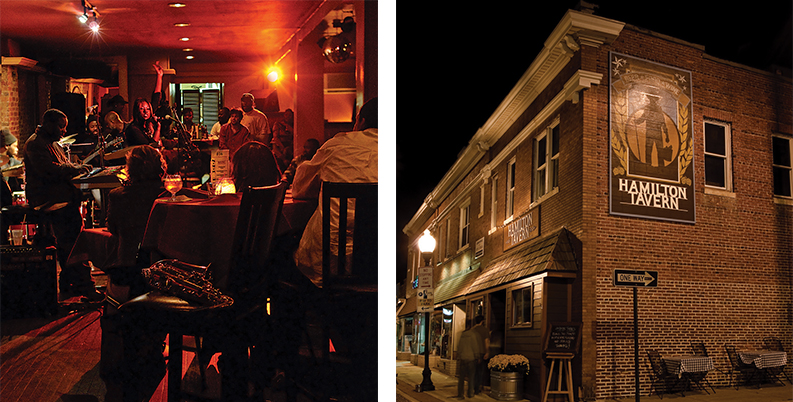 Five
Timonium
In a very unassuming shopping center off Padonia Road lies the fine-dining establishment Christopher Daniel. Even more modest is its attached bar. On the one hand, Five is an everyman kind of place, with a picture of the Natty Boh man scrawled on the specials' chalkboard and face-painted fans cheering during Ravens games. But don't let its casual vibe fool you. Cozying up to Five's three-sided bar are a lot of Baltimore County well-to-do's dining on Chilean sea bass or filet mignon. But one thing that everyone at Five can appreciate is the drink menu—creative cocktails, a variety of crushed iced drinks, and a very reasonably priced (and extensive) beer selection. It's a place where one night you can cheer for your favorite sports team, and the next have a sophisticated dinner with friends. In essence, the bar embodies what's so great about our dichotomous town. 106 W. Padonia Road, Timonium, 410-308-1800.
Hamilton Tavern
Hamilton
Is there such a thing as a wholesome bar? If so, then Hamilton Tavern is it. Step through its heavy oak door and you instantly feel at home—well, if your house came with a full bar and a menu of hearty, fresh pub fare. The sense of comfort is created organically through personal touches and kind gestures. Indeed, the sign hanging behind the bar says, "Be nice or leave"—and it seems people pay heed. One rainy fall evening, we found the Harford Road watering hole three-quarters full of relaxed revelers ranging from recent college grads to retirees. Conversation was lively and the mood buoyant despite the dreary weather. The warm, farmhouse interior (accented by antique farm tools and photos of the owners' ancestors) invites you to sip a little more slowly, listen a little more closely, and enjoy a little more thoroughly. Even the bathrooms are special, with pages from classic novels acting as wallpaper and portraits of famous scribes hanging in the hallway. Clearly, a lot of thought and care went into the tavern's creation—and the city can always use more bars like that. 5517 Harford Road, 410-426-1930.
Hard Yacht Cafe
Dundalk
The bars of Dundalk and Middle River all have the obvious advantage of being on the water—many right in a marina. But the smart ones know not to play up the palm tree gimmick too much, for fear of looking tacky. That's why we like the humble (and a bit hard to find) Hard Yacht Cafe. Tucked away on its own little peninsula jutting into Bear Creek, the bar is a no-frills kind of place: There are usually three beers on tap, surrounding boats dwarf the small building, and the only people there during the week are the regulars. That being said, Hard Yacht pays attention to the important things. The bar has an impeccable crab cake with almost no filler, one of the best orange crushes this side of the Bay Bridge, and entertaining live music every weekend. Plus our bartender made sure to invite us back. We think we'll take her up on that. 8500 Cove Road, Dundalk, 443-407-0038.

Hightopps Backstage Grille
Timonium
It's an ingredient as rare in suburban bars as it is in American Idol contestants: soul. Hightopps Backstage Grille has it. There's nothing cookie-cutter about the place. The large deck out back even has a few couches in front of a fireplace, and on a chilly night, it's moderately crowded with people watching football to the sounds of an acoustic guitarist strumming Jimmy Buffett tunes. Speaking of Mr. Margaritaville, his picture and autograph are plastered all over the place, along with dozens of guitars, photos, and mementos from famous musicians collected through the bar's catering business. A lounge area with pool tables, couches, and a bank of TVs that would make some Vegas sports bookies blush is a prime gathering place for a Ravens game, and the main bar and dining room provide other distinct spots to hang out. As Buffett would say, the place is a real paradise. 2306 York Road, Timonium, 410-560-7101.
Idle Hour
South Baltimore
Walk in and the muted red lights create an instant, am-I-already-intoxicated vibe. Their TVs are turned off most nights, so all you hear are the sounds of old-time jazz and quiet conversation among the men and women drinking at the bar. They're most certainly drinking—not eating—because you're at Idle Hour, and Idle Hour doesn't serve food. Glorious. Drink needn't be distracted by solid sustenance. Order a pickleback, then cringe while the bartender slaps two shots down in front of you, one filled with Jack, the other with pure pickle juice. Don't fret—if you throw your faith into the arms of Idle Hour, it will embrace you back. The pickle juice renders the sometimes sting of the Jack negligible, and your mouth is left with the aftertaste of a crunchy, refreshing kosher dill. Lean back and take it all in for a moment—the bartender's affable conversation, the eclectic art on the walls, and the, uh, creative drink options. What else does Idle Hour have in store? You're going to stick around to find out. 201 E. Fort Avenue, 410-468-0357.
Jerry's Belvedere Tavern
Govans
Some bars are a little rough around the edges—and that's just how we like them. Take Jerry's Belvedere Tavern, as much of a neighborhood institution as the Senator Theatre down the street. A popular place for the college crowd now and back in the '70s, Jerry's is named after its former owner, who now runs Jerry D's Seafood on Harford Road. In those 30 years, not much has changed at the original Jerry's—a bar/restaurant/liquor store combination. The kitchen still serves up home-style meals like meatloaf and hot turkey. The liquor store still stays open until 2 a.m. The chummy, bearded bartenders still pour cheap pitchers. And patrons still play around on the jukeboxes and the 75-cent pool tables. On any given night, you can run into a decade-long regular, a Loyola student sipping a Miller Lite can, or a young couple who lives around the corner. They all come back because of the comfort in the familiar. The owners of Jerry's go by the axiom, "If it ain't broke, don't fix it." 5928 York Road, 410-435-8600.

Little Havana
Federal Hill
El Presidente is watching you. Lean over the shuffleboard, sit at a booth munching a roast pork Cuban sandwich, stroll in from one of Baltimore's best outdoor drinking spots, or just step up to the oval bar to sip a sweet mojito or margarita, it doesn't matter. Wherever you turn in the warehouse that is Little Havana, the gaze of a larger-than-life mural of former Cuban president Fidel Castro seems to follow. On some level, it must be what life was like in Cuba. Almost every night, Fidel presides over one of the city's most reliable party spots. What keeps drawing the masses back? It could be the intensely social scene, which consistently attracts a stream of twenty- and thirtysomethings ready to flirt. It's most definitely the back patio, packed with the euphoric post-work crowd during spring and summer nights. But maybe it's the bartender who cheerfully makes your mojito with Splenda instead of sugar, or the jovial older couple stopping in for drinks after an afternoon sail. During Sunday brunch, featuring a hair-of-the-dog crowd fighting off hangovers by trying to reach the bottom of the bottomless pitchers of mimosas and Bloody Marys, it's everything rolled into one. 1325 Key Highway, 410-837-9903.

Mahaffey's Pub
Canton
People who eschew the Canton bar scene (and we know a few!) generally object to it on the grounds of its "fratiness." Thankfully, there's Mahaffey's—a beacon of relaxed, neighborhoody goodness just one short block from the "dude" and "bro"-centric O'Donnell Square. That one block makes all the difference though, something the bar and its patrons are keenly aware of. (Witness the "Drink outside the Square" T-shirts and sweatshirts the bar sells.) Not that its location is its only distinguishing characteristic. Mahaffey's is known for its eclectic and thorough beer selection, which includes more than 50 bottled beers from Belgium, Germany, England, Canada, and the U.S. at any given time. Plus, there are always more beers to choose from on tap. The warm and welcoming staff at Mahaffey's will help you try every one of them, too, if you so desire. "The 100 Beer Club"—which awards pewter mugs for tasting 100 unique beers—is a true test of beer-drinking mettle. And it doesn't even require a funnel. 2706 Dillon Street, 410-276-9899.
Max's Taphouse
Fells Point
When you say Max's in this town, everyone's first reaction is "beer." Rightfully so, as the bar boasts 70 rotating drafts and more than 1,000 bottled beers from around the world. But Max's has way more to offer. Essentially you can go bar-hopping without leaving the building, as there are three distinct areas to hang out, each with its own identity and atmosphere. There's the main bar room, where twenty- and thirtysomethings tend to mingle, compare brew selections, watch a football game, or play a few rounds of pool. Then there's the second floor, or the Mobtown Lounge, which hosts Max's wildly popular weekly trivia night called Quiz-A-Ma-Jig. Or, you could hang out in the narrow side bar that tends to draw a younger crowd (maybe due to the unabashed karaoke every Friday night). But, inevitably, the draw of Max's comes down to what everyone's drinking. It's a place to be adventurous, yet confident, about your beer decisions. The expert bartenders at Max's rarely steer you wrong. 735 S. Broadway, 410-675-6297.
Mick O'Shea's
Mt. Vernon
This town is full of Irish pubs—some cheesy, some divey, and others, just right. Walking into Mick O'Shea's on a cold, rainy Saturday night, we got a sense that we never wanted to leave. The polished dark wood, Irish punk band on stage, and free-flowing Guinness had us hooked. And we weren't the only ones: There were two wedding parties dancing, drinking, and celebrating their nights away. Mick O'Shea's has plenty of different rooms where you can dine on potatoes or sip some whiskey (depending on your mood) and good-natured bartenders that will recommend a dark stout or cheap appetizer. The best part? You really feel like you're in Ireland, not an American bar just faking it. I don't know whether it was the canopied flags, the raucous music, or the Smithwick's buzz we had going, but we felt transported. Even my friend who had just moved back from Dublin said that the only thing missing was the Irish accents. 328 N. Charles Street, 410-539-7504.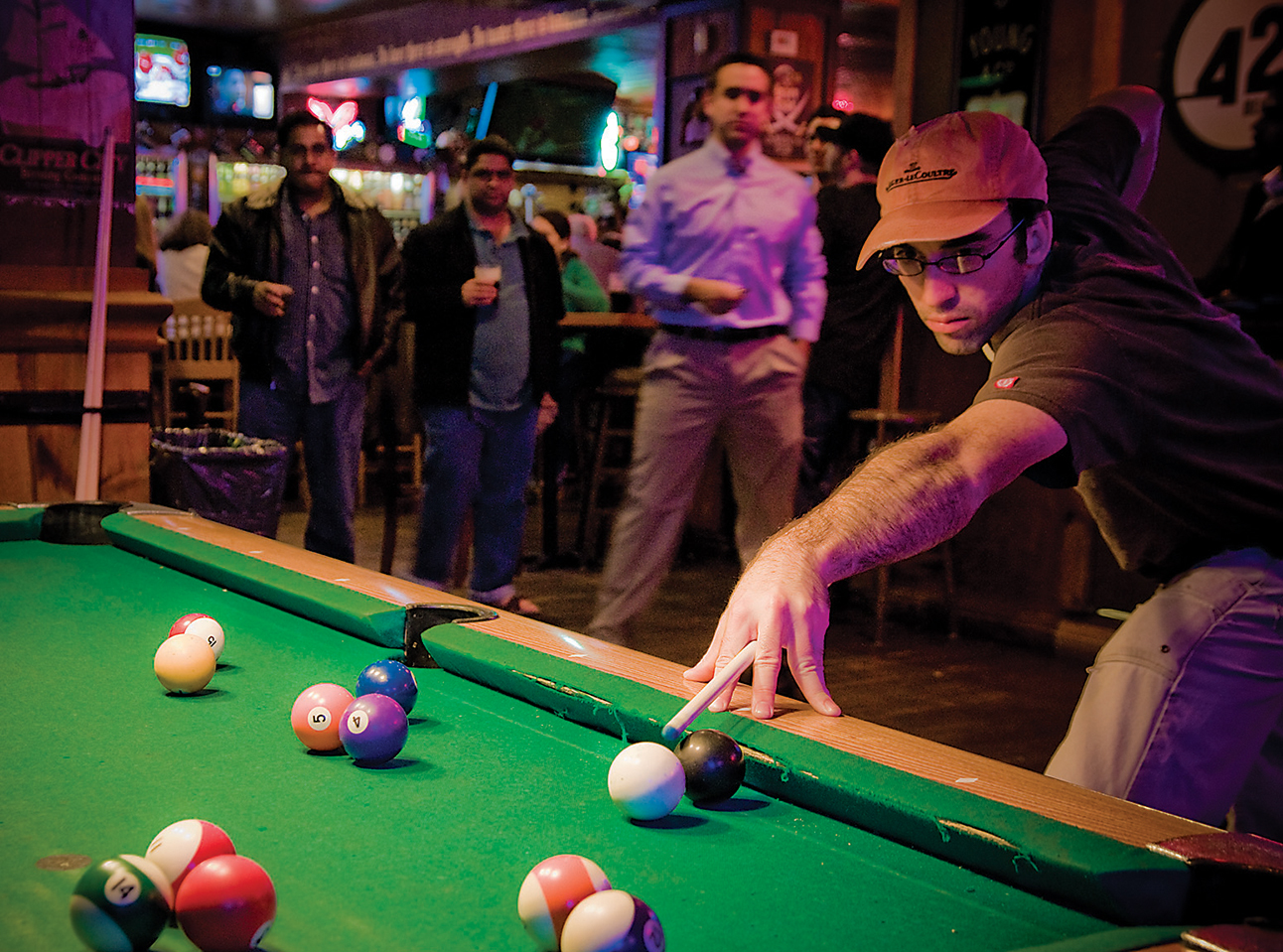 The Oregon Grille
Hunt Valley
Walking into the bar of The Oregon Grille is like walking back in time—when real men wear blazers, bartenders don tuxedos, and scotch is tossed back like water. The bar exudes an intense hunting lodge ambiance with paintings of falconry on the wall and taxidermy looming above you. But don't let the upper-crust feel fool you—The Oregon Grille hasn't forgotten about us regular folks. The bar was offering complimentary sushi when we were there, Monday evenings boast $3 domestics and free hors d'oeuvres (still a little too fancy to say appetizers), and Thursdays you can get $5 martinis and free oysters on the half shell. While saddled up to the bar, just try to outsmart one of the Grille's expert bartenders—they know every cocktail combination under the sun (and which rye whiskey works best). And the house wines are more smooth and sophisticated than the top-shelf vinos at most other establishments. 1201 Shawan Road, Hunt Valley, 410-771-0505.

The Owl Bar
Mt. Vernon
Tucked away in the back left corner of the Belvedere Hotel's elegant lobby is a narrow portal to another world. Photos of Franklin D. Roosevelt, General Pershing, and Richard Dreyfuss(!) line the hallway entrance, but nothing will prepare you for the bizarro renaissance feel of The Owl Bar, which dates back about 100 years, including a stint as a speakeasy. The stained glass windows, ornate masonry, mounted antelope and zebra, and apt decorative owls glowering at you from every corner (including one whose eyes would flash during Prohibition to alert drinkers to a police raid) don't exactly scream "happy hour." But the circular, hanging chandeliers—on which, it seems, a swashbuckler might swing into action at any moment—promise more rousing times. The beer helps, too. The house-brewed Owl Bar Pale Ale and Owl Bar Lager are rich and tasty. And the food, including delicious pizzas—try the crab dip topping—cooked in a brick oven just under the zebra's nose, is hearty and delicious. 1 E. Chase Street, 410-347-0888.
Pazo Restaurant
Harbor East
Pretty girls rule the roost at Pazo, Baltimore's dramatic cocktail lounge. The Mediterranean restaurant—part of the Cindy Wolf and Tony Foreman dynasty—is a chameleon. Come early and the bar stools are filled with business suits and wine drinkers, but with each passing hour the dresses get shorter, the drinks riskier, and the small talk is replaced with flirty banter. The lounge area or cool marble bar is the perfect place to try a crazy-sweet Cotton Candy Cosmo (cotton candy puff included), classic martini, or the bartender's expert wine suggestion (if you can hear over the din). The small-plates menu is ideal for sharing, whether with work friends or a first date—both can be observed on a pretty regular basis. The Neopolitan pizzas (try the sausage with heaps of arugula) are crispy with big flavor while the tapas—like the pretty girls—are showstoppers. 1425 Aliceanna Street, 410-534-7296.

The Pub Dog
Federal Hill
Finding your way down Cross Street on a weekend night can be a lot like avoiding land mines in a battlefield. Drunken revelry creates danger zones everywhere. But sidestep into the low-lit Pub Dog (formerly Thirsty Dog) and you get a sense of immediate calm. It could be the list of its signature fruity beers, the smell of garlicky pizza cooking upstairs, or the extremely friendly (and patient) bar staff. Pub Dog is known by many for its two-for-$4 house craft beers, anything from a peach ale to an Irish stout. But patrons can also throw back a few Grand Marnier shots in between pints. Once satisfied, you can head up to the third floor where shuffleboard is played on a nightly basis or slide into one of the intimate booths on the second floor, where you and yours can have a private conversation over a thin crust. By now, you've forgotten all about the carousing on Cross, just a floor below—but a world away. 20 E. Cross Street, 410-727-6077.

Racers' Cafe
Parkville
This Parkville bar is a staple along Harford Road, though you might not know it from its blink-and-you'll-miss-it location. But once you walk in, you understand its popularity. To our right, a group of middle-aged customers clink their 12-ounce beer mugs together and shout, "Happy Friday," while an older gentleman to our left quietly sips his IPA, occasionally checking the game on TV. Beer is important here. So important, in fact, that the bar has a rotating chalkboard chart that includes 13 beers, their country of origin, and their alcohol by volume. Order any three of the beers listed (by their numbers—kind of like Chinese takeout) for $5.99 during its generous happy hour (10 a.m.-7 p.m.). While there's no food at Racers', it offers the baseball game-style activity of cracking open peanuts and chucking the shells on the black-and-white checkered floors. And you'd expect nothing more from this homey, sudsy neighborhood bar. 7732 Harford Road, Parkville, 410-882-5212.
The Red Star
Fells Point
Housed in a two-story converted warehouse, Red Star is certainly a top contender for Baltimore's best-looking bar. The vaulted, wood-beamed ceilings, the exposed red-brick walls, the cast-iron light fixtures: It all works to create a rustic-chic look that seems both au courant (think Clipper Mill) and timeless. The crowd it draws is similarly stylish, comprised of twenty- and thirtysomething professionals and affluent neighborhood denizens, who often come as much for the upscale bar food as for the libations. To its credit though, Red Star stays unpretentious and welcoming. The gracious bartenders are quick with a pour no matter who you are, and the crowd is equally amiable with large parties often gathering around the lower-level tables and booths. A second bar is housed upstairs in the loft but is generally only used for private parties. That's okay, though, because Red Star possesses enough élan to make any old Thursday happy hour seem special enough. 906 S. Wolfe Street, 410-675-0212.
Ropewalk Tavern
Federal Hill
Ropewalk Tavern is a stalwart Federal Hill establishment that somehow lacks the repute of neighboring bars and pubs like Mother's and MaGerks. We're not sure how to account for that. It might have something to do with its location. It's on a quiet-ish block of South Charles Street, rather than the busy square surrounding Cross Street Market. Or, maybe it can be attributed to its reputation as a Republican bar in a heavily Democratic city. In any event, it's a pub worthy of your patronage, regardless of your political affiliation. First of all, it's huge—three row houses wide and three stories tall with various bars, dining rooms, and game rooms sprinkled throughout. Second, you can smoke there. Ropewalk is one of only two businesses in the entire state to be granted a waiver to the smoking ban. Its third-floor SmokeEasy Lounge is available to patrons anytime during business hours. And that, in a nutshell, is why we like Ropewalk. It is, in so many ways, the exception to the rule. 1209 S. Charles Street, 410-727-1298.
Sly Fox Pub
Annapolis
We've always been partial to basement bars. Something about descending a flight of stairs to drink below the earth's surface makes us, well, thirsty. In Annapolis, Sly Fox provides that fix. Housed below historic Reynolds Tavern, Sly Fox is carrying on a legacy that began in the mid-1700s when the Church Circle building first opened as a hat business, hotel, and "ordinary," as taverns were once known. Bellying up to the small bar or sitting in the dining room of the Fox today, you can feel history oozing from its very foundation. Maybe George Washington sipped a beer here in 1783 before resigning his commission as Commander in Chief to the Continental Army at the State House just yards away. Founding fathers aside, Sly Fox today is a destination for drinkers. With live music a few days a week and an outdoor beer garden adjacent to the pub, it's one of Annapolis's most extraordinary ordinaries. 7 Church Circle, Annapolis, 443-482-9000.

The Wharf Rat
Fells Point
Not long ago, Fells Point was seen as slightly disreputable—a neighborhood for watermen, winos, and weirdos. Gentrification has brought a more sanitized crowd to Fells to live, work, and play; and while we (mostly) agree that this is a good thing, there are times we miss the old Fells Point. That's why we like The Wharf Rat so much—it bridges the old and new. The 22-year neighborhood stalwart maintains the individuality that brought people here in the first place minus the seediness that often accompanied it. Though low-ceilinged and cluttered with decorations (Christmas lights, beer coasters, nautical lanterns, pewter mugs, and a British phone booth, to name but a few), the interior somehow manages to come off as cozy rather than confining. (The working fireplace in the back helps.) The staff can be brusque, but that's part of the charm, too, as is the anachronistic cigarette machine in the poolroom. The bar's Camden Yards-adjacent sister pub/brewery was sold last year, but the Oliver Ales it brewed can still be found on tap, which is a relief. The less The Wharf Rat changes, the better. 801 S. Ann Street, 410-276-8304.
---
My Hometown Haunt
Grown-Up Paradise
By Stephen Hunter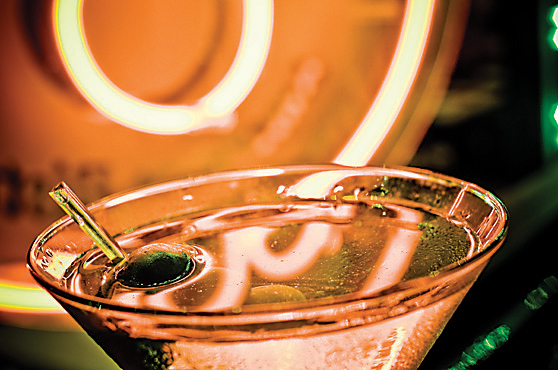 Hemingway has a story called A Clean, Well-Lighted Place, which offers a sense of the bar as a respite from a world of cruelty, dishonor, random violence, and war. I agree with that, but still I go for the hooch. And the hooch I go for most usually is thrown together by Kevin, the barkeep at Regi's, a redoubtable Federal Hill joint where I've been taking my wife—The Sun's Jean Marbella—for years for our customary two drinks (or three?) negotiation. The subject used to be wine, which Regi's serves in little decanters that hold a bit more than a glassful, giving one a clean, well-lit sense of plentitude and cleverness, having acquired an extra few ounces for the money. But of late, I've switched allegiances and now go for Kevin's interpretation of the vodka martini. I don't care if it's shaken, stirred, or poured into an orange juice jug and dragged behind a car for a block or two. What I like is the clarity of the liquid, its biting astringincy and nostril-clearing piercingness, its olive-intense sense of a separate universe, and its slow licorice glow, oozing ultimately all the way to my fingertips. When the last digit on your left little finger feels fine, Jack, you are in grownup's paradise.

Is this the best vodka martini in Baltimore? I can't really say. Is Kevin the best bartender in Baltimore? I can't say that either; he's a decent guy, coaches a soccer team, and remembers names as well as any politician, a bartender's gift. But he makes a hell of a martini, that I know for sure, and Regi's is as amiable a place to sip one or seven as you'll find. I'm passing on more glamorous spots, like the swank digs at Sullivan's or the old-school burnish at Morton's.

What I also like about Regi's bar is its low-key ambience. There doesn't seem to be much of a meat-market dating scene and it hasn't been commandeered by members of that tribe of unknowns called the young, though they're as comfortable there as anyone. No one's on the cell phone shrieking orders like "buy, buy, buy," and there don't seem to be any poets around. (Hint: Stay out of bars that attract poets.) You're not in the waspy enclave of the city where everybody went to Princeton or Virginia, there's no baffling LAX stix on the wall, or photos of Johnny U. launching another nuclear strike. You're in Federal Hill, where people just laugh at that kind of thing, and enjoy lives lived well, simply, and with grace, which is enough for me. As is Kevin's clean, well-lighted (from within) vodka martini. Regi's American Bistro, 1002 Light Street, 410-539-7344.

>>Stephen Hunter is a novelist, essayist, and a Pulitzer Prize-winning newspaperman, having been the film critic for The Sun and The Washington Post.

Blue and Unfrenzied
By Mary Jo Salter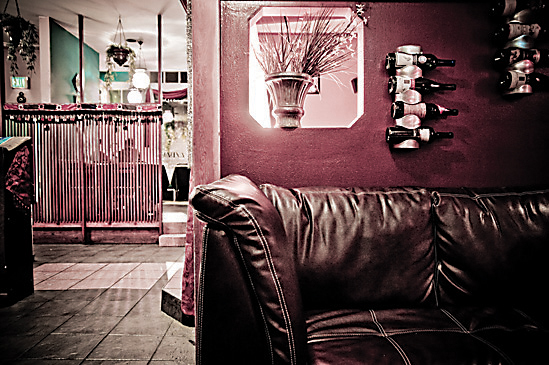 Go there for the food. Go for the feeling you're in Turkey—mysterious Turkey. (The other night, the TV at the bar was showing a riveting, though low-volume, Turkish melodrama with somewhat helpful English subtitles: "You look at me, blue and unfrenzied," declared one lover to another.) Go to Mt. Vernon's Cazbar for the amiable service, the deep red and turquoise décor, the choice of gold-backed seats at the bar, a conventional dining table, or one of the two candlelit niches with comfy leather couches.

Into a Cazbar couch is where my husband and I often sink after a hard—or at least harried—day at the office. We used to race to find a free parking spot after 5:30, but before happy hour ended at 6. Now happy hour is no more, but a frequent diner program, in many ways better, is in place: I'm texted with specials and discounts.

Don't go to Cazbar ("Baltimore's first and only Turkish restaurant") if you need an upscale cocktail to be happy. Cazbar is probably not for the serious drinker—but just right for the silly drinker. You're probably a silly drinker if these "specialty" concoctions sound enticing: the BlueBeri Pie, the Turkish Coffee-Tini, the Woo Woo Tini. And you may be a silly drinker if you enjoy watching the occasional customer get up to imitate the belly dancer who gyrates on weekend nights.

My advice is to pay a weekday visit and order a glass or two of wine, which might be one of the reliable Turkish house wines: Cankaya (white) or Yakut (red). The food comes fast, and it's fresher and more scrumptious than at many pricier places. I've never eaten better falafel. That's one of many hot or cold "meze" (appetizers) which can be combined to make a full meal at Cazbar—probably the best way to take advantage of its long, tempting menu. We like the spinach and artichoke dip, the stuffed grape leaves, and the cold feta plate. There's a shredded carrot meze that successfully blends zucchini, walnuts, and yogurt. Practically anything Cazbar serves can and should be eaten with the hot, fluffy pita. And that includes the delicate stuffed eggplant dish called "Imam Bayildi"—translated as "the priest fainted."

Conveniently, you have your fainting couch right there. Cazbar, 316 N. Charles Street, 410-528-1222.

>>Mary Jo Salter is a poet, playwright, co-editor of The Norton Anthology of Poetry, and a professor in The Writing Seminars program at The Johns Hopkins University.

Sunlight Gazing
By Felicia Pride
I'm not your typical watering hole type of girl. These locales usually don't have any savory white wines and the surroundings are often, well, hole-like. What I am, on a good day, is a writer, who by default is also rather antisocial. I frequent places that act as an office during the day and moonlight as a hangout where I can still write until the place closes.

There's something very calming about the Harbor East eatery Teavolve that doesn't feel at all manufactured, although I know it's the result of the lounge music that's usually playing (I've heard lots of Sade there), the warm color palette that decorates the walls, the open airiness, and the soft lighting.

I usually grab a table by one of the floor-to-ceiling windows so I can procrastinate by people watching or sunlight gazing. If I'm feeling hip, I'll plop down on one of the comfy leather chairs. Yeah, it's a prime date spot, too.

There are occasions when I like to achieve a little buzz while working; blame it on writer's block. Even though Teavolve doesn't house one of those traditional bar areas where people feel really good or really bad as they chug liquor while sitting on back-wrenching stools, you can still indulge well and cheaply, especially during happy hour. You just do it sophisticatedly by ordering drinks like tea-infused white sangria or organic pomegranate white tea rum.

Teavolve also embodies an eclectic, post-racial vibe that makes it a great place to meet clients, who as a result of my selection of such a "trendy" location, think I'm in the know. I never tell them that I was first attracted to the spot because of the free Wi-Fi. There, diversity is comfortable and natural, which in Baltimore isn't as easy as it should be. On any given day, I can be seated around a multicultural assortment of stylish professionals, easygoing students, serious businesspeople, modern hippies, and young families.

On those rare nights when I try to avoid the all-work curse of The Shining, catch me satisfying my music fix. Push some tables and chairs away and Teavolve turns into a performance space. I've seen several dope artists—known and unknown—rock the house. Teavolve Café and Lounge, 1401 Aliceanna Street, 410-327-4832.

>>Felicia Pride is a writer, speaker, and author of books for adults and youth. She's also the book columnist for The Root and a frequent contributor to Publishers Weekly.

Island of Misfit Toys
By Madison Smartt Bell
The Laughing Pint is in its fourth year on the corner of Gough and S. Conkling Street, and in that time has made it through the smoking ban and the worst depression since the 1930s—two factors that can hit pretty hard in a neighborhood like Highlandtown. The bar now offers an attractive, secluded, jardin fumeur (heated in season by one of those Parisian lamppost stoves), a handy amenity given that Baltimore's finest, in the first days of the ban at least, liked to sweep up outdoor smokers for loitering. In good weather, a string of iron tables on the Conkling Street sidewalk now justifies the presence of LP customers, and you can be very well fed there too, from a kitchen open at 5:30 weekdays, and Saturdays from 3 p.m.

Inside it's what Hemingway once called "a clean, well-lighted place"—not too bright, mind you, but with a cheerful ambiance and so immaculate you could eat off the floor. The small space radiates a wholesomeness that's quite unusual for a spot people visit to consume habit-forming beverages. Or maybe they come for some other reason. Proprietor Shannon Cassidy runs the place as much like a salon as a bar. There's pool, Ping-Pong, drawing contests, and regular shows by local artists. Shannon is the sort of person people tend to follow around, from The Club Charles, where she presided over a floor just a little bigger than this one, through Gardel's Supper Club, which was more on the scale of the Titanic, to this corner where she finally gets to run her own show. Against the odds, she still looks a graceful twentysomething, maybe just a little wiser for the years.

"It's the island of misfit toys," a reporter overheard her say, nodding her head in fondness for the clientele she's built up over three years—a group of all sorts that seems to fit together just fine. In fact there's something in the air or the taps that makes people want to be their better selves in here. This reporter has seen a lot of good times in The Laughing Pint (and has seen at least one fight not happen because the drunken belligerents didn't want to look stupid in front of Shannon) and has walked out of the place on more than one occasion thinking that some people really do have an aura, and some people's aura is big enough to push back the dark from the walls of a corner bar. The Laughing Pint, 3531 Gough Street, 410-342-6544.

>>Madison Smartt Bell is the author of 14 novels and has taught in Goucher College's creative writing program since 1984. He is also director of the college's Kratz Center for Creative Writing.
---
10 Best Happy Hours
This beloved after-work tradition can now be enjoyed anytime, any day, and anywhere. So we thought we'd narrow it down for you:

■Baltimore Pho / When to go: Weekdays, 4-7 p.m.
There's nothing like a nice glass of wine to warm your stomach this time of year. At Baltimore Pho, top off the vino with some classic Vietnamese pho (pronounced "fuh") soup. Or pair a lychee surprise with a cucumber melon margarita or pomegranate peartini. All of the chic-but-homey Hollins Market restaurant's mixed drinks are $2 off, along with $1 off most beers and $1 off wine. Plan ahead and call some friends: parties of six or more get free happy-hour appetizers with reservations. 1116 Hollins Street, 410-752-4746.

■Blue Hill Tavern / When to go:Tuesdays, 4-7 p.m.
Everyone in town has been raving about Blue Hill Tavern since its summer opening. But besides its lovely design and diverse menu, the tavern has an energetic bar scene. Whether you're drinking at the downstairs bar (with its cascading waterfall) or on its balcony in warmer weather, the drink menu is sure to impress. There's the ironic "new old fashioned," refreshing blueberry sweet tea, and classic Blue Hill mojito. Even better, go on a Tuesday and you get 25 percent off your entire check. 938 S. Conkling Street, 443-388-9363.

■Jack's Bistro / When to go: Saturdays, 11 p.m.-1 a.m.
This great little corner restaurant only seats a handful at the bar so it always has that packed-house vibe. Not one, but two happy hours make it everyone's friend—the ones who want to be home in time for 30 Rock and the ones that prefer to stay out until the wee hours. Don't leave without eating something sous vide and without drinking the Shandy—a bizarrely delicious beer cocktail. 3123 Elliott Street, 410-878-6542.

■Nick's Fish House / When to go: Fridays, 2-7 p.m.
On a pristine Friday afternoon in Baltimore, there's no prettier spot for happy hour than Nick's. Fair warning: You won't be the only one to whom this thought has occurred. The deck over the Middle Branch of the Patapsco River in the shadow of the Hanover Street Bridge gets jammed with people taking in the water view, and parking spots in the lot disappear as quickly as the beer from bottles of $2 domestics and $3 imports. 2600 Insulator Drive, 410-347-4123.

■ Rams Head Tavern / When to go: Tuesdays, 4-7 p.m.
Even fat-cat lawyers and lobbyists love free food. Wait, scratch that. Especially lawyers and lobbyists love free food. Every weekday, happy hour at Rams Head brings a different featured appetizer on the gratis buffet—and with it follows a loyal throng of the state capital's politicians, attorneys, bureaucrats, tourists, Naval Academy types, and even plain old citizens, all of whom appreciate the merits of complimentary oysters on the half shell (Tuesday's treat) and $2.50 drafts. 33 West Street, Annapolis, 410-268-4545.

■ Red Maple / When to go: Thursdays, 5-10 p.m.
If you want to step out of Baltimore without leaving the city, check out Red Maple in Mount Vernon. Known for its chic vibe and eclectic dance parties, the could-be-in-New-York venue also offers an extended happy hour Tuesday-Friday. Dubbed Sunset, the happy hour features low-tempo DJs, $5 tapas, $4 cocktails, and $3 beers. Go on a Thursday and be sure to stick around for Moog, one of the most popular hip-hop and house dance parties in the city. 930 N. Charles Street, 410-385-0520.

■ The Rumor Mill Fusion Bar & Restaurant / When to go: Fridays, 4-7 p.m.
Tucked back off of Main Street across the rather optimistically named Tiber River, The Rumor Mill serves up Asian-influenced tapas and playful cocktails, many of which cost a mere Lincoln during the bar-only happy hour. A chalkboard lists numerous vodkas infused in-house with flavors like honeydew/lavender, blood orange, and root beer. A potent tea-flecked vodka makes for an excellent green tea martini, clean and smooth, and they also offer many super-sweet fruity cocktails. In typical fusion fashion, beer and sake are also discounted. 8069 Tiber Alley, Ellicott City, 410-461-0041.

■ The Sidebar Tavern / When to go: Wednesdays, 4-8 p.m.
It can hardly get more rock 'n' roll than The Sidebar Tavern, an understated subterranean punk-rock hideaway where legal eagles (from the nearby circuit court) and bike messengers sit amiably side by side after a hard day's work. Every weekday, enjoy $2.50 domestics and rails. And don't let its potentially uptight location fool you: If you're in the mood for a fist-pumping punk show, stick around (most start around 9 p.m.) and revel as the crowd shifts from suits to mohawks. 218 E. Lexington Street, 410-659-4130.

■ Sullivan's Steakhouse / When to go: Thursdays and Sundays, 4-8 p.m.
Who says you can't have Champagne on a beer budget? Or some of the best steak in the city? Experience the lunch-through-dinner Thursday happy hour that business people and locals alike are raving about at Sullivan's Steakhouse. With a hip, red-toned 1940s jazz vibe, you'll walk in feeling cool and leave full—and potentially tipsy—thanks to an impressive (and decadently red-meat-heavy) $5 happy hour bar menu and an equally seductive martini menu featuring Sullivan's signature martini, The Knockout. The best part? They do it again every Sunday. 1 E. Pratt St., 410-962-5503.

■ Yellow Dog Tavern / When to go: Thursdays, 5 p.m.-close
Baltimore has its share of corner bars, but Canton's Yellow Dog Tavern has upped the ante with local art on the walls, a genuinely warm vibe, and a foodie-friendly menu. If you're an adventurous beer lover, stop by Thursdays for mystery beer bucket night (four for $5). Pair the new brews with some Kobe beef sliders or ahi tuna bites—both popular favorites—and you'll be glad you braved the tight neighborhood parking. 700 S. Potomac St., 410-342-0280.
---
In Vino Vertias
A couple years ago, we would have had trouble naming more than one wine bar in the city. Now we're having trouble choosing just one. Here's a roundup of the best local places to swirl, sip, and savor.

Chesapeake Wine Company ➜ Go if you're feeling . . . refined.
Chesapeake Wine Company, located in Canton's Can Company, proves that even in a shopping center, you can still be sophisticated. Walk into the pinewood wine shop and head toward the back to find the bar, where patrons sip on wine from around the world. There are usually 25 wines on the menu and owner Mitchell Pressman is an expert at food pairings. 2400 Boston St, 410-522-4556.

Grand Cru ➜ Go if you're feeling . . . relaxed.
The Belvedere Square resurgence brought us some great shops, including laid-back wine bar Grand Cru. On any given night, you could see a couple dressed to the nines, or a group of friends in jeans catching up over drinks. Check the giant chalkboards behind the bar to choose from drinks such as their popular sauvignon blanc, fruity but strong sangria, or their various Belgian ales served in goblets. 527 E. Belvedere Avenue, 410-464-1944.

The Wine Market ➜ Go if you're feeling . . . hungry.
People might go to The Wine Market for the vino, but they should stay for the food. The wine shop/bar/restaurant has an extensive (albeit pricey) menu from addictive nibbles—try their mac and cheese—to heavier entrees like molasses-smoked rib eye. The wine prices are reasonable and you can sample a trio of 3-ounce pours. 921 E. Fort Avenue, 410-244-6166.

V-NO ➜ Go if you're feeling . . . romantic.
Maybe it's because V-NO was started by couple Mark and Kristina Bachman, but walking into the Fells Point wine bar makes us feel flirty. The cute, simple categories of the wines (bubbly, juicy, rich, crisp) and the intimate bars and tables don't hurt either. V-NO offers wine by the bottle and by the glass, as well as fresh baguettes from Bonaparte Breads and a chocolate truffle platter. 905 S. Ann Street, 410-342-8466.

13.5% Wine Bar ➜ Go if you're feeling . . . trendy.
The opening of this mod-style space solidified the popularity of wine bars in this city. Even blue-collar Hampden has one. Owner Wayne Laing certainly knows what he's doing with the bar's 200-plus bottles of wine on the wall, and an extensive by-the-glass menu. Try their Italian sandwiches or antipasto plate for good complements. 13.5 reminds us that it's cool to drink wine, no matter what neighborhood we're in. 1117 W. 36th Street, 410-889-1064.
---
Home Brew
So you hit up your neighborhood farmers' market every weekend, but do you consider the Maryland region when placing your drink order? Well, now you have no excuse. We've found local options that taste a lot like some of your national favorites.