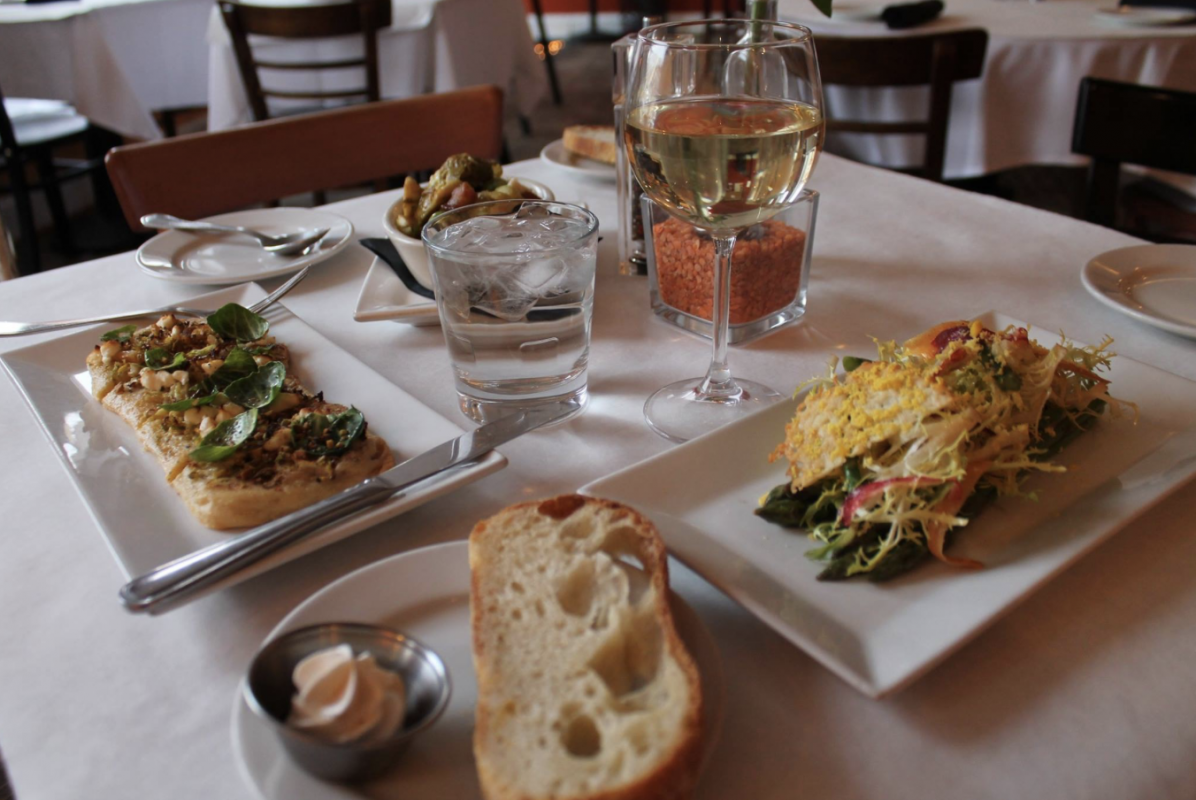 Courtesy of Sobo Cafe
As if we needed even more reasons to love summer in the city, Baltimore Restaurant Week is returning July 28-August 6—allowing locals to get their foodie fix at a handful of different dining destinations without breaking the bank. Nearly 90 spots are on board for the 10-day deal, which offers special prix-fixe menus priced between $12-20 for lunch and $20-35 for dinner. 
Chefs and restaurateurs have already begun taking inventory of ingredients, testing dishes, and perfecting their menus in preparation for the annual event, which is celebrating its 12th run this summer. Although Foreman Wolf Restaurant Group co-owner Tony Foreman has been participating since the beginning, he says that it isn't difficult for his team to keep things fresh.
"We work so seasonally that, whenever restaurant week comes, every menu is naturally different," says Foreman, who operates city mainstays Charleston, Cinghiale, Petit Louis Bistro, and Johnny's, as well as the recently rebranded Bar Vasquez. "It might be very early for tomatoes one year, or a spectacular year for zucchini another. Whatever's good, we cook it."
Above all, Foreman says that the most beneficial part of partaking in the promotion is bringing in new faces, with the hope that diners will make his restaurants a year-round destination. 
"It gives them a good snapshot of how we do things," he says. "There's such a great energy that comes from attracting new people."
In an effort to help break down all of the options, we've come up with a few suggestions for which spots to hit this year—whether you're searching for drink deals, brunch bites, al fresco dining, or, simply, more bang for your buck.
New kid on the block: Bar Vasquez
Foreman Wolf launched this beef-centric Argentinian hotspot in the former Pazo space last fall, rebranding the interior to include elements like Brazilian tiger wood furniture, golden stenciling, and lush greenery meant to mimic the landscape of Argentina. To celebrate its first-ever summer restaurant week, chef Mario Cano Cataláan has prepared a special three-course dinner menu featuring house-made spaghetti with roasted cherry tomato sauce, hanger steak with chimichurri for two, Chicken a la Plancha with white beans and kale, and a roasted pineapple almond tart for dessert. 1425 Aliceanna St., $35, 410-534-7296
Best outdoor dining: The Oregon Grille
Be sure to have your camera ready for an al fresco meal at this Hunt Valley haunt. Located in the heart of Maryland's horse country, the restaurant has become a gathering spot for the  local Hunt Cup crowd and destination diners alike. The spacious outdoor courtyard, with its thriving greenery and picturesque garden fountains, makes for a particularly elegant evening. Throughout Restaurant Week, snag one of the coveted seats under the stars to enjoy a $35, three-course dinner showcasing classics like clams casino, crab cakes, bacon-wrapped salmon, braised beef short ribs, and baked apple pie. 1201 Shawan Road, Hunt Valley, $20-35, 410-771-0505
Beverage pairings: Sobo Café
Last summer, restaurant week organizers made it a priority to encourage eateries to add alcohol pairings to their menus, and Sobo Cafe has willingly obliged. This year, the Federal Hill bistro will offer a $25, three-course dinner menu paired with a la carte beer and wine flights ($11-13), and a seasonal watermelon Crush mixed with muddled watermelon, lime juice, mint, simple syrup, and pinot grigio for $8. Sample the drinks while taking your pick from dishes including cold honeydew soup, spinach pie, seared salmon with quinoa, Korean chicken-fried steak, and a s'mores-flavored frozen fudge pop. 6 W. Cross St., $25, 410-752-1518

Vegetarian-friendly options: Encantada
It's finally time to cross this whimsical wonderland on the top floor of the American Visionary Art Museum off of your local restaurant bucket list. Marvel in the colorful décor while indulging in the restaurant's locally sourced plates. In keeping with its wholesome philosophy, Encantada has added a selection of meatless meals to its lunch, brunch, and dinner menus to be featured throughout the week. Start things off with an order of Buffalo cauliflower before moving on to a black bean burger, veggie grilled cheese with eggplant, or mushroom taco sprinkled with pomegranate seeds and cilantro. 800 Key Highway, $20, 410-752-1000

Brunch bites: Gunther & Co.
The praise keeps on coming for this Brewers Hill beauty, which is celebrating its second summer restaurant week this year. This time around, the modern spot is offering a two-course weekend brunch menu for $20. Whether you're nursing a hangover, or simply in need of some mid-morning fuel, request a table with a good view of the living green wall to enjoy dishes like citrus-poppyseed pound cake, jalapeño corn fritters, banana brioche French toast, and a pulled pork flatbread topped with fried eggs and salsa verde. 3650 Toone St., 443-869-6874
Best bargain: The Elephant
If you're feeling fancy, head to Mt. Vernon to settle at a table inside this famed 19th-century mansion—which boasts dangling crystal chandeliers, original teak woodwork, classic Lockwood de Forest wood carvings, and a menu of globally-inspired cuisine. An entrée at The Elephant could easily cost upward of $30 on a regular night, but its restaurant week menu offers a sampling of three courses for $35. Dishes to look forward to include summer shrimp noodles, Maryland crab dip, ricotta gnocchi, braised lamb tacos, peppers stuffed with beef and saffron rice, and a bourbon-nectarine sundae. 924 N. Charles St., 443-447-7878