Allora Allows Diners to Take a Roman Holiday By Way of Mt. Vernon
Grab a seat—and a bowl of pasta—at the new bistro from the team behind Liliahna catering.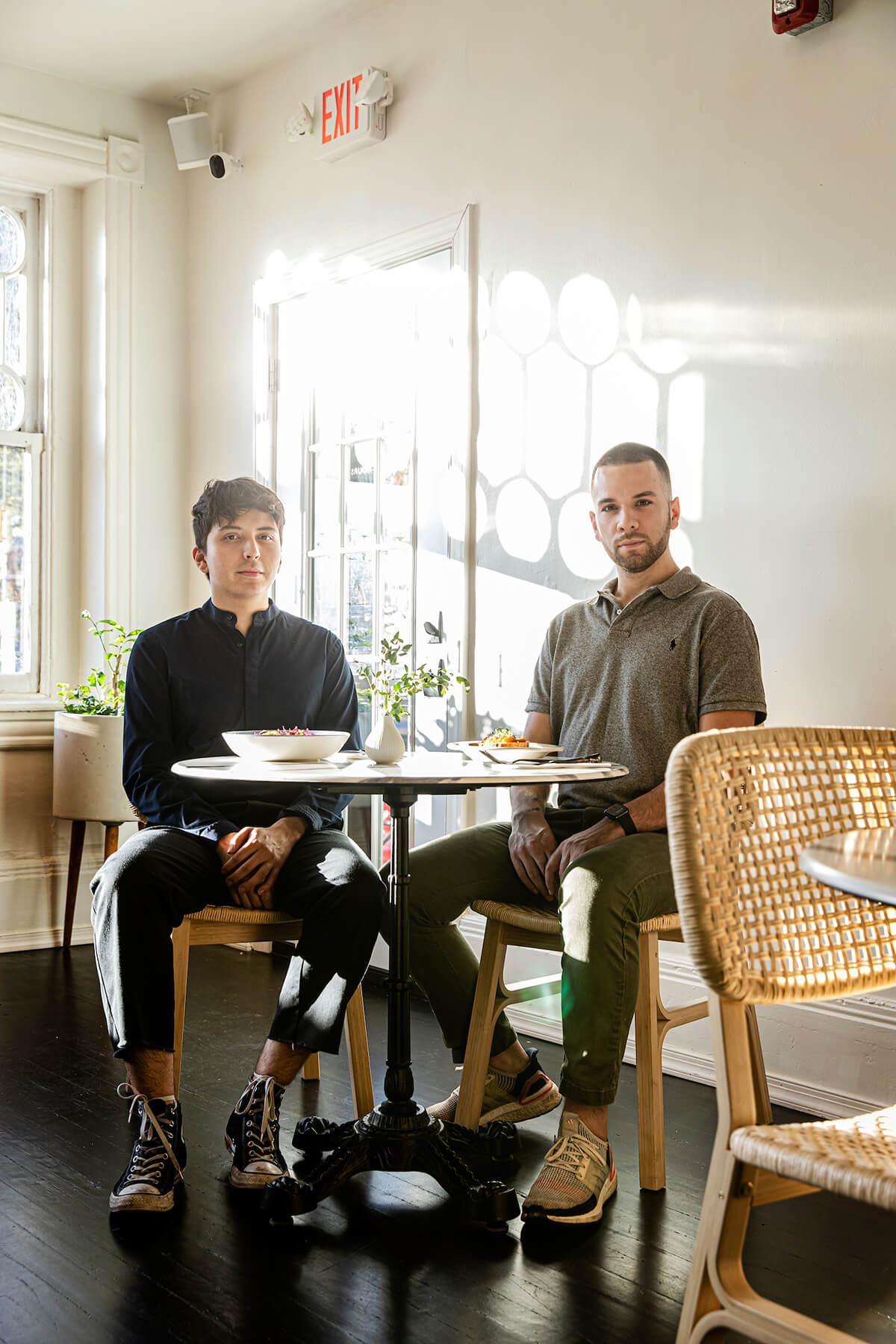 For six years, business and life partners Brendon Hudson, right, and David Monteagudo have owned and operated Liliahna, a catering business named after Hudson's great-aunt, who hails from a small town (Port S. Elpidio) in Southern Italy. But last September, the duo, who met while still in culinary school, decided to branch out their business and open a bistro in Mt. Vernon with food focused on Rome. "We wanted to be more accessible," says Hudson. "We wanted a place where anyone and everyone can come. We want people to come in and feel like they are transported."
Why did you decide to open a Roman bistro?
David and I have spent a lot of time in Rome. We thought, there are a ton of Italian options in Baltimore, but we wanted to switch the mindset. Every time we tell someone the concept, they're like, "I have had Italian food. How is that different from Roman food?" There are a lot of similarities between Roman food and other regions of Italy, but each region is specific in terms of what ingredients they use and how they use them. Rome is popular for braised dishes and hearty, soul-filling dishes. That really speaks to me. I want people to come and hopefully feel like they had a substantial meal.
When did you decide to go into hospitality?
My maternal great-grandfather opened Velleggia's when he came to America. It was the first restaurant in Little Italy in Baltimore. I knew from a young age that this was what I wanted to do. I went from Gilman to the Culinary Institute of America in Hyde Park.
What's the significance of the restaurant's name?
Allora is a common word in Italy. People use it as a filler word, like we use "um." They use it as a conversation starter or to transition between topics. We want the restaurant to feel cozy and like you can relax here. At the same time, you are going to get a high-end experience with food and drink. We want to be that in-between space where you can get the best of both worlds.
What dish should a first-timer order?
The pasta Amatriciana is my favorite dish. It's one of Rome's classic pasta dishes. It has a simple sauce with tomatoes, pork fat, and guanciale, which is pork cheeks rendered down. We cook the pork fat, onions, and garlic and let that braise and simmer. It takes on this beautiful fatty, citrusy, tomatoey flavor. The porchetta Romana is another classic staple. The Italians don't believe in loading up their sandwiches. It's like, just let's focus on the one ingredient and have great bread. For the porchetta Romana, we take a pork shoulder and roast it with a lot of fennel, cumin, and anise, let it braise for a few hours, and layer it on this freshly baked rosemary focaccia bread with basil olive oil—it's just delicious.