Flying Solo
Amy Gjerde ventures out on her own.
The first thing you notice about Amy Gjerde is her undeniable beauty: her long, thin limbs and gazelle-like grace, the perfect symmetry of her face, her bouncy brunette hair that seems straight from the pages of an Aveda shampoo commercial, her watery blue eyes that deepen when she wells up, which happens fairly often. Gjerde herself is reserved, and maybe that's because when you look the way she does, all eyes are on you—whether the attention is invited or not. "I'm not the most comfortable in social situations," she says. "When I was growing up, I always felt awkward and disheveled. I didn't have a sense of style, and the fact that I like clothes and makeup didn't come from inside the house—I grew into myself." Like most of us, Gjerde is still a work in progress, shedding her shyness and finding her voice at age 46. For the co-owner of Woodberry Kitchen, Artifact Coffee, Sandlot, Bird in Hand, A Rake's Progress in Washington, D.C., and partner at Foodshed, the restaurant group's umbrella organization, the past few years have been challenging, to say the least.
In 2015, after discovering that her husband, the James Beard Award-winning chef Spike Gjerde, arguably Maryland's most famous culinary figure, was having an affair, her idyllic life—a successful career, two kids, pedigree pets, an American Institute of Architects award-winning Roland Park home—imploded.
Making matters worse was the fact that her employees knew about the affair before she did. "One person in all of those months could have said something to me," she says, still sounding mystified. "One person could have told me—and that person could have been him," she says, referring to her ex. "It makes it seem like it wasn't that big of a deal."
And while the details of the relationship—a younger woman who was an employee Gjerde had worked closely with at the time—eventually came to light, she says that once the initial shock wore off, she was left with a different, deeper agony. "What I go back to with Spike is the fact that the affair was painful at first, but what becomes the most painful is the stuff between the two of you while the affair is happening—the memories of Thanksgiving that year or a wedding anniversary. It's imagining all the stuff they did together. It's what happened between you while that lie is being perpetrated that's most painful." And then there was the irony of the timing. At the time that Gjerde learned about the affair, the trailblazing chef was at the pinnacle of his career, winning the James Beard Award for Best Chef: Mid-Atlantic. Gjerde contemplated not going to the award ceremony held in Chicago that year, but she decided to stand by his side. "I don't know how I did it," she says. "I didn't want to do anything to hurt Woodberry, and I was excited for the staff and for Opie [Crooks, the restaurant's then head chef]. I thought that the award was larger than Spike—I believed that. I wanted to see it as a healing thing. In the end, it wasn't." Instead, emboldened by the #MeToo movement, Gjerde's healing process has entailed speaking her truth—including the painful parts—and living her life out loud. Raw and reeling in the aftermath of the wreckage, she posted her feelings on social media. It raised a few eyebrows at the time, but she continued to put it all out there. "People view talking about it as wrong," says Gjerde. "I don't believe that to be true. Just because his acts were private and hidden and secret doesn't mean that I have to mirror that and suffer in private and not share if I think that it either helps me or helps someone else."
The sharing—and airing—has brought some relief, she says. "There were women messaging me who were in the same situation, strangers and then some women that I knew well who had said, 'I was treated the same way,'" she says. "It was cathartic. I'd never spoken up before. I was never like that—and I don't regret it."
For his part, Spike, who has never spoken publicly about the affair, says he does have regrets. "In spite of the fact that we created and were running this amazing thing that we loved and both of us put our hearts and souls into, I had become unhappy in our marriage—but I didn't know it—that was the worst part," he says. "I was a deeply unhappy person—I didn't allow myself to have that realization. I made the worst mistake that someone in that position can make, and I still feel remorse every day about her pain and suffering and this long road that Amy has been traveling."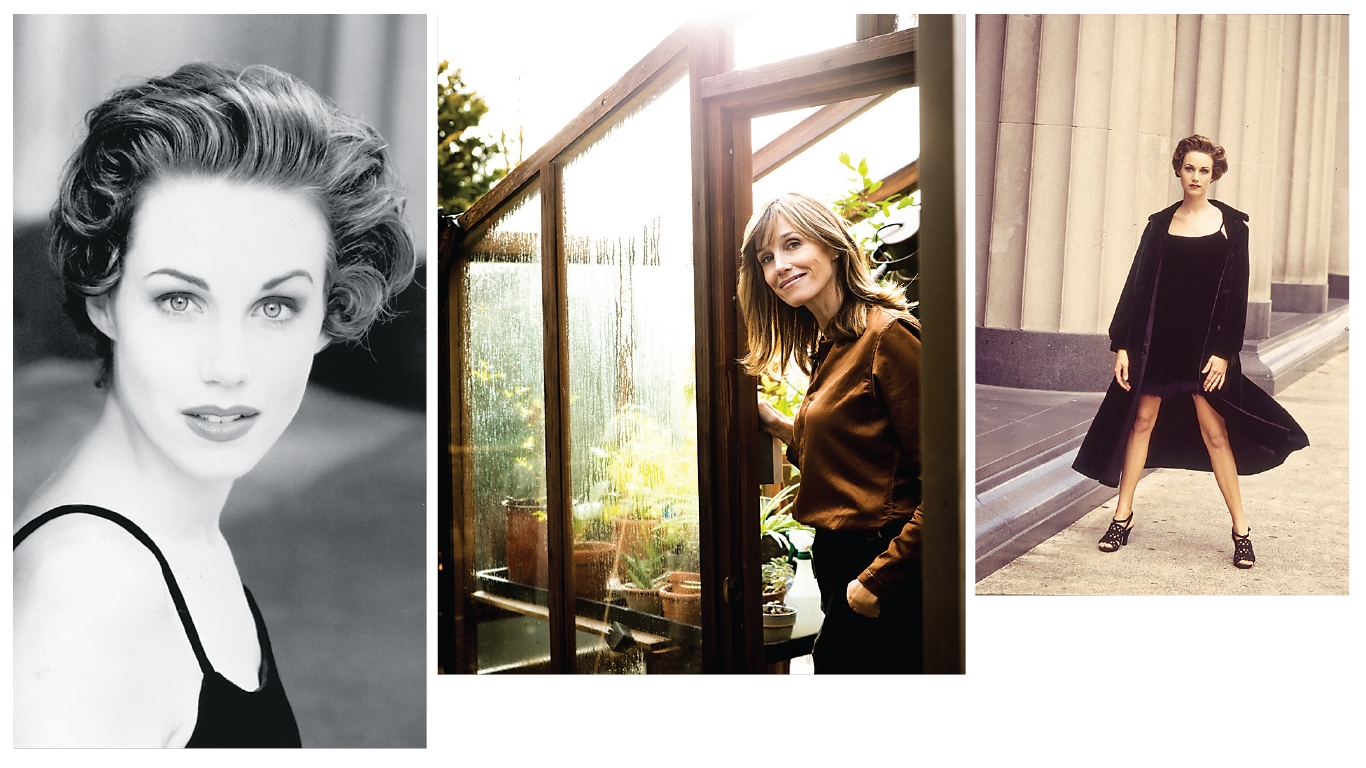 Amy Gjerde is shedding her shyness and finding her voice at age 46.
As a young girl growing up in small-town Pennsylvania, Gjerde enjoyed a Mayberry existence. But cooking, and especially baking, were central to her upbringing. Her maternal grandparents lived down the street and were influenced by Pennsylvania Dutch traditions. "My mom's grandparents owned a general store," she says, "so we always got to hear these great food stories. My mom loves to tell the story about my great-grandmother, who would make cherry strudel by rolling it out across the dining-room table."
Gjerde's maternal grandmother, Virginia, was also a great baker. "At Christmas, there were these 20 kinds of cookies—pecan sandies, snickerdoodles, chocolate crinkles—that would be baked, and she always used lard."
Small-town life had its comforts, but Gjerde longed for something more, and she was never afraid to reach for the stars—literally. "I wanted to be an astronaut through and through," she recalls. "I went to space camp when I was 13. It was in Huntsville, Alabama, and my mom had never even flown on an airplane, so to let me fly alone was a big deal."
Following her dream, in 1990, Gjerde attended Texas A&M as part of the Reserve Officers Training Corps and majored in aeronautical engineering. She lived in a military barracks on campus and was one of the few women in the program. "My dad had been in the Navy," says Gjerde, "and he always talked about it in this romantic way, but in my freshman year, it was 19-year-old boys instructing 18-year-old girls—it was not for me."
It was at that point that she outgrew her childhood passion. "It was a time when science and math were championed, but I hadn't really been exposed to what else might have been out there. I realized it wasn't how I wanted to spend my life." After freshman year, she moved back home to attend local colleges for a few years. Eventually, her wanderlust landed her in Houston, Texas, where her then-boyfriend had an apartment.
From there, the 5-foot-11 21-year-old, who had often been told by others that she should model, finally decided to pursue it as a career. In Houston, she went to an open call and was soon doing print and informal modeling at area department stores. Her agent helped cultivate her look to be on trend with the times. "They cut my hair really short," she says. "It was that whole waif, Amber Valletta, grunge look."
Gjerde's big break came in 1995, when a Parisian talent agency was scouting and took a look at her "book" at her Houston-based modeling agency. At the time, she was doing informal modeling for Tootsies, an upscale Houston department store. Within a week, she was on the runway modeling for cutting-edge French fashion designer Jean-Charles de Castelbajac at the Louvre in Paris. But after three months, homesickness set in. She called it quits and, once again, returned home. "I was fearless when it came to travel," she says, "but I also got very homesick and lonely. You can feel pretty inadequate pretty quickly when you're constantly being judged, but I did like it—I should have stuck it out."
At home, Gjerde contemplated her next move. Having grown up around cooking and baking, by 1996 she decided to attend cooking school at the Baltimore International College with a focus on baking and pastry. Later that same year, she landed a job as a baker at Jr., a Bolton Hill breakfast spot opened by then-fledgling chef Spike Gjerde.
Early on, there were sparks between her and her boss, who was 10 years her senior. "Because I worked so early in the day, baking at 4 a.m., I didn't see much of him," she recalls, "but then he started working brunch after someone quit. One day, he asked me if I wanted to go ice-skating on this pond in Phoenix with a group of people. I remember it was President's Day weekend in January—we were married by August."
When she speaks of Spike, both the loss and the love never seem far from the surface. "Love doesn't disappear when something horrible happens," she admits. "When we met, I'd never known anyone like him, who just commanded so much attention from everyone," she says. "He was someone I imagined lived this exciting life. He just seemed very in control and charismatic. I felt like I was screwing up and bumbling along, so when I met him, I felt like he could teach me something."
After Jr. closed in 2002, Gjerde worked alongside Spike, booking events at the other ventures he owned with his brother, Charlie, including Spike & Charlie's, Atlantic, and Joy America Café. Children—Finn, now 19, and Katie, now 16—arrived along the way. But by 2005, all the restaurants closed as Spike and Charlie decided to pursue different paths. And after years of toiling, the Gjerdes found themselves unemployed. "We didn't have jobs, and we contemplated all kinds of things," Gjerde recalls. Then, in 2006, Baltimore developer Bill Struever came calling to ask if the couple would be interested in opening a restaurant in a former manufacturing shop in the dilapidated area of Clipper Mill in the neighborhood of Woodberry. "The other places were Spike and his brother, Charlie's," says Gjerde. "From the beginning, this was something from my brain and Spike's brain."
At Woodberry Kitchen, where they formally became co-owners for the first time, they were the perfect pair, with each spouse bringing different strengths and skills to the pioneering farm-to-table restaurant. "Spike is a very big thinker," says Gjerde. "I was more about how I wanted people to feel when they were dining at Woodberry. I wanted the food to feel like it did when I was growing up."
To this day, Gjerde's mother's recipe for deviled eggs and another for cast-iron chicken remain quintessential items on the menu. The meals that Gjerde prepared at home for her family also deeply influenced Woodberry's home-style offerings. "The year before Woodberry was open, we cooked a lot at home, and that's how I wanted Woodberry to feel," she says. "I made these big plates of grilled chicken and flank steak and vegetables and roasted potatoes. We were all cooking together." Concurs Spike, "That's definitely where Woodberry's cooking took root."
Spike also credits Amy with handling the logistics of running reservations, a science unto itself, he says. "No one paid attention to managing reservations more closely," says Spike. "With a restaurant as busy as Woodberry, it was essential to what we were trying to do in the kitchen with local sourcing. There was a time when we were doing all the butchery and baking and preserving right there, and that would have been unthinkable without the kind of volume that we had—and that was because of Amy. I would have taken a much more generic approach to booking. There are some restaurants that you book on OpenTable and it says they're full, and then you walk in and the restaurant is half empty. Amy managed it in such a way that we were always full."
Additionally, Gjerde played an influential role with the restaurant's staff, from training and outfitting the servers to helping them develop their storytelling skills about the restaurant's sourcing to perfecting the patter they would have with diners. (In fact, in 2017, Woodberry was a semifinalist for the James Beard Awards Outstanding Service category.) Foodshed's director of operations, Hannah Ragan, credits Gjerde with developing the restaurant's signature service. "When people come to Woodberry, there's an organic feeling about the experience and the staff acts of out empathy and genuine warmth that breaks the mold on traditional service," says Ragan. "There's a spirit of generosity and abundance in their dining experience—and that comes from Amy."
Meals that Gjerde prepared at home deeply influenced Woodberry's menu.
Over dinner at Woodberry Kitchen last November, Gjerde is settled into a Windsor-style chair at the restaurant's side dining room, which she recently redecorated with sheer curtains and a new deep-blue color scheme. Once again, this is her home away from home, though her journey back inside has taken three years. "There were a million triggers, and going to Woodberry was one of them," she says, sipping on a black tea latte. "I'm working here again. Last week, I was on the floor in the dining room like I had been for years and years, talking to guests, clearing plates, running food. It felt great."
A month or so later, Gjerde is working four or five nights a week as one of the restaurant's general managers. "I'm really happy she's back," says Ragan. "It was a long few years for her—I'm happy for her, she just seems like herself. She really is more outspoken now and having that voice be louder is cool."
Part of that outspokenness means that she has learned to take ownership of the business that she helped nurture and grow.
"When we first opened Woodberry, I was okay with being in that supporting role," she says. "I'm not anymore. I used to think our success was up to Spike. Now, I'm starting to feel an ownership of my success that I didn't always feel before." One constant has been tending to the flowers and herbs that grow outside many of her restaurants—night-blooming jasmine, cardinal basil, and licorice plant lime at Woodberry; Abelia, creeping Jenny, coleus, and roses at Artifact—and also keeping a greenhouse at home where a riot of mint, marjoram, shiso, Texas sage, Thai basil, pomegranate trees, and hundreds of other herbs and plants proliferate and often find their way into the fare at Woodberry.
"I never took a gardening class," she says, "but it's a lot like baking. Knowing when the soil feels right is similar to knowing when dough or batter feels right. I love gardening, because I just like being outside. I have ownership of these plants—I can take care of them."
On some level, they've taken care of her, too. "There's something so satisfying and enriching about putting something into the earth and it grows," says Gjerde. "At home, I had these pomegranate trees that turned brown. I thought they were dead—and they came back."