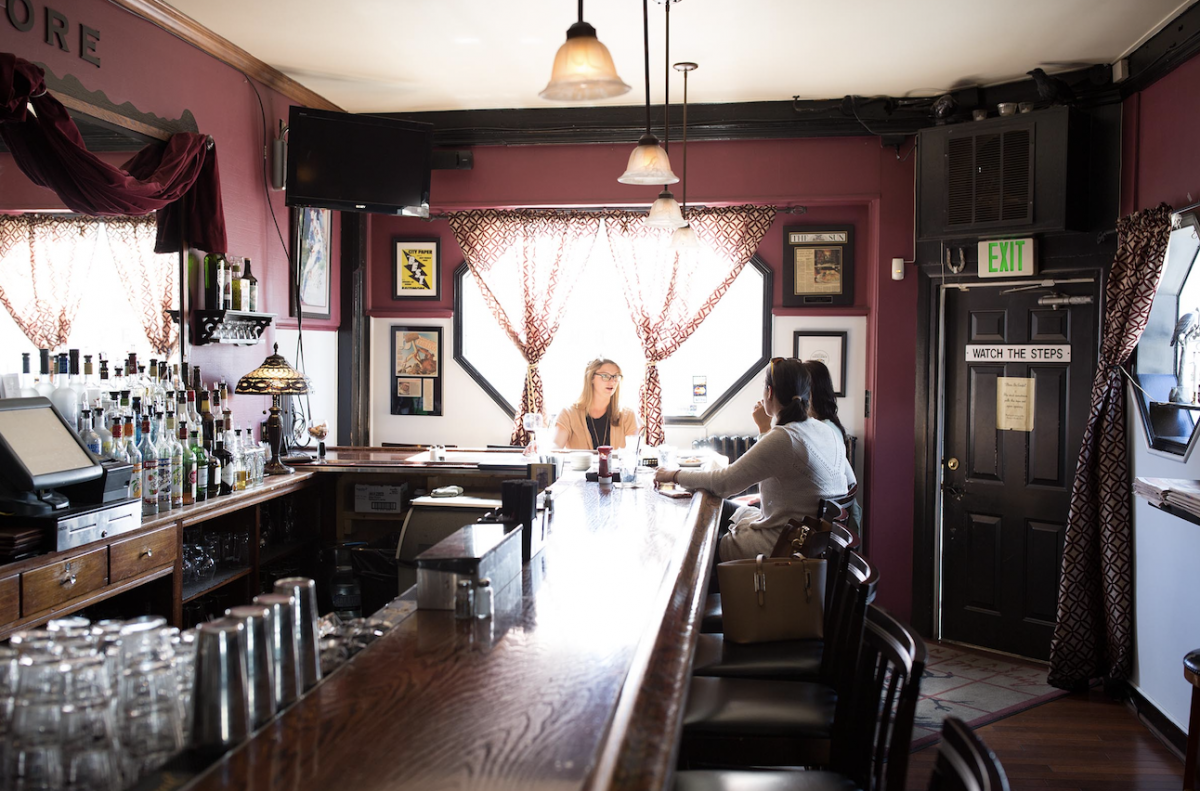 Photography by Scott Suchman
[Update 6/12/17: Owner Kurt X. Bragunier has confirmed that Annabel Lee will be staying open after all. Read more here.]
With its dim lighting, gothic décor, and hand-painted walls sprawled with lines of poetry, Annabel Lee Tavern has fully embraced the melancholic style of Edgar Allan Poe for the past decade. But the macabre feeling became even more real for fans of the restaurant last night, when owner Kurt X. Bragunier announced that he would be closing the doors of his South Clinton Street spot for good.
"My business over the last couple years has just decreased to a point where I can't even sustain my built-in costs," Bragunier tells us, confirming that Annabel Lee's last day of operation will be Sunday, May 28. "I've lost hundreds of thousands of dollars over the last couple of years in revenue."
Braguiner opened the restaurant in 2007, during a time when the area was primarily comprised of dive bars. He remembers opening among old favorites like Clinton Hill Tavern, which is now Pig and Rooster Smokehouse; Crossroads Bar, which currently operates as The Chasseur; and The Irish Pub, which was transformed into sausage-and-beer destination Snake Hill in 2015.  But now, he says that the neighborhood's constantly-evolving dining scene has cost him significant business.
"Now it's like there's cute place after cute place opening," he says. "All is takes is one four-top a night to go to each of those new places. That's enough of a difference for me to feel it."
The quaint corner bar—known for its classic crab cakes, Raven-themed cocktails, and handwritten menus of evening specials—was met with open arms when it debuted in the neighborhood 10 years ago, and has become a beloved special occasion spot ever since. Bragunier made it a point to express his gratitude for all of the people who have celebrated milestones in the space.
"That was my mission in opening Annabel Lee," he says of the restaurant, which is aptly named after the macabre master's beloved maiden. "The poem is bitter and tragic, but romantic. And to have all of these stories of first dates and engagements is why I did what I did. It means everything to me that people have a place in their hearts for it."
Bragunier is also pleased with how city has embraced the restaurant as a memorial of Poe's life: "I wanted it to be a Baltimore landmark," he says. "I always see people driving past who pull over to stop and take a picture. To this day, that still blows me away."
Looking back on the restaurant's run, one of Bragunier's favorite memories is of a D.C. couple that came in for dinner before a concert six years ago, and have made it a destination ever since.
"They got engaged at the Poe table, and now they're married and have a 9-month-old baby," he says. "They came in last week and I told them 'In a nutshell, you two encapsulate the reason why I did this.'"
Though no official plans are in the works yet, Bragunier—who served as the general manager of The Brewer's Art for seven years before opening Annabel Lee—says that he intends to remain a part of the Charm City dining scene.
Above all, he is thankful for the regulars who made the the restaurant's run so memorable.
"I'm the type of person who practically wants to hug everyone who comes through the door," Bragunier says. "If you ask my wife, she would tell you most people would have thrown in the towel a year ago, but I'm an eternal optimist. The support means everything."