The Line Forms Here
After 106 years, Attman's still slings corned beef, and the throngs are happy to wait for it.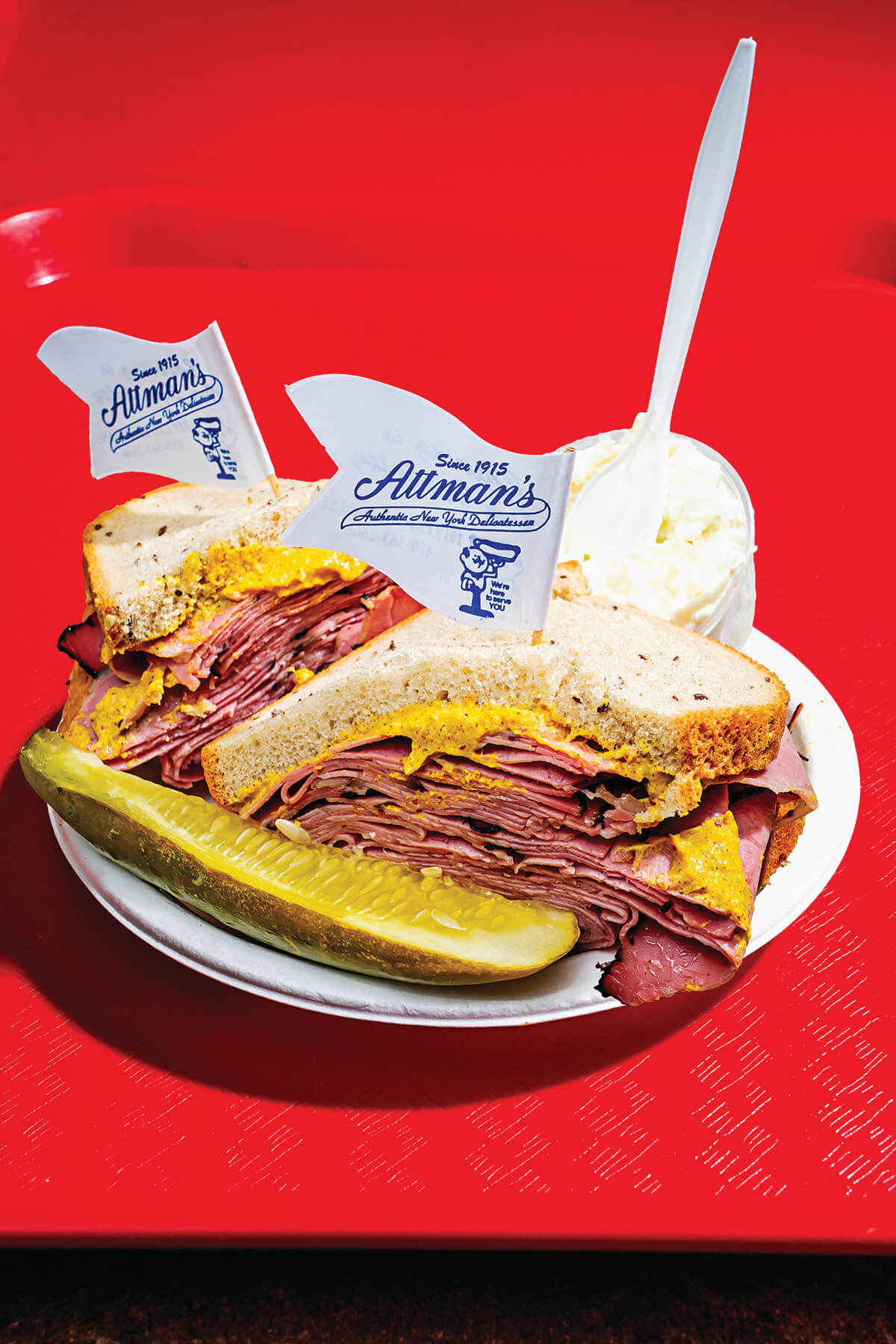 There's very little kibbitzing happening in the Kibbitz Room. It's lunchtime in early June, and the pandemic has moved the omnipresent line at Attman's Delicatessen from in front of the display cases packed with meats, cheeses, chopped liver, coddies, and knishes outside onto Lombard Street. Capacity limits mean only a few tables are filled in the adjacent dining room, dubbed the Kibbitz Room when it opened in 1972, making it one of the more contemporary additions to this 106-year-old giant of Baltimore's past and treasure of its present.
At the front door, employee David Greenberg welcomes customers like a casino greeter in Las Vegas, only instead of wearing a tuxedo, he's sporting long pants and a dark blue T-shirt with a drawing of a fat sandwich and plump pickle on a plate. Just before 1 p.m., the line stretches past the convenience store next door, which Greenberg knows from experience means the people at the end won't be stuffing some of the best corned beef known to man into their mouths for 20 to 30 minutes.
Oddly, those in the queue don't seem cranky. When you've been going to Attman's for a quarter or a half century—as some of these patient-but-hungry patrons have—you expect to wait.
As he regulates the flow of customers in and out of the 121-year-old building, Greenberg also fields calls from people trying to place pickup orders. Apologetically, he tells them that the deli isn't accepting phone orders now because it's too busy. "They all understand," he says.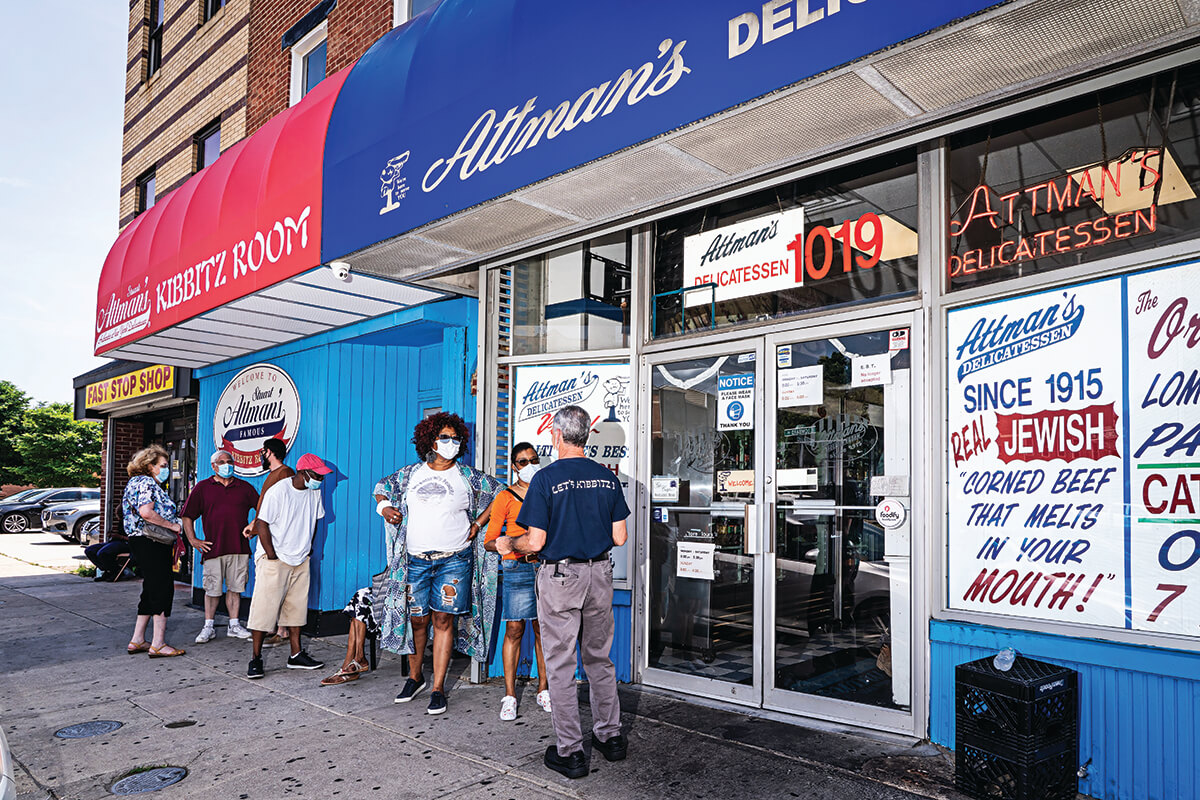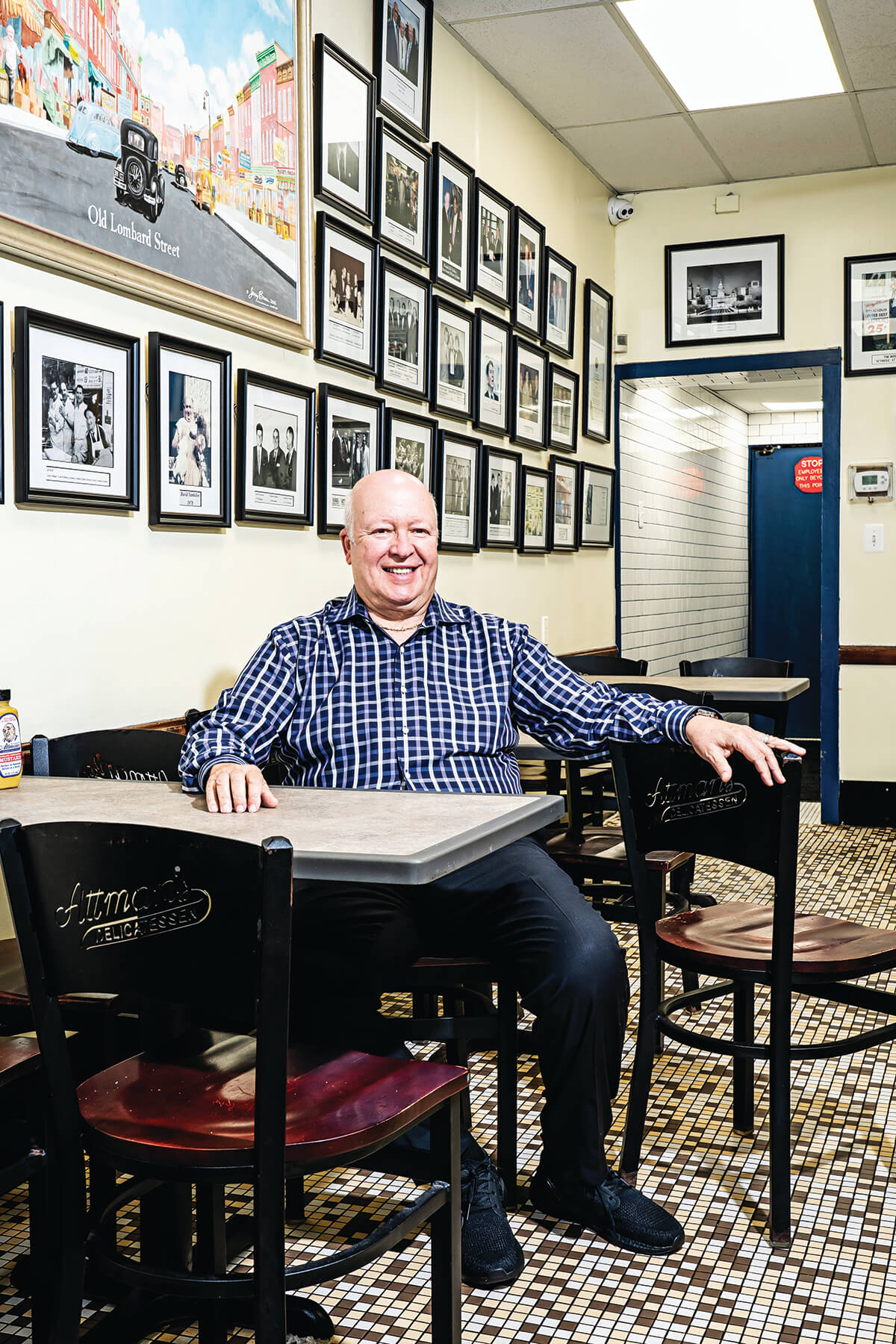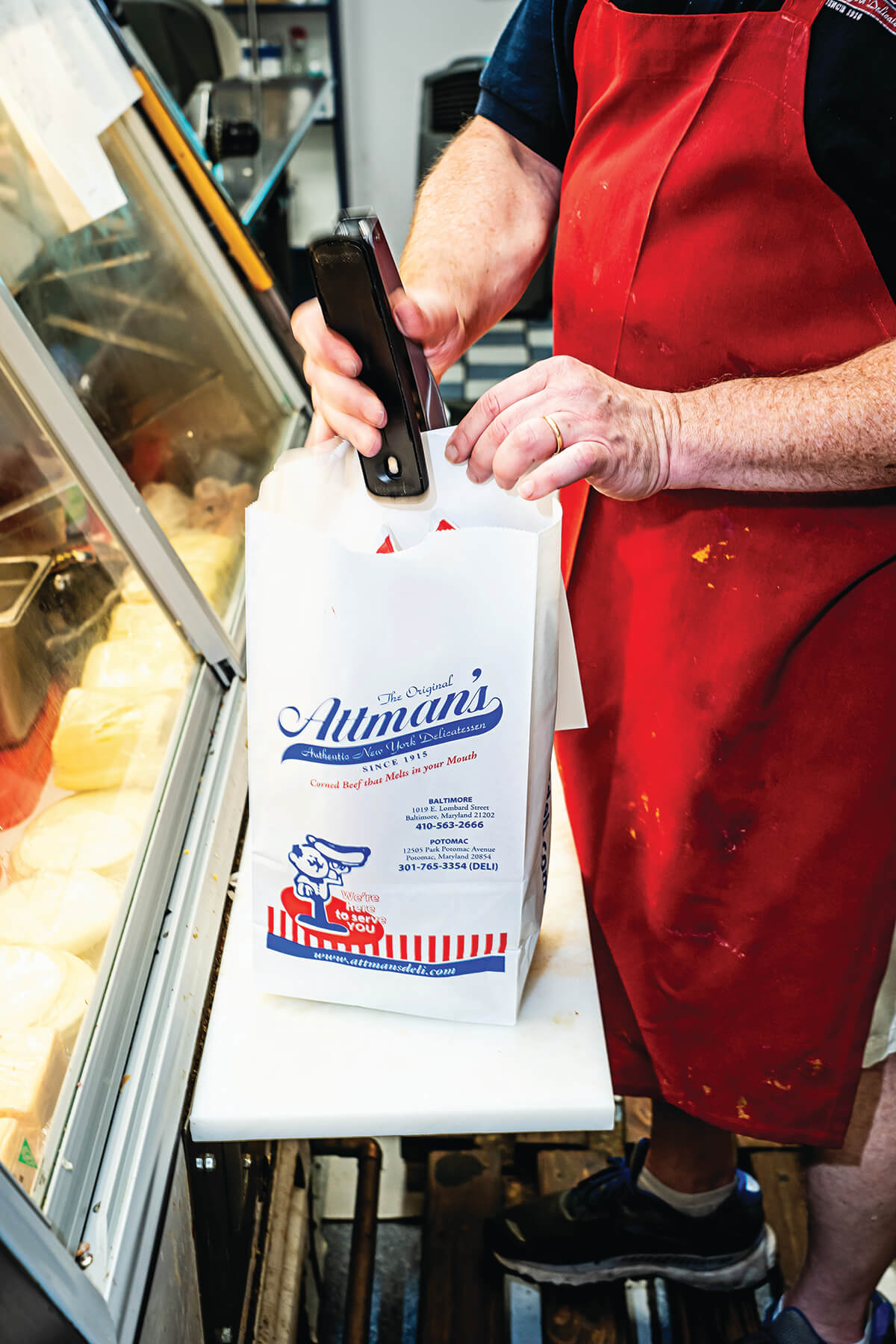 Customer Lawrence Weisgal is near the entrance, sitting on a chair Greenberg brought him when he noticed the Middle River resident leaning on a wooden cane. He's been coming since 1955.
"My dad used to take me down here all the time. There's only one thing to get," he says, immediately contradicting himself. "Corned beef with mustard and pickles—the half-dones. Their bread pudding is really good too."
He's with his 23-year-old daughter, Emma, who's been an Attman's-goer since she was 3. Tales of multigenerational devotion are as prevalent here as caraway seeds on rye—and they extend to the Attman family as well.
ATTMAN'S IS THE OLDEST CONTINUOUSLY FAMILY-OWNED DELI IN THE COUNTRY.
"I was at home in Pikesville one day, and my mother goes, 'Go downtown and help your father at the deli,' because I was sitting around doing nothing," says Marc Attman, the managing partner of the oldest continuously family-owned deli in the country. "I was 8 years old. That was the end of me ever doing nothing."
When his father, Seymour, died of complications from a heart attack in 2002, Marc, a successful and still-practicing optometrist, and his younger sisters, Deborah and Eileen, held a family meeting to discuss the deli's future. Selling, he says, wasn't an option.
"The difference between us and a lot of businesses is we don't have a made-up name," he says. "We don't have a first name on the door. We have a family name. That means a lot."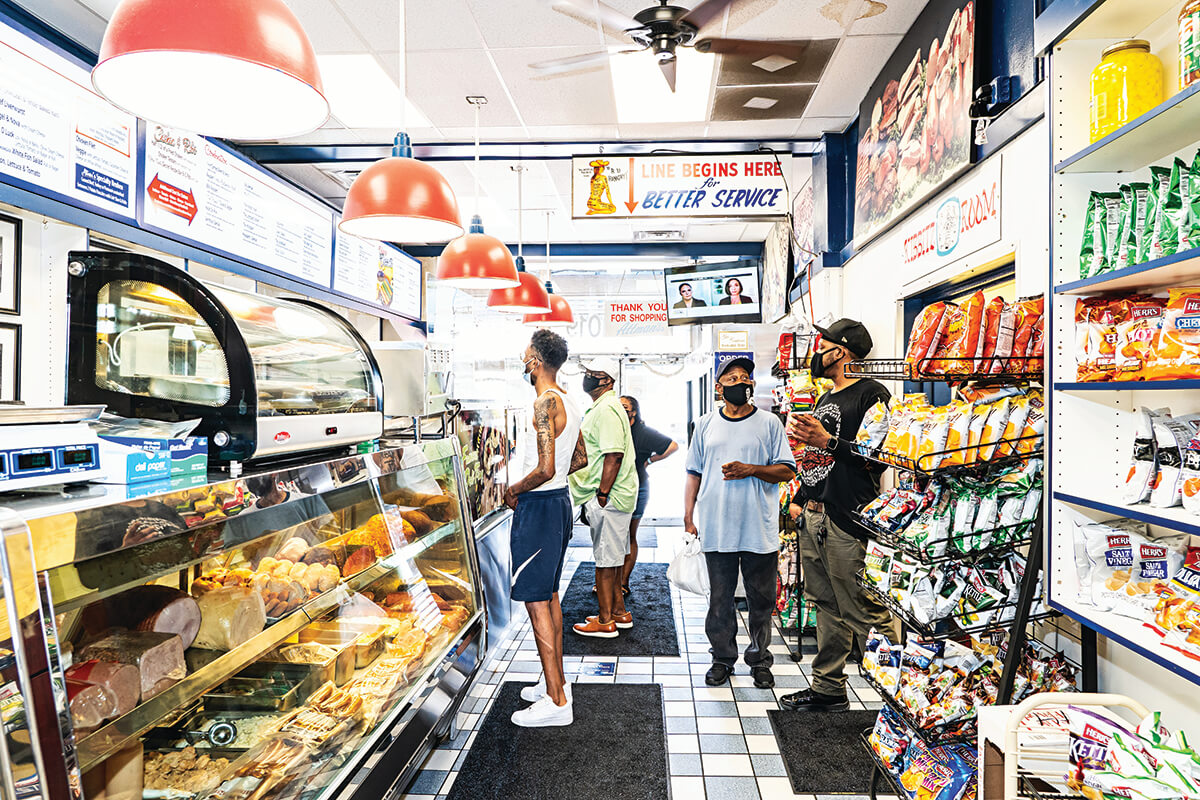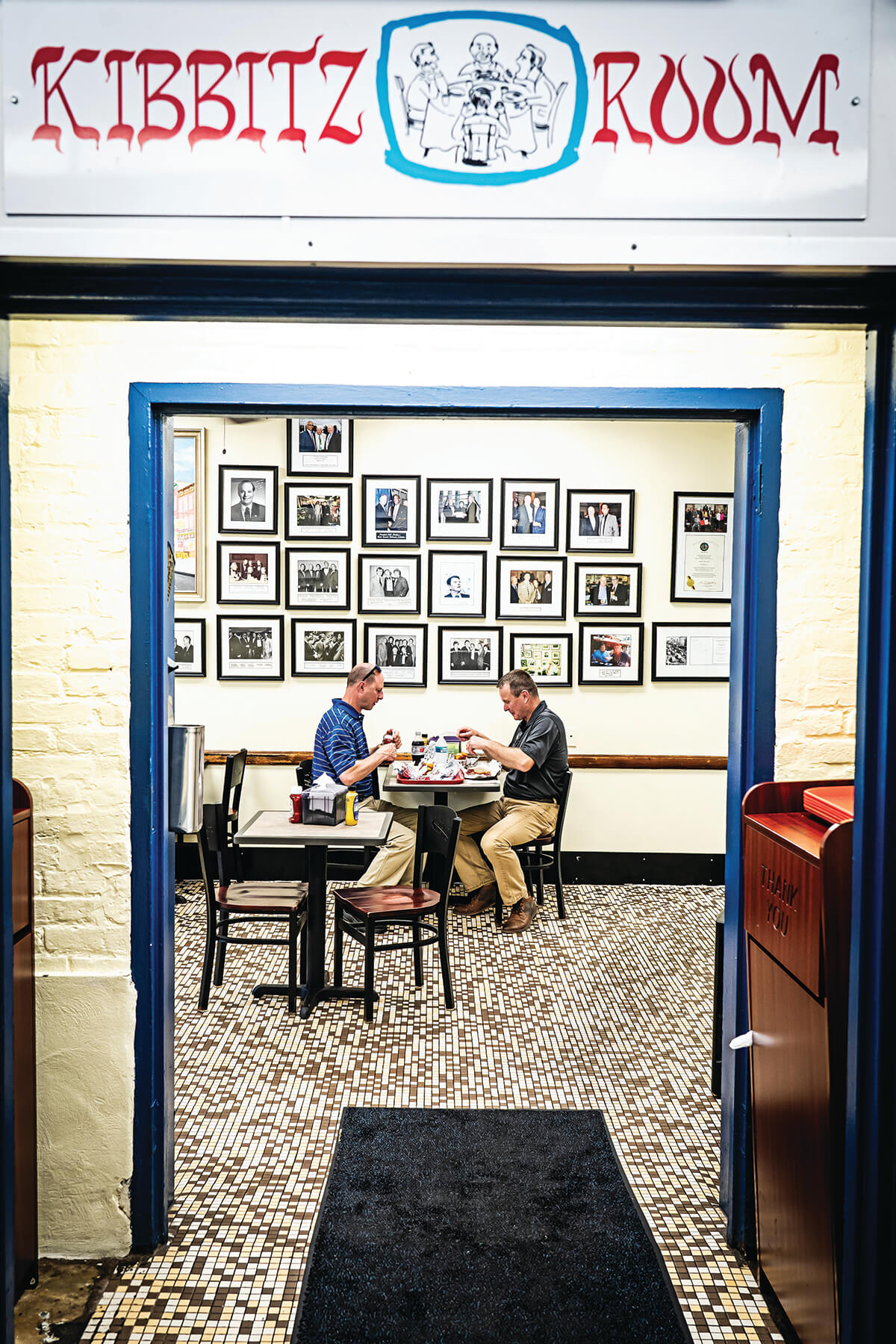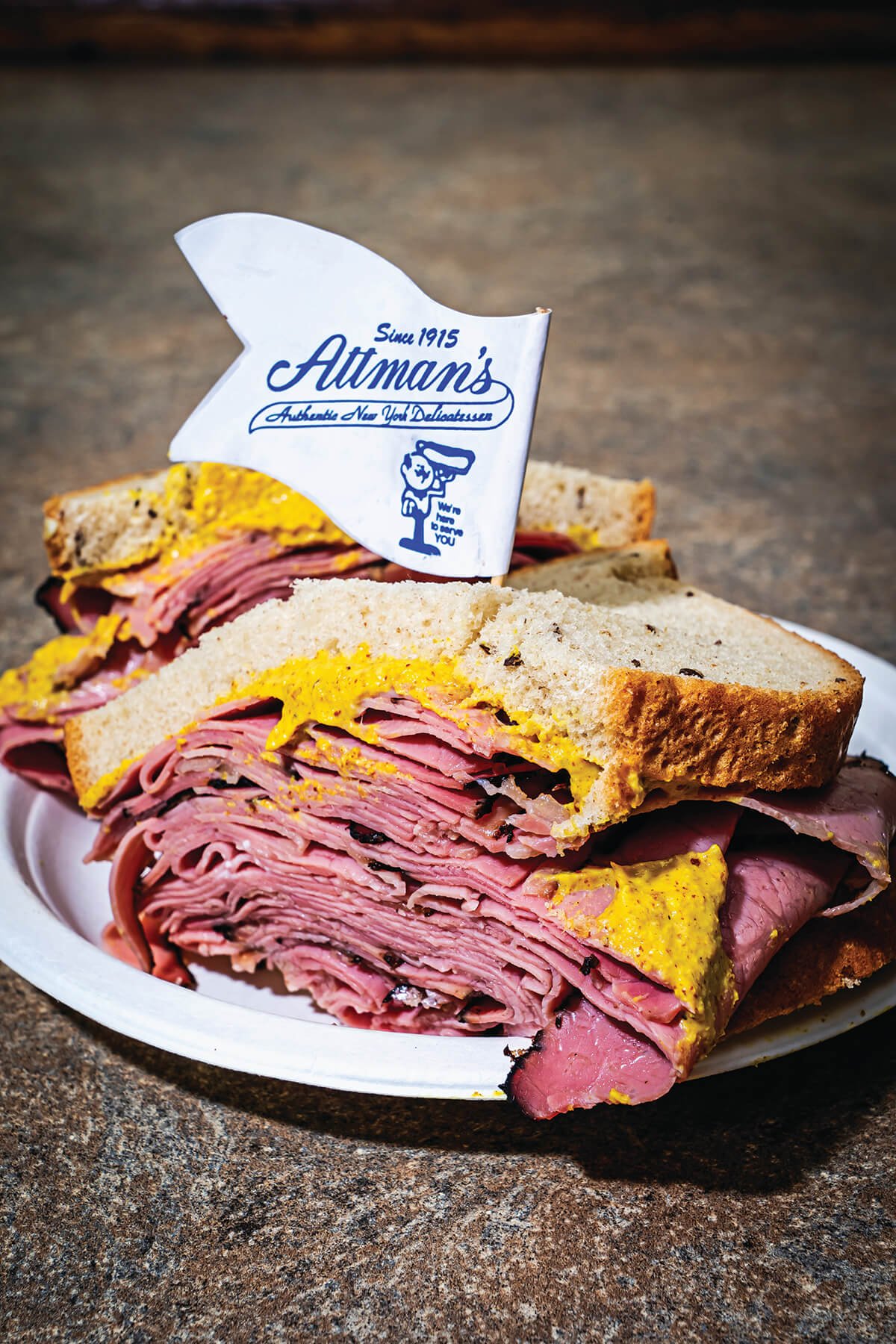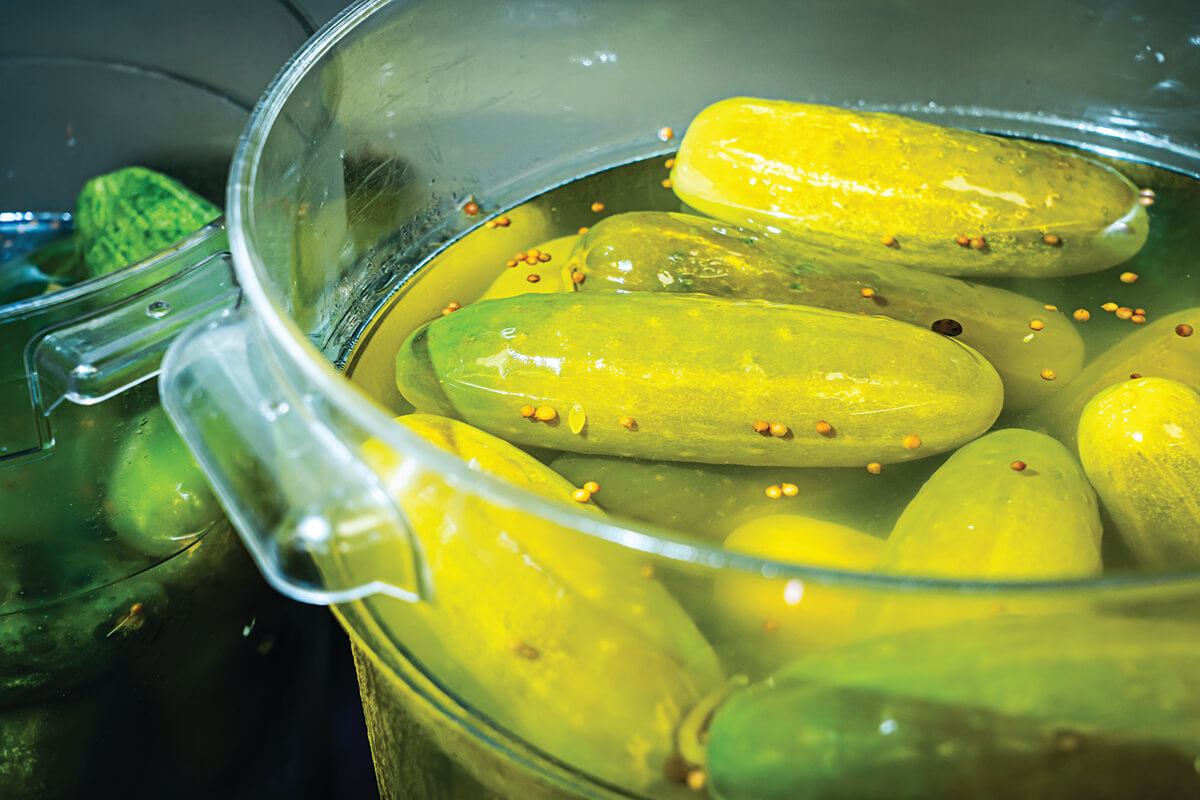 Harry Attman was just 20 years old when he arrived in America in 1912 from his native Russia. The oldest of nine children, he emigrated in part to escape persecution of Jews in Eastern Europe. Knowing that passengers on the boat could be turned away at immigration if they appeared sickly or diseased, he brought a comb and scissors with him on the voyage to spruce up his shipmates and make a dime or two.
"He offered people a haircut for a little fee," says M. Hirsh Goldberg, author of It All Started With a Deli: The Attmans of Lombard Street, with a foreword written by former Maryland Governor Martin O'Malley. "The story is that before and after that, he never cut anybody's hair. That kind of entrepreneurship I think infected the rest of the family."
Harry opened a small store on Baltimore Street in 1915 that sold fruits and imported delicacies such as pickled herring, smoked fish, and canned salmon.
"He used to tell me he'd buy three cans of sardines for nine cents and sell them for 10 cents for the three," Marc, 69, says of his grandfather. "That was the big money maker." He also sold corned beef sandwiches, two in a brown paper bag for a nickel.
"At that time, it was an inexpensive meat," Marc says. "It was easy to make. He had a recipe that he used, the same recipe that's used today."
Harry and his wife, Ida, had three boys, all of whom grew up to taste success. The oldest, Ed, founded Acme Paper & Supply Company. The youngest, Leonard, started real estate and health care businesses. The middle son, Seymour, followed in his old man's footsteps. He was so devoted to the deli that at a young age he learned some Yiddish, Italian, and Russian in order to better communicate with some of its customers.
All three gained an appreciation for hard work and decency from their patriarch.
"My father always said whenever he came into work it was too late, and whenever he left it was too early," Ed says in It All Started With a Deli. "And he never would pull the blind down and say, 'We're closed.' If a customer came and needed something, he opened up the store to take care of him."
Attman's current location, at 1019 East Lombard Street, opened in 1933. At that time and in the ensuing decades, the thoroughfare, located in a heavily Jewish neighborhood, was bustling with life day and night. At one point, there were seven delis on what is known as Corned Beef Row, along with a butcher, cheese shop, fish market, pharmacy, and a poultry store with live chickens out front.
"It was the Walmart of its time," Marc says.
These days, only Attman's and Weiss Deli remain on Corned Beef Row. The demographics of the city started changing in the late 1960s, when many white residents began moving to the suburbs and the neighborhood became increasingly African-American. Yet Attman's business continued to thrive. When riots erupted in 1968 following the assassination of Martin Luther King Jr., several buildings on Lombard Street were burned to the ground. Attman's was spared.
"It's hard to believe," Seymour says in Goldberg's book. "They broke the windows, but they didn't loot. Not a nickel of stock is missing. The police and firemen did a wonderful job. Look next door; completely gone. And all we got was some water damage. It's a miracle."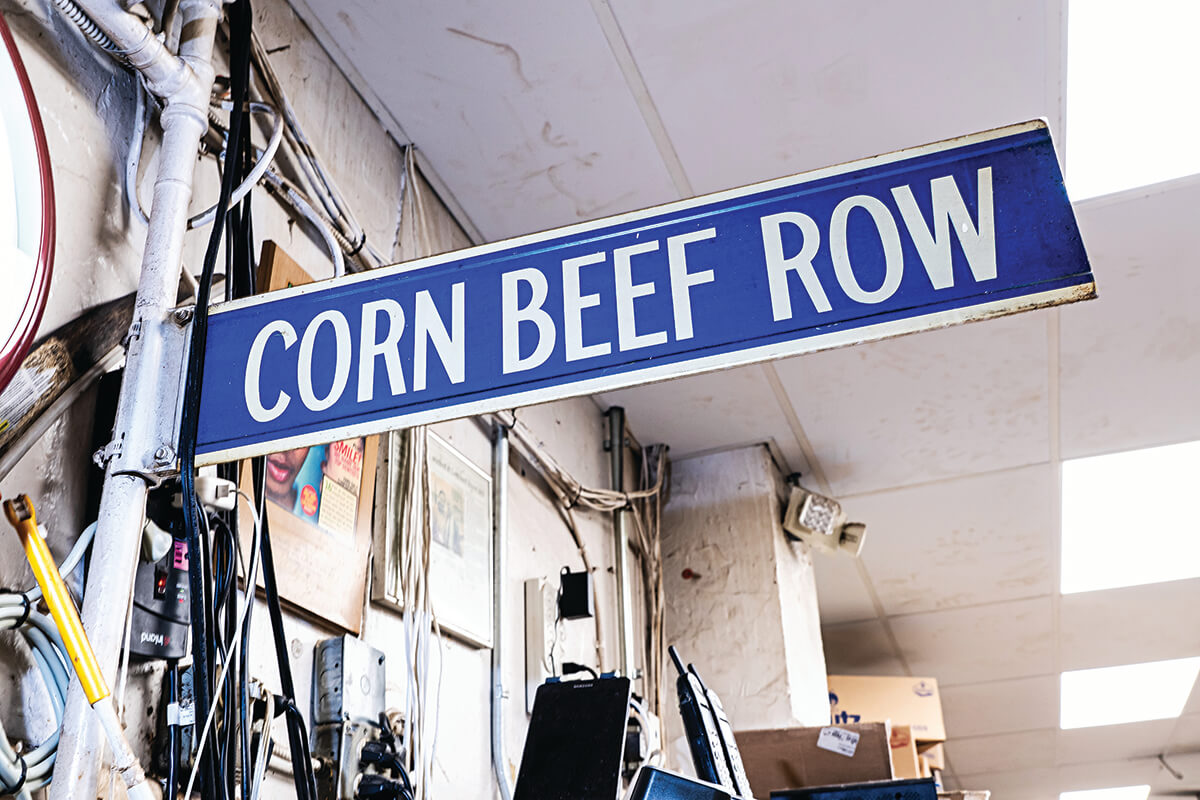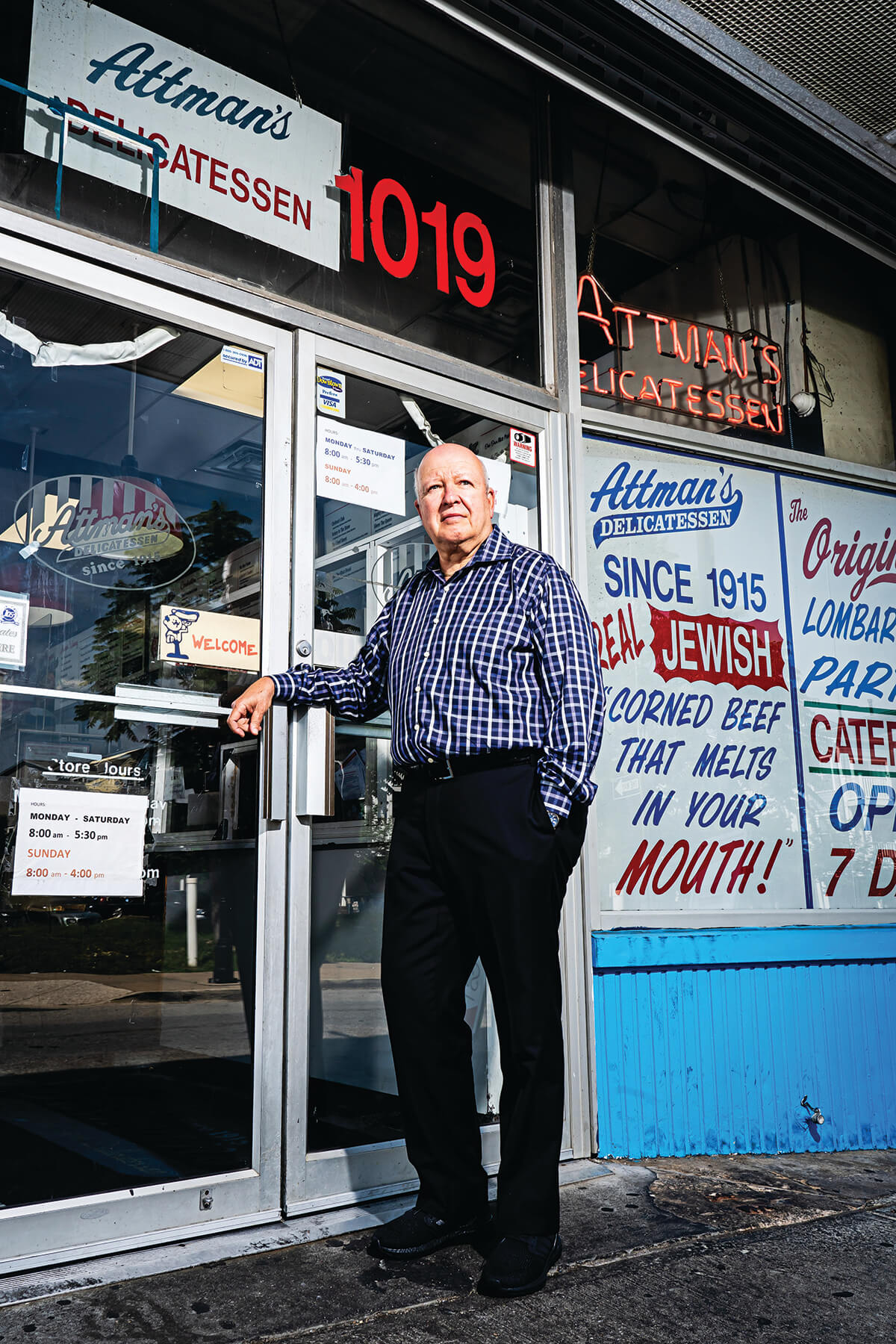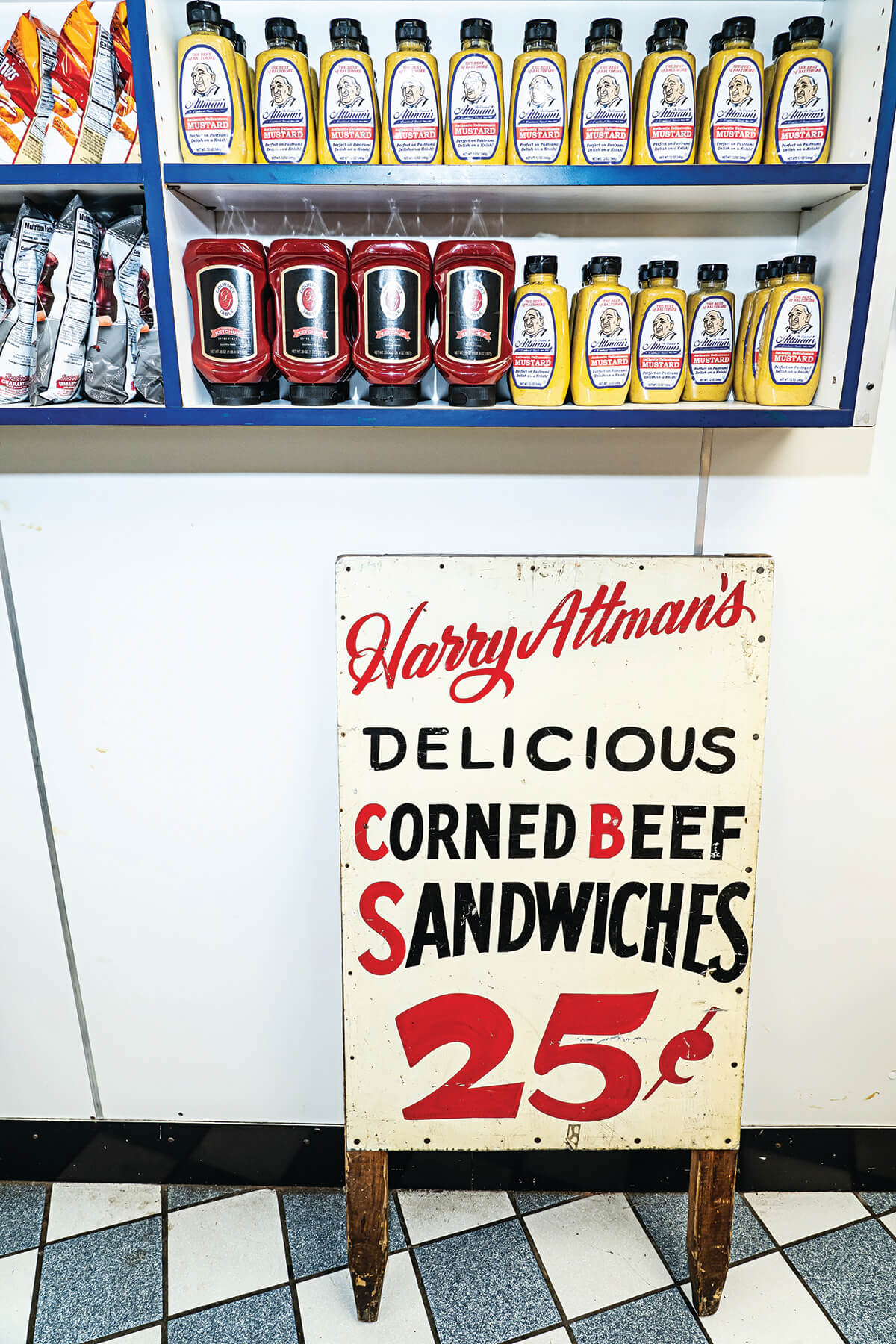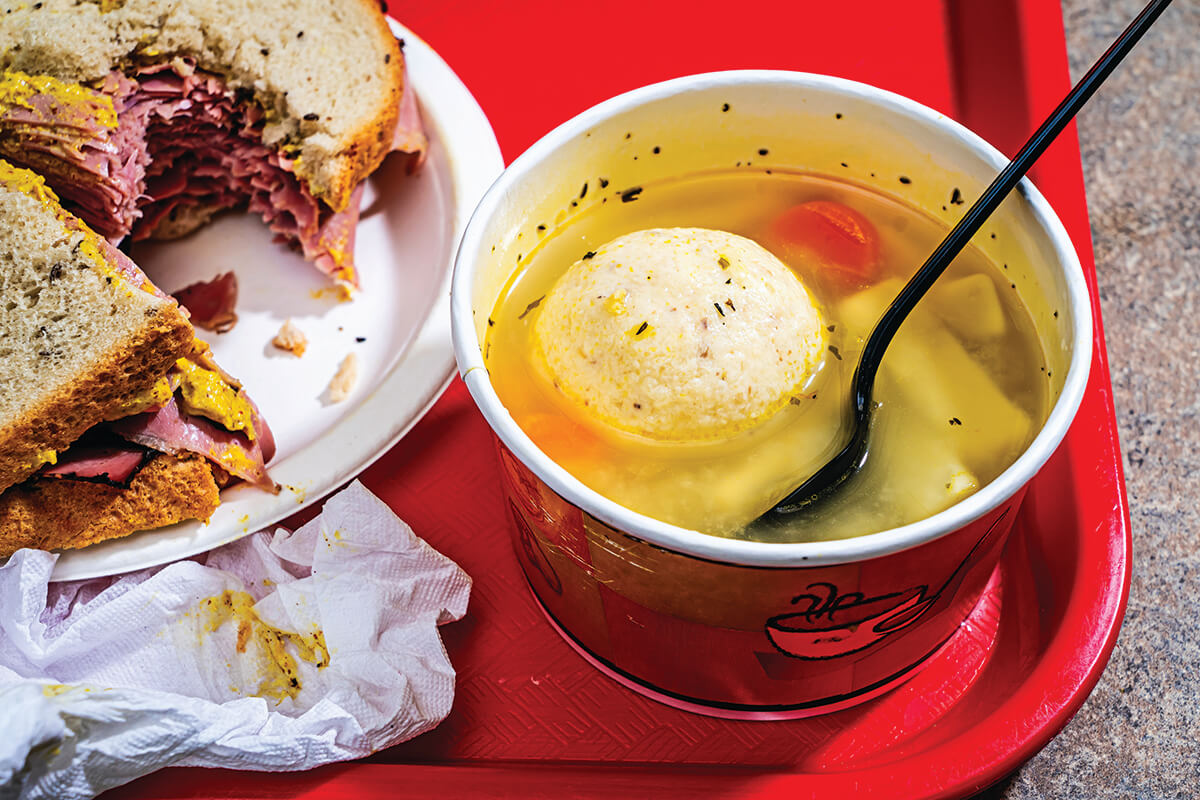 After Harry's death in 1968, Seymour took over and helped elevate the deli to its iconic status. It was his idea to buy the building next door and create a place for customers to sit and eat. He came up with sandwich combos and creative monikers, like the Cloak and Dagger (corned beef, cole slaw, and Russian dressing) that remain popular to this day. Baltimore legends for whom no last name is needed—Brooks, Boog, Cal—frequented the place. In 1975, then-presidential candidate Jimmy Carter stopped in for a turkey sandwich with cheese and cole slaw.
"I've been going to Attman's since probably before I was born. It's been forever," says U.S. Sen. Ben Cardin, who remembers buying lean corned beef sandwiches for 40 cents when he was a student at the University of Maryland Law School. "I've done deli events in Washington. I've done fundraisers on Lombard Street, which have been the most desirable events to attend of any fundraiser I've ever done. People just love it."
The Attman name has become synonymous with the deli. Ron Attman, Harry's grandson and Marc's first cousin, is the co-CEO of Acme Paper. He worked at the deli as a teenager and is still proud of his family's association with it.
"I've been all over the world, and people have said, 'Are you related to the deli?'" he says. "It's happened to me in China and London. We were on Kangaroo Island in Australia on a tour bus and there was one other couple on the bus, and the girl happened to have been from Odenton. She said, 'Are you related to the deli?'"
"I'VE BEEN GOING TO ATTMAN'S SINCE PROBABLY BEFORE I WAS BORN," SAYS U.S. SEN. BEN CARDIN. "IT'S BEEN FOREVER."
Tragedy struck the family in 1994, when Marc's brother, Stuart, drowned in an accident while on vacation in Jamaica. He was just 34. The loss was devastating not only because he was a beloved son and brother, but because he was the next in line to take over the deli.
To honor the youngest of his four children, Seymour renamed the dining room Stuart Attman's Kibbitz Room. An affable man who delighted in holding court at the deli and schmoozing with customers, Seymour worked well into his 70s. The idea of retiring never even crossed his mind. Kibbitz, by the way, is a Yiddish word for gossiping and gabbing, something Seymour was particularly fond of.
"Everybody knew Seymour, and he knew everybody," says Attman's manager Dave Bush, who has worked at the store for 44 years. "Back in the day, people who were down on their luck and hungry would walk in here and he'd give them a sandwich. I learned a lot from him."
In 2002, Seymour suffered a major heart attack and collapsed at the deli. A month later, he died at the age of 76. Marc is now at the helm.
"For me, it's my identity, and it's my responsibility to the whole Attman family to keep it going," he says.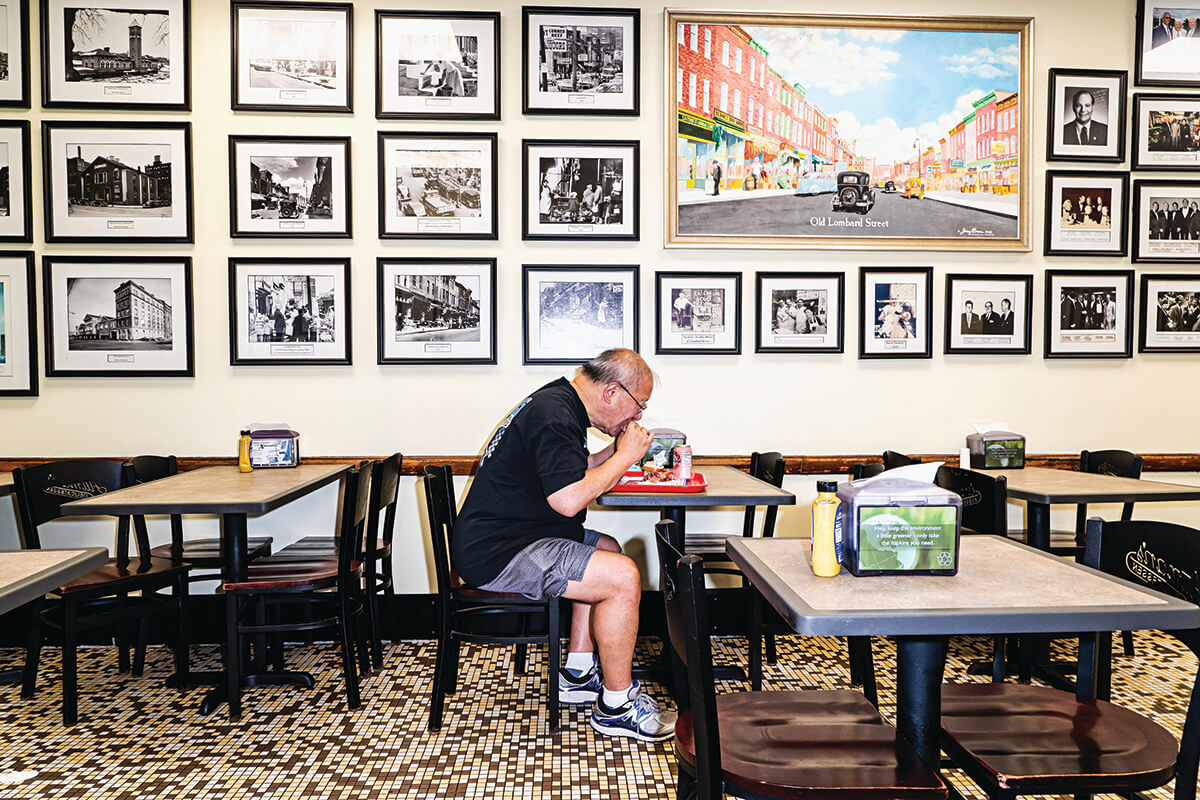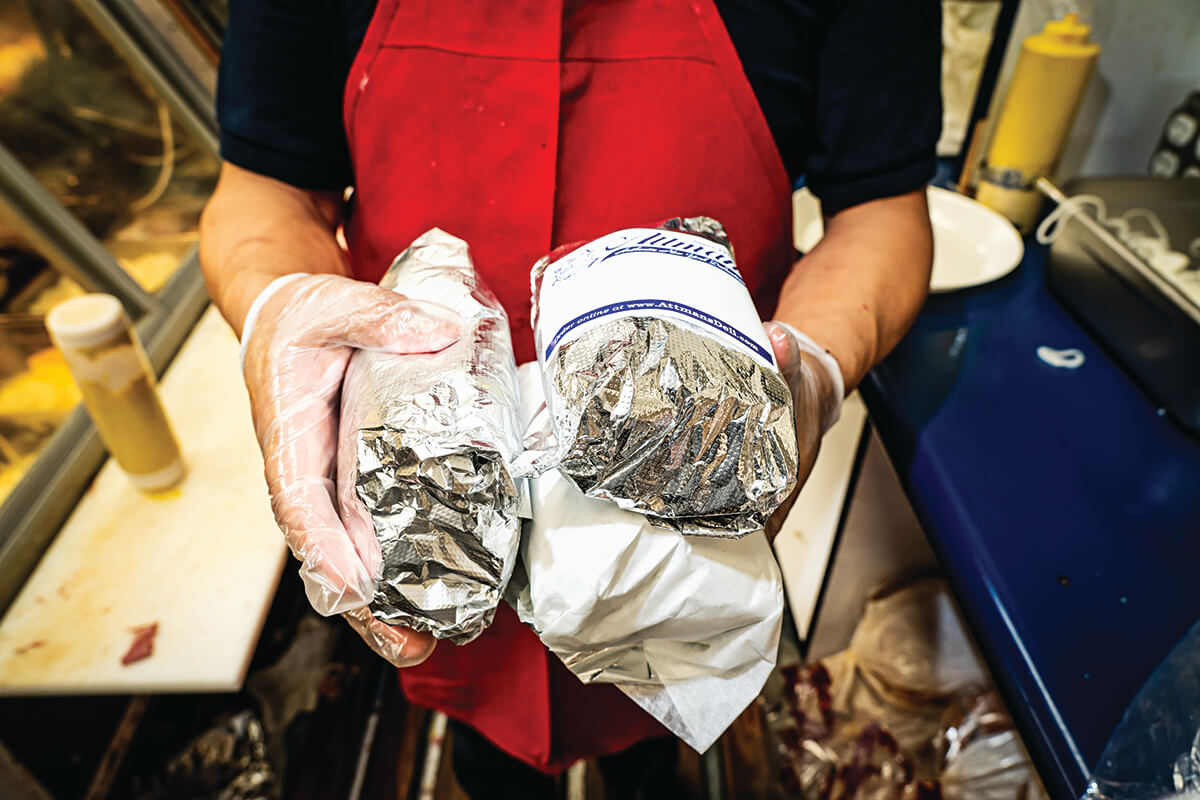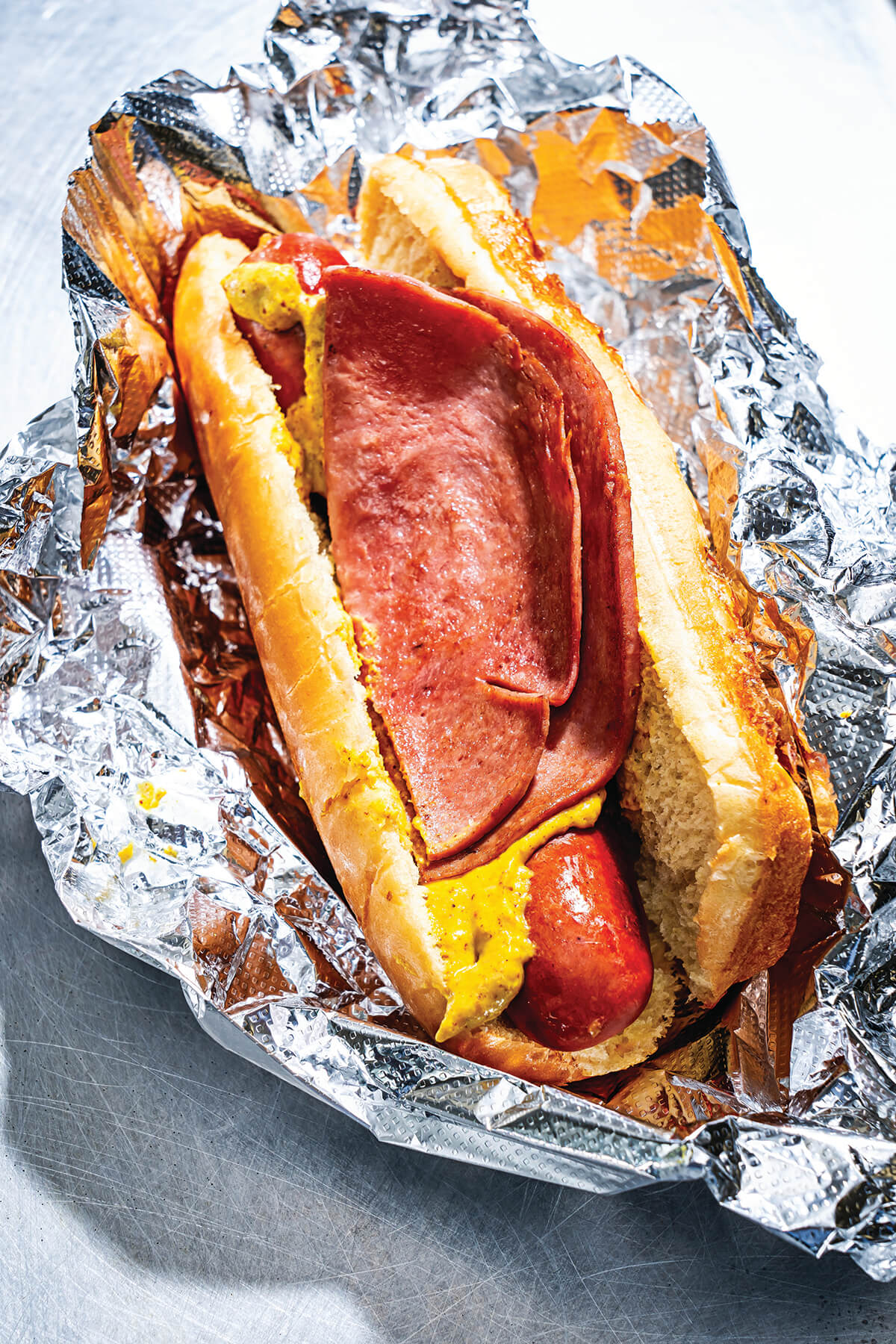 Mike Briguglio is enjoying a corned beef sandwich that he drove 90 minutes to get his jaws around. He's sitting in the Kibbitz Room, surrounded by photographs of the neighborhood through the years, famous visitors to the deli, and clippings of news stories about its success. There's a state proclamation inducting Harry into the Baltimore Jewish Hall of Fame and a photo of cadets from the U.S. Military Academy lined up outside the Attman's booth at the 2016 Army-Navy game at M&T Bank Stadium (the family also operates an Attman's in Montgomery County that opened in 2013).
In another frame sits the medal the Attman family was awarded by the Maryland Restaurant Association for 50 years of membership. Briguglio, 61, has been coming since shortly after Seymour joined. He still drives from his home in North Potomac to Baltimore a few times a year to hit his holy trinity of ethnic food spots.
"I'm Italian, so we always go to Trinacria and load up on groceries," he says. "Then the next stop is here for a sandwich, and then we go to Vaccaro's for a cannoli. You can't beat their corned beef sandwich. I used to have a friend I came with who liked the hot dogs. Sometimes he'd buy bags of them and take them back to family. I have a lot of memories here."
Bush, 66, knows what he means. He used to go to Attman's with his father before he started working at the deli at the age of 21. "The local people from this area—white, Black, Polish, German, Italians—they all have stories of when their father brought them here. It makes you feel like you're in the right place."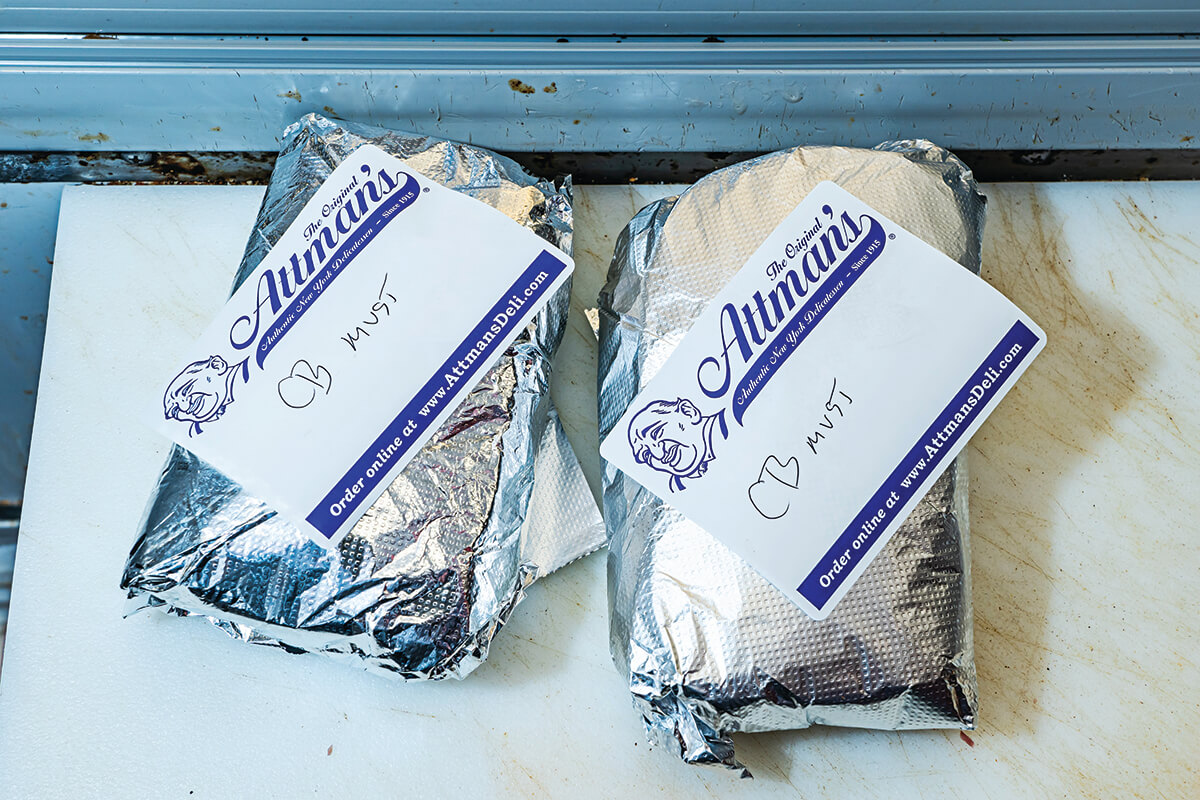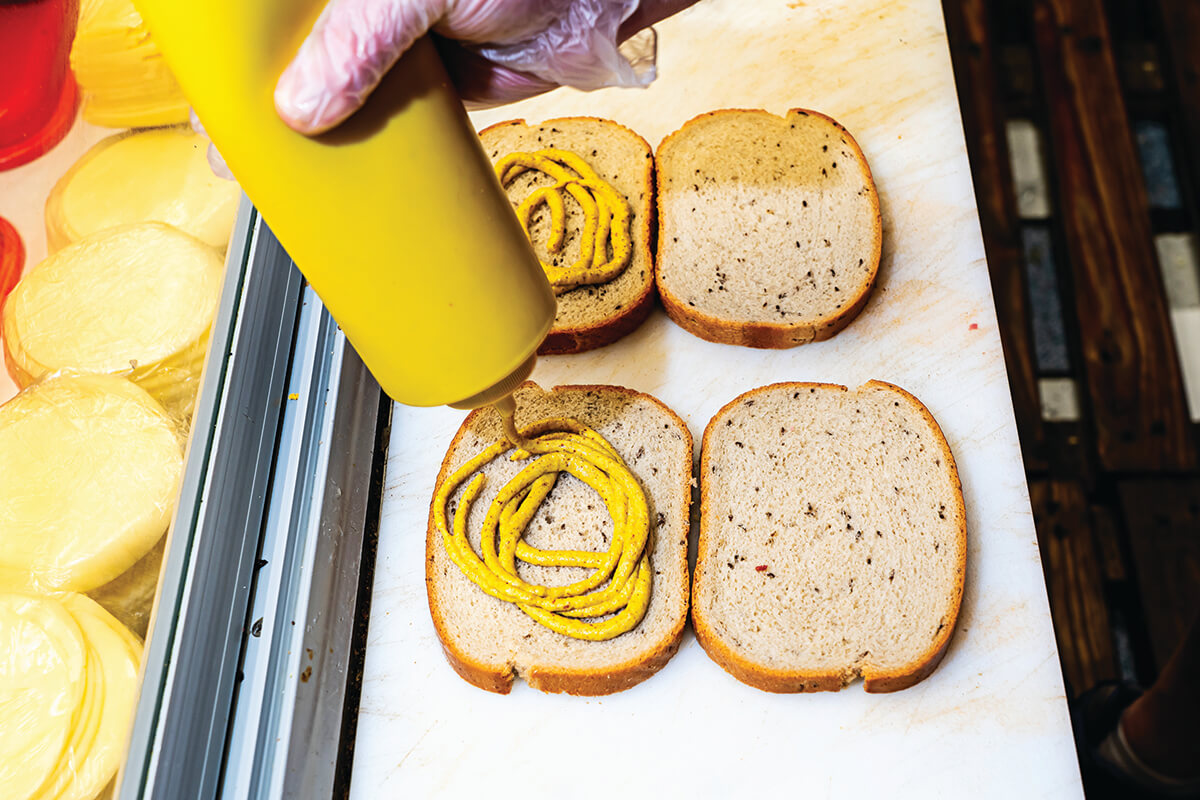 Nostalgia is well and good, but if Attman's corned beef, pastrami, matzo ball soup, and beloved beef hot dogs weren't the real deal, the deli's lines would have dwindled long ago. It's the food that keeps most people coming back.
Attman's still uses the same recipe to brine its corned beef that Harry and Seymour perfected. It's a closely guarded secret, known only to longtime, trustworthy employees, but Marc will share some facts about the process.
ATTMAN'S STILL USES THE SAME RECIPE TO BRINE ITS CORNED BEEF THAT HARRY AND SEYMOUR PERFECTED. IT'S A CLOSELY GUARDED SECRET.
The deli gets its meat from two distributors, one local and one in New York that it has been working with for more than 40 years. When the 10-to-12-pound briskets arrive, some are already brined (using the secret formula) and some are seasoned in the store. The hunks sit for three days before being boiled in large kettles.
"It has to be cooked a certain amount of time," he says. "We have a certain way that we know it's done. We don't like to give out any other secrets. It really makes a big difference. Some people [think] it has to be cooked so many hours. But we have to check each one as it comes out to make sure it's ready. Nothing worse than overcooked corned beef. Well, there are things worse, but . . ."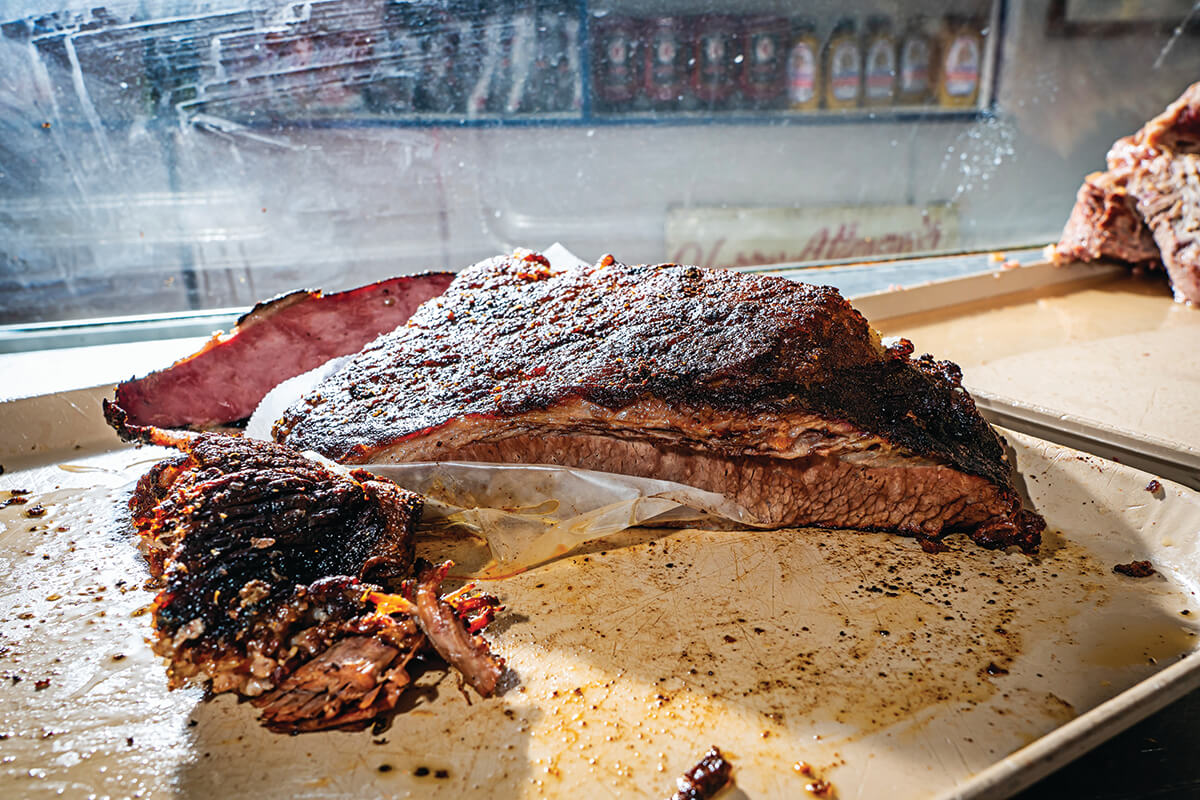 As if horrified to even consider such a thing, he doesn't finish his thought. He eats at least one sandwich a week—on untoasted rye with mustard—not only for quality control, but because he genuinely loves corned beef.
"The most important thing is it's fresh. You get it cut when you order your sandwich, and the corned beef hasn't been sitting around from who knows when. It's a gigantic difference."
On a busy day, the Baltimore location can sell a ton—as in 2,000 pounds—of corned beef. Hot dogs are the deli's other signature item. They're a proprietary recipe made by a company in New York. Served with a slice of bologna or topped with pastrami, they're a consistent crowd favorite.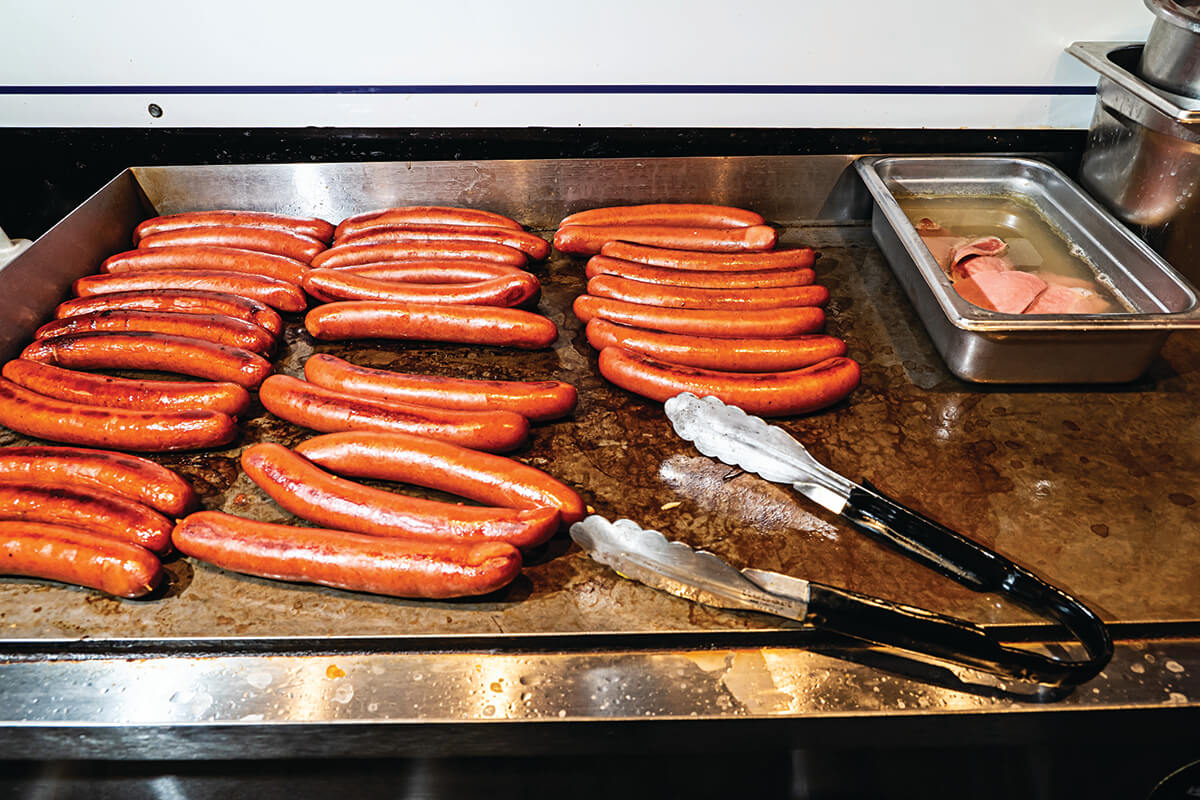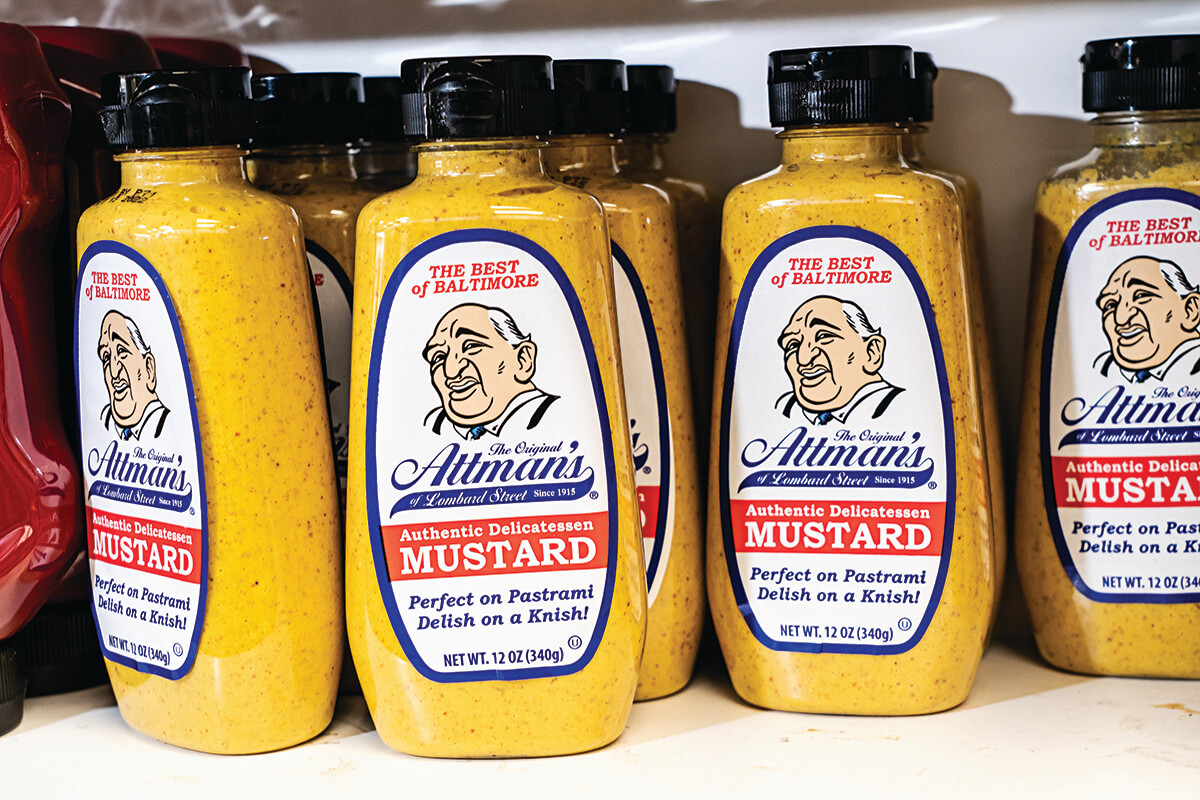 Despite the fact that Attman's sells more than 12,000 pounds of dogs a year, despite the fact that there's almost no time when it doesn't have a line, the restaurant industry remains one with thin profit margins. The pandemic crushed the lucrative catering segment (though it is in recovery mode now). And for the past decade or so, Marc hasn't seen much development in the neighborhood, which has caused him to contemplate moving to fancier new digs in Harbor East or Harbor Point.
Plus, it's exhausting. The first call Marc makes in the morning—before working a full day at his optometry practice—and the last one he places at night is to the deli. He's nearing 70, and crucially, he's the last Attman working in this family business. He vows that he will never sell it to an outside entity. If a family member doesn't step up, his will dictate that it be closed.
"God willing, it's always in an Attman's hands," he says. "If it isn't, my family will come to my grave and yell at me. It's not about the money. It's about maintaining my father's and my grandfather's legacy." And the sanctity of the name on the awning above their deli.