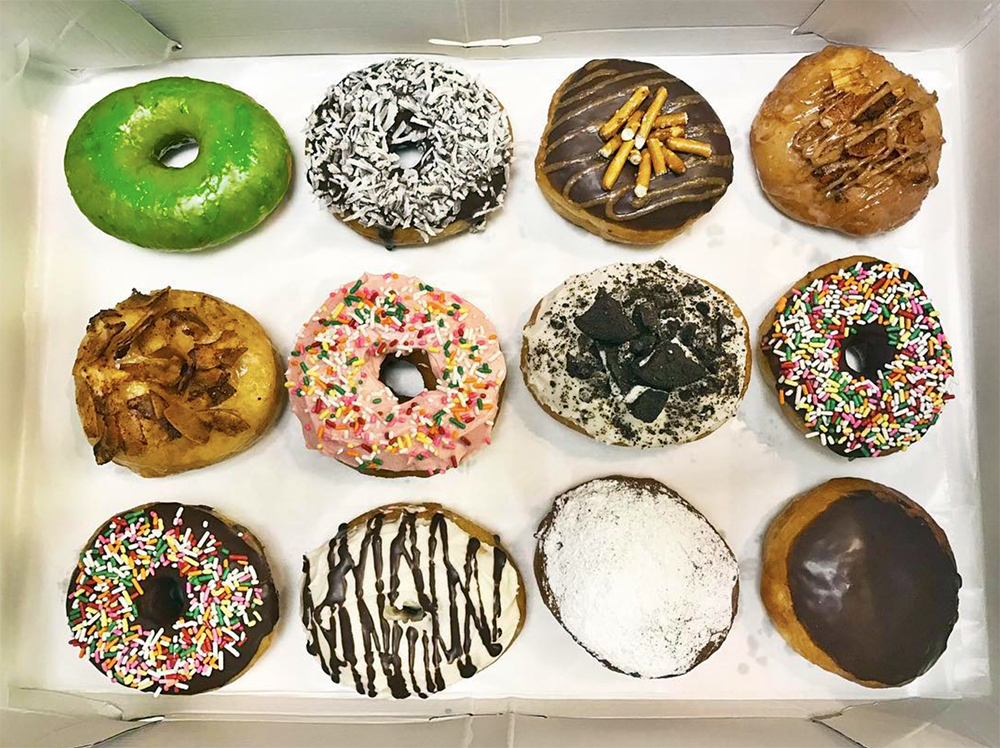 Courtesy of Divine Donuts
The city's very first food incubator, B-More Kitchen, is now up to a whopping 26 members working to start up food businesses inside its Govans space. From brick-oven pies from Well Crafted Pizza to crunchy granola from Woot and everything in between, chefs are always working inside the 24-hour, state-of-the-art kitchen.
Co-founded by Eben Altmann and Jonathan Fishman, the concept targets businesses in the true startup phase, with owners who want to the local food community.
"It's great for these entrepreneurs to come into our facility and be working alongside 20-plus other businesses and entrepreneurs who are trying to do similar things," Altmann says. "We have businesses who will work together to do an event, or use each other's products. Being able to plug into the larger community here is great."
We decided to check in with B-More Kitchen to find out a little more about the newest startups to join the roster.
Divine Donuts
Husband–and–wife duo Jeff and Emily Arenberg, both members of the local vegan community, will be frying up hand-cut, small batch vegan donuts. They'll have classic flavors like chocolate glazed and powdered, as well as more gourmet creations like S'mores and The Elvis (a banana creme filled donut with a peanut butter glaze, and topped with coconut "bacon"). 
"It's not about what they have in them, it's what they don't have—they simply don't have eggs, and they don't have animal milk. There's no vegetables!" says Emily. Gourmet donuts have been having a moment, with Instagrammers posting thousands of the doughy creations on their feeds, which Emily simply explains by saying: "It's the year of the donut."
Why Baltimore? "I appreciate the Baltimore food scene because it is eclectic," Emily say." You can find different ethnic foods and almost anything you want. Baltimore has a very hometown feel about it, even if it's not your hometown. . . .When someone is working out of B-More kitchen or doing a startup, you know that they're really putting love and passion into their food."
Chesapeake Farm to Table
Farmer-owned online store Chesapeake Farm to Table is hoping to go from the wholesale to the home front. Previously, CFT only sold products to restaurants like Towson Tavern, Turnhouse, and Aromes, but now with the food-safe space at B-More Kitchen, the co-op will be able to break down larger quantities of farm fresh items into consumer-friendly sizes. If customers missed a farmers' market that week, they'll be able to place their order online, and the next day the farmer will get the pick list and custom harvest every item. 
The co-op features nearly 25 Baltimore area farmers, producing items like edible flowers and micro-greens, and CFT is also responsible for sorting, bagging, and dropping off them items at local pick-up points. (Remington Wine Company and Culinary Architecture in Pigtown, for example.)
Why Baltimore? "Baltimore has always been called 'Smalltimore' because it's like a small-town city," say Heather Hulsey, CFT's executive director. "Everybody really cares about their community, and they want to support nearby farmers and chefs." 
Prep4Success
As a former personal trainer, Jesse Hester knows what it takes to help his clients lose weight, and the biggest obstacle always seemed to be diet. "No matter how well I trained my clients or how specific I made their macronutrients or diet regimen for the day, they would still go for convenience over making their own meals. . . and that just happens to be McDonald's, and fast food," he says. 
After making meal plans for family and friends, Hester realized he wanted to turn his passion into a business and help his clients get the results they wanted. He created Prep4Success, a healthy meal delivery service, which brings same day fully-cooked meals right to customers' doorsteps. The menu includes items like flat-iron steak with sweet potato and asparagus, banana oatmeal pancakes, and even a new line of guilt-free protein ice creams. "I know it's hard because I watch my clients struggle through it. They work their asses off in the gym but then they get home and those cravings hit them, especially late at night," says Hester. "Every hour you spend in the gym is worth 10 times more if you're feeding your body the right nutrients."
Why Baltimore? "I grew up here my whole life and the city made me who I am and I would love to give it back," Hester says. "This is my home. It started right here in my house here with my family, friends, and gym." 
K&B Whole Body Solutions
When that Chinese take-out craving hits, reach out to dynamic sister duo Brittany Adams and Kendra Adams-Winston. The pair founded K&B Whole Body Solutions, a healthy ready-to-eat meal delivery service that specializes in Asian flavors and American classics. Their most popular dishes include coconut curry shrimp, sweet Thai chili chicken, and citrus herb thighs. "It feels like we are really growing our business; we treat the kitchen like our own," says Kendra. The sisters eventually want to expand to parts of Baltimore City that are considered food deserts, and provide healthy meals for people who don't have access to supermarkets.
Why Baltimore? "I'm born and raised in Baltimore and I'm living proof that these meals work," Brittany says. "I've lost 50 pounds on them."