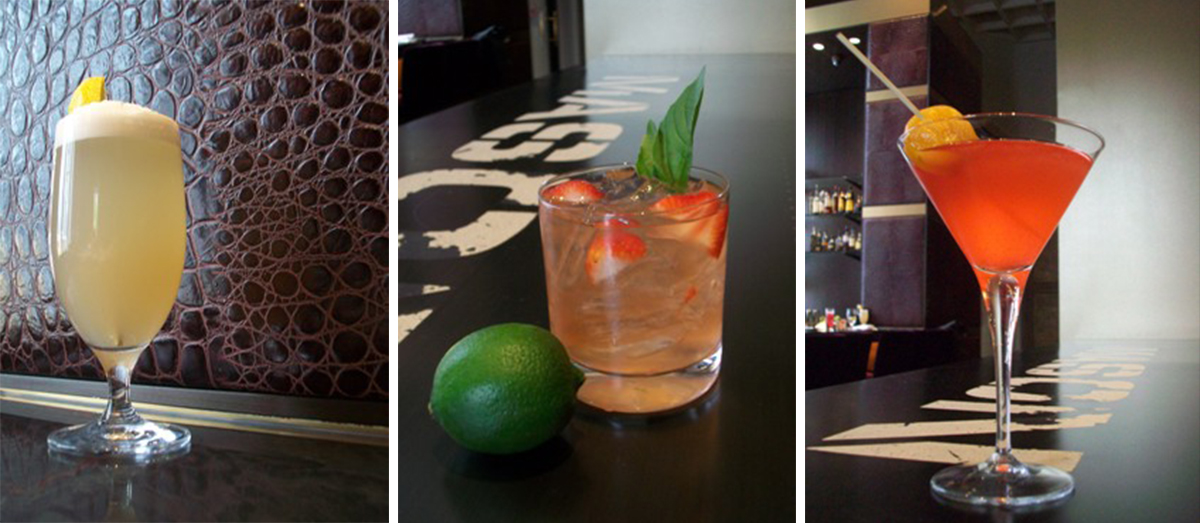 Courtesy of Profiles PR
Today's weather makes you long for refreshing summer drinks. Luckily I can share with you some of the new spring cocktails at B&O American Brasserie. On Wednesday night, I attended a media event at the restaurant, where bar manager Brendan Dorr and staff showcased their newest creations.
Also in attendance were Style magazine's Brian Lawrence, MIX 106.5's Reagan Warfield, Visit Baltimore's Sara Hisamoto, Baltimore Drinks Examiner Mark Burlet, and Baltimore Bars Examiner Cindy Plackmeyer, among others.
Together we sampled a generous menu of nine cocktails, all with creative twists on classic summer drinks. (They also provided us with flatbread pizzas, ensuring that we'd all walk out of there upright). Dorr is known for his creative drink experimentation, and this menu was no exception.
Some highlights for me included the Chamomile Fizz, pictured left, with chamomile-infused orange vodka, Domaine Canton, lemon honey syrup, lemon juice, egg white, and soda water ($12). The flavors were very light and airy—barely there—like drinking alcoholic tea. The egg white gave the cocktail its classic foamy head, making it look straight out of a 1950's malt shop.
I also enjoyed Boxcar Beer #2 with Hoegarden, J.K. Skrumpy's cider, and Caribbean liqueur Velvet Falerum ($9). The drink is the sequel to B&O's original Boxcar Beer, which included a much darker ale. This drink hit the same notes as a classic Dark and Stormy, sweet with a spicy kick.
One of the most interesting drinks was the Remedy Cocktail, with vodka, Chartreuse, ginger syrup, orange juice, and orange flower water ($10). For those who haven't had Chartreuse, it's an intensely flavored liqueur made by Carthusian Monks using 132 different herbs and spices. This drink is designed as a cure-all: herbs and spices, ginger, and vitamin C.
Ixia fans will be happy to know that the famous Queen Bee cocktail (which I wrote about here) has made a triumphant return ($13). The menu also includes the peppercorn-flavored Platform ($10), tequila-heavy Santa Fe Railway ($11), basil-infused Modena Market Cocktail ($12), fruity A-Train ($9), and the dessert-like Coconut Milk Punch ($9).
All of these drinks are ideal in the warm weather months. Plus, you'll be hard-pressed to find a place that puts more thought, time, and energy into their drinks than B&O American Brasserie.