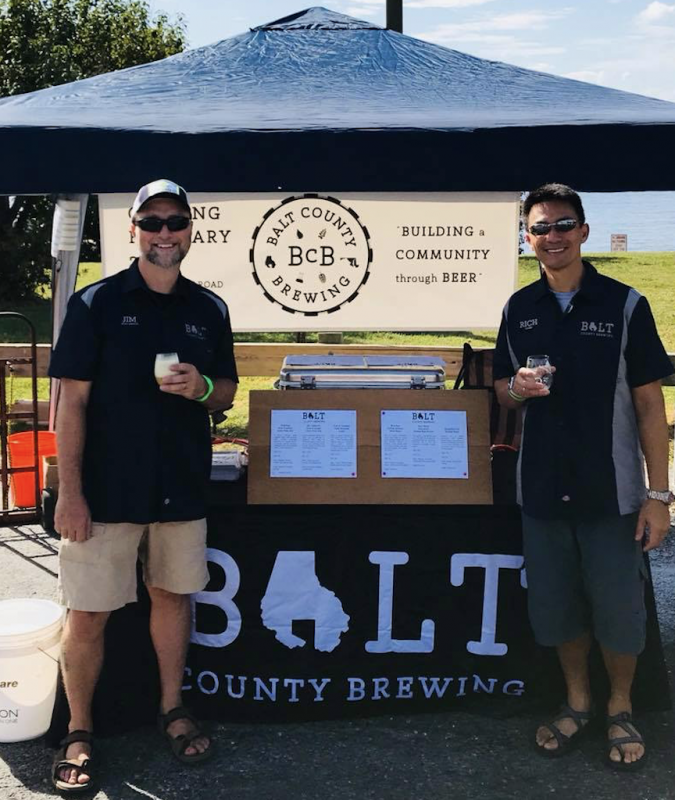 @baltcountybrewing via Instagram
When most brewers open their first facility, they have high hopes of eventually seeing their beers on taps and shelves throughout the state. For Rich Mak, however, becoming a big-name brand has never been the goal.
"We're not trying to be the next Dogfish Head or Heavy Seas," says Mak, who plans to open Balt County Brewing (BCB) in Hunt Valley this February. "There are already plenty of people who make great beer in cans and bottles. It's pretty crowded real estate."
Instead of going the distribution route, Mak is more focused on creating a hangout for beer lovers in Northern Baltimore County. In 2015, he and his family moved to Mays Chapel from Chattanooga, Tennessee when his wife accepted a job with the Kennedy Krieger Institute. Soon after getting to know the area, Mak—a longtime homebrewer—began to see that it was lacking in craft beer offerings, with Duclaw and Red Brick Station being the only nearby options.
"I was really sadly disappointed," he says. "There are a lot of people in the Timonium, Cockeysville, and Hunt Valley areas. And they love craft beer, but they're not going to schlep into the city to get it."
To fill the void, Mak dreamed up BCB—a facility that will occupy a 12,000-square-foot warehouse inside a Hunt Valley industrial park off of Beaver Dam Road. The space will have 14 fermenters, and three independent brewing systems including one 25-gallon pilot system, a two-barrel system for smaller experimental beers, and a seven-barrel system that can brew up to 217 gallons.
"There's this running joke in the brewery world that everyone uses a 15-barrel system," Mak says, with a laugh. "For some reason that's the magic number when you're starting a brewery. But when you brew that much, it may sit there for a month and a half before you move through it all."
At the helm of the small-batch facility will be head brewer Jim Wagner, formerly of DuClaw Brewing. Mak partnered with Wagner through a connection in his Lutherville home-brewing club, The Brewtherville Labs. He says that Wagner's experience, combined with his creativity, make him the perfect fit for a smaller operation.
"He was with DuClaw for a long time," Mak says. "And yeah, they've done some outside-of-the-box stuff, but they really focus on their flagship beers. When you're making 60 barrels in one shot, you don't get to experiment much."
The brewery's 25 taps will be filled with signature releases including the M2 Imperial New England Pale Ale, End of Summer Dark Mexican lager, Soul Reed Chocolate Double Rye porter, and the Paw Paw New England India pale ale—a collaboration with Deep Run Paw Paw Orchard in Westminster which was well-received at Baltimore Beer Week's ChiliBrew competition last October. Although the beer won't be distributed, Mak has purchased a canning line so that patrons can occasionally take their favorite brews to-go.
In addition to a traditional bar, the taproom will boast a serve-yourself beer wall in order to make the atmosphere friendly to novices and knowledgeable beer lovers alike. Drinkers can start a tab, and use the technology to taste as many brews as they want in pours as little as one tenth of an ounce. Mak says that the system encourages sampling in an setting where newbies feel less intimidated.
"It scratches a lot of itches in the world of craft beer," he says. "Sometimes breweries aren't really inclusive, and we want to break those barriers down."
In keeping with the inclusive feel, the taproom will also be family-friendly. Mak plans to feature indoor bocce courts, corn hole boards, big-screens for sports viewing, and even a fountain soda machine for kids. He has also hired an executive chef, Culinary Institute of America alum David Madgeberger, to run BCB's own on-site food truck. The truck will offer classic bites (think wings, burgers, and gourmet salads), and source seasonal ingredients from One Straw Farm in White Hall.
Aside from partnering with other local businesses (he's even in talks with One Straw Farm about launching a produce stand on the property), Mak says he's most excited for BCB to become a new go-to spot.
"When people around here say, 'Hey let's go grab a bite to eat and a beer,' I don't want them to have even one millisecond of hesitation," he says. "I want it to be almost like a reflex."