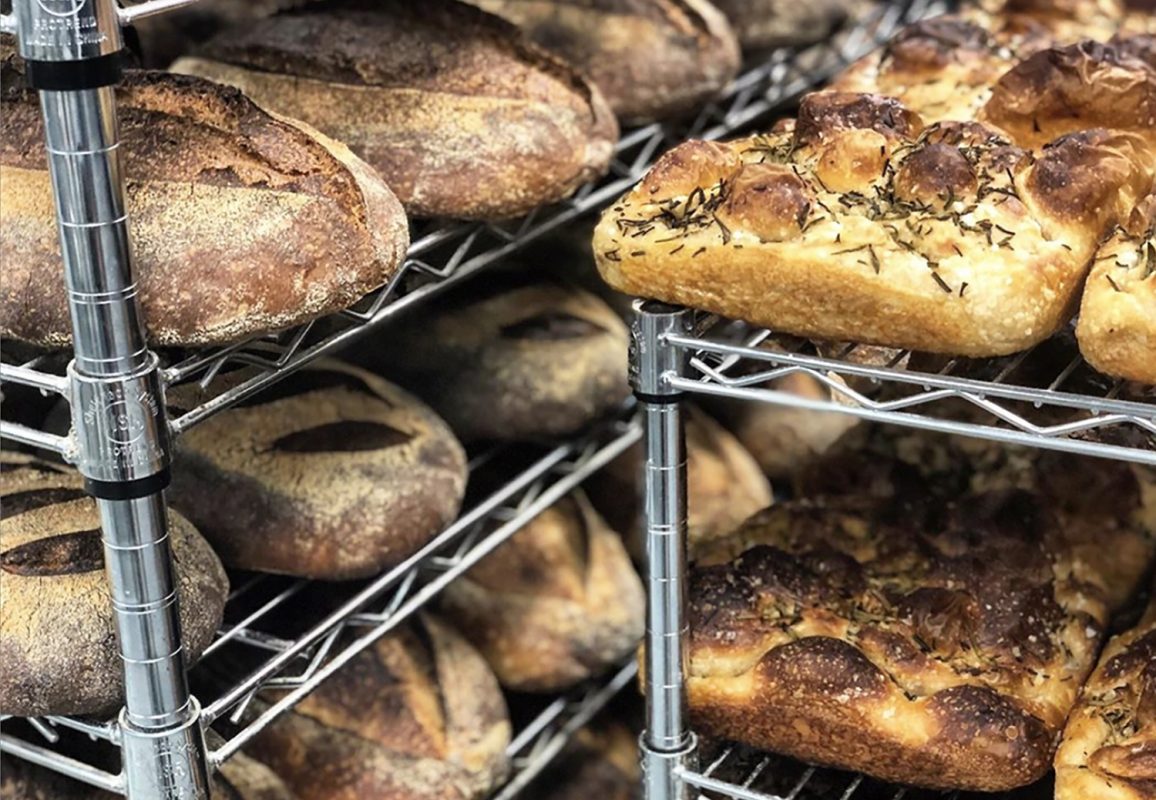 @loafbakehouse via Instagram
At the first trace of crispness in the air, everyone is tempted to go for the comfort food. And carb lovers will be happy to hear that there are a number of Baltimore bakers who are offering subscriptions services—in which patrons pay a flat rate and receive new options weekly—in order to make quality breads more accessible throughout the city. Though these businesses work long hours producing hundreds of loaves each week, feeding their neighbors makes it all worthwhile.
"It is quite a bit of work," says Anthony Egan of Loaf Bakehouse, which is frequently found at the 32nd Street Farmers' Market in Waverly. "But it's worth it when you get to talk to the folks and hand them the bread that you've worked three days to make."
Most of the bakeries rely on locally sourced and seasonally grown grains, and therefore their menus frequently change. This fall, be on the lookout for these festive flavors:
A Friendly Bread: Lane Levine considers himself a modern-day milkman. But instead of glass bottles full of farm-fresh milk, he delivers mouthwatering loaves of freshly baked sourdough to neighborhoods throughout Baltimore. "We decided that, no matter where people live, they can call us their neighborhood bread provider," he says.
Levine produces nearly 20 different varieties including Pecan Cranberry (made with bread flour, water, toasted pecans, cranberries, whole wheat flour, and salt) and Pumpkinseed Rosemary (bread flour, water, toasted pumpkin seeds, whole wheat flour, salt, dried rosemary). He offers single orders and monthly subscriptions online, or, if you're a farmers' market regular, you can look for Levine's stand at Kenilworth on Tuesdays, Crofton on Wednesdays, and Fells Point on Saturdays throughout the season.
Motzi Bread: Named after the Hebrew blessing over bread, this Charles Village operation offers heavenly baked goods. Each loaf is 100-percent whole grain and crafted with flour freshly milled on site to preserve its flavor. This fall, enjoy the Roasted Squash Sourdough—crafted with organic wheat, roasted squash, cold-pressed sunflower oil, cultured wheat starter, and salt—via Motzi's six-month subscription plan that is inspired by a typical Community Supported Agriculture (CSA) model.
Thanks to a recent crowdfunding campaign, customers will soon be able to shop inside Motzi's storefront—located directly below the Guilford Avenue townhouse of husband-and-wife owners Russell Trimmer and Maya Muñoz. "The fact that it can be a relationship building thing as well as a job is crucial," says Trimmer, formerly the head baker for Woodberry Kitchen. "It makes the challenge worthwhile."
While Trimmer focuses on the art of bread baking, Muñoz's skillset is geared toward pastries. She's the brains behind Motzi's seasonal delicacies featuring locally-sourced apples, apricots, peaches, blackberries, raspberries, and blueberries.
Loaf Bakehouse: This one-man show has been a staple at the 32nd Street Farmers Market in Waverly for about a year. Now, Egan is partnering with Crooked Fence Farm to provide a loaf of bread in each of the farm's CSA boxes. Like Trimmer, Egan also uses freshly milled flour (he frequently buys from Migrash Farm in Baltimore County) and bakes with organic Maryland and Pennsylvania-grown grains. He has also collaborated with other local makers for ingredients, including Kitchen Girl Farm for eggs and Max's Degrees for spices.
Stop by Egan's stand on Saturdays from 7 a.m. to noon or place a special order for his delicious Seedy Glenn (Glenn wheat, water, salt, and sunflower/pumpkin/chia seeds) for only $8.