Home Plates
A Baltimore native cooks up a book of Charm City restaurant recipes.
Kathy Wielech Patterson's Baltimore Chef's Table celebrates Charm City's restaurant revolution, from farm-to-fork fare at Fleet Street Kitchen to seasonally inspired cuisine at Liv2Eat and old standbys such as Pierpoint Restaurant (see recipes below).
For Patterson, there were few food choices when she was growing up. "I lived around the corner from Broadway Market," the Fells Point native explains, "but other than that, it was a lot of noisy bars."
The author's culinary education came at the age of 13. "I loved to read Gourmet magazine," recalls Patterson, who co-authored the book with her husband, Neal. "We always had it in our home. If I couldn't experience it, I wanted to read about it."
When did Baltimore become a food town?
About eight years ago, there was this explosion of these modern American-style restaurants using fresh ingredients and putting a twist on classic dishes. I was like, 'Wow, who would have thought Baltimore is a food town?'
Where did your interest in food come from?
I've always loved eating. We had a French-club party in my high school and everyone brought something. I made riz à l'impératrice, a complicated rice pudding that I poured into my mother's elaborate copper mold. We put it in the high-school cafeteria refrigerator, and when the day was over, I unmolded it. Everyone was impressed.
Is there one person, in particular, who helped get the scene started?
Cindy Wolf started it all when she opened Savannah in Fells Point. It was luxurious, yet more modern than what we were used to. Then she moved to Charleston in Harbor East and that exploded. Suddenly, there were high-end restaurants in neighborhoods where you would never have found them before.
Do you have a favorite recipe in the book?
One of my favorites is the hriby dip from Ze Mean Bean Café. Whenever we go, we fight over who gets the last scrap out of the bowl—it's pretty delicious stuff. I've also made Gypsy Queen's chipotle aioli numerous times—it tastes great on everything.
What do you want readers to get out of this book?
I want them to learn about the Baltimore restaurant scene. Even if you're not interested in cookbooks or making the recipes, you can read about the history of the restaurants and the chefs. There's a lot going on here food-wise.
---
Slow Cooked Calamari "Birroteca Style"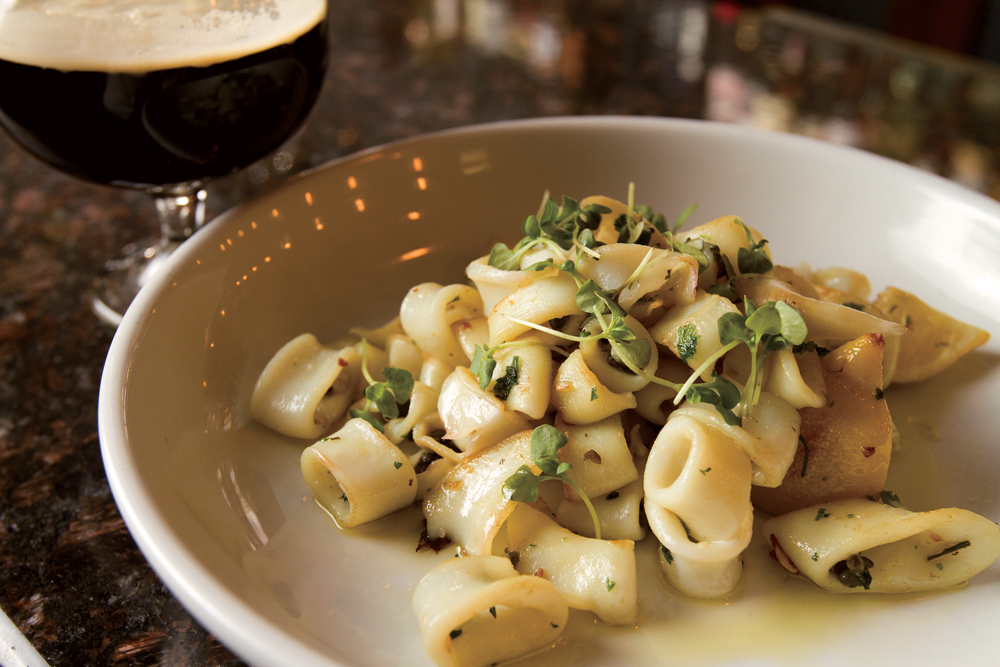 (Serves 4)
"Slow-cooking the calamari in oil makes them exquisitely tender."
1 1/2 pounds calamari, cleaned and cut into 2-inch rings
3 cloves garlic, crushed
1 1/2 cups olive oil blend
2 teaspoons salt
1/4 cup extra virgin olive oil
1 tablespoon minced garlic
1 lemon, quartered
2 tablespoons drained capers
2 tablespoons chopped fresh parsley
1 teaspoon kosher or sea salt
Directions:
Preheat oven to 275°F. Place the calamari, garlic, oil blend, and salt in an ovenproof casserole. Mix well. Cover with aluminum foil and braise for 21⁄2 hours, or until the calamari are tender and soft. Remove from oven and let cool. When cool, drain off oil. Calamari can be refrigerated at this point or used immediately. When ready to serve, heat a 14-inch sauté pan over medium heat and add the extra virgin olive oil. Add the garlic and lemon and toast them in the oil. The garlic will turn light brown and start to smell nutty. Place the calamari in the pan and cook until lightly golden brown. Add the capers and parsley and, if desired, salt to taste and olive oil. Serve immediately.
---
The Food Market's Fried Chicken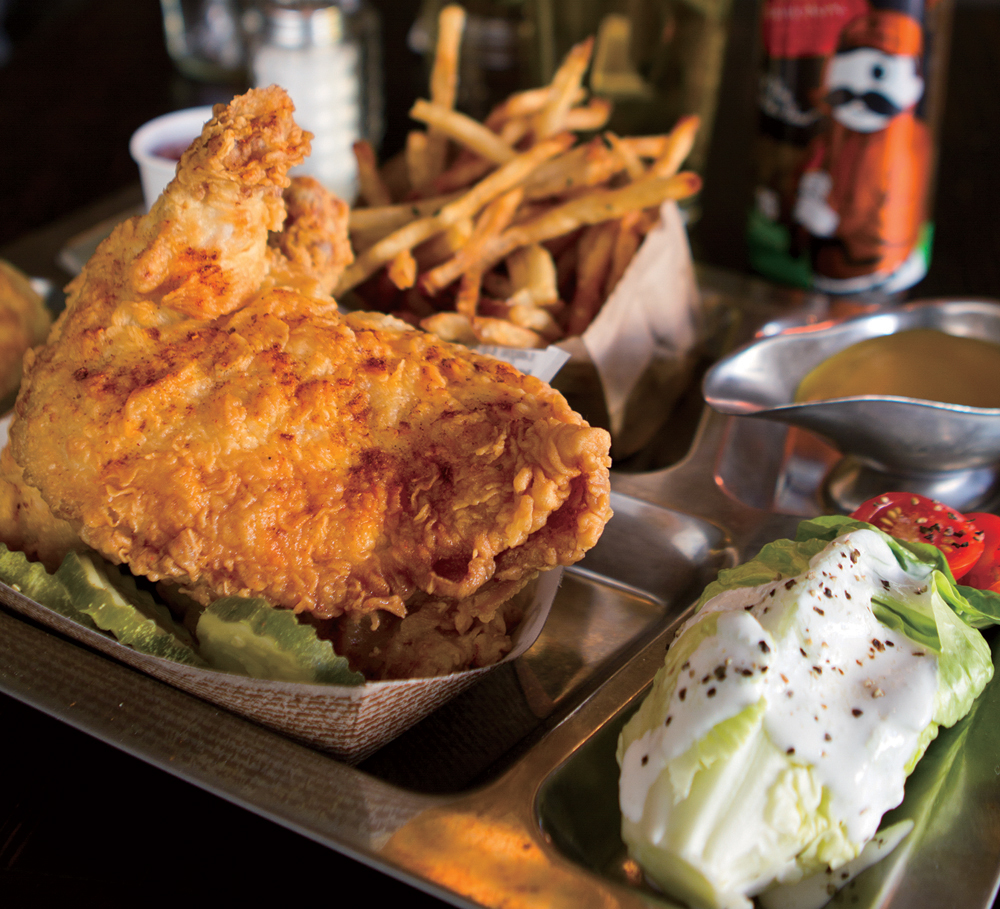 (Serves 4 if using bone-in chicken, 10 if using boneless)
"Serve this crunchy chicken with gravy, hot sauce, or mornay sauce (a white sauce with cheese). This is great for chicken and waffles, with biscuits, poached eggs, or mashed potatoes and stewed green beans! I like it with hot sauce and watermelon!"
For the brine:
1 quart water
1/4 cup salt
4 bay leaves
1 tablespoon ground black pepper
5 cloves garlic
3 sprigs thyme
4 ounces dark brown sugar
32 ounces National Bohemian beer
4 pounds chicken (boneless breasts or
a combination of bone-in pieces)
For the seasoned flour:
3 1/3 cups all-purpose flour
2 1/4 ounces cornstarch
1 1/2 teaspoons onion powder
1 1/2 teaspoons garlic powder
1 tablespoon salt
3/4 teaspoon white pepper
For assembly:
Oil for frying
1 quart buttermilk
Directions:
To make the brine: Place the water, salt, bay leaves, pepper, garlic, and thyme in a large pot with a lid. Bring the mixture to a boil, then remove the pot from the heat. Stir in the sugar and the beer. Allow to cool completely. Place the chicken pieces in the brine and refrigerate for 24 hours, or at least overnight.
To make the seasoned flour: Combine all dry ingredients in a large bowl. Whisk well so there are no lumps. Transfer half of the seasoned flour to a separate large bowl.
To fry the chicken: Add oil to your deep fryer according to the manufacturer's instructions. Or add about 3 inches of oil to a deep, heavy pan with straight sides (oil should not come up more than halfway). Preheat the oil to 300°F. Remove the chicken from the brine and pat dry. Dredge a few pieces of chicken at a time in the seasoned flour. Dip them next in the buttermilk, then in the second bowl of seasoned flour. Make sure the chicken pieces are completely coated. Fry the chicken a few pieces at a time for about 12 minutes, or until the chicken floats. Do not crowd the pan, or the oil will cool down and the chicken will be greasy. Remove the cooked chicken to paper-towel-lined plates to drain.
---
My Thai's Chicken Lettuce Wraps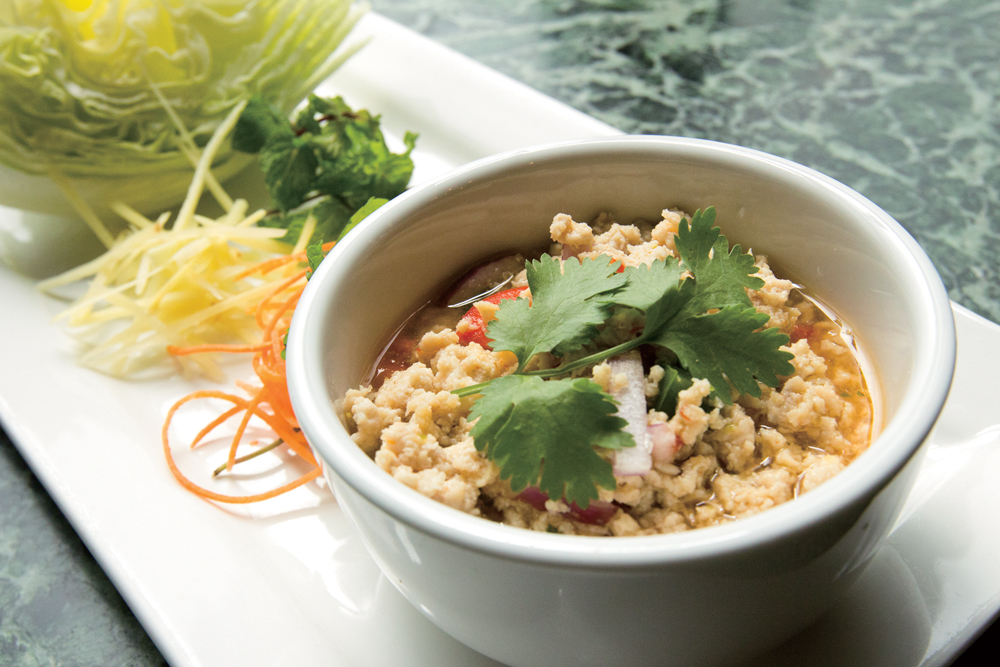 (Serves 2)
Despite their deceptively small size, Thai chiles are very hot. Use fewer if you prefer a milder dish.
6 ounces ground chicken
1 teaspoon vegetable oil
2 whole, fresh Thai chiles
1 small bunch cilantro
2 ounces minced garlic
1 tablespoon sugar
2 tablespoons fish sauce
1 tablespoon lime juice
1 ounce diced carrot
1 ounce diced red onion
1 ounce diced red and/or green bell pepper
1 head iceberg lettuce
Directions:
Cook the ground chicken in the oil, breaking up the meat into small pieces with a wooden spoon, until cooked through and no longer pink. Remove the chicken to a bowl. Combine the chiles, cilantro, garlic, sugar, fish sauce, and lime juice in a blender and puree. When the chicken has cooled, add the carrot, onion, and bell pepper. Pour the sauce over and mix well to coat the chicken and vegetables. Transfer the mixture to a serving bowl. Cut the lettuce into quarters. Arrange on a serving plate with the bowl of chicken. Present so the diners can tear off leaves of lettuce, place a spoonful of the chicken mixture in the center of each, and fold the lettuce around it.
---
Pierpoint's Maryland Crab Cakes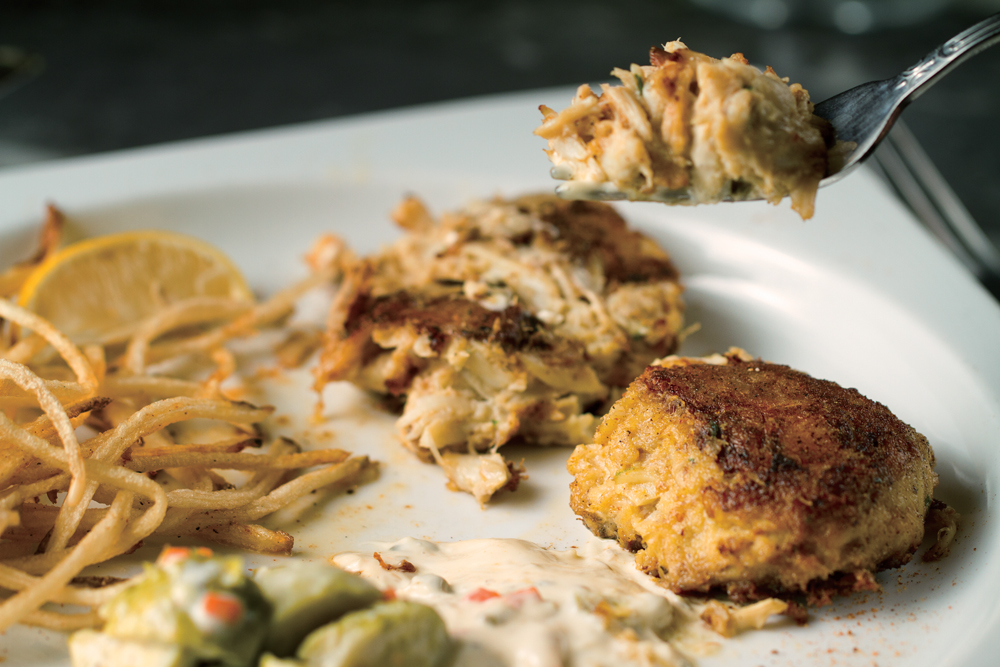 (Serves 4)
Chef Nancy Longo makes her famous crab cakes two ways: traditionally, with simply steamed crabmeat, or not-so-traditionally, with lightly smoked crab. The method for smoking the crab follows the recipe. We like them either way.
1 pound jumbo lump crabmeat
1 pound sweet crab claw meat
20 butter-style crackers, crushed into crumbs
2 tablespoons Dijon mustard
1 tablespoon Worcestershire sauce
2 teaspoons parsley
1 cup mayonnaise
Juice of 1/2 lemon
1 teaspoon dry mustard
2 eggs
1 tablespoon Old Bay seasoning
1 tablespoon salted butter, melted
Directions:
To make the crab cakes: Pick through the crabmeat for bits of shell, being careful not to break up the lumps. Set aside. Combine all of the remaining ingredients in the order listed and mix thoroughly. Add the crabmeat and gently fold in so as not to break the lumps. Form into eight approximately 4-ounce cakes. The crab cakes can be cooked either of two ways: Broil in a heated broiler in a shallow baking dish with a small amount of water for about 10 minutes, being careful not to burn them, or sauté in vegetable oil until golden brown on all sides.
To smoke the crabmeat: Soak a few fruitwood chips in a bowl of water for approximately 1 hour. While the chips are soaking, prepare a bed of hot gray coals in a charcoal grill that has a lid. Place a small stainless steel bowl of water in the coals in the center of the grill. Remove the wet wood chips from the water and gently drop them on top of the hot coals, which will cause them to smoke. Wrap the grill grate with a sheet of aluminum foil. Poke a few small holes in the foil, put the crabmeat on top, and set the grate in place on the grill. Cover the grill and allow the crab to smoke for approximately 30 minutes. Remove the crabmeat from the grill and allow to cool for 1 hour. Use in the crab cake recipe in the same manner as for plain crabmeat.
---
McFaul's IronHorse Tavern's Lobster Mac & Cheese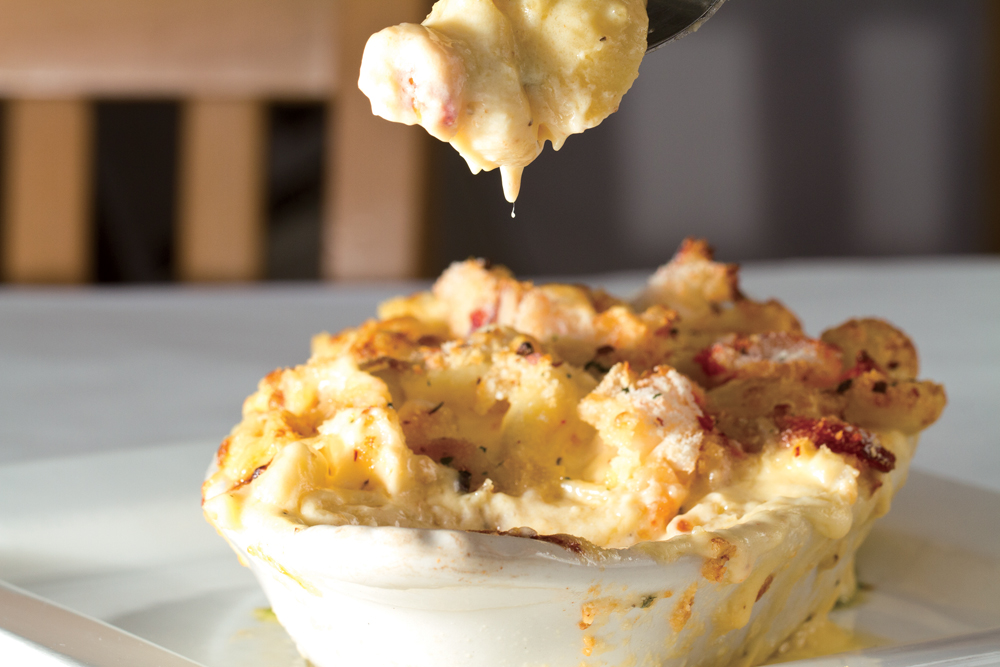 (Serves 2–3)
1/3 cup lobster stock
1 1/8 cups heavy cream
4 ounces fresh Maine lobster, diced
Salt and pepper, to taste
1 1/2 cups grated cheddar jack cheese
1/2 cup grated gruyère cheese
1/2 cup grated Parmesan cheese
2 cups cooked pasta shells
1/2 cup seasoned bread crumbs
Directions:
Preheat oven to 350°F. Pour the lobster stock into a saucepan. Reduce to one-quarter of its original volume over medium heat. Add the heavy cream and reduce more. Add the cheeses and stir. Add the lobster pieces and salt and pepper to taste. Combine the cooked pasta with the cheese-lobster sauce in an oven-safe dish. Top with bread crumbs and bake until golden brown, approximately 5-8 minutes.