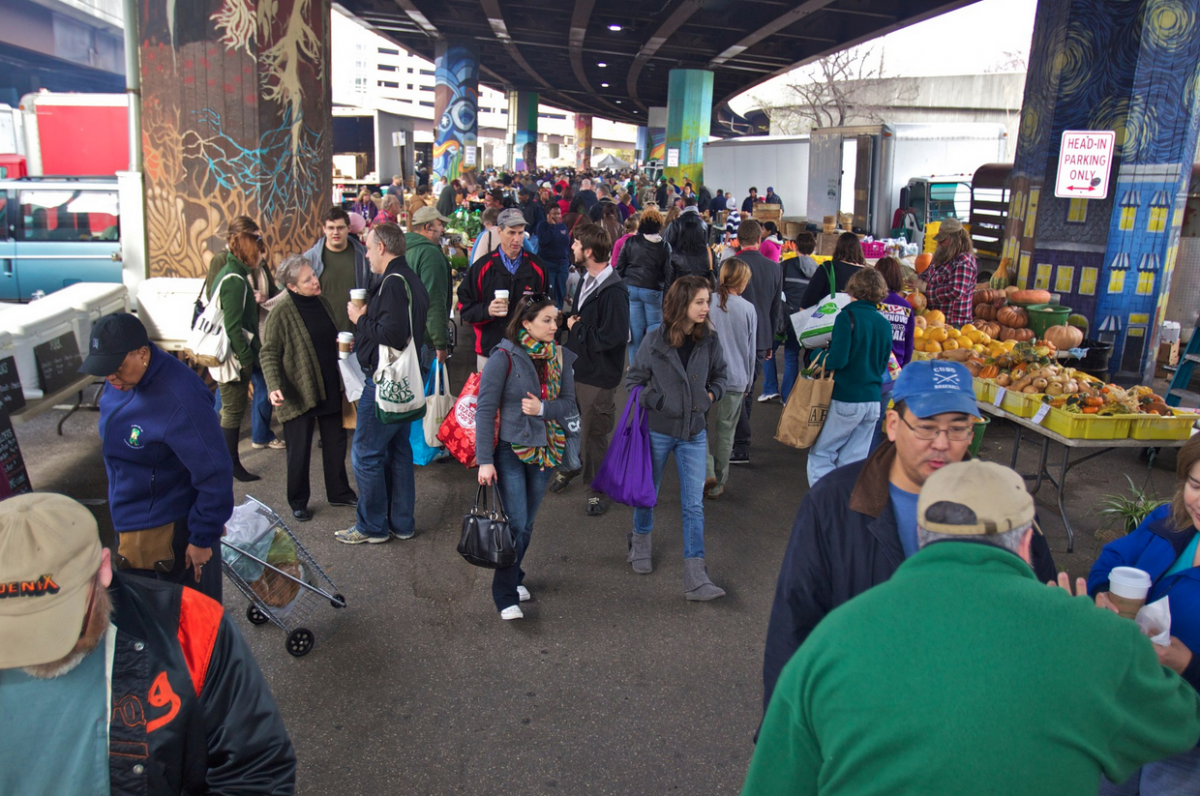 Courtesy of the Baltimore Farmers' Market and Bazaar
Although Sunday is a day when most of us like to sleep in, this is an event that's worth waking up for.
The Baltimore Farmers' Market and Bazaar, held under the JFX at Holliday and Saratoga Streets, returns for the season on April 5 and will run every Sunday through December from 7 a.m. to noon.
With a wide variety of local vendors selling everything from fresh fruits and veggies to handmade crafts, the annual event has been named the largest producers-only market in Maryland, highlighting vendors who make their products from scratch.
Sandy Lawler, the farmers' market coordinator with The Baltimore Office of Promotion of The Arts, says that a plethora of new sellers have been added to this season's roster.
"The goal really is to keep striving for more producers-only vendors," says Lawler. "So we focused on bringing in people like Hex Ferments and other vendors who make really amazing homemade goods—especially those that utilize local farms."
New favorites include: Hex Ferments, an organic kraut and kimchi purveyor, vegan and vegetarian food truck Sexy Vegie, Rockville-based Magnet Earth Gourmet, and Spanish-inspired bakery Corazon Cakery.
Each week's festivities also feature family-friendly entertainment from tap dancers and Baltimore Hoop Love hula-hoopers, live music, and cooking demonstrations by local chefs.
"The market is really about education," Lawler says. "We have chefs that are so willing to help people learn about farmland, what really goes into the bay, how to use whole foods, and why it's so important that we buy our food locally."
Also new this year, Mt. Airy-based Dragonfly Farms and Winery will be on hand to replace your typical weekend mimosa with a glass of sangria.
MillStone Cellars and Boordy Vineyards will also be returning, pouring their signature hard ciders and wines for guests to enjoy.
In the wake of a recent legal breakthrough, allowing some local breweries to sell beer at farmers' markets throughout the state, the Baltimore Farmers' Market hopes to welcome craft beer options by June.
Lawler says that after a long winter, the community is excited to see what's in store for the upcoming season.
"It's such an important part of the social structure of the city," she says. "It's about shopping but it's also about the community—food brings people together now."
Also debuting is the Bel Air Farmers' Market, which opens on April 11, and is celebrating its 40th anniversary this year.