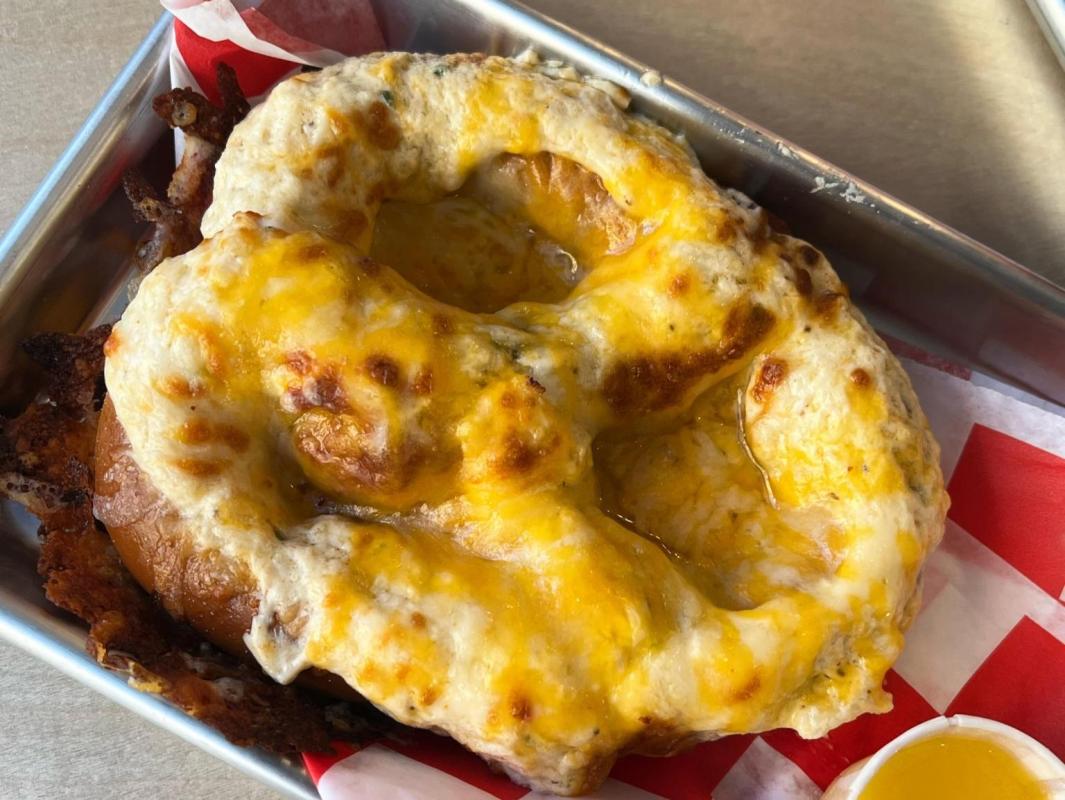 The crab pretzel at The Local Oyster, which recently debuted its Locust Point location. --Courtesy of The Local Oyster
OPEN
The Local Oyster: Fans of The Local Oyster's fresh shucks and massive shrimp salad sandwiches will be happy to hear this news. The homegrown seafood spot, headquartered inside Mount Vernon Marketplace, has debuted its new two-story location in Locust Point on the corner of Fort Avenue and Lawrence Street. Along with staples like the Chesapeake Club and Nick's Grandma's Crab Soup, diners can expect new dishes like oysters imperial and a smash burger piled high with crab dip. The restaurant—operated by farmer-shucker-chef trio Patrick Hudson, Nick Schauman, and Zack Mills of True Chesapeake Oyster Co.—will also serve favorites from their Hampden spot of the same name, including the crab mac and cheese and Caesar salad tossed with smoked oyster dressing and fried oyster croutons. 
There's also, of course, a loaded raw bar and a selection of freshly juiced Crushes and cocktails. And as football season kicks off, expect Ravens game viewing parties, shuffleboard tournaments, oyster shooter flights, and happy hour deals.
"We really did have fun creating this restaurant and menu," ​Mills said in a press release. "It's everything our guests love about The Local Oyster and True Chesapeake and more. We hope it will become an essential Baltimore experience." Schauman added, "It's been so inspiring to hear how excited our Locust Point neighbors are to have us here. We just want to build community and showcase everything we love about Baltimore—and we are gonna have so much fun doing it!" 
The Local Oyster in Locust Point is open Thursday through Sunday from 4-9 p.m., with hours slated to expand this fall.
Chachi's Baltimore: A new concept has taken over the former Larder space in Old Goucher. Chachi's Baltimore—from local husband-and-wife team Karl and Stephanie Diehn—serves up rotisserie chicken, seasonal veggies, and fries accompanied by a variety of house-made sauces. Veterans in the local food and beverage scene, Karl helped open Dylan's Oyster Cellar, while Stephanie's past gigs include Clavel and W.C. Harlan. Their new concept was inspired by their travels to Europe and Stephanie's work at a free-range chicken farm. 
"Through that experience, I found that it was a fairly sustainable meat option," she tells us. It's a dish that the couple particularly enjoys making for friends and family. "When it was time for us to think about what food we wanted to present, it was, 'Oh, we're just going to make Karl's food,'" she says with a laugh. "And whatever is from the farmer's market."
Diners can order their rotisserie chickens—dry-brined for 18 hours and treated with a spice mix and fresh herbs—either whole, half, or quartered with a choice of breast or thigh meat. Stephanie says they're getting especially positive feedback on their "schmaltzy potatoes," which are sundered then placed at the bottom of the rotisserie to collect all of the juices. The chicken also comes with two scratch-made sauces, and they offer four to choose from: garlic mayo, green anchovy loaded with parsley, spicy fish sauce, and ranch.
"We make ranch from scratch here," Stephanie says, "which is a love letter from Karl to me. We served rotisserie chicken at our wedding, and he had to make ranch for me that day. It was a big part of our night, so it's very special for us."
As for the name? There's a special detail behind that, too. It's what Stephanie's nieces and nephews call her.  
Chachi's is open Tuesday through Sunday from 5-10 p.m. for takeout and dine-in. Guests can opt to eat inside or in the courtyard that the restaurant shares with neighboring natural wine and beer garden Fadensonnen.
COMING SOON
Piccola Allora: Allora owners Brendon Hudson and David Monteagudo have announced that their Mt. Vernon bistro will expand, in a smaller format, this fall to the Johns Hopkins Homewood campus. Piccola Allora ("piccola" meaning "small" in Italian) will take shape inside the university's Gilman Hall. Monteagudo tells us that plans for Piccola had already been in the works when the owners were put in contact with Johns Hopkins through restaurateur Irena Stein of Alma Cocina Latina. (Stein previously operated two concepts, Azafrán and Alkimia, on the Hopkins campus.)
Even though the menu will be smaller—alas, no pastas here—students and faculty can still expect quality coffee and favorite Allora sandwiches like the Pollo e Pepe, the prosciutto panini, and the Puccia. Monteagudo adds that a handful of sandwiches exclusive to Piccola will cater to certain diners who are gluten-free, dairy-free, and vegetarian.
"We want to make sure we're not excluding any students there…because this is close to them—we don't want them to have to walk to a different spot," he says. "Since these are students, we want them to feel like what they are getting is actually a meal and not just college food. We want it to feel worth it to the students that are going there, because they are allowed to spend their dining dollars there."
Piccola will be to-go only, but the space will be adjacent to Gilman's atrium, which offers seating. It will be open weekdays only from 8 a.m.-3 p.m. Monteagudo says they're aiming to debut by the beginning of October.
EPICUREAN EVENTS
9/16-9/25: Maryland Restaurant Week
Thought restaurant weeks were over for the season? Think again. Returning for its third year, Maryland Restaurant Week—organized by the Restaurant Association of Maryland (RAM)—spans statewide, offering diners a variety of special menus, discounts, and seasonal fare for dining in, curbside, and carryout. "This week is not only an opportunity for the community to try out new spots, but it also allows them to support their local restaurants that are continuing to recover from the pandemic," RAM President and CEO Marshall Weston, Jr. said in a press release. The 10-day event is sponsored by the Boys and Girls Clubs of Maryland. Baltimore-area restaurants participating so far include Foraged, Madrid Spanish Taverna, Cocina Luchadoras, Nacho Mama's, Miss Shirley's Cafe, Ledo Pizza, and more. See the full list, here. 
9/17: Our Time Kitchen's Christmas in September Pop-Up
Who says it has to be winter to ring in holiday celebrations? Our Time Kitchen is kicking the season off early this Saturday with a Christmas in September/Navidades en Septiembre pop-up at its recently opened home in Old Goucher. Cane de Sucre will be on hand serving up a Puerto Rican-style holiday menu. Expect traditional dishes such as pastelillos, arroz con gandules, and guava tres leches. 
"Puerto Rico takes pride in having the longest holiday season in the world," Cane de Sucre wrote on its Instagram teasing the event. "On the Island, la Navidad lasts around 45 days, starting right after Thanksgiving Day in November, extending through mid-January, and culminating with the Fiestas de la Calle San Sebastián, also known as la SanSe."
Attendees will also enjoy la plena, an Afro-Puerto Rican musical genre known for its heavy percussion and energetic sound. Our Time Kitchen recommends placing pre-orders via text (787-469-9269) to ensure availability. The deadline for pre-ordering is Thursday, September 15.
9/30-10/28: Dovecote Cafe's "Everybody Eats" Friday Night Series
Later this month, Reservoir Hill mainstay Dovecote Cafe will launch a new Friday night event series dubbed "Everybody Eats." "Each week, we will have a uniquely curated outdoor artistic experience to showcase different artists, chefs, vendors, designers, and more!" the cafe wrote on Instagram. The theme for each week will be posted there on the Sunday before the event. Register for free on Eventbrite. 
(SOON TO BE) SHUT
AIDA Bistro & Wine Bar: After two decades in business, a Howard County landmark is closing its doors for good. AIDA Bistro & Wine Bar owners Joe and Mary Barbera announced last week that they plan to retire, and the restaurant will officially close at the end of January 2023. 
"We are thrilled about our pending retirement and the chance to spend more time with our family, and we are grateful to our terrific and loyal AIDA team, as well as the community that has supported us so remarkably over the last two decades," Joe Barbera said in a press release. "Our small team is like family, and we would not have enjoyed our success without them. Over the next several months, we will be celebrating our outstanding team, our loyal guests, and everyone who helped make our dream a reality."
Although it debuted in 2002, AIDA has been in its current location since 2010. Property owner Corporate Office Properties Trust is currently showing the space to prospective restaurant tenants who could take over the location in early 2023. "Plans are underway to ensure that the final months of AIDA Bistro will be a true celebration of the last two decades," the press release reads.
SHUT
Vida Taco Bar: Sadly, this strictly tacos-and-tequila bar served its last round of margaritas earlier this week. Patrons were notified via social media that Vida had, rather abruptly, shuttered its Harbor Point location Tuesday. "After four-and-a-half years, Vida Taco Bar in Baltimore's Harbor Point is closed," the post reads. "We would like to thank the entire Baltimore community for welcoming us to this amazing city and supporting our restaurant." Thankfully, local diners will just need to take a quick road trip to chow down on Vida's tacos (the Buffalo cauliflower with cabbage slaw and tinga chicken with queso fresco will forever be some of our favorites), as its other locations in Annapolis and Severna Park are still going strong.