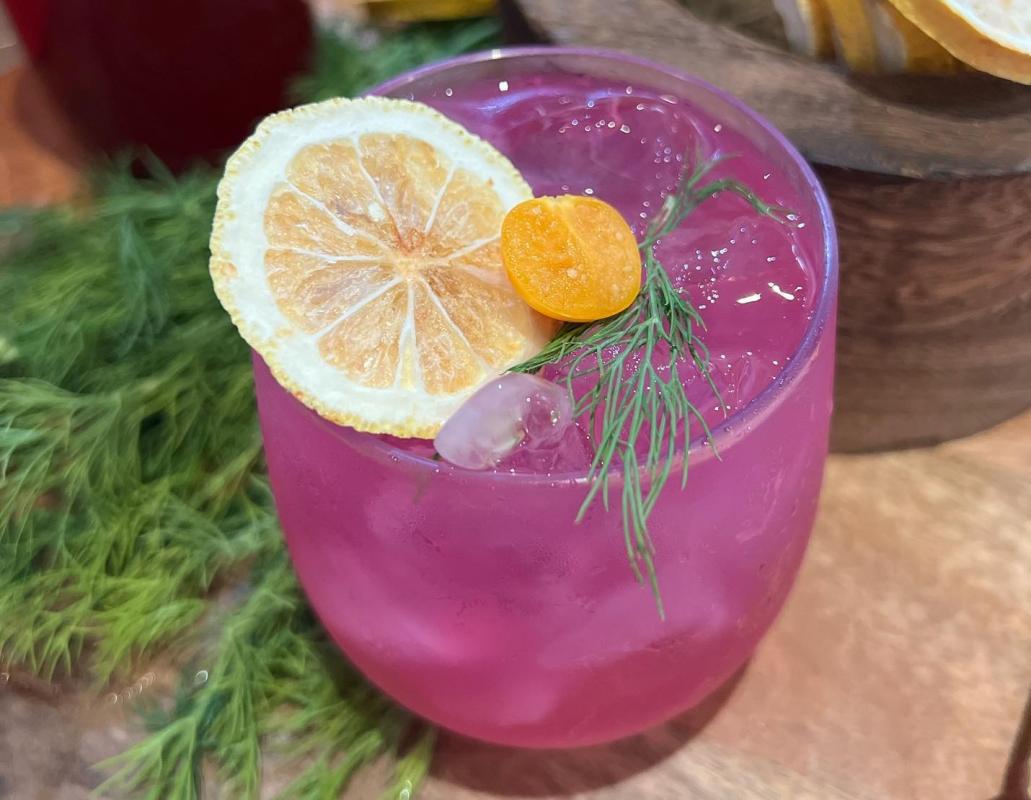 Chef Carleen Goodridge's prickly pear and papaya lemonade. —Courtesy of Le MONADE via Instagram
COMING SOON
The Stand by Le Monade: The name of chef Carleen Goodridge's new cafe and retail shop for her line of craft lemonades, Le Monade, offers two meanings. One is, of course, a play on the traditional lemonade stand. The second is meant to explore, as Goodridge puts it, "what it means to take a stand and what it means to stand tall."
The Stand by Le Monade, which has held two preview weekends already, plans to soft open on August 1 at 211 St. Paul Pl. in Mt. Vernon. Aside from the refreshing sips, customers can expect java from Vent Coffee Roasters and scratch-made fare that is both sweet and savory. This includes Liberian rice breads and shortbreads that are traditionally served with butter and jam, but Goodridge also offers them with fresh fruits and cream. "The way we describe shortbread, it's like a biscuit but better," she says with a laugh.
Also on the menu will be cornbread croquettes—"essentially a twice-baked cornbread," Goodridge says—which are made by pulling apart baked cornbread, rolling it into a ball with pepper or onion jam, breading it with either breadcrumbs or garri (fermented cassava), and then rebaking it. Featured breakfast sandwiches on offer include the BECO (bacon, egg, cheese, and onion topped with maple-smoked bacon, a baked egg, gouda cheese, and caramelized onion on ciabatta), as well as a smoked salmon sandwich with a horseradish cream cheese and fresh cucumbers.
While enjoying the dishes, it won't be hard for visitors to appreciate The Stand's design. Many of its interior components came from Goodridge, her friends, family, and other small business owners in the community. She describes the look and feel as Afro-modern, taking inspiration from her desire to connect culturally with her West African roots.  
"We love that the space reflects the process," Goodridge says, mentioning a rattan sofa from Mt. Vernon's ADORN Vintage Furniture & Designs and a bench from Vent Coffee Roasters in Hampden. "People walk in, and they feel at home. Simply speaking it's a cafe and retail shop for our lemonade products, but it's a community space. It's home for the business. We love that people are coming in and feeling that love."
OPEN
Krishna Aunty: A fast-casual Indian eatery is now open at Cross Street Market in Federal Hill. For the past year, husband-and-wife team Joseph Moroney and Divya Gopal have operated Krishna Aunty as a virtual restaurant, working out of culinary incubator B-More Kitchen in Govans. Moroney says they were looking for a flexible, short-term leasing arrangement, and Cross Street Market fit the bill. The new stall will allow the owners to continue to test out their recipes, while also connecting with customers for in-person feedback. 
The menu highlights customizable wraps and bowls, but also offers some signature specialties. Curated items include the Andhra Chicken Bowl made with chicken cooked in cardamom, cloves, cinnamon, turmeric, and chili, as well as the Channa Masala bowl—one of the many vegetarian options—made with chickpeas stewed in garlic, ginger, coriander, turmeric, chili, and cumin. Also popular is Krishna Aunty's mango lassi, a traditional Indian yogurt drink made with Alphonso mango. 
"I used to work in an office, and if I was working late, I'd find that the options to eat healthfully were very limited if you were eating out," Moroney says. "Our meals are both healthy and we think very filling—and also, from the feedback we've gotten, the taste is good as well."
Manina Urbana: The brains behind Hampden's Bluebird Cocktail Room have opened a new concept in Frederick County—Urbana, to be exact. Serving locally sourced American comfort food with an Italian flair, Manina Urbana opened this month at 3290 Bennett Creek Ave. Featured food includes stretched-to-order mozzarella, Amish-raised cast iron chicken, zucchini gratin, and lasagna with handmade spinach pasta. The cocktail menu is reminiscent of Manina's older sister-spot, with classics like a whiskey smash or negroni. There's also the Appalachian Daisy, made with Baltimore Spirit Co.'s smoked apple brandy. Follow the restaurant's Instagram page for up-to-date hours and menus—and rejoice in the fact that its beautiful patio debuts this week.
And speaking of The Bluebird, the bar's downstairs pub is reopening this Friday, July 22 for regular service on Fridays and Saturdays. Pull up a seat in Hampden to enjoy a selection of American whiskeys, beer, wine, bar snacks, and cured meats.
Döner Brös: A second location of this popular food-truck-turned-restaurant has opened at Harbor Point, joining its first brick-and-mortar in Charles Village. The fast casual eatery specializes in döner kebab, wraps, and salads made with seasoned meat cooked on a vertical rotisserie—a specialty the owners first discovered during Oktoberfest in Munich, Germany back in 2015. The new location is open every day from 5-10 p.m.
NEWS
Atlas to Open Two New Concepts in Harbor East: Atlas Restaurant Group is expanding its Harbor East footprint yet again. Last week, the company announced that it has signed a lease to take over the space that was formerly Fleming's Steakhouse at 720 Aliceanna St. Atlas plans to divide the 10,000-square-foot restaurant to create two new concepts: a 200-seat steakhouse with a large wine cellar and a 30-seat upscale cocktail bar that will host live jazz music seven nights a week. Construction is expected to take a full year to complete, with the concepts slated to debut next summer.
"We are excited to bring life to this space that has been sitting vacant since 2020 and provide guests with two exciting new options," Atlas Restaurant Group CEO Alex Smith said in a press release. "We will continue to invest in this great city because we have a passion to create unique and exciting dining concepts that will attract visitors to our city, but also make locals proud to call Baltimore their home."
A New Chef Takes Over The Tilted Row: Bolton Hill restaurant The Tilted Row had big shoes to fill after it announced in November 2021 that its original chef, Andy Thomas, was departing to become a partner at Mt. Vernon cooking school Schola. Now, after several months of searching, the Middle Eastern-influenced restaurant has appointed Amy Hessel as its new executive chef.
"It was definitely a process finding a new chef in this job market, but we're very excited to have Amy on board," The Titled Row owner Ziad Maalouf said in a press release. "She really understands what we're trying to do, and we're excited for her to have fun with it."
Most recently of the Rail Trail Cafe in New Freedom, Pennsylvania, Hessel grew up in Houston and fell in love with cooking at an early age. With family in Baltimore, she eventually attended the Baltimore International College culinary program. Her resume includes stints at Josef's Country Inn in Fallston and Gunpowder Falls Brewing.
"I like to draw on my Southern roots and infuse them with flavors of the Mediterranean Basin," Hessel said in a press release. "I have always loved cooking Italian, French, and Greek cuisines, and later in life, came to adore the spice and flavor profiles of Moroccan and Middle Eastern foods. I always use the comfort foods of those cuisines as a starting place, and then add some Southern flair to create dishes that are both familiar and unique for my guests."