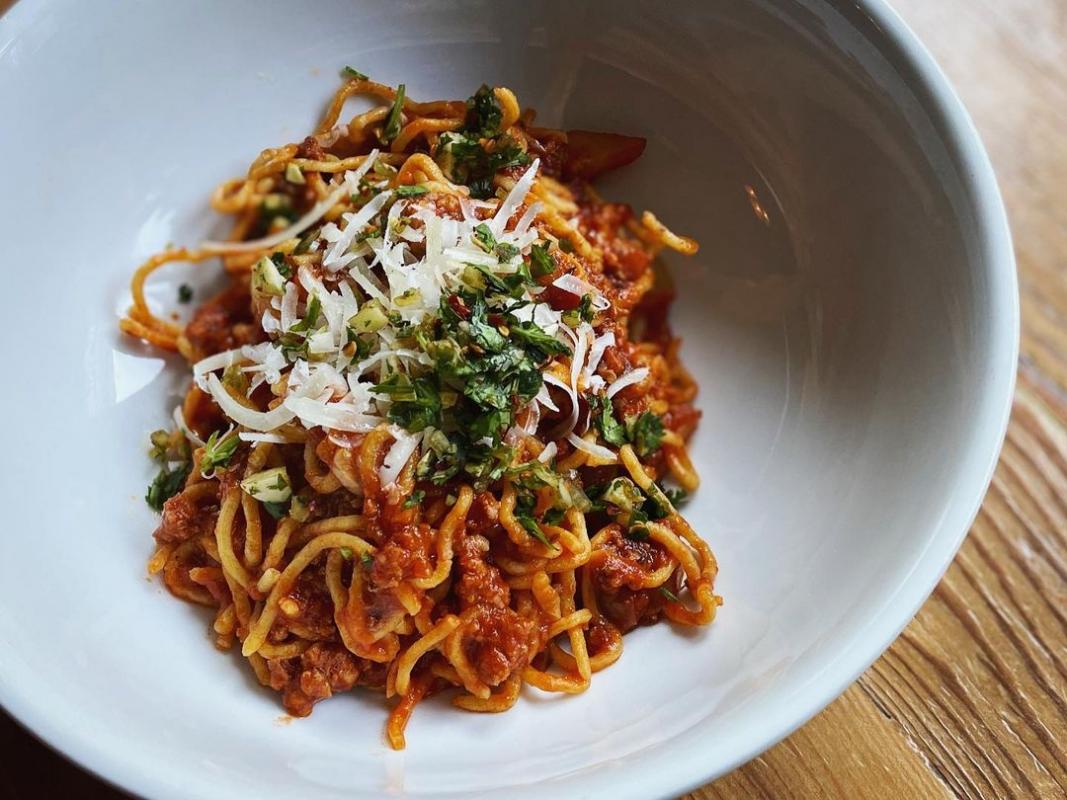 The spaghetti bolognese at Forno. —Courtesy of Forno
Between bone-chilling temperatures and pandemic fatigue, we could all use some relief. And while the dead of winter might not seem a fitting time to pack our bags, that doesn't mean our taste buds shouldn't have the chance to travel. Luckily, the folks at Downtown Partnership of Baltimore are here to help us find a change of culinary scenery, as this year's Winter Restaurant week is set to bring an ample dose of delicious options to revive our weary palates. Worth noting: this year's iteration features carryout and takeout deals to help you bear the cold.
From Jan. 28- Feb. 6, an array of local eateries will feature prix-fixe offerings, including brunch, lunch, and dinner priced between $25-45.
Shelonda Stokes, President of Downtown Partnership, feels that the timing of the local celebration is just right.
"January is a slow time for restaurants," she says. "Then you add in the impact of COVID, and they need our support more than ever. [Baltimore Restaurant Week is] an ode to the community's ability to come together, savor, and enjoy after such a tumultuous time. It's a social and cultural moment that we know many out-of-towners and locals anticipate."

From vegan fare at Liora to Italian fine-dining at Cinghiale, there are dozens of restaurants participating. Here are a few to help you narrow down the choices: 
Allora: This newly opened Charles Street bistro beckons visitors to join them on a Roman holiday with an indulgent, three-course feast. Highlights include focaccia, creamy Cacio e Pepe, and a pappardelle dried pasta in ragu.
Blackwall Hitch: The surf-inspired Inner Harbor eatery is here to help us satisfy much more than seafood cravings. In addition to a cheddar crab dip and "Calamari Fritz," find grilled pear-topped salads and fire-roasted flatbreads like the "Truffled Mushroom," topped with decadent garlic mornay sauce.
Black Olive: Best known for Mediterranean cuisine, this brick-paved eatery in Old Fells Point is just the place to go if you've been searching for souvlaki, spanikopita or sea bass. Other bites to look out for include Maine lobster pasta in a tarragon white cream sauce.
The Chicken or the Egg: Fans of a tender thigh or drumstick: look no further. This Mt. Vernon spot has all the tasty goods to tide you over. Try the fluffy, Belgian "Waffle Master," topped with jumbo chicken wings and drenched in maple syrup. Or indulge in comfort when you order the fried chicken platter served alongside western fries, coleslaw, and a choice of corn bread or a biscuit. 
The Food Market: This hotspot on The Avenue is pulling out the big guns with a three-course meal, complete with several off-the-cuff desserts. Get your sugar fix with everything from cookie dough cannoli to a crispy rice cake sandwich.
Forno: This pre-show standby (perfect for a snack and a glass of wine before an evening at the nearby Hippodrome or Everyman Theatre) is a destination that should be on your list regardless of whether you have tickets to an upcoming performance. During Restaurant Week, Forno is offering scrumptious three-course menu with optional wine pairings. Get started with short rib meatballs or delicata squash fritters before moving on to options such as spaghetti Bolognese, crispy rainbow trout, or a burrata pizza.
Guilford Hall Brewery: It wouldn't be a visit to this European-style spot without a giant pretzel (and, of course, their famous bier cheese for dunking.) But you can also customize your three-course meal with bites including smoky chicken and lamb sliders.
Liora: True to form, this Inner Harbor vegan haunt is serving up some healthy, hearty classics (think flavorful grilled Portobello mushrooms and a veggie soup with cashew creme and cheddar chive drop biscuits.)
Lisa's on Preston: Those with an urge to trade in winter temps for island sun won't want to miss a chance to hit up this Mt. Vernon eatery. Score a special on two large jerk or brown stew chicken entrees (each plate comes piled high with rice, peas, cabbage, and plantains) and two bottled drinks. 
Lumbini: This Himalayan eatery is perfect if a voyage overseas (by way of Charles Street) strikes your fancy. Ditch the passport and sit down to savor favorites such as saag paneer, tandoori chicken, vegetable chow mein, and garlic naan.
Marie Louise: With everything from salads and charcuterie to duck confit and a crispy Croque Madame, this Mt. Vernon eatery boasts all the tastes of Europe. Pair your chosen bites with cocktails like the "410," marked with warming undertones of lemon, Paris tea, and honey.
The Manor: Pull up a chair at this swanky Mt. Vernon lounge to graze on everything from pork shank to oven-roasted wings. Or keep things simple with "The Manor Crab Cake," served with micro salad, grilled asparagus, and fried potato straws.
Sakoon Indian Fusion: Head to this St. Paul Street standby for all-you-can-eat dinner spread, complete with Indian comfort foods such as chicken vindaloo, lamb chops, and pineapple fried rice. Be sure to check out Sakoon's vegan plates and buzz-free sips (think fresh-squeezed mango juice and lassi.)
XS: This Mt. Vernon bar and sushi spot is serving up a three-course spread of spicy Asian staples. Start with small plates like duck spring rolls and crab wontons, followed by your choice of bites like beef bulgogi, miso salmon, and "Xsive" fried rice loaded with shrimp and steak.
Browse the full list of specials, here.