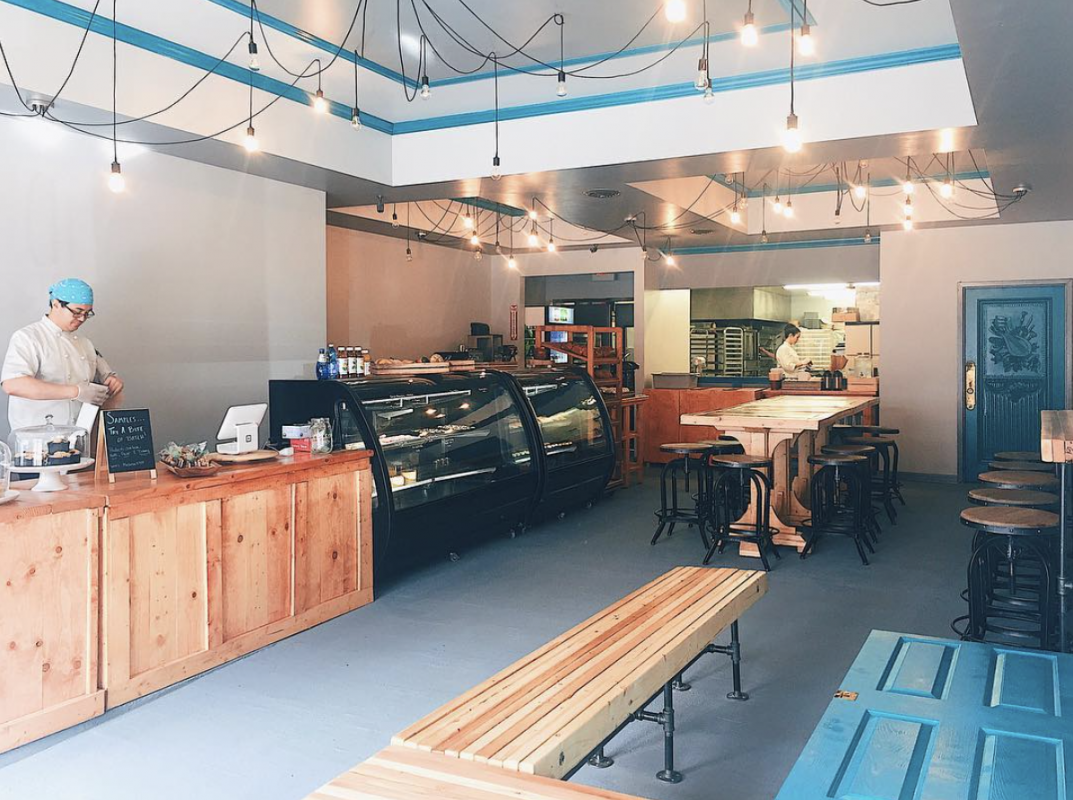 Courtesy of @hamiltonlauraville via Instagram
Residents of the tight-knit Hamilton-Lauraville community have felt a void ever since the beloved Hamilton Bakery closed its doors on Harford Road last year. But now, the shuttered space has officially made a comeback.
This morning, Batch Bake Shop—a new sweets shop from four partners who formerly helmed the bread and pastry program at Cunningham's Cafe + Bakery in Towson—officially celebrated its grand opening in the modernized space that sits at 5414 Harford Road.
"I'm kind of the odd man out," says Laura Salierno, one of the co-owners. "The other partners all live within three blocks of our physical location."
Salierno explains that the owners' personal connection to the community influenced their decision to settle in the space, which housed Hamilton Bakery for more than five years.
"When we realized that the space was available, we decided to take a shot," she says. "We've found such a warm and welcoming community here. Today is only our first day open, and people have already been so supportive."
Since the deal was finalized in January, the team has been hard at work, quickly transforming the space into a bright hub with Edison bulb lighting, wooden benches, sleek community tables, wall-rail seating, and pops of teal throughout the interior.
"It's very charming," Salierno says, mentioning that the shop is an ideal workspace with ample outlets and free WiFi. "Before, the space was separated by handrails and whatnot. So we wanted to open it up and make it a bit more modern."
The seasoned pastry team fills the bakery's showcases with made-from-scratch products ranging from bagels and brownies to macarons and custom cakes. Salierno says that, while the menu features a selection of traditional treats, the team has enjoyed getting creative with unique offerings like a signature whole wheat brioche, and savory pastries filled with ingredients like cheese, ham, broccoli, and turkey.
Salierno says that it is an exciting time to be joining the community, as the dining scene in Hamilton-Lauraville continues to thrive.
Speaking of small businesses, the community has seen a number of them come and go recently. Last week, Green Onion Market co-owner Rich Marsiglia posted a message to Facebook announcing that he would be closing his beloved bodega, and preparing to turn the space over to new owners in the coming months. 
The neighborhood also recently welcomed Diner Latino 2—a Mexican spinoff based in Highlandtown—and will soon see Amendment 21, a new wine shop opening in the former home of Everest Liquors at 4924 Harford Road. Also joining the scene is the highly-anticipated SoHa Union development, which will house a Southern spot with French influences from former Maggie's Farm owners Matthew and Andy Weaver when it debuts this fall.
"This is a very cool area to be in as far as local support for a small business," Salierno says. "Customers have really seemed to make it a point to say they're happy we're here, and they're glad that they can localize their dollars."