Idle No More
A beloved dive bar reopens in South Baltimore.
What is it about Baltimore and its corner bars?
No matter how sleek our skyline gets or how posh our bars become, we can't quite part with our watering-hole stalwarts. When Idle Hour (201 E. Fort Ave., 410-468-0357), the South Baltimore dive that opened in 2003, announced it was closing due to a structural issue in December 2014, the community came out in droves. Customers wrote hundreds of comments on Facebook including, most memorably, "We're all pulling for you, from the bottom of our livers." There were fundraising parties at Little Havana and the Ottobar. And fans donated more than $48,000 to an Indiegogo campaign.
Overwhelmed by the generosity, Idle owners Brendan Finnerty and Randall Etheridge agreed to match nearly all of the funds and give back to the community the only way they knew how: by reopening their sticker-covered doors.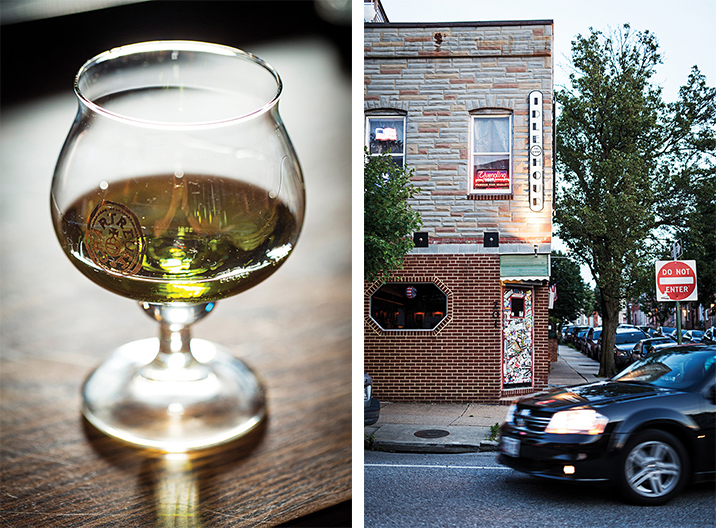 After months of build-out, permit pains, and delays, Idle Hour reopened in June. The best part? Not much has changed. The narrow bar is still dimly lit, the record player is still spinning vinyl, the bathrooms are still painted red, and the signature Chartreuse bottles are still lined up behind the bar.
In this town, the green, herbal liqueur that hails from France is practically synonymous with Idle Hour. (They've even started a Chartreuse Bottle Club.) It's an acquired taste, but your best bet is to just order a shot of the pine-flavored stuff with a beer. Though there is no formal menu per se, Idle Hour's inventory is thoughtful with local beer options from The Brewer's Art and Union Craft. Another pioneering pairing is Idle's pickle back, aka a shot of Jack Daniel's followed by a shot of pickle juice. Trust us, it's delicious.
Of course, the bar underwent a few changes, like replacing gas lines dating back to 1916, refinishing floors, installing new lighting, and adding an autograph wall that people who saved Idle Hour can sign. Among the doodles and hearts, someone scrawled a simple message: "Welcome back boys. It's been too long."