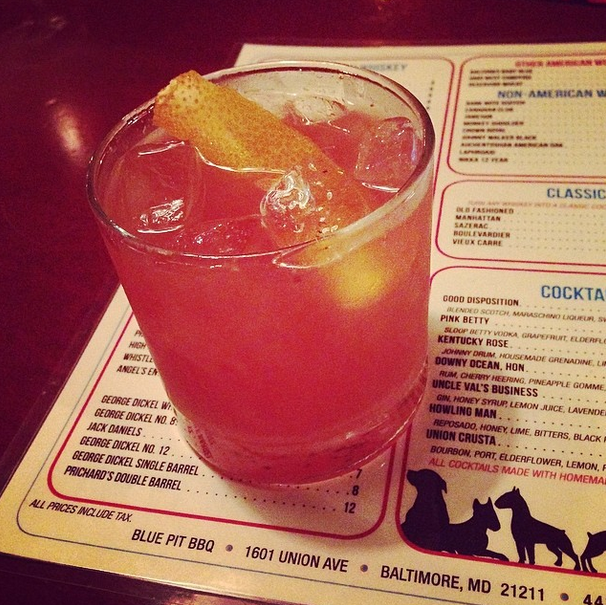 Photo by Jess Mayhugh
There was no shortage of libations or locations to drink them this year, as some of our favorite new bars opened up and trends like session beers, local ciders and spirits, and cocktails on tap became popular. Like we did last year, this year-end list will highlight some of our favorite creative drinks from 2014, no matter the season.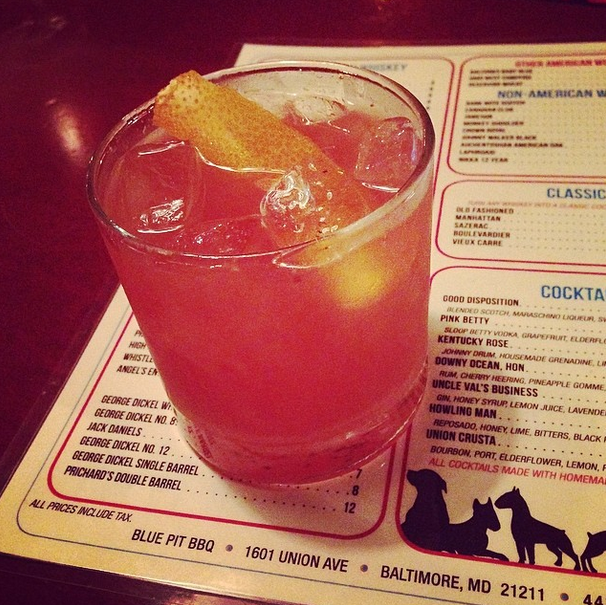 Spring: In the beginning of the year, we spent a lot of time at Dylan's Oyster Cellar, which was then located adjacent to Dooby's in Mt. Vernon (now you can find Dylan shucking down the street at the newest Ryleigh's Oyster location). While we went for the oysters, we stayed for the cocktails, including the Cellar Sour (vodka, egg whites, orange bitters, simple syrup, and fresh lemon juice) which was an ideal, citrusy accompaniment to salty, briny oysters.
A bit later in the season, Blue Pit BBQ opened. Well sort of. The Woodberry spot made an ingenious move: Before it could officially open its kitchen (thanks, BGE!), Blue Pit opened its bar by hanging a "Whiskey Open" sign out front. Soon, the buzz around its awesome drink program started and the very first cocktail we tried was a strawberry-rhubarb Old Fashioned, pictured. Perfectly sweet, tart, and boozy. Now Blue Pit features rotating Old Fashioned recipes, depending on what's in season.
---
Summer: The "summer of Anthem" became a running joke amongst our friends, as Union Craft Brewing released its creamy, golden ale to commemorate the 200th anniversary of the penning of the National Anthem. We enjoyed Anthem at Orioles games, while picking crabs, and—most especially—during the Star-Spangled Spectacular fireworks show, pictured.
Another summer favorite was the watermelon crush at The Food Market. We found this one while fighting the crowds at HonFest and stopping at Food Market's truck parked outside the restaurant. The combination of Green Mountain lemon vodka, watermelon purée, kiwi syrup, and crushed ice was a refreshing way to beat the heat and just a definitively beautiful cocktail.
---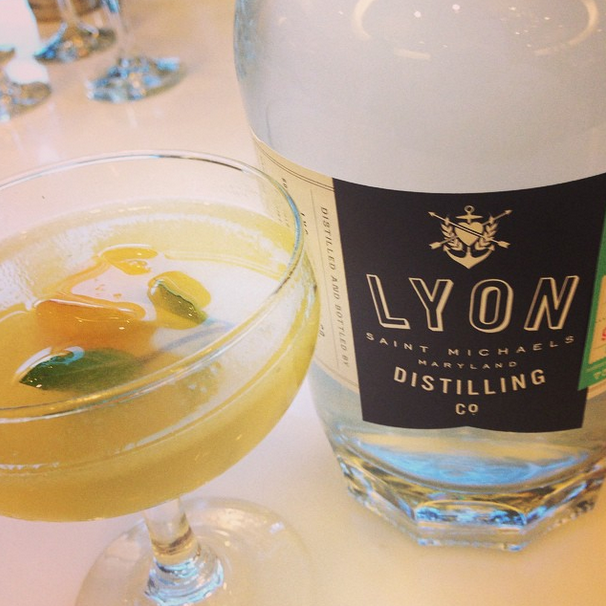 Fall: When the chill of fall rolled in, so did the highly anticipated opening of Bookmaker's Cocktail Club in Federal Hill. Though the spot has experienced some chef changes since opening, the bar program has remained strong under the helm of Ryan Sparks. One of the first cocktails we got to enjoy was The Federale with Espolon Blanco tequila, Becherovka (herbal liqueur), cinnamon, lemon, grapefruit, and a mint sprig. Enjoying spicy, aromatic flavors in the plush Bookmaker's space was fitting for many fall evenings. We also recommend the bar's cocktails on tap or anything combined with its house-made tonic.
This fall, we also got to explore some local wineries and distilleries in the area, including Millstone Cellars in Monkton and Lyon Distilling in St. Michael's. Both outfits are producing spirits for the love of the craft and, in particular, we like Millstone's Bonfire—a spicy mead with wildflower honey—and Lyon's white rum, pictured, which has some sugar cane notes and a hint of molasses sweetness.
---
Winter: Hot cocktails can be sort of tricky. A lot of them are just boozy teas that we associate with getting over that nasty winter cold. But we think we discovered the ultimate exception in Wit & Wisdom's hot buttered rum cocktail, pictured, right, with Pyrat rum and a concoction of brown sugar, butter, honey, vanilla, nutmeg, allspice, and cinnamon—that is all topped with house-made maple whipped cream. We find it hard to imagine anything more decadent this time of year.
Of course, we can't forget that Flying Dog Brewery had one of the most inspired holiday collaborations by teaming up with Otterbein's Bakery to make cookie-beer pairings. Our favorite of the lot was the Roasted Peanut Brown Ale, which pairs with, admittedly, one of the best cookies on the planet. Washing down the Otterbein chocolate chip cookie with a sip of this 5-percent-ABV brown ale with nutty characteristics is like one giant candy bar experience.
Cheers to a happy (and boozy) 2015!