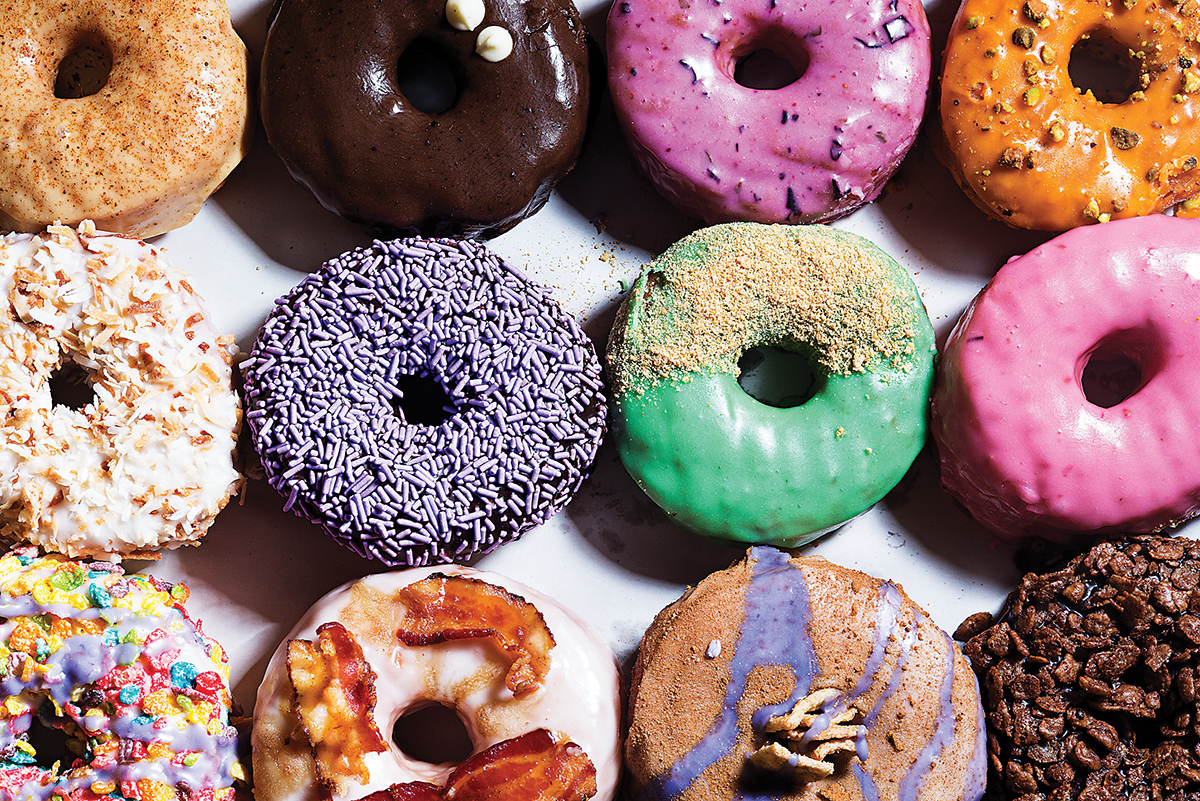 Scott Suchman
These days, it seems like there is a national holiday for everything—and doughnuts, of course, are no exception. Don't miss your chance to to enjoy unique flavors and score some sweet doughnut deals on Friday, June 3. Read on for some of the hole-iest spots in the city:
Arundel Donuts: From truckers to churchgoers, early birds love this stalwart shack in Glen Burnie, which opens at 5:30 a.m. daily with fresh doughnuts and coffee. For 36 years now, the family-owned shop has filled its display cases with the stars of the show—doughnuts every which way, from chocolate-glazed to strawberry frosted. ("Kinda in love," wrote one Insta follower.) 7958 Baltimore Annapolis Blvd., 410-768-8926
Blondie's Doughnuts: Blondie's owner Michelle Diggs makes baked goods the old fashioned way—priding herself on her signature brioche dough recipe and classic baking techniques. The menu for the pop-up shop features doughnuts named after vintage icons, with such flavors as the "Jazzy Josie," a lemon drop doughnut named after entertainer Josephine Baker. On social media, Diggs dropped some exciting news in honor of Doughnut Day, sharing that she will be opening Blondie's first brick-and-mortar shop in Edgewater in the coming months. Stay tuned for more details. 
Cloudy Donut Co.: Though it's closed on the big day, this vegan, small-batch, and scratch-made shop in Lauraville and Federal Hill will offer its wide selection of flavors this weekend—from coffee espresso to Orange Creamsicle.  4311 Harford Rd., 443-885-9052.
Diablo Doughnuts: It's practically a sin to discuss doughnuts in Charm City without mentioning this favorite, which opened in Fells Point in 2015 with flavors like Cinnamon Toast Crunch and maple bacon. The artisan shop, which recently move to new digs in Brooklyn, is offering walk-up service with some of its standout flavors.  3432 S. Hanover St., 410-892-3251 
Donut Shack: The shack is back, now owned by a small group of locals striving to bring it back to its former glory. At the Severna Park staple, you can find signature doughnuts topped with candied bacon or glazed with salted caramel. If you're more of a purist, you can also try the simple honey-dipped circles. Gluten-free and vegan options are also available. Orders can be placed online or at the store, with deliveries available on weekends. 497 Ritchie Hwy., Severna Park, 410-544-0278.
Fenwick Bakery: The story of this traditional bakery located in Parkville began in 1905, and their pastries just get better with age. Check out their doughnuts, from honey dipped to iced to filled, but beware: you might leave with an additional pie, cake, cookie, or loaf of bread. 7219 Harford Rd., 410-444-6410.
Harmony Bakery: Grown from humble beginnings at Waverly Farmers Market, this vegan-friendly, family-owned restaurant offers a selection of entirely gluten-free doughnuts in a cozy corner location.  You can place an order of vegan varieties—including chocolate glaze and cinnamon sugar—in person or online. 3446 Chestnut Ave., 410-235-3870. Menu is updated daily on Instagram.
Herman's Bakery and Catering: You know you can trust a family-owned bakery that has been around since 1923 and at its current location since 1958. The cases are filled with cookies, strawberry shortcakes, éclairs, and doughnuts, including a marshmallow-filled one that almost requires a spoon. 7560 Holabird Ave., Dundalk, 410-284-5590.