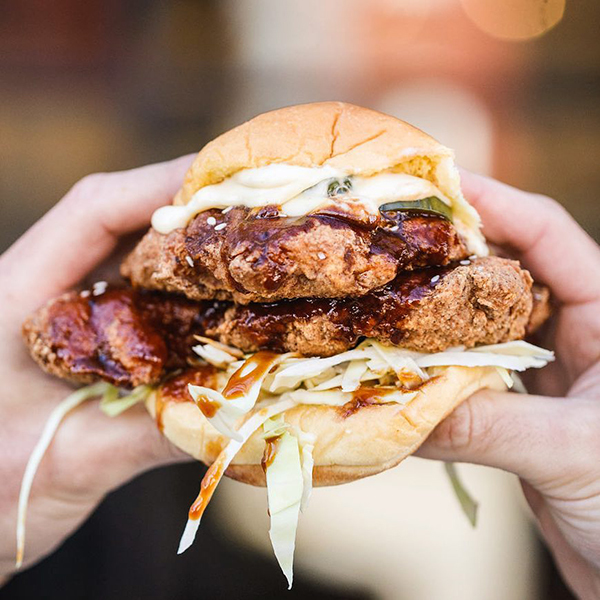 Photography by Julie Hove Andersen
From the beginning, R. House in Remington was meant to be a launchpad for aspiring chefs and restaurateurs to grow their budding food businesses beyond the communal food hall. A solid example is Alex Janian, the owner of BRD and Amano Taco who is expanding his fan-favorite chicken sandwich stall to South Baltimore this summer.
Though he was solely focused on getting the two concepts up and running inside R. House when it opened in 2016, as time went on, Janian started to think about how BRD could translate into other neighborhoods.
"We saw customers really latching on to it and coming back all the time," he says. "And that's when I really started thinking this could be something cool for Baltimore to experience in other parts of the city."
Featuring BRD's drool-worthy chicken sandwiches, wings, and fries, the Federal Hill shop will be located on the ground floor of Wheelhouse—a five-story apartment building currently under construction on the corner of South Charles and Cross streets. The late August debut will come at an ideal time for the neighborhood's dining scene, which will also welcome the newly renovated Cross Street Market just across the street this spring.
Given the restaurant's location in the heart of the Federal Hill bar district, Janian plans to stay open after last call on weekends.
"We want to be there when people want it," he says. "We don't want to close when people are hungry. We want to be there when the crowds are there, and we want to be enjoying the night right along with them."
Diners can expect to see the same globally influenced sandwiches and wings (everything from spicy Japanese katsu to Jamaican jerk chicken), as well as the Old Bay-seasoned "Bmore Bird" and French fries with vinegar inspired by Janian's local upbringing. But the new menu will also grow to include crispy chicken tenders and thick milkshakes to wash down all of the eats.
Taking up 1,700 square feet of Wheelhouse's ground-level retail space, the eatery will offer 40 seats and feature the same counter-service model that BRD does at R. House. In fact, Janian says that many aspects of the new space will take inspiration from the food hall flagship, developed in part by his brother, Chris, founder of Vitruvius Co.
"We're going after a similar vibe," he says. "The developers at R. House did such a great job creating a communal space where people can come and stay for hours. We want that convivial atmosphere where people can rub elbows with friends, or even meet people they don't know."
Designed by Kuo Pao Lian of PI.KL Studio—the same local firm that dreamed up the interior for R. House—the new spot will offer all communal tables, warm woods, and pops of red and black throughout.
"It's going to be a space that's both modern and very comfortable," Janian adds. "It really centers around the communal table and the counter so that the focus is still on the food and the people sitting next to you."
Janian, who says opening restaurants has been a dream of his since he was young, is looking forward to spreading the BRD footprint throughout his hometown.
"I've lived in Federal Hill before and I know the energy that's there," he says. "That's the exact energy we want for BRD—people who love their food, love having a great time, and really just have a love for Baltimore."