Queen For A Day
Let the little lady sleep in for once—while you and the kids whip up breakfast in bed!
Few holidays provide us with as many warm fuzzies as Mother's Day. After all, who better to honor than the lady who packed all those school lunches, wiped all those runny noses (even involuntarily, and on her sweater hems, no less), and listened to the same senseless knock-knock jokes over and over—and laughed every time?
Maybe it's time to return the favor. Not that she probably needs (or wants) her nose wiped, but you could make her a nice meal to start her Mother's Day out right. Serve it gathered around the dining room table with candles or on a little tray in her cozy bed, but leave Mom out of the cooking and cleaning up—you'll make her day.
We asked some of Baltimore's female chefs for their favorite Mother's Day brunch recipes and got some great suggestions. Most of these would be a cinch for Dad to whip up with the kids before Mom gets up for the day—you were going to let her sleep in just this once, right? So find your whisks (ask Mom where they are the night before) and get those aprons on. Time to spoil Mom a little!
Chocolate Challah French Toast
Meredith Jacobs
Author,
The Modern Jewish Mom's Guide to Shabbat
Meredith Jacobs is a parenting columnist and runs the website ModernJewishMom.com; she frequently speaks at local synagogues. Her favorite memory from a past Mother's Day was when her husband Jonathan spent all afternoon the day before with their kids, Sofie and Jules, recording a video for her. The video had the kids telling funny jokes and all the reasons they loved her. They presented the video, along with breakfast in bed, to her on Mother's Day in their home in Rockville. She calls this the "perfect brunch" for that special breakfast with Mom.
"I bake fresh challah every Friday," she adds.  "It's so delicious when it comes hot out of the oven—my family and I just pick at it throughout dinner. Thank goodness I make a large enough loaf that there's always extra for French toast."
3 large eggs
¼ cup skim milk
1 tablespoon cocoa powder
1 tablespoon granulated sugar
½ teaspoon cinnamon
1 teaspoon vanilla extract
A pinch of salt
1 loaf challah
chocolate chips
sliced fresh strawberries and whipped cream (optional)
To prepare:
In a large bowl, stir together eggs, milk, cocoa, sugar, cinnamon, vanilla, and salt.
Slice challah 1 inch thick. Soak slices in mixture for 10 minutes.
While bread is soaking, melt 1 tablespoon unsalted butter in a large pan over a low flame. When butter melts, add slices (only enough to fit in pan) and cook. Using a spatula, press down on the slices to flatten them as they cook. Flip over once to brown both slices evenly (about 3 minutes per side). Sprinkle some chocolate chips over the top of the toast.
Remove from pan, and top with sliced strawberries and whipped cream for some extra decadence.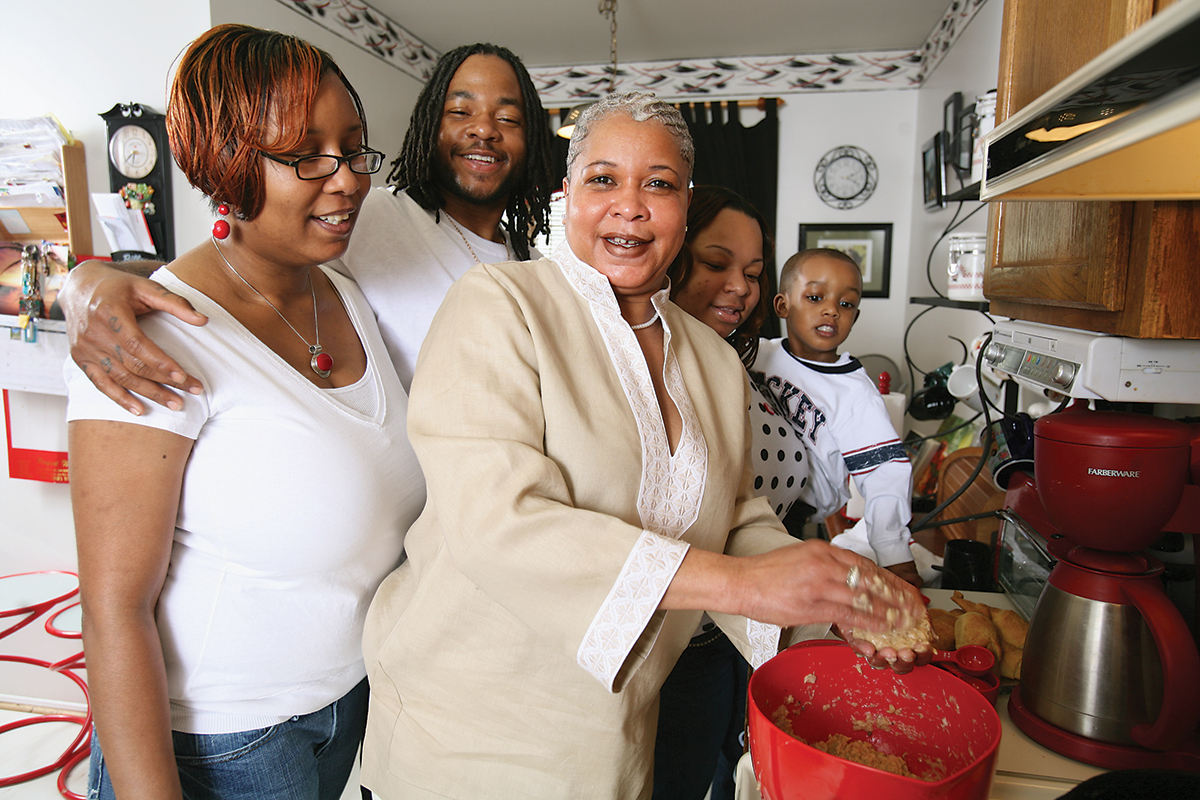 Southern Salmon Cakes
Sarah Monroe
Hyatt Regency, Baltimore
Sarah's mother first served this recipe on Mother's Day, 1957. Since then, it's become a family tradition, and all Monroes from North Carolina to Washington, D.C. serve it on that special May Sunday.
8 ounces pink salmon, cooked
and chilled (canned works best)
½ cup all-purpose flour
1 white onion, diced
2 eggs
2 tablespoon Old Bay
seasoning
½ teaspoon black pepper
1 ounce oil
To prepare:
Mix chopped salmon, flour, onions, Old Bay, and black pepper. Add eggs and mix well. Let stand in the refrigerator for 5 minutes.
Form mixture into six equal portions.
Heat a skillet—Monroe says cast iron works best—and add the oil. Pan-sear each salmon patty on each side (about two minutes per side), until golden brown. Remove from heat and drain excess oil.
Serve with grits and scrambled eggs.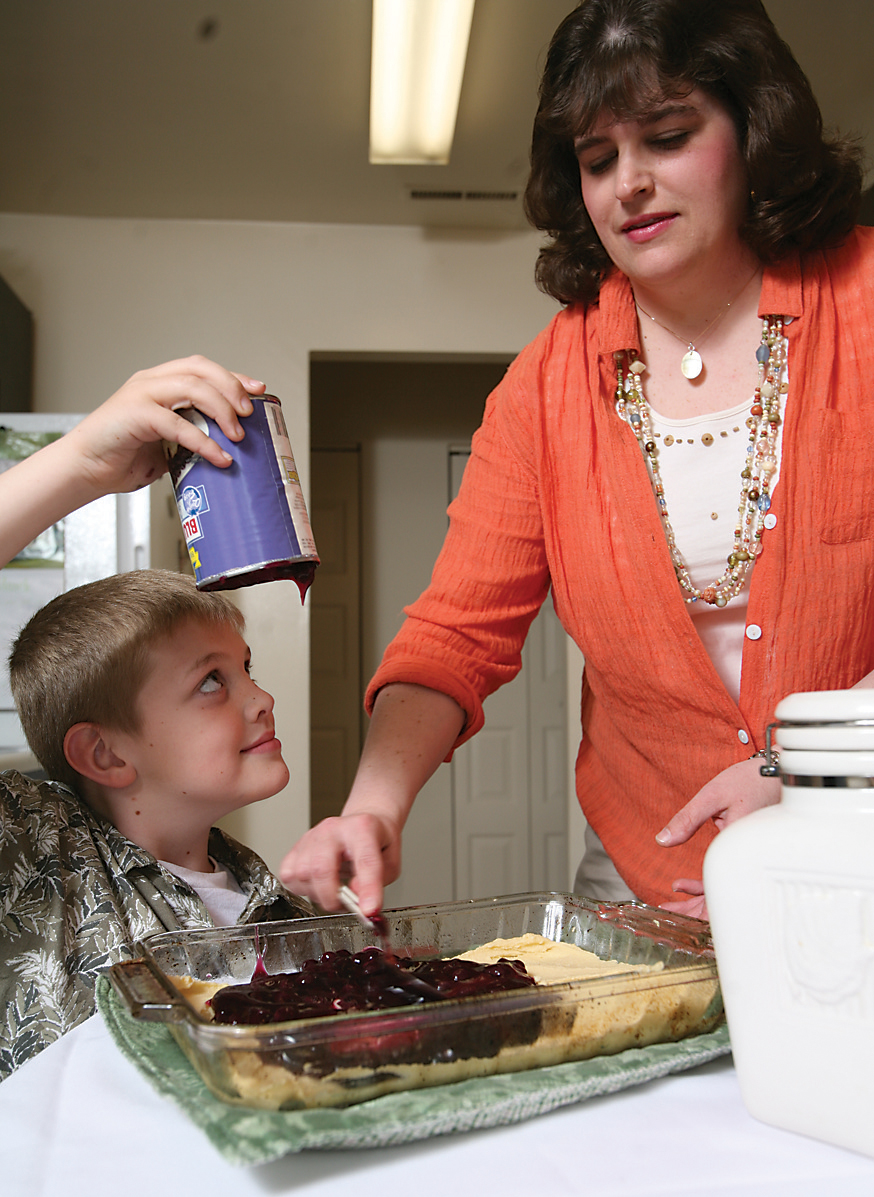 Cherry Fruit Squares
Lynn States
Pastry Chef, McCormick and Schmick's, Baltimore
Lynn's mom used to make this for her, and she says it's a great, tasty recipe for a Mother's Day Brunch. "The kids can make this with some help, and you don't have to go to a specialty store for the ingredients," she says.
States says she's worked in the restaurant industry for the past 22 years, which means she works on Mother's Day. But when she finishes feeding hundreds of other Baltimore-area moms on their special day, she returns home to her 8-year-old son, and they spend the afternoon together.
"He usually makes me a card and he has a treat for me," she says. For the past few years, the treat has come in the form of jewelry—earrings and necklaces. "It's really nice," she says, and then laughs. "He has really good taste!"
2 sticks (1 cup) butter
1 cup granulated sugar
1 teaspoon vanilla extract
2 eggs
2 cups sifted flour
1 cup chopped walnuts or
pecans (optional)
1 can cherry pie filling
(any flavor pie filling can be used)
To prepare:
Cream butter with sugar. Add vanilla. Beat in eggs, one at a time. Stir in flour. Add nuts.
Spread three-quarters of batter in a greased 13-inch-by-9-inch pan. Cover batter with pie filling. Drop remaining batter by spoonfuls on top of filling. Spread out as much as possible—batter will be very sticky and the filling will show in spots.
Bake at 350 degrees for 45 minutes. Let cool. Cut into squares and sprinkle with powdered sugar.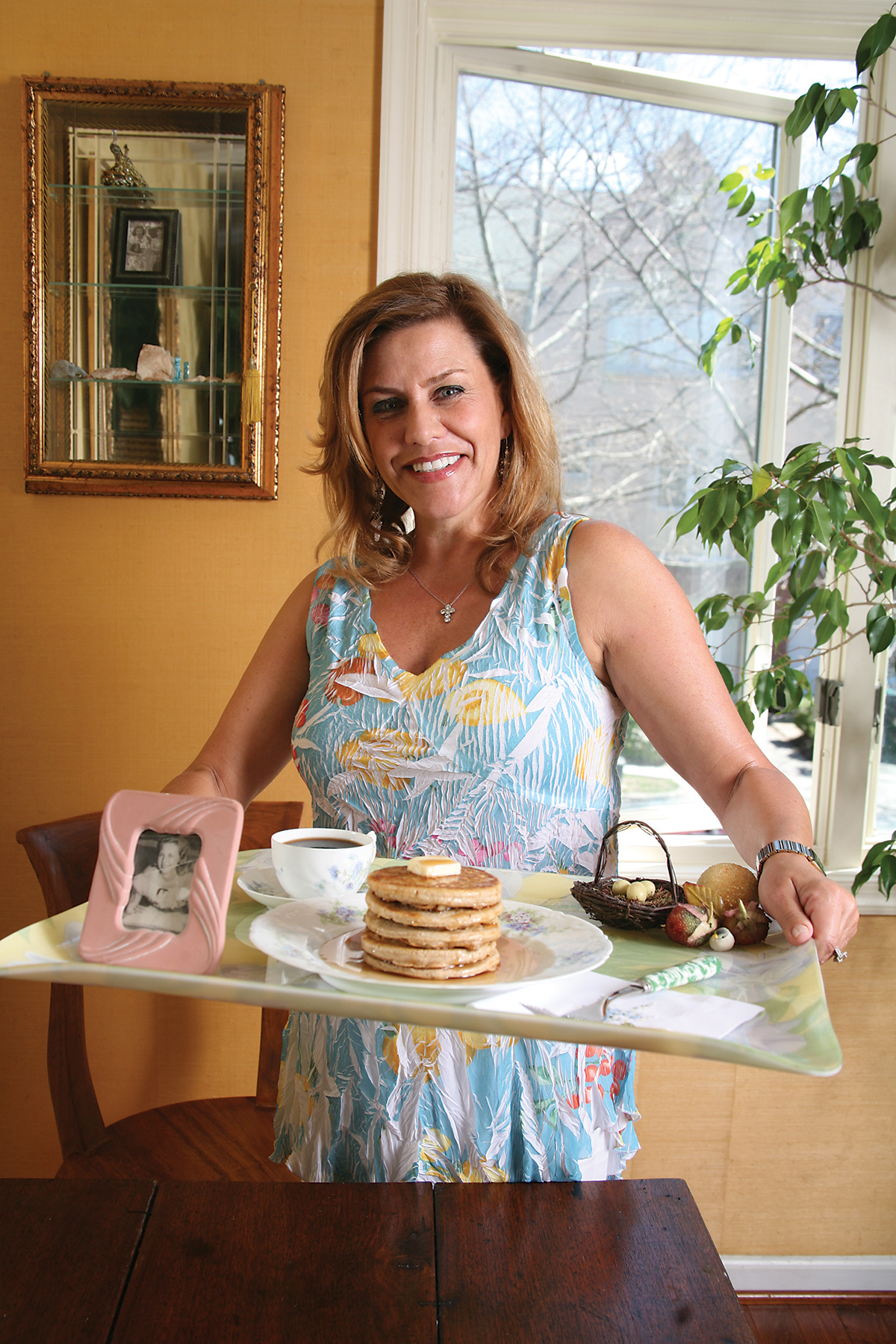 Whole Wheat Banana Walnut Pancakes
Tracey Watson
Watson Caterers, Timonium
This recipe was developed to provide a healthy—but still sweet and tasty!—approach to the celebration of Mother's Day. Why not honor the ones we love by offering them a more wholesome form of nourishment?
2 eggs
2 tablespoons canola oil
1 cup milk
½ teaspoon baking powder
½ teaspoon cinnamon
1 cup whole wheat flour
½ cup chopped walnuts
2 bananas, sliced
To prepare:
Combine eggs, oil, milk, baking powder, and cinnamon. Mix well. Add flour and mix again. Allow mixture to stand for 15 minutes.
In a hot skillet, melt enough butter to sparingly cover the bottom of the pan. Spoon scoops of batter into 4-inch rounds. Immediately place banana slices and walnuts on tops of cakes and press down lightly with the back of a spoon.
As soon as the cakes begin to form bubbles, flip them gently and continue to cook for an additional minute or two.
Serve hot with warmed maple syrup.
Makes about a dozen.