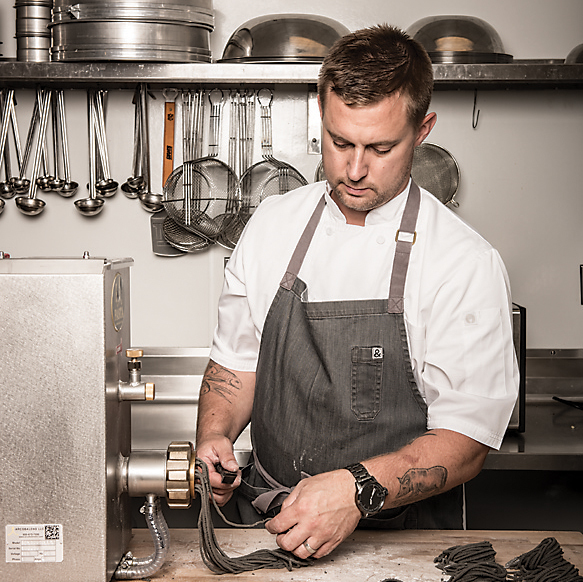 Photography by Mike Morgan
Though he hails from Frederick, Bryan Voltaggio's strong ties to the Baltimore waterfront made it tough for the chef to resist expanding his Family Meal concept to Charm City last year.
But after only 18 months in business, Voltaggio is saying goodbye to the comfort food spot, which shuttered its doors earlier this week in the Inner Harbor.
"It's unfortunate, nobody ever wants to close a restaurant," he says. "But on a business level, it just didn't materialize the way we thought it would."
The eatery's location, adjacent to the aquarium in the heart of the Inner Harbor tourism district, was a trait that resonated with the former Top Chef contender on a personal level.
"When we first looked at the space, it got me thinking back to how I spent a lot of time there on weekends as I was growing up," Voltaggio says. "That was always something we were conscious of, and it was nice to have that as a window into my childhood."
The Inner Harbor closure comes on the heels of Voltaggio's decision to close three other Family Meal locations in Hagerstown; Ashburn, Virginia; and Richmond, Virginia. The Family Meal flagship in Frederick—which debuted the brand's sophisticated takes on soul-satisfying dishes like fried chicken and shrimp and grits in 2011—is still going strong.
"People really love that location, and the goal was to bring it over to other communities," Voltaggio says. "But things change. We certainly thought it would be a mainstay in Baltimore. It just didn't work out."
Though the Family Meal concept has taken a significant hit, Voltaggio is focused on moving forward. Upcoming plans for the chef include unveiling a new Family Meal location at BWI this winter and opening a contemporary steakhouse with his brother Michael, also a Top Chef alum, inside the new MGM National Harbor Casino later this year.
Voltaggio says that some of his best memories of Family Meal's short-but-sweet run include visits from the Oriole Bird during brunch and hosting fundraisers for charities like No Kid Hungry and Moveable Feast. As for his ties to Baltimore, the chef is excited to focus his energy on Aggio, his modern Italian fine-dining destination in Power Plant Live.
"I love Baltimore," he says. "There are no plans right now, but there would be no reason why I wouldn't open up another space in the city one day. We're not going anywhere."