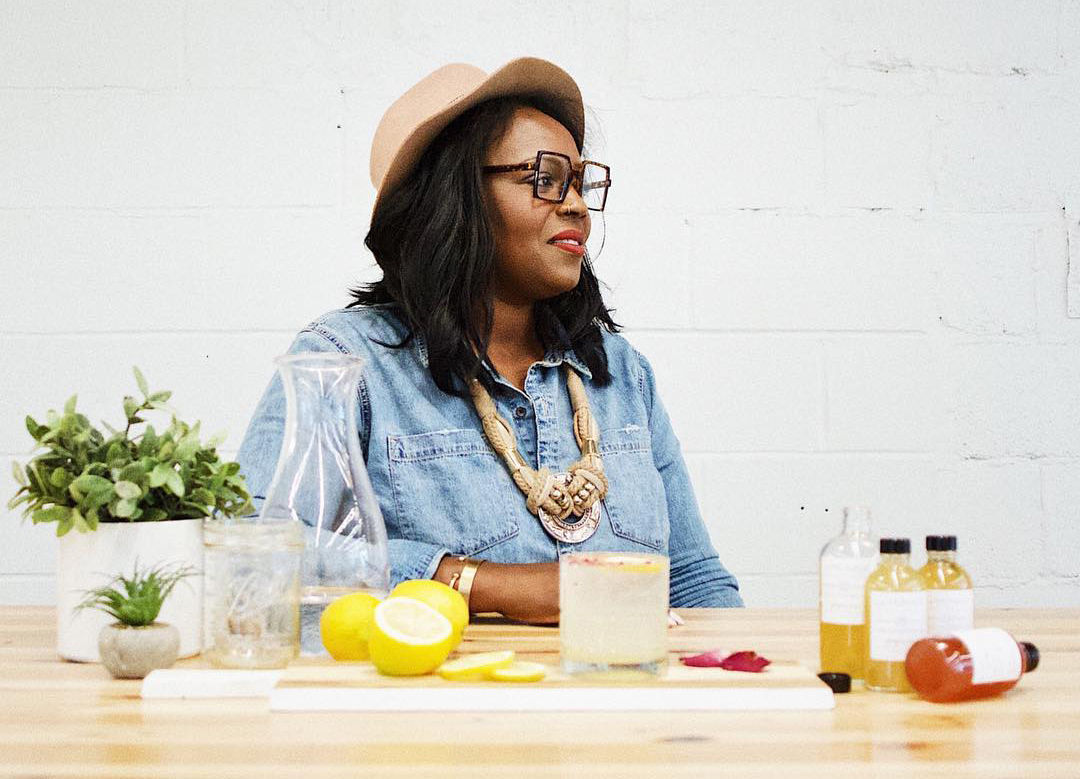 @thewhiffco via Instagram
When Carleen Goodridge moved to Baltimore from Texas nearly three years ago, she felt at home almost instantly. The chef relocated here just before Thanksgiving in 2016, and by the first week of December, she had already booked a pop-up for her craft beverage company Le Monade.
"The name comes from the way my youngest, who's now 7, used to ask me for lemonade," says Goodridge, a mom of four who sells her line of small-batch drink mixers, blends, and syrups routinely at the Baltimore Farmers' Market under the JFX. "He would say, 'Mama can I have some 'monade?'"
Not only did Goodridge find her niche in the startup scene, but she also felt supported by the city's vibrant community of female chefs of color: "I never realized how much of a difference it really made to see other people who look like you out there doing it," she says. "Even if it's their own path, you're walking along that same road together. So we're able to be like, 'Hey girl, you got this.'"
Though establishing a home for Le Monade has been her main focus, there's another passion project that Goodridge has had brewing for years. Now, she feels like it's the right time to launch Cōl Bōl, a culinary tribute to her Liberian heritage whose name translates to "cold bowl."
"The best way I can describe it is like when you make spaghetti and then the next day the sauce tastes even better," she explains. "Liberians have this thing where we say, 'Oh what are you eating today?' And we get excited to say, 'I'm about to have cōl bōl.' It's a nostalgic feeling. I'm not serving leftover food, but now that it's now gotten cold those chemicals have created new flavors. And when you heat it up there's a new caramelization happening."
Scheduled to debut with a pop-up at Fadensonnen on June 27, Cōl Bōl will feature authentic delicacies like pepper soup, nut butter bisque with seared shrimp, tried-and-true Liberian jollof rice, and a deconstructed dish that Goodridge is calling, "Sundei." Inspired by a meal her grandmother used to make, the plate will incorporate cornbread croquettes with chicken gravy, cassava, plantains, and lots of spices.
"Growing up, no matter what was going on, our 'oma' would prepare that on Sundays," she says. "We would have it in the morning and that's what we would eat throughout the day before the big dinner was ready."
Goodridge's heritage played a huge role in her decision to make cooking a career. After serving in the Army National Guard for 12 years—and later working federal and corporate jobs—her passion for food and fellowship ultimately led her to open a food truck and catering business in Texas.
With Cōl Bōl, the chef sees an opportunity to share her story through Liberian food culture. Interestingly, she has a familial connection to Harriet Tubman, whose husband, John, was a great uncle on her maternal side. After being freed from slavery, her ancestors went to colonize Liberia. Goodridge's great grandfather, former Liberian president William V.S. Tubman, ended up being the first African head of state to be invited to the White House.
"It's about sharing this story of food, culture, and the connection we have here in the United States—even in Baltimore, where slaves were literally shipped right out of Fells Point," she says. "It's an opportunity to bring people together and educate them, especially because Liberia is still struggling. We fought two civil wars and had the ebola outbreak. We're trying to get back together, and there's such beauty and history there."
As Goodridge moves forward with Cōl Bōl, and continues to expand Le Monade, she says she's constantly thinking about how to better the community that welcomed her with open arms—whether that means expanding her team or cultivating collaborations with other small businesses.
"What I love about Baltimore is that I can really be a part of my community," she says. "As transplants coming here, it's absolutely contagious, and you want to be involved."