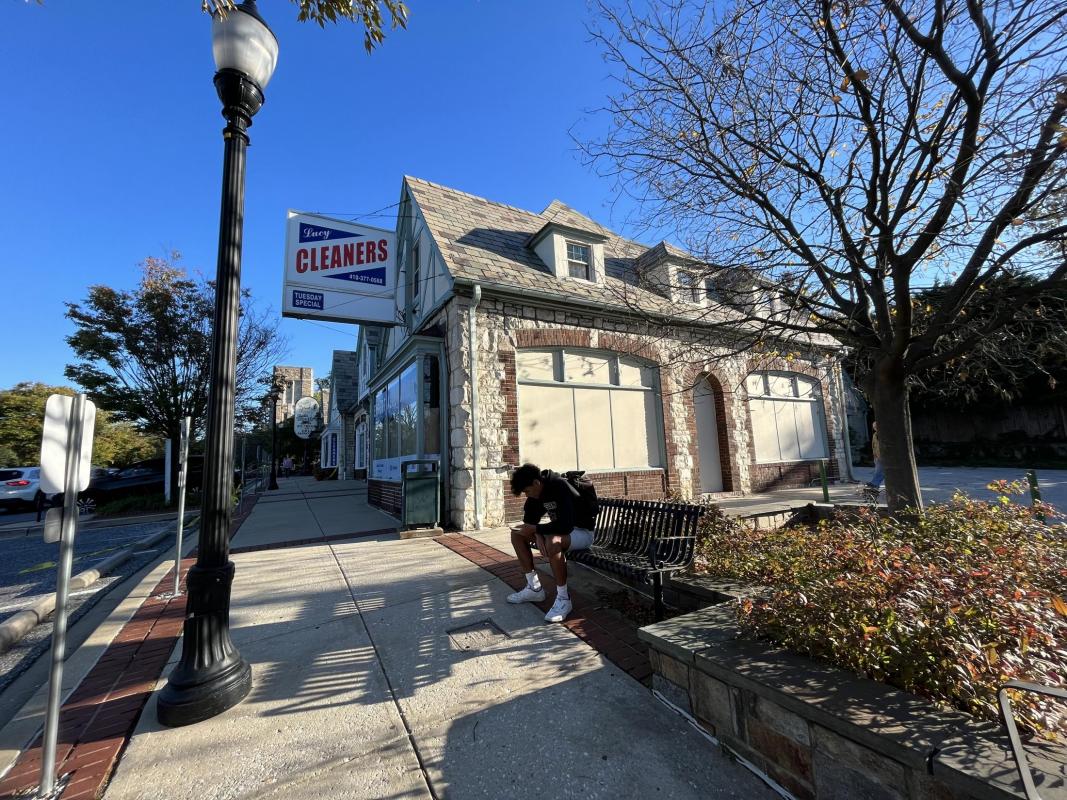 Inspired by restaurants in his native Mexico, Raba plans to re-open the building's boarded windows, allowing sights and smells to waft onto the street. —Photography by Cody Boteler
A few things brought Marisa Sheingate to the Anneslie neighborhood in south Towson nearly 15 years ago. The schools were good, the buildings along York Road had a certain charm to them, it wasn't too far from Baltimore proper and, importantly, it was walkable. 
Staples like Villagio Cafe and Mandarin Taste, both on York Road between the Regester Avenue intersection and the Murdock Road intersection, have been around for years—as have the local Ayd Hardware (in its current location since 1994) and Stoneleigh Lanes, a duckpin bowling alley open since the 1940s—giving the area walkable options. 
In the last few years, residents of south Towson neighborhoods like Stoneleigh and Anneslie have only seen that walkability improve. Pure Raw Juice and The Charmery both opened locations there, as did Starbucks, just down the street.
Now, a new restaurant from chef Carlos Raba of Clavel, the beloved Mexican taqueria in Remington, has the neighborhood buzzing. The eatery, called Nana, will occupy a vacant—and historic—building at the southern portion of 6901 York Road. 
"It's a really exciting moment with possibilities of having this really walkable community with great restaurants," says Sheingate. "We're excited." 
Raba—who, have no fear, will remain involved in Clavel—is hoping to get his new venture open in spring 2022. However, supply chain issues due to the COVID-19 pandemic could complicate that, he says.
"It all depends," Raba says. "But it's going to happen." 
Nana—a name that comes from the term of endearment Raba and his family gave his great-grandmother—is slated to serve breakfast, lunch, and dinner Tuesday through Sunday. Raba envisions offering simple food, like the Mexican diners and taquerias he remembers from his childhood in Sinaloa. 
"I'm Mexican, I cook Mexican food. You'll see quesadillas, you'll see tacos. But I'm going to do something different in how we cook and serve them," Raba says. Rather than the slow-cooked meats famous at Clavel, Nana will involve "butchering [meats] and putting them on the fire."
News of the restaurant's opening was first reported by The Towson Flyer, and then by Baltimore Fishbowl. 
Nana, he says, will be about 80 percent kitchen and about 20 percent dining space. You're meant to grab a quick bite to eat—maybe a breakfast taco and a coffee in the morning, or a quesadilla for lunch—and take a packed rotisserie chicken home with you for dinner with your family, Raba says. Inside, the decor will be "simple, but not boring." 
And, important for such a walkable neighborhood, someone passing by Nana won't necessarily have to come into the restaurant to get the experience. Raba plans to re-open windows that have been covered and boarded for years, allowing the sights and smells inside to waft onto the street. 
"In Mexico, a lot of the taquerias are open buildings," he says. "I want to embrace that." 
Nancy Hafford, executive director of Towson's Chamber of Commerce, says Raba coming up York Road shows "the diversity and growth of our community."
"It's wonderful to see that chefs and restaurateurs of his caliber are picking Towson as their home now," she says. "They wouldn't be doing this even seven years ago."
David Marks, the county councilman who represents Towson, including the area where Nana will open, concurs. He says he's seen an "explosion" of young families moving to Anneslie and other south Towson neighborhoods like Stoneleigh and Rodgers Forge. He's thrilled to see the area catch attention from restaurateurs.
"Downtown Towson gets a lot of attention," he says. "But we have a lot of local destinations for people in southern Towson."
For Raba, opening Nana is a chance to try something creative on his own. Clavel, a venture with restaurateur Lane Harlan, opened in 2015. 
"I see it as a new chapter of my career as a business person, and as a chef, to embrace something on my own," he says.