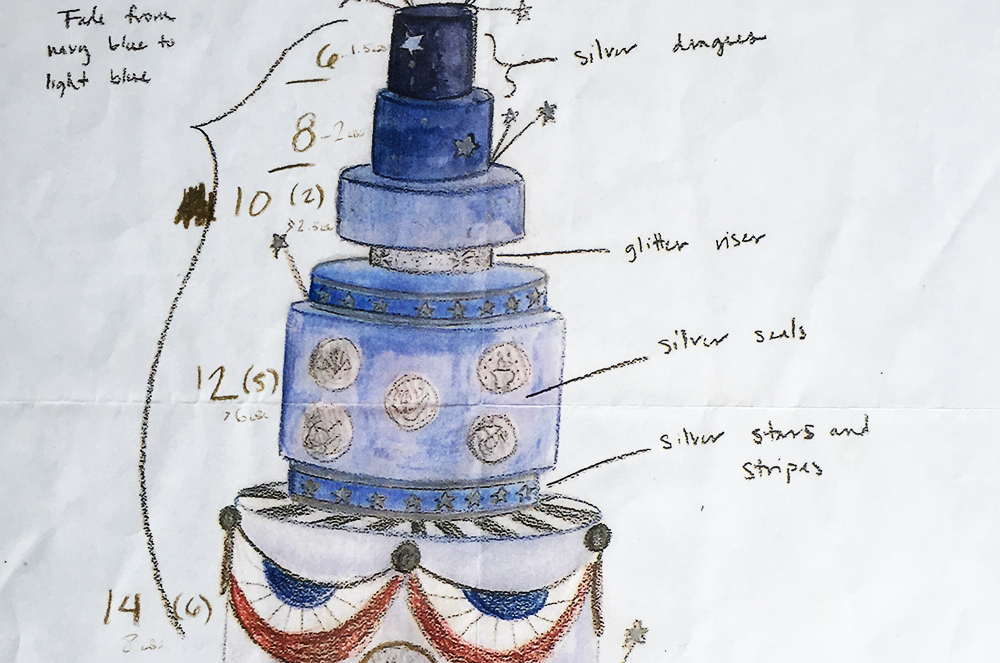 With the inauguration of President Donald Trump and the marches attended by millions of protestors across the country that followed, this past weekend certainly sparked plenty of controversy.
But one aspect of the inauguration that stood out to Baltimoreans in particular was the blatant similarities between Trump's cake served at Friday evening's Salute to Our Armed Forces Ball, and the nine-tier sensation created by Charm City Cakes that originally debuted at Barack Obama's inauguration in 2013.
Baltimore's own Duff Goldman—the famed Food Network personality who founded the Remington bakeshop in 2002 and has since relocated to the West Coast to oversee operations of a spinoff bakery in Los Angeles—addressed the resemblance via Instagram on Saturday morning, posting a side-by-side image of both cakes.
"The cake on the left is the one I made for President Obama's inauguration four years ago," the post reads. "The one on the right is Trump's. I didn't make it."
Charm City Cakes worked closely with Obama's inaugural committee in 2012 to create a four-foot design boasting red stripes, silver leaves and seals, and glitter stars. The original sketch was done by former creative director Katie Rose and dated January 7, 2013.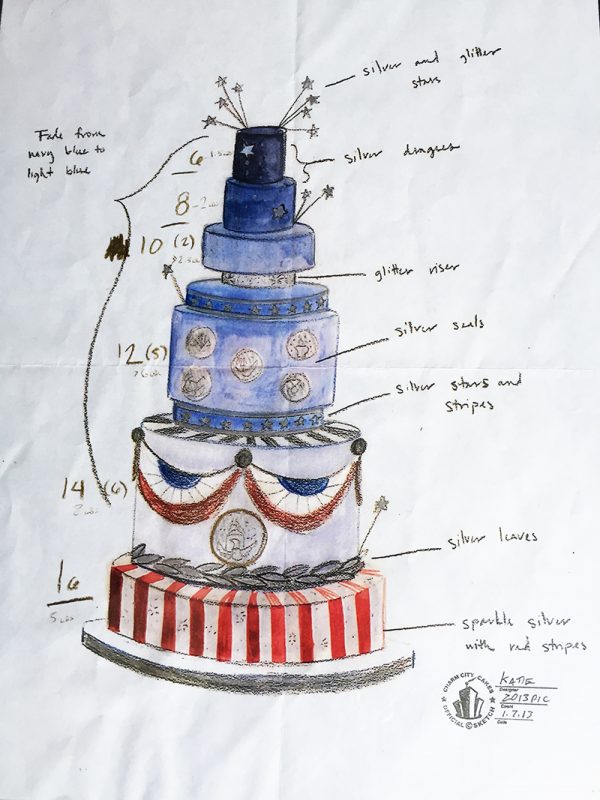 Rose tells us that, though the committee had certain elements that they wanted to be included on the cake, she was free to create her own design: "I made sure it wasn't too whimsical or silly," she says with a laugh. "It was as respectful as a cake can be."
When Rose was first made aware of the imitation, she was in D.C. for the Women's March. She says that, after she saw it, she had to do a quick Google search to refresh her memory of what her cake looked like.
"When I was watching the inauguration coverage and saw the cake I was like 'Wow that looks so much like the cake we made,'" she says."And then I thought, 'Wait a minute, is it the cake we made?'"
Though it was a shock, Rose says that she felt more surprised by the situation than outraged: "I was pretty blown away, but at the same time, I was there to march," she says. "It felt kind of small to me. I knew it wasn't Trump himself who was like, 'Get me that cake and copy it exactly.'"
The replica—which features precisely the same details—was created by Tiffany MacIsaac, owner of Buttercream Bakeshop in Washington, D.C.
"Excited to share the cake we got to make for one of last night's inaugural balls," MacIsaac captioned a photo of the cake on Instagram Saturday. "While we mostly love creating original designs, when we are asked to replicate someone else's work, we are thrilled when it is a masterpiece like this one."
In an interview with The Washington Post, MacIsaac explained that when Trump's team placed the order, they insisted that the cake look identical to its predecessor.
"They came to us a couple of weeks ago, which is pretty last minute, and said, 'We have a photo that we would like to replicate,'" she told The Post. When encouraging the client to use the photo as inspiration, "They said, 'Nope, they want this exact cake. It's perfect.' And we said, 'Great.'"
Though she declined to mention her political affiliation, MacIsaac said that she prides herself on being non-discriminatory.
"I'm a small-business owner, and one of the things I'm very, very proud about is that I don't discriminate," she said. "I would never turn someone away based on their age, their sex, their sexual orientation, their political views. It's just not the way we operate."
In keeping with that sentiment, Buttercream Bakeshop donated $1200 of the cake's proceeds to the Human Rights Campaign, a nonprofit that works to bring equality to the LGBTQ community.
After hearing MacIsaac's perspective, Goldman took to Twitter to clear the air, declaring that: "cake decorators borrow and are inspired by each other all the time. It's how we keep this industry fresh, relevant, and moving forward."
Rose, too, is choosing to take the high road: "I think maybe the person who asked didn't actually realize it would be such a big deal," she says. "I imagine people out there don't realize that you shouldn't steal somebody else's designs. Maybe because it's a cake it's seen as a less-respected art? Maybe they just don't see that a line was crossed."
Imitation is the sincerest form of flattery, after all.