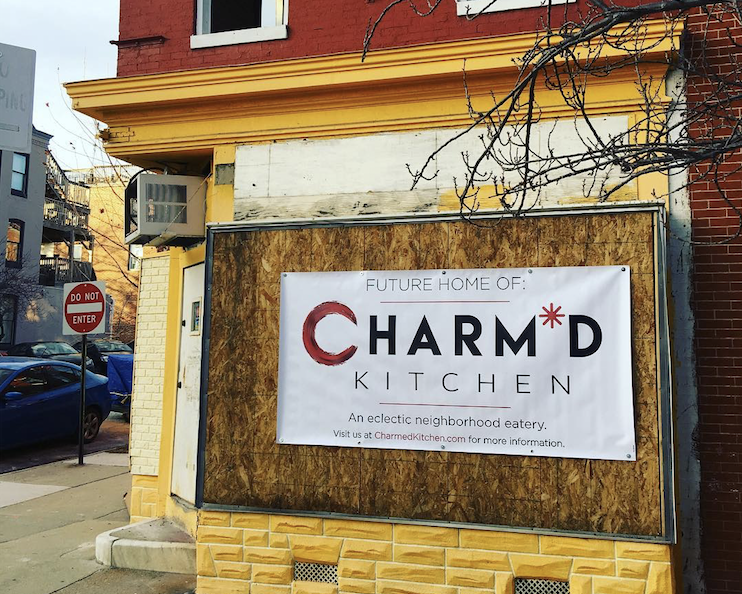 Courtesy of Charmed Kitchen
Local lore has it that the nickname "Charm City" dates back to 1975, when then-mayor William Donald Schaefer asked four of the area's top advertising professionals to dream up a slogan that promoted the city's appeal. A charm bracelet was even featured on the bottom of the new ads to convey the message visually.
Though residents have been embracing it for decades, recently, an influx of local restaurants have been taking inspiration from the moniker when naming their businesses. Aside from favorites like ice cream shop The Charmery and cat cafe Charmed Kitty, a new eatery called Charmed is expected to debut on North Calvert Street in Mt. Vernon next month—but it's not to be confused with Charmed Kitchen, which is opening its doors in Butchers Hill this May.
"We kept playing with the word 'charmed' being that we're Charm City," says Christa Bruno, Charmed Kitchen's executive chef. "But we didn't want to be so blatant about it, so we added the 'kitchen' because with a kitchen you think of an all-day, busy place where the door is constantly open and people are coming in and out."
The open-all-day approach is, in fact, a key part of Charmed Kitchen's objective. Husband-and-wife owners—and longtime Butchers Hill residents—Lindsay and Andrew Crummey will head up breakfast and lunch service during the day, and Bruno will step in to helm the kitchen for dinner service.
"I'm not a morning person," Bruno quips. "So having a more chef-inspired dinner worked out nicely."
The owners bought the building—which previously housed bodega Ronnie's Food Market and has two apartment units upstairs—on the corner of Chester and Pratt streets about a year ago. Originally, they didn't plan to change much. But when Ronnie's closed last year due to lack of business, the duo had to come up with a plan to utilize the vacant space.
"We wanted to keep it a neighborhood amenity," Lindsay says. "We didn't want to do what a lot of other developers are doing, which is that they turn these mixed-use corners into one big residential house. It was important to keep it an amenity, not only for our family, but for everyone else around us."
The building is currently under construction, but on track to debut in May featuring a 35-seat dining room, custom cafe tables built with reclaimed wood from the original floor, and a brand new commercial kitchen.
Daytime service will include an array of coffees and teas, breakfast plates, grab-and-go sandwiches for lunch, and free Wi-Fi for residents looking for a place to work. There will also be a small selection of grocery items (think milk, eggs, and bread) for locals to purchase.
Bruno—a Baltimore native who previously operated now-closed Pazza Luna in Locust Point and currently works at Sotto Sopra in Mt. Vernon—will present a dinner menu that reflects her Italian roots with pastas, risotto, meats, fish, and local produce.
"My grandmother is from Sicily," says Bruno, who recently traveled to the region to do research for the new restaurant. "So I was raised in kitchens and taught to cook from scratch. I want to bring that back to the table—the really fine essence, flavors, love, and attention to cooking."
While Bruno is looking forward to the restaurant becoming a destination for diners from different parts of the city and county, the owners hope that the daytime cafe will be a staple in the community.
"Bringing a new spot to the scene makes me excited because it gives me another reason to want to stay here," says Lindsay, who has lived in Butchers Hill for nearly eight years. "I hope this gives other families and young professionals a reason to stay, too."