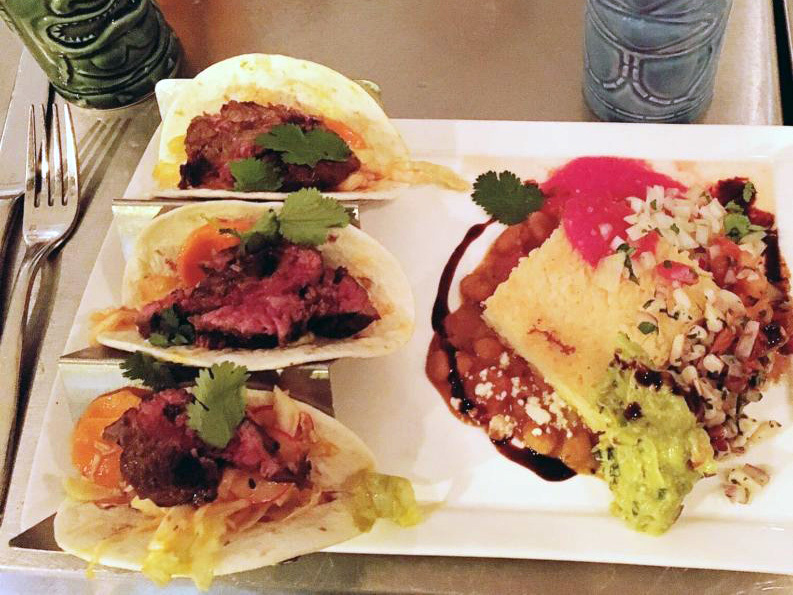 Jess Mayhugh
Chad Gauss, the executive chef behind the creative comfort food at The Food Market in Hampden, has been looking to branch out for a while now. After visiting more than 100 sites over the past two years, he has finally landed the perfect spot to develop a new concept from scratch.
"It's kind of like shopping for a new home," Gauss says of the search. "There are a million great buildings that could easily house some really awesome restaurants, but we wanted something that had the right guts."
The chef recently signed a lease to open La Food Marketa in the 3,500-square-foot space that was previously inhabited by Italian restaurant Bella Vista in Quarry Lake at Greenspring, a mixed-use development in Pikesville. Come fall, Gauss's "Spanglish" concept will showcase his unique twist on Central and South American cuisine.
"From a chef standpoint, you never want to do the same thing twice, and Baltimore is too small to have two Food Markets," Gauss says. "There's a lot of creative relief knowing that there's a new concept coming."
Gauss experimented with the flavors that he has in mind for La Food Marketa by hosting a weeklong pop-up of the same name at The Food Market during winter Restaurant Week earlier this year. He says that, although serving those dishes (think Brazilian black bean soup, smoked trout nachos, Wagyu steak tacos, and spicy grilled shrimp with pineapple and quinoa) for one week was exciting, the spinoff will feature a completely new lineup.
While specific menu items have yet to be revealed, Gauss mentions that he will focus on soul-satisfying cuisine that embraces healthy techniques such as using less butter and cream in favor of more naturally gluten-free ingredients like corn and yucca flour. He also plans to emphasize braised meats, and to create a specialty cocktail program with weekday happy hour offerings.
Gauss has hired Charles Patterson of SM+P Architects—a local firm that designed the likes of La Cuchara, The Boathouse Canton, and Alma Cocina Latina in addition to The Food Market—to build the restaurant's interior. The 105-seat space will feature custom banquettes, colorful light fixtures, a 60-seat outdoor patio, and 10-12 seat front counter that faces an open kitchen.
"I think I could definitely have some fun with that counter," Gauss says, referencing his love for intimate communal dining, which is reflected in The Food Market's prix-fixe Private Kitchen dinners. "I can bomb the table and people can just eat the whole menu."
La Food Marketa will join other restaurants such as Jasmine Asian Bistro, Pizza Blitz, and Quarry Bagel Cafe in the 230-acre community. Citron, a new contemporary American concept from local caterer Charles Levine, is also slated to debut in Quarry Lake this summer.
Gauss says that, in addition to writing a brand new menu and watching his staff grow, he's most excited to be able to develop the restaurant entirely from the ground up.
"We tend to take the business seriously, but not ourselves," he says. "I trust my gut with everything I do. This felt extremely right."