Good Spirit
Chelsea Gregoire's approach to hospitality finds its roots in religion.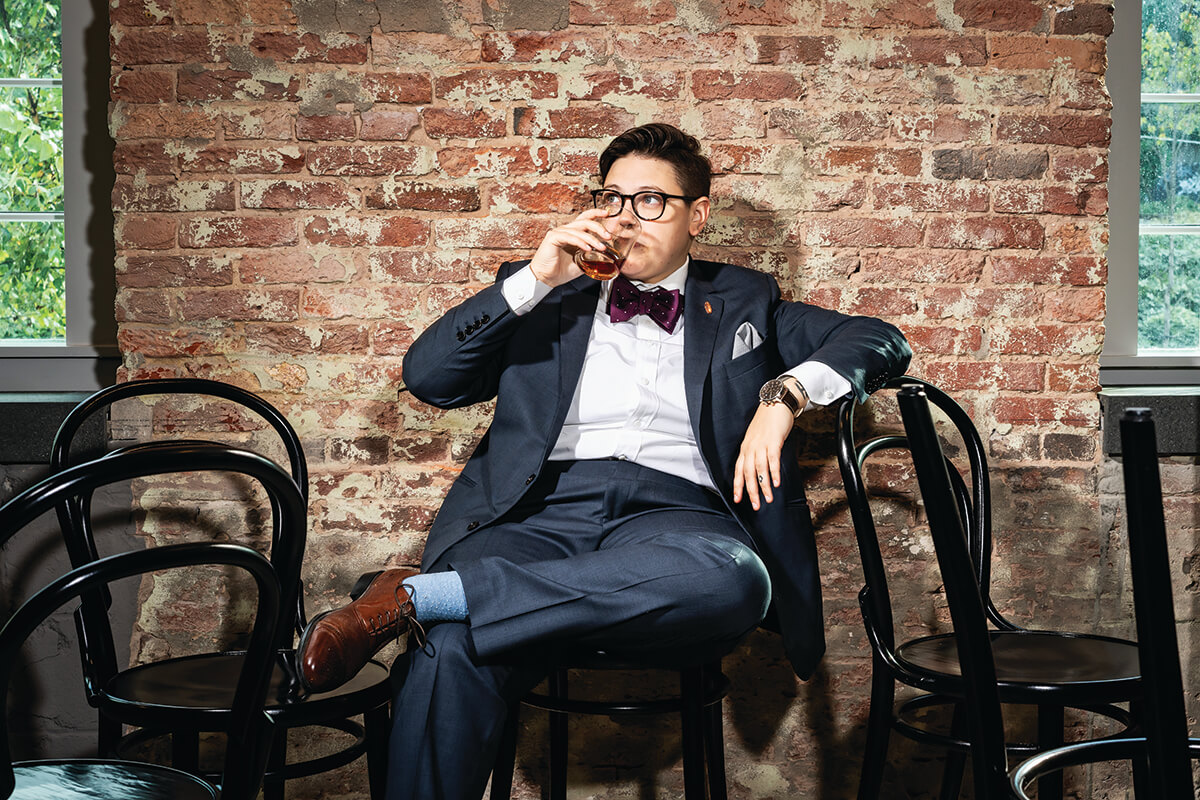 Chelsea Gregoire is giving a Zoom tour of their apartment in Hampden's Whitehall Mill, where the vast collection of books they share with their artist wife, Shandi Chester, is organized by the color of the books' spines. The blue books alone show the range of the collection.
"We have The Basics of Biblical Greek," says the 30-year-old, who uses "they/them" pronouns and identifies as queer. "We have What If?, which are critical-thinking exercises for philosophy. We have Setting the Table by Danny Meyer. We have a book about Madeira, Grief Observed by C.S. Lewis ("I read this four-chapter beauty every time I go through something difficult."), and The Sick Rose, which is a book about medical illustrations."
If one's bookshelf can be considered an autobiography of sorts, Gregoire's volumes speak volumes. In this case, Gregoire's varied book collection serves as a sort of metaphor for the acclaimed beverage director's mission of inclusiveness, diversity, and making everyone feel at home, including their coworkers, such as NiHao bar manager Ashley McMichael, who previously worked with Gregoire at True Chesapeake Oyster Co.
"They have taught me so much," says McMichael. "I'm a recovering alcoholic. And when I first got sober, I was like, 'How can I be sober and then run a bar program and mix drinks for people?' And Chelsea was like, 'You can totally do that. If that's what makes you happy.' And they encouraged me to come up with ideas for mocktails. I've never had a mentor who was so passionate about everything they do, especially when it comes to teaching others. Chelsea always makes sure that everyone feels included—they're everything you want in a coworker, a boss, a friend. And I give Chelsea such accolades for being the person they are in a world that told them 'no' a lot."
Dave Thomas, the former chef-owner of Ida B's Table, who worked with Gregoire when they were a bar manager at his restaurant, puts it like this: "They say what's on their mind and care about how things affect other people. They fostered this idea of the bar collective and emboldened the staff to create cocktail menus, instead of taking the credit." Gregoire, says Thomas, has the rare ability to give careful consideration to every last detail in a way that goes way beyond the bar.
"We were an African-American-owned and operated business that didn't carry Hennessy behind the bar, which was a big problem," says Thomas. "We didn't know a lot about Hennessy back then, except for the fact that it was a staple in Black bars. But we also wanted to make sure that whatever brands we carried didn't exploit the culture. Chelsea took on researching the brand and was also always explaining to customers why we weren't going to carry it until we knew more."
Even beyond Baltimore, for Gregoire, an industry veteran despite their relative youth, the hosannas keep coming. Gregoire has won numerous national awards in the beverage industry for their mission toward creating more inclusive and equitable restaurant spaces and better working conditions for people in the service industry, from talking about affordable health care and a livable wage to raising awareness surrounding fair hiring practices, product selection, and company partnerships.
In 2018, as the bar manager at Hotel Revival, they were named an Eater Young Gun. And in 2019, while still working at True Chesapeake Oyster Co., Gregoire was named Beverage Director of the Year by Esquire magazine, which mentioned their "radical, generous-spirited approach to inclusiveness" and called them a "game changer" for the industry.
"I wake up to an email that says, 'Congratulations, you're America's Beverage Director of the Year,'" recounts Gregoire. "I couldn't have imagined it in my wildest dreams, but I don't want the awards to elevate me. I want them to elevate the idea that things could be better."
Most recently, Gregoire published a holiday cocktail for Bon Appétit, a publication whose editor-in-chief resigned over accusations of racial bias and discriminatory culture. Before agreeing to be featured in the special issue, edited by famed Ethiopian Swedish chef Marcus Samuelsson, Gregoire proceeded with characteristic caution and care.
"BA's recent reckoning has not gone unnoticed," says Gregoire. "I knew they were trying to diversify the voices and treat those voices equally, but I wanted to make sure that they weren't just asking a bunch of white people to make holiday cocktails. If someone doesn't hold these organizations accountable, then the change we are asking for fails."
Even Gregoire's manner of dress—sartorial men's custom suits and an array of playful printed ties and bowties—is their way of making a statement that all people, regardless of race, gender, or creed, should have a place at the proverbial table.
"The way I dress is one of my main forms of expression in a business that's a lot about assimilation, to its detriment," says Gregoire. "There's an abundance of uniforms, so being able to have that self-expression is important. I see it as a suit of armor that allows me to navigate a space that I wouldn't normally be able to."
FOR GREGOIRE, AN INDUSTRY VETERAN DESPITE THEIR RELATIVE YOUTH, THE HOSANNAS KEEP COMING.
First and foremost, Gregoire considers themselves a bartender, but with their wide smile, big blue-green eyes, and, yes, spirited personality, crafting a cocktail is about more than just adding an ounce or two of alcohol, a splash of liqueur, or a garnish to a glass. The secret to the sauce—or, in this case, the drink—is that every cocktail (and cocktail program) is a chance to share a story.
"I think of people who make drinks and food as artists," says Gregoire, who created a list of cocktails at Ida B's Table inspired by songs from Black artists such as Chuck Berry's "Promised Land" and The Supremes' "I Hear A Symphony."
Gregoire once considered a career with the ministry, but has instead used bars and restaurants as their pulpit. In their nearly eight years since graduating with degrees in religion and theology from Liberty University, they have worked in all aspects of the industry.
Gregoire's first beverage job was in 2009 at Teavana in Annapolis, followed by a barista job at Firehouse Coffee Company on O'Donnell Square in Canton, and then years of working as a barista at various Starbucks outlets in Virginia. "I loved the satisfaction of seeing a smile on someone's face in a conversation about their day," they say. "And I know what their usual drink is."
In fact, most of what Gregoire has learned about the world of cocktails came from their interest in java. "The world of coffee can go on forever and ever," they say, "but it's a foray into understanding terroir and into the understanding of the manipulation of production and the effect it has on an agricultural product. Once you get a taste of that and how these different methods develop different flavors, you can't get enough. For someone like me who loves devouring information, I couldn't stop."
Since those days, Gregoire has worked all over Charm City, from bartending at the former Pen & Quill in Station North to managing the bar at Dooby's in Mt. Vernon, as well as a management position with Jay's Restaurant Group.
At the height of the pandemic, in June of last year, they decided to leave their gig as general manager and beverage director at True Chesapeake Oyster Co. to devote their efforts full-time to their consulting firm, the wryly named Drinkable Genius, in which they plan events, teach classes, help create cocktail menus, and "dabble" in all aspects of the beverage arena.
In addition to teaching mixology virtually for now, at local and national events and conferences such as Tales of the Cocktail, Portland Cocktail Week, Bar Convent Berlin (Germany), and Baltimore Cocktail Week, Gregoire is a restaurant consultant for local restaurants such as Crust by Mack. And during the pandemic, as restaurants continue to struggle for survival, there has been no shortage of need.
"The paycheck isn't the most important part," they say. "I'm trying to meet people where they're at. I can help people for an hour and still make an impact—I just want to see as many small businesses as I can make it to the other side of this."
For Gregoire, who was born in Baltimore and raised in Annapolis, the road to the world of hospitality has been an unlikely one, though connecting with community has always been a leitmotif in their life. "As a kid, I was super outgoing," they say. "I grew up dancing and doing musical theater like Carousel and Footloose, but I didn't want to be the lead, it was more fun for me to be a part of the community than to be a star of the show."
Gregoire's mom, Lisa, recalls that Chelsea, who played upward of six instruments, including guitar, electric bass, piano, the mandolin, and sold five full-length albums on iTunes before they were 15, was precociously bright.
"I remember going down to Raleigh, North Carolina, and my great-grandfather was reading the newspaper, and Chelsea was 3 years old and climbed on his lap and said, 'Can I read the paper?' He was like, 'Is this kid for real?' And Chelsea started reading the newspaper to him."
Growing up, Gregoire briefly considered the idea of becoming a marine biologist ("Once you watch Free Willy, you're like, 'Give me the whales,'" they crack), considered a career as a musician, and finally set their sights on working in the church. "I wanted to figure out ways that I could help people," they say. "Music was a bridge. I was playing music at church, and I was like, 'I'm really passionate about this ministry thing, in addition to music.'"
Along the way to adulthood, their sunny personality landed them a job selling cards and gift-wrapping at a Hallmark store in Annapolis in 2007. "I've always been sentimental, but working at Hallmark took it from 25 percent sentimental to 150 percent," they say. "Anyone who has ever worked for me has gotten a card or a note or a handwritten message or text telling them how much I love them. I'm just a giant sap—Hallmark drove that home."
While still a senior in high school, they had a brief stint as a receptionist at a Lexus dealer in Annapolis. ("Oh, the irony," says Gregoire. "I don't even have a driver's license.")
By 2008, Gregoire was a student at York College living the life of a freshman. "I partied a little too hard," they say. "I've always been extremely self-aware, and I came home for winter break and was like, 'I can't go back. I just can't.'" They decided, instead, to transfer to the faith-based Liberty University. "My mother was skeptical but supportive," says Gregoire. "I just needed to put walls around myself, so I could focus on the task at hand, which was to study.'"
When Gregoire first arrived on campus, following the rules and regulations of the Christian college—with its dry campus and insistence on abstinence—wasn't an issue. But over time, Gregoire started to question Liberty's ideology. "There was something called The Liberty Way, with fines and disciplinary homework for the normal college stuff that kids do—I smoked a cigarette and there was such a layer of guilt put on me that I had to admit my wrongdoing and then had disciplinary homework," they say, now laughing at the memory.
Gregoire had other experiences that led them to question the code of conduct, too. After graduating with a master's in theology in 2013, Gregoire was set to teach an online freshman class at the university. At the same time, they had come out as queer and went public with a post on Facebook.
"I posted that I was in a relationship with Shandi," they say. "And then I received a message from Becki Falwell [the wife of then university chancellor Jerry Falwell Jr.] that said, 'I saw your status about Liberty. Is there something that I can do?' And I was like, 'If you need to ask….'"
"HOSPITALITY IS THE BUSINESS OF CARING FOR SOULS," SAYS CHELSEA GREGOIRE.
Shortly after, Gregoire says they were locked out of the university's email, effectively blocking them from the school's online community and classrooms. (We reached out to Liberty University for a comment, but at press time, had not heard back.)
Looking back now, as they sit near the rushing waters of the Jones Falls, just outside Whitehall Mill, the recent report that Becki was allegedly having an open extra-marital affair (which led to her husband's ouster) clearly calls up old wounds.
"I'm livid," they say. "These disclosures have been completely emotionally exhausting. I still have $23,000 in student loans. What she did is not inherently wrong—you can have an open relationship and extramarital affairs, if that's something that you agree to—but what I can't stand for is the absolute hypocrisy."
Though their college years are now a thing of the past, Liberty left a lasting impression. "Going there changed almost everything about me," says Gregoire. "I firmly believe that you can believe in God and still enjoy a glass of wine. The two are not mutually exclusive, but at Liberty, it is. That realization really gave me pause."
Despite those realizations—or maybe because of them—Gregoire, who has a cross tattoo tucked behind their right ear, still considers themselves spiritual. In fact, they often draw on their abiding faith. "Hospitality is the business of caring for souls," they say. "It's a very religious idea that we can only pour out as much as we are being filled up—that's the whole basis of religious community. We only have so much we can give without being refilled ourselves."
And that's a particularly helpful insight during the inevitable challenges that arise from working in the service industry.
"Hospitality has taught me that there's always a backstory when a customer is cranky or someone on the staff is having a tough time," says Gregoire. "There's always something going on in people's lives, something that's causing them to act this way, and that's one of the hardest parts of hospitality. If often ties back to the thing I take to heart from my experiences with religion and Christianity—it's about the extension of grace."