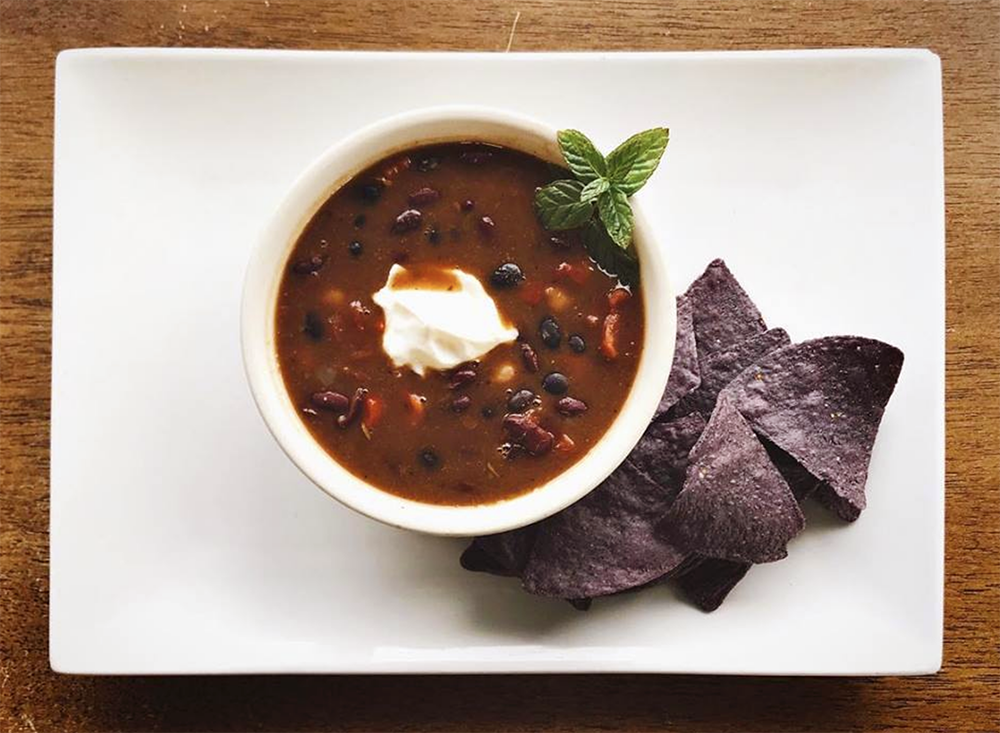 Courtesy of The Flying Avocado Cafe
Nothing warms your soul quite like a hearty bowl of chili or a craft beer on a cold day. In years past, local homebrewing club Baltibrew has brought the two together for its annual Chilibrew competition at Zion Lutheran Church.
"Obviously chili is a great fall favorite," says Jacob Wolf, a longtime Baltibrew member. "And there's nothing better than spicy chili with a cold beer. When you pair the two together, they make a great team."
Aside from the seasonal appeal, Wolf adds that the pairing also makes sense conceptually. He says that, much like beer, chili is versatile and allows home cooks to really get creative with their recipes.
"There are all different types of beers and people like to seek out their own unique styles," he says. "Chili has that same draw. A home cook can take a favorite chili recipe and make it their own in that same spirit of making home-brewed beer."
In honor the official start of chili season, we rounded up some of the best recipes in town. Here's where to get your fix:
Abbey Burger Bistro: Head to this beloved burger spot, which has locations on both sides of the harbor and a new addition in Mt. Washington, to sample "Big Al's" chili made Southern style with a signature blend of spices. Order a bowl as a starter, or go all out with the cavatappi chili mac and cheese. Multiple locations including 1041 Marshall St. 443-453-9698.
Baltimore Soup Company: The daily rotation at this Towson soup spot includes a Texas beef chili that stews angus beef with green peppers, kidney beans, green chiles, onions, garlic, and Southwestern seasonings. The eatery offers specialty soup orders by the gallon if you're hoping to stock up for the cold season. 3 W. Chesapeake Ave., Towson, 443-275-2325
Duda's Tavern: Regulars at this decades-old staple in Fells Point rave about its crab cakes and burger specials. But another must-try on the menu is the house chili bake, which is a safe bet if you need to warm up on a cold day. The dish tops mild chili with onions, housemade croutons, and a generous helping of cheddar cheese and warms it all together in the oven. 1600 Thames St. 410-276-9719
Five and Dime Ale House: If you need a spot to retreat from the cold while strolling along the Avenue in Hampden, head inside this corner pub to choose from a lengthy list of local beers, sandwiches, flatbreads, tacos, and other snacks. You can't go wrong starting things off with a cup of sweet-and-spicy alehouse chili garnished with sour cream and shreds of cheddar. 901 W. 36th St. 443-835-2179
The Flying Avocado Cafe: Vegans frequently flock to this health-conscious cafe in Owings Mills for colorful salads and dairy-free dishes. The bright eatery also makes a killer vegan chili with black, pinto, and kidney beans, as well as crushed tomatoes and a blend of chili spices. 10210 S. Dolfield Rd., Owings Mills. 443-471-2600
G&A Restaurant: Since 1927, this Highlandtown favorite has been slinging its signature Coney Island hot dogs topped with onions, ketchup, mustard, cheese, and, of course, an age-old chili sauce. The recipe, which was featured on an episode of Food Network's Diners, Drive Ins, and Dives, blends ground beef with paprika, celery salt, and chili powder. 3802 Eastern Ave. 410-276-9422
Max's Taphouse: It only makes sense that this Fells Point corner bar—which features thousands of bottles, five casks, and more than 100 taps—would incorporate beer into its chili recipe. The hearty helping is topped with the classic cheese and onions and served in a bread bowl with tortilla chips. 737 S. Broadway. 410-675-6297
Mother's Grille: Snag a seat at this Federal Hill hangout to catch a game while digging into traditional tailgate fare. Aside from the stellar Buffalo wings, soft pretzels, and nachos, Mother's also highlights a black bean chili made with seasoned ground beef. Customize your bowl with toppings like bacon, cheese, and sour cream. 1113 S. Charles St. 410-244-8686
Pickles Pub: This pregame spot across from Camden Yards has all of the essential sports snacks. (Don't miss the namesake beer-battered pickles.) The soup menu lists Guinness stew, a classic Maryland crab, and the fan-favorite "Gameday Chili" made with ground beef and topped with fresh jalapeño, onions, cheddar, and sour cream. 520 Washington Blvd. 410-752-1784
Spirits Tavern: At this cozy watering hole in Upper Fells Point, the "Hot Rod Chili" served with house tortilla chips is a staple. On Mondays, order a bowl of the Natty Boh-infused soup either simple style or topped with "the works" (onions, sour cream, and cheese). 1901 Bank St. 410-563-1612