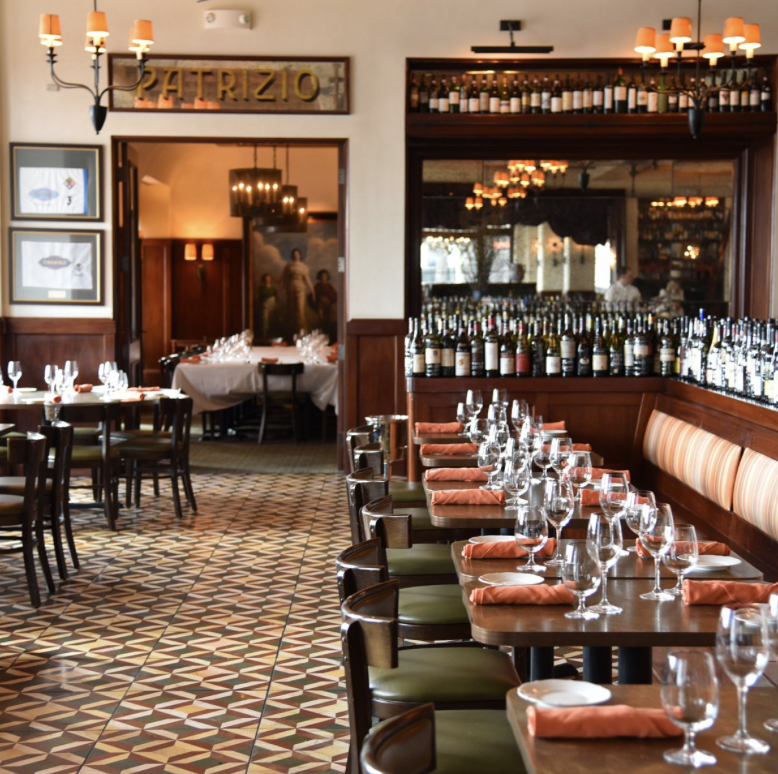 Courtesy of Cinghiale
Perhaps one of the most striking details that hits when you first walk into Cinghiale in Harbor East is the array of decorative wine bottles that line seemingly every spare inch of the enoteca's shelves and windowsills. But, what most might not know about the collection of vino vessels, is that each one tells a story of a guest that has shared a meal at the restaurant throughout its 10-year run.
"I had the restaurant built so that it was loaded with shelves for these bottles that we would have our guests sign," says co-owner Tony Foreman, who estimates that there are nearly 1,000 bottles on display. "It's funny—it's a tradition that we started the first week we were open, and even now whenever I'm in the restaurant I always look up at that original shelf and remember some of the first people who came in."
The signed bottles—which are inscribed with messages ranging from "Happy Birthday" to "Best Drink of 2007" in metallic marker—are a small part of the vision that Foreman had for the Italian restaurant when he debuted it 10 years ago.
At the time, his restaurant group, which he co-owns with Chef Cindy Wolf, had already conceived of Charleston and Petit Louis. But Foreman was anxious to showcase Northern Italian food, a concept people weren't yet familiar with, and go beyond just Americanized spaghetti and meatballs.
"During the first year or two, people struggled to understand it," he explains. "Italian food is a very natural, one-ingredient driven style of cooking. It's like the beauty of a sunrise. If you get a beautiful mushroom, you want to show the mushroom. You never want to cover it or fuse it with something else. For a while, we had to work to translate that to the audience."
Eventually, the concept caught on, and the restaurant became a go-to for its handmade pastas, house-cured charcuterie, roasted meats (Cinghiale translates to "wild boar" in Italian), lengthy wine list boasting more than 600 labels, and commitment to local sourcing.
"Right around our second anniversary was like a switch flip," says Foreman, who has since helped open Johnny's and the recently rebranded Bar Vasquez. "Baltimore is so smart. People just have to try it enough to get a feel for it. You have to hear enough of a song to instinctively dance to it."
To celebrate hitting the decade mark, Cinghiale will offer half-priced bottles on its official anniversary on Thursday, September 21, as well as complimentary glasses of prosecco for all diners the week of September 18-24.
Looking back on the restaurant's run, Foreman says that some of his favorite memories include hosting regulars, as well as groups visiting from Northern Italian cities like Milan and Verona. He also notes that he has enjoyed watching the local dining scene, as well as the farm-to-table movement, thrive alongside the restaurant.
"Years ago, it never occurred to me that what we were doing was farm-to-table," he says. "But I don't know where else you get food. For Italians, it's kind of a given. Just like how the sun comes up and it goes down. Farmers grow food, and you cook it."