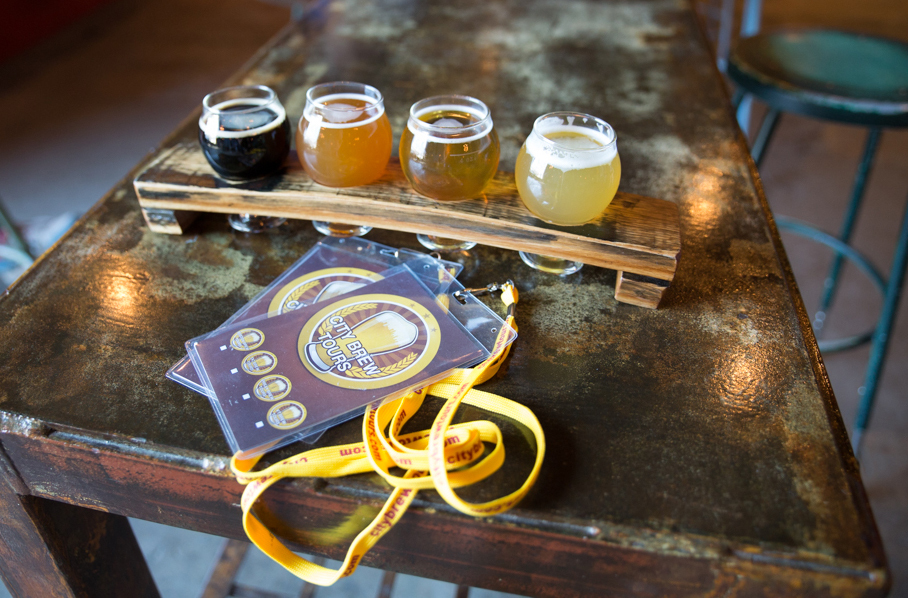 Courtesy of City Brew Tours
College courses lead to careers all the time, but when Chad Brodsky took a class on beer making at the University of Vermont, he never thought it would lead to the multi-city company that he owns today.
City Brew Tours, which Brodsky started in Vermont in 2008, offers excursions focused on breweries, beer history, and food pairings. Today, the company has expanded into five cities including Boston, D.C., Philadelphia and, starting Saturday, Baltimore.
"I feel like Baltimore's beer scene is a little under the radar at the moment, but that is starting to change very quickly," Brodsky says. "The current scene is awesome and the beer coming out of Baltimore City is high quality. Plus, there's an incredible history with National Bohemian and all the German influence."
The model of the tours is pretty simple. A van picks up a group of 14 people at Charles Center and takes them around to four different breweries, all while an experienced guide explains the history of that city's beer scene and talks about various styles of beer.
"These aren't cookie-cutter tours—instead we're focusing on different aspects of the process," Brodsky says. "We're talking about ingredients, food pairings, techniques, and our guys are all home brewers or Cicerones so they really know their stuff."
Another element that differentiates City Brew Tours from similar companies is that their guides stay with the group the entire time, even giving the brewery tours, something that local brewers appreciate since their daily work doesn't have to stop. Participating Baltimore breweries include Heavy Seas, Oliver, Peabody Heights, Waverly, and Charm City Meadworks. There is also a built-in food stop, in this case Brew House No. 16, where guests get a five-course meal with ideal beer pairings.
"We're not a drunk bus and the breweries appreciate that," Brodsky says. "We don't just drop you off and make the brewers do all the work. Plus, the model allows us to give tours when the breweries aren't open to the public. This really gives you an exclusivity factor."
Brodsky estimates that on each tour, guests are trying between 18-25 different beers (mainly in three-ounce samples) and says that, while standard vans tours are 14 people, the company is also available for special events like bachelor parties or conferences.
"This started out with me running around Church Street in Vermont in German lederhosen asking people to go on a brewery tour," Brodsky says. "We've since thankfully sacrificed the lederhosen but the idea remains the same—to host a fun, educational tour."