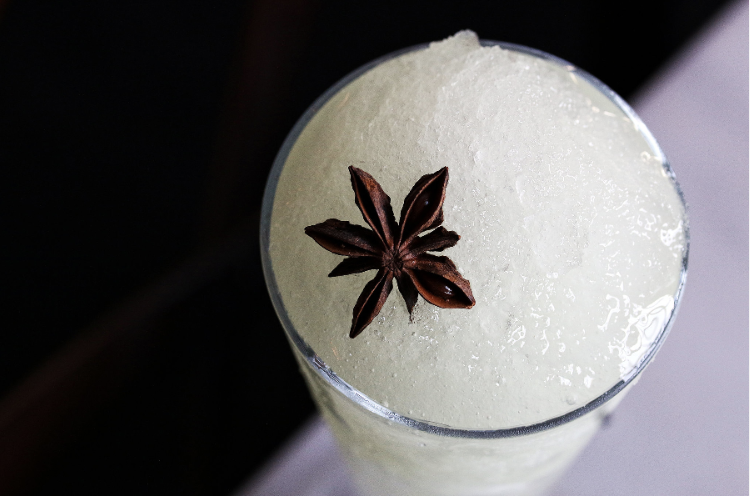 The Bluebird Cocktail Room
Sure, a stiff bourbon hits the spot during the colder months. But in the summer, it's all about the slushies, daiquiris, and drinks on the rocks. As temperatures continue to rise, area bars are offering plenty of libations to help survive summer scorchers. From tiki drinks and kombucha cocktails to frozen wine and boozy slushies, there are plenty of pours to choose from. Here are a few options to catch a buzz while keeping cool:
Absinthe Frappe at The Bluebird Cocktail Room
When dreaming up the summer cocktail menu at this literary-themed haven in Hampden, bar manager Ben Poole thought about ways to incorporate classic elements, while also adding some fun summer flair. Thus, his frozen Absinthe Frappe was born. "Absinthe is sweeter than most, but doesn't take itself too seriously," Poole says. The simple refresher mixes absinthe with sugar and mint extract, gets mixed in a slushie machine, and arrives garnished with star anise. 3600 Hickory Ave., 667-303-3263. $12.
Bed of Roses at Sandlot Step up to the shipping containers-turned-makeshift bars at this beachfront hangout in Harbor Point to see rows of slushie machines mixing up frozen drinks behind the counter. Among the most popular sustainable summer cocktails—which are all made with ingredients from local purveyors—is the "Bed of Roses," Sandlot's sweet spin on frosé that blends rosé, rosé vermouth, strawberry juice, honey, and watermelon juice. In keeping with the farm-to-table feel, the Instagram-worthy drinks come garnished with fresh herbs and local flowers. 1000 Wills St. $10
Sack Lunch at R. Bar The team behind R. Bar in Remington is getting nostalgic about summers past with a camp-themed menu that nods to childhood snacks and recognizable pop-culture references. (Think sips inspired by Wet Hot American Summer and '90s Nickelodeon series Salute Your Shorts.) Highlights include a s'mores-flavored dessert cocktail, the gin-based "Camp Granada," and the "Sack Lunch"—a mixture of sesame-washed bourbon from R. House neighbor BeBim, Falerna Carménere wine, Shrub District blueberry basil cocktail vinegar, strawberry purée, and a Teddy Graham wrapped in a Fruit Roll-Up sleeping bag. 301 W. 29th St., 443-347-3570. $10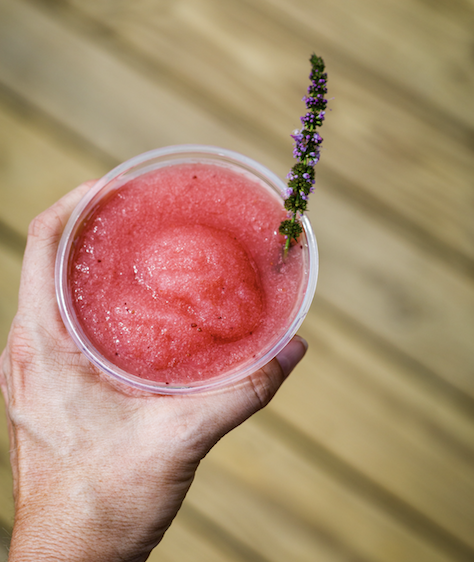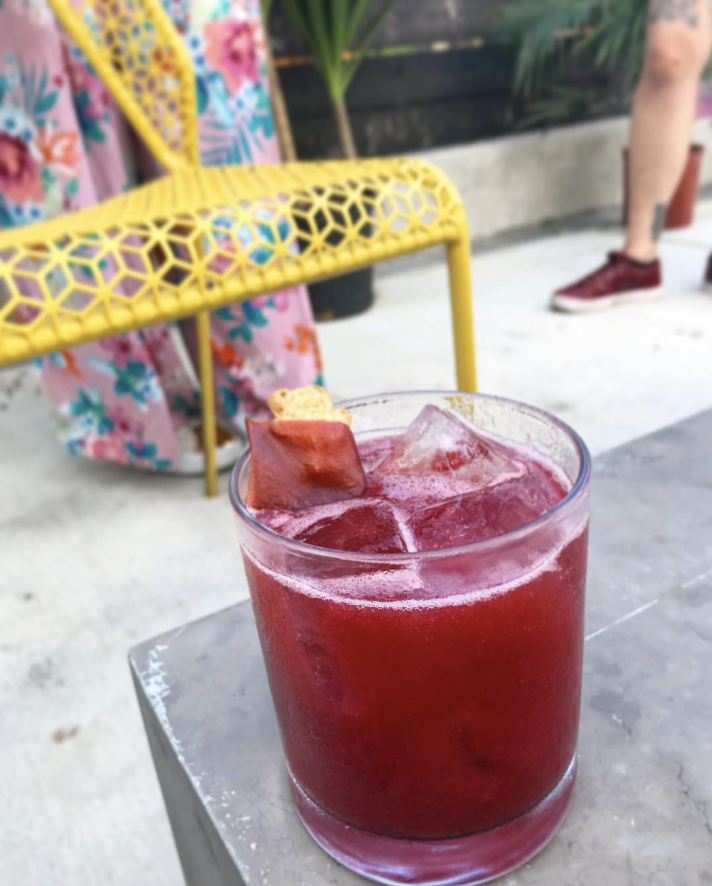 Mars Red Sky at Birroteca
Nothing says summer like watermelon—whether it's cubed, pureéd, cut into triangles, or liquified into a cocktail. Snag a seat on the outdoor patio at this Clipper Mill spot to sip the "Mars Red Sky," which combines Wild Kombucha's Watermelon Hops flavor with aperol, rosé, and a summery watermelon shrub. 1520 Clipper Mill Rd., 443-708-1934.
Carmen Miranda Slushie at Wet City
You know that a bar is serious about frozen drinks when it's slushie machine has googly eyes and its own Instagram account. At Wet City in Mt. Vernon, the personified blender—more fondly known as "Blinky"—rotates three seasonal frozen drinks, and even throws in a wildcard cocktail every once in a while. This summer, Blinky is blending a watermelon pisco sour slushie, the "Painkillaz" slushie (rum, coconut pureé, pineapple, and orange juice), and the fan-favorite "Carmen Miranda" that fuses Vizcaya & Santa Teresa rums, house orgeat syrup, fresh juiced cantaloupe, lime, and chocolate mint. 223 W. Chase St., 443-873-6699. $9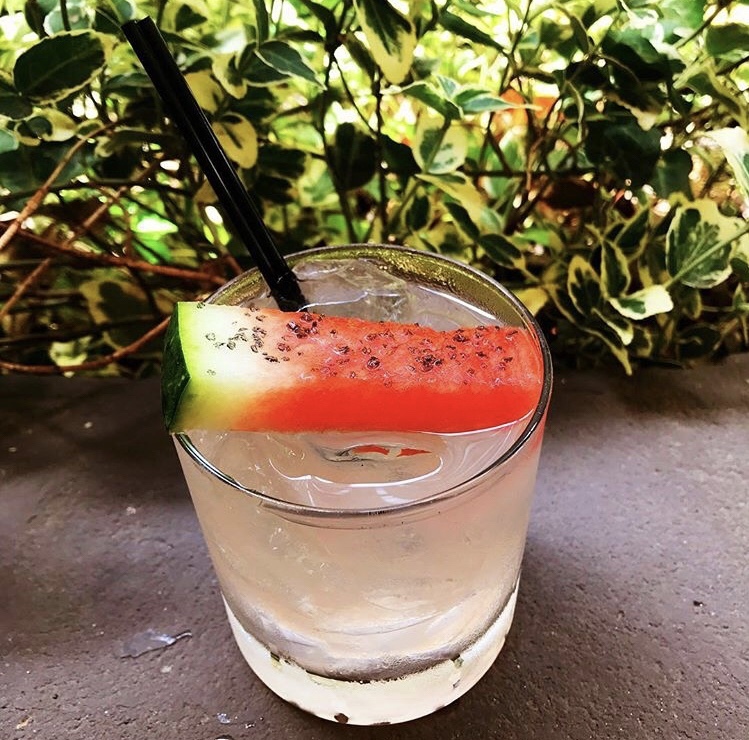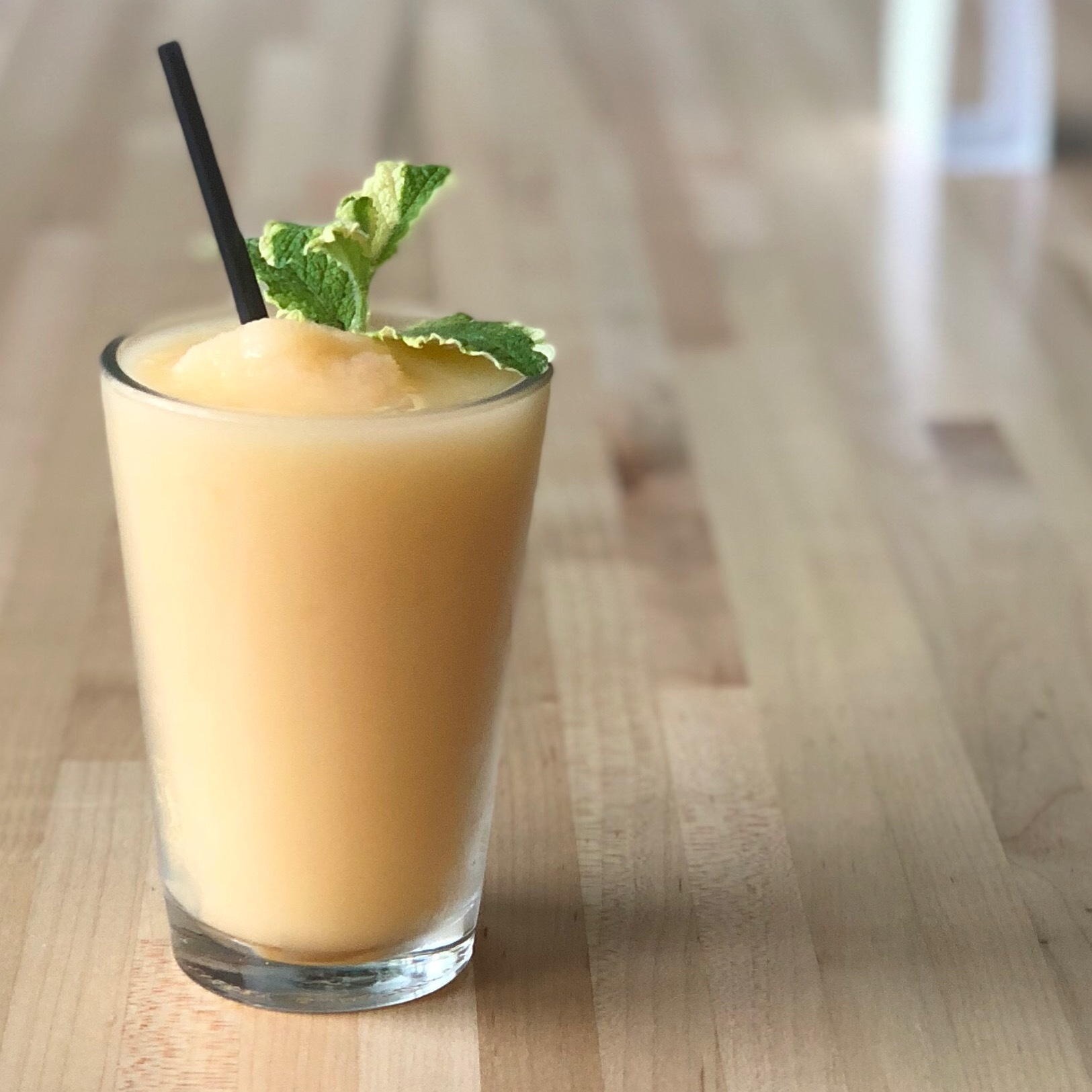 Oaxacan Colada at The Regal Beagle
In keeping with the vibe at this '70s-themed hangout in Canton—named after the neighborhood pub in Three's Company—Ryan Sparks devotes an entire portion of the drink menu to timeless tiki drinks served in vintage vessels from thrift stores. (Some of them are even shipped in from the consignment shop that Sparks' grandmother works at in Michigan.) "You could come in with friends and all order the same drink, but have them come in different glasses," Sparks adds. One of his summer picks is the Oaxacan Colada, which combines Ilegal Mezcal joven, green chartreuse, coconut cream, lime, and pineapple juice over crushed ice. 3123 Elliott St., 410-878-6542. $12.
Melon-Peach Frosé at Swim Club Baltimore
Scott Plank's luxe pool in Canton debuted to the public earlier this summer, equipped with cabanas, beach chairs, Ping Pong tables, corn hole, and, of course, a full food and beverage program. While catching rays, cool down with the bar's melon-peach frosé—a blend of fresh melon and peach purée, agave nectar, and rosé. 2780 Lighthouse Point., 410-675-8888.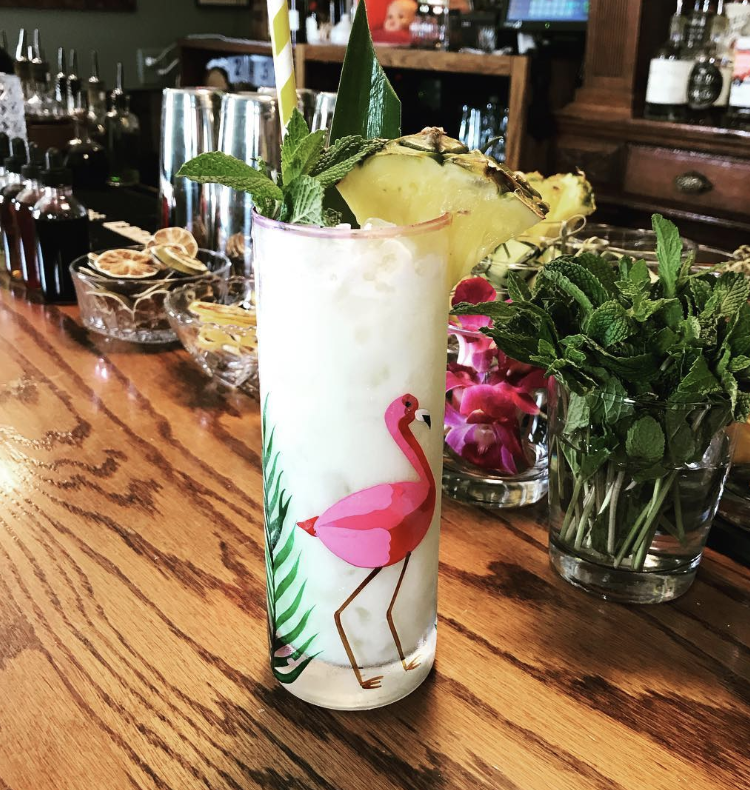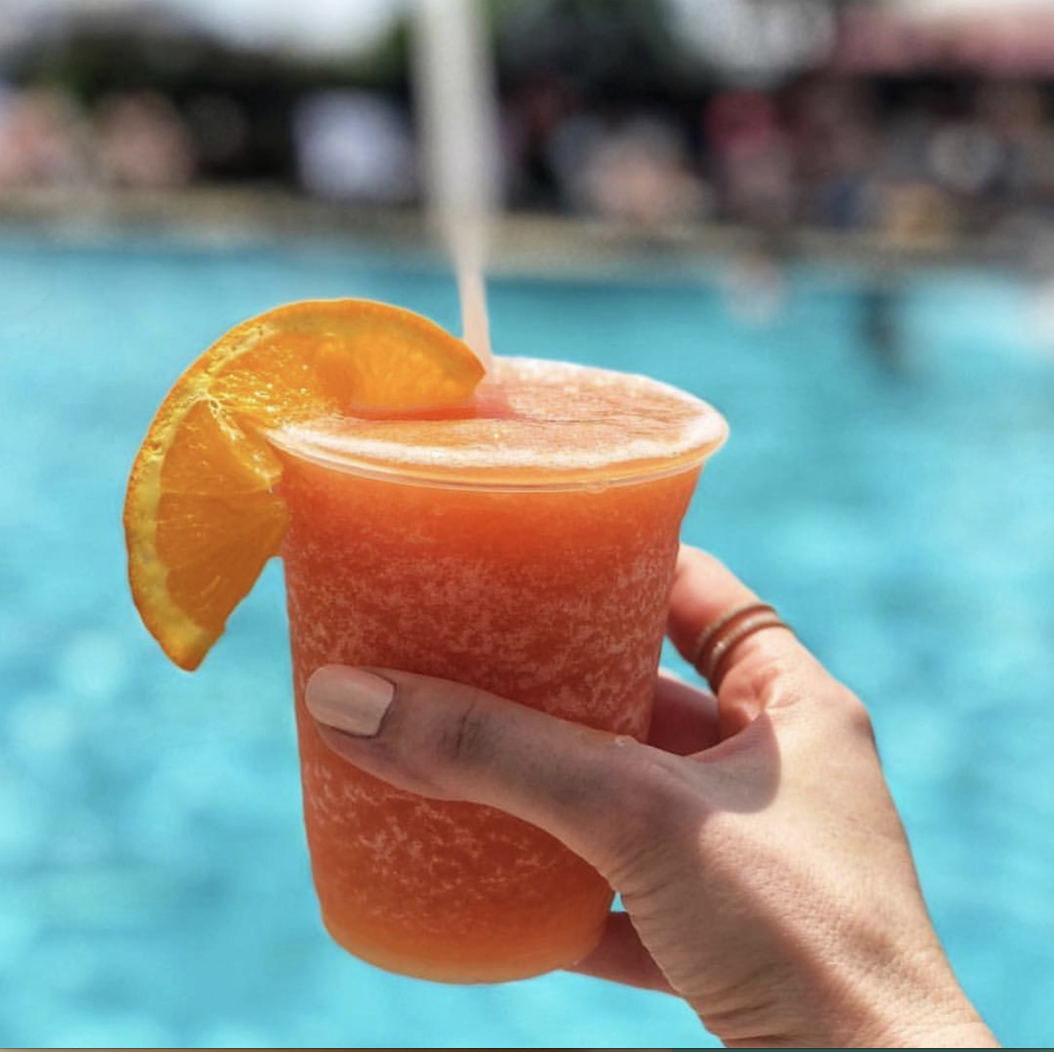 Baltimore Mai Tai at The Island Room
Lyon Distilling and The Baltimore Whiskey Company (BWC) are collaborating to host a monthlong pop-up at Pen & Quill in Station North. Starting on June 29, the restaurant's event space will transform into The Island Room—a tropical-themed concept featuring food specials, island music, greenery curated by B. Willow, an ongoing limbo competition, and, of course, a menu of tiki drinks that highlight Lyon and BWC spirits. In keeping with the theme, bartender Sam Kessler has created a Baltimore Mai Tai that mixes Lyon's black rum and curaçao with BWC's fernet amaro, lime juice, orgeat, and tiki bitters. The pop-up will wrap up with a special Christmas in July celebration on July 22. 1701 N. Charles St., 410-601-3588