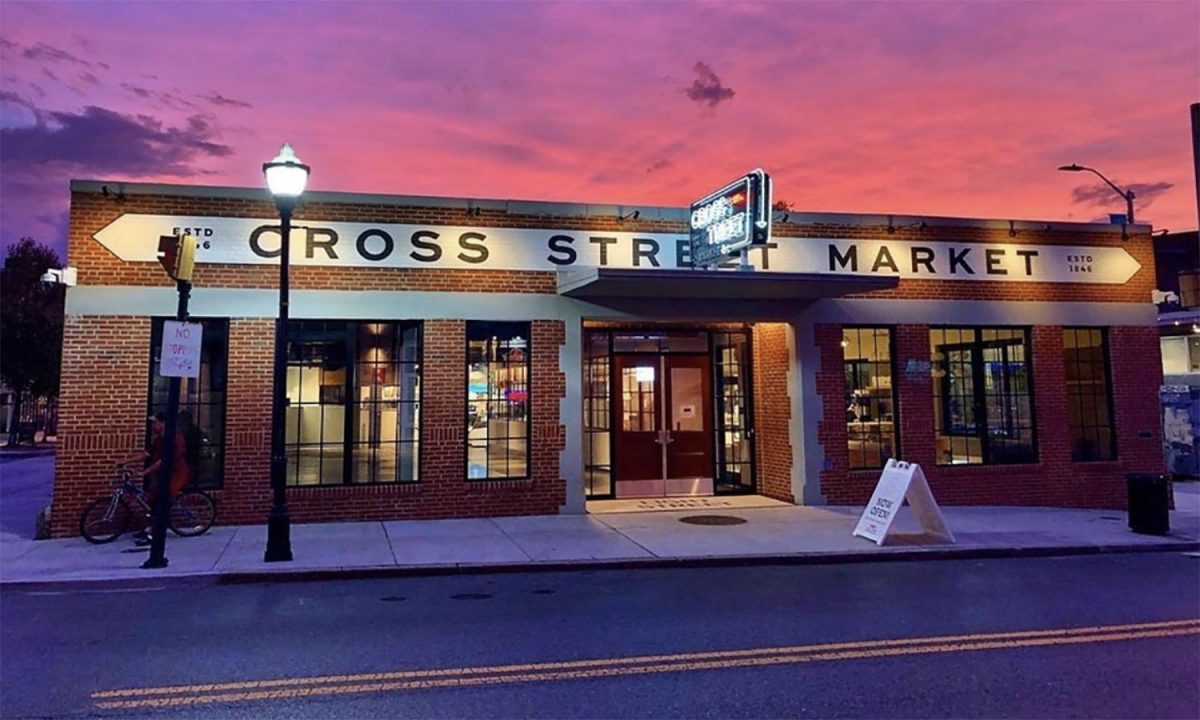 @canadev via Instagram
With almost daily changes at the renovated Cross Street Market in Federal Hill, there's a lot to keep track of. We caught up with master developer Arsh Mirmiran of Caves Valley Partners to give us the 411 on the revitalization project—which currently offers everything from coffee and candy to pizza and pho all under one roof—and the yet-to-open vendors slated debut by spring.
What's the story behind the retro sign outside of Cross Street Market?
The current form of the market is in many ways a modern interpretation of the 1952 iteration of the facility. [The market was rebuilt after a 1951 fire.] The signs outside are a modern interpretation of the original neon signage that was part of the new market in the 1950s. They were designed by a local, but nationally renowned, firm called Younts Design owned by Ronnie Younts. The reintroduction of natural light to the formerly bunker-like market was through the removal of block that had been used to fill in the original windows.
Are there any fascinating facts about the history that you can share?
Anecdotally, the market building that burned down in 1951 had a basketball court on its second level and many South Baltimore residents and children played up there for fun.
Which current tenant has been around the longest?
Fenwick's Choice Meats opened with the newly constructed Cross Street Market [after the fire] in 1952. Steve's Lunch opened roughly a decade later, in 1964. We are excited to have their legacies preserved in the new Cross Street Market.
How do you account for the food hall trend across America?
Back in the day, people went and did their grocery shopping and got raw materials at the market, but with the advent of the grocery store that functionality went away. Cross Street had become like a bad mall food court, but the vendors were selling so little produce and seafood that the quality of what they put out wasn't good anymore. With the increasing urbanization of cities and more people living downtown in dense areas, food halls have become more like gourmet grocers. It's not a place to go do your grocery shopping, but it's a perfectly good place to go and get everything you want for a dinner party.
What's the difference between a food hall and a food court?
To some extent, it is subjective. There is a "you know one when you see one" aspect to it. We have pledged from day one that Cross Street would remain a market. While we lost a certain number of our true market vendors, we are going to have even more market offerings than the facility did before. With Fenwick's Choice Meats remaining and able to increase its offerings and inventory due to increased traffic and returning customers, Annoula's Kitchen offering fresh baked goods, Atlas creating what will surely be the single best seafood market in the Baltimore area with Atlas Fish Market, and the recent addition of Rooster & Hen, a true farm store, Cross Street Market will be a place which one can purchase any typical market offering.
How does the renovation of Cross Street fit into the scope of the other city markets being renovated?
The city and the Baltimore Public Markets Corporation (BPMC) have made the renovation and revitalization of the public markets system a priority. Some markets (including Lexington and Northeast) are being handled directly by BPMC, and some markets (Broadway, Cross Street, and Hollins) are being renovated through public-private partnerships. Interestingly, Baltimore has one of the best markets infrastructures I've seen in the country.
How do our markets compare to other cities?
Since working on Cross Street, I've visited cities with highly acclaimed markets—it's become part of our travel plans in my family—and I've discovered that we have a more robust market system than many other cities. Baltimore has more neighborhood markets than any other cities I've been to. Many cities like Seattle and San Francisco have one market as opposed to a system of markets. We have a really great market system. We'll have the one big anchor market with Lexington, but we'll also have tentacles that reach into the neighborhoods to augment that market. Our markets weren't just plopped here, they've always been here serving our city.
Why was it decided to allow Royal Farms a presence when no other chains are represented?
Quite simply, Royal Farms Chicken is an iconic local food product and it is a Baltimore City-based business with deep roots in the Baltimore community. The company's willingness to adapt their concept to be a true market stall gave us great comfort that they'd be a successful and a welcome addition to the tenant mix.
What can patrons look forward to as the holiday season approaches?
We will be improving our holiday displays relative to recent years and working to make the market a special and festive place for local residents and tourists to visit. We hope to improve on these displays as the years go by and we hope that Federal Hill regains its spot as the most festive neighborhood in Baltimore during the holidays. We also intend to have a true grand opening celebration once we are at full capacity next spring, with the opening of the Atlas Restaurant Group concepts and the remaining stalls that are being leased.
Which vendors are still to come?
Three additional vendors (Sobeachy, Old Line, and Burger Bar) will be open in September. Rooster & Hen, our farm store anchor across from Ceremony Coffee, will open later this fall. The Atlas concepts are all planning to open next spring and are currently under design by BCT Architects and Patrick Sutton. We have two additional letters of intent signed and are actively seeking to round out the tenant roster for the two remaining stalls. Our goal is to be at 100 percent when Atlas opens next spring.
What's the one item you must try if you're stopping by the market?
This is a tricky question with so many great options, but I am going to say the not-yet-unveiled flavor of Taharka Bros. ice cream that is being developed to be sold exclusively at Cross Street Market. The ideas being thrown around so far are that it might be named "Cross Street" and be a cross between two or more iconic Baltimore flavors. You'll have to stay tuned as the team from Taharka develops the flavor to be sold at The Sweet Shoppe, another one of our legacy vendors.