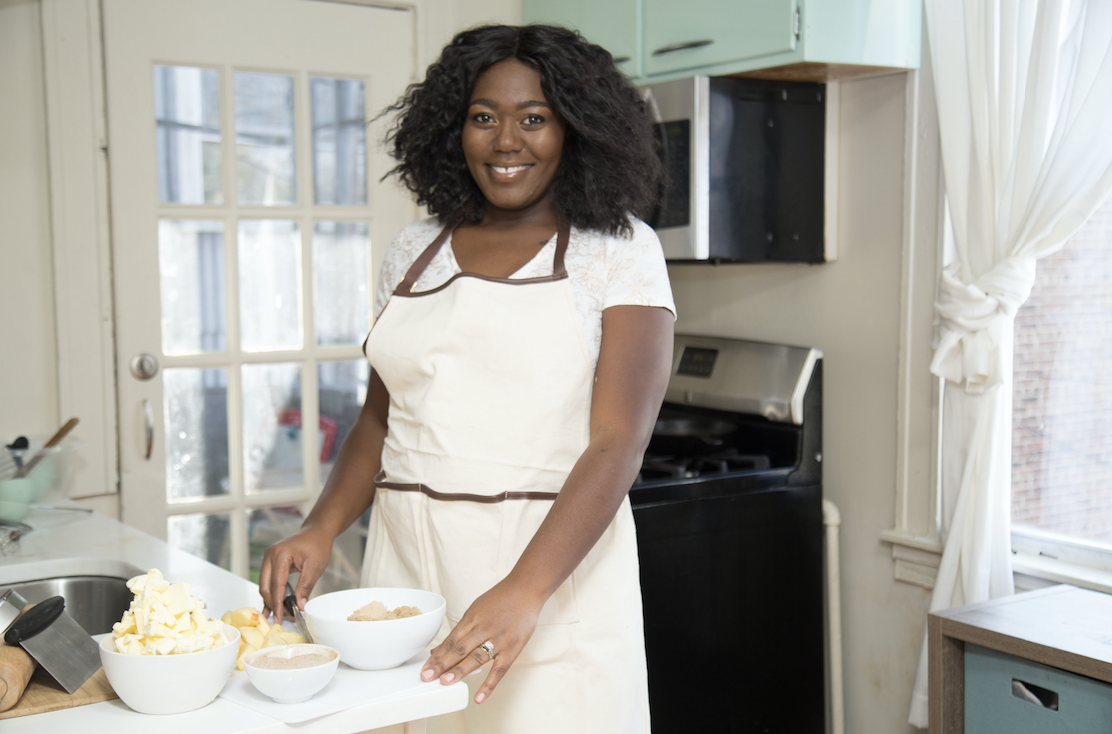 Photography by E. Brady Robinson
Chef Amanda Mack vividly remembers assisting her grandmother in the kitchen as a young girl. Together, they would make everything from cakes and pies to biscuits and breads.
"She made everything from scratch," Mack says. "It was that excitement of waiting for the yeast to rise and for it to come out of the oven that was so special—and the fact that she included me in every part of the process."
The skills that Mack developed at a young age have now come full circle with Crust by Mack, her small-batch baking business that specializes in hand pie varieties like spiced pumpkin, mixed berry, brown butter strawberry basil, and cherry with a chocolate espresso drizzle.
"For me, it's all about the crust" she says. "Ever since I was a child, my favorite food has been pizza because I've always loved anything that has to do with dough. That's really how Crust started—from my love for butter and dough. It was just kind of a no-brainer."
After nearly one year of focusing solely on pop-ups and deliveries, Mack is now ready to expand with a brick-and-mortar bakery that she is hoping to open by summer 2019.
Though she is still in the process of scouting locations, her hope is that the space will operate as a full-service bakery Monday through Wednesday—offering fresh-baked breads, toasts, croissants, seasonal small plates, and the signature hand pies—and then open its doors for community programming Thursday through Sunday.
"The bakery is built on entrepreneurial equity," she says. "I wanted to create a business that not only fed my community, but helped fuel the community. I understand how difficult it is to excel in business if you don't have have access to the simplest things like mentorship and advice."
This week, Mack is launching a crowdfunding campaign using the platform iFundWomen with the goal of raising $30,000 to support the community mission. Rather than using the donations to get the bakery up and running, she wants to dedicate the funds to establishing workshops, mentoring initiatives, a speaker series on entrepreneurship, and a scholarship program for school-age children.
"Whether we hit our goal or not, the show is going to go on," she explains. "This is just a way for people to rally around it and be involved in the process."
The social justice focus is something that is deep-rooted for Mack. Though her grandmother's influence made it seem that she was always destined to work in the hospitality industry, she initially began her career in marketing and communications.
She spent years fighting for food justice with urban farms and the B'More Healthy program at the Johns Hopkins School of Public Health, and even penned a children's book educating kids about food deserts titled Greens Don't Grow in Cans.
"I grew up in the projects, and all of the supermarkets only sold canned fruits and vegetables," she says. "It took until I got older for me realize, there's more to life than this. I had to go out of my zip code to see all of the other stores, farmers' markets, and community gardens."
In 2016, she felt the need to get back in the kitchen and began working as a chef at Dovecote Cafe—the Reservoir Hill gem whose community values very much aligned with her own. But after a year and a half, Mack's love of baking prompted her to start her own venture.
"I felt like baking was really my passion," she says. "It's so methodical that it became part of my self-care routine. You have to be so precise and systematic. It really takes you to a different place."
The new bakery will be a fusion of all of Mack's experiences, from fighting for food justice to working in the culinary world. Above all, she hopes that it can be a hub where people from all walks of life can come together to help one another.
"I have this general idea that community is larger than who is next to you," she says. "It's about creating a family. We want to have a place where food fuels people beyond the table."