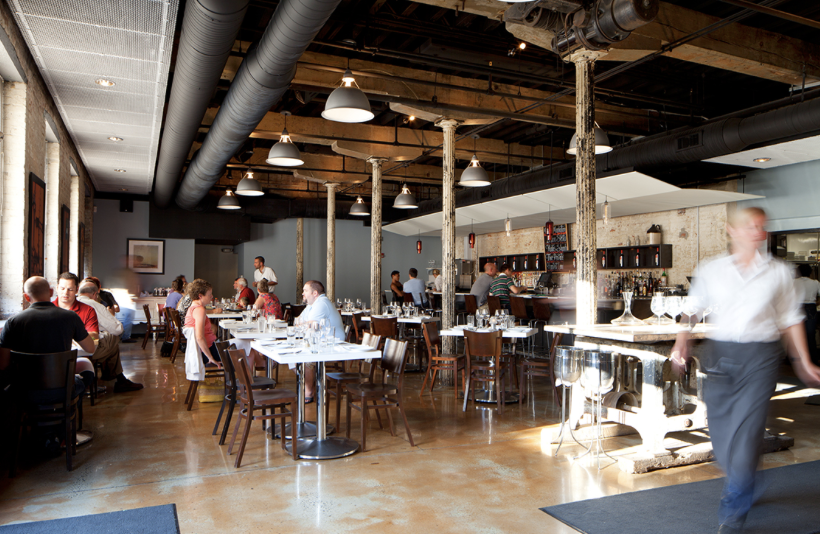 Courtesy of SM+P Architects
Recently, the Baltimore restaurant scene has been changing as often as an Italian chef stirs a good risotto. Of course, change is inevitable, but the turnover in the area's dining landscape—whether it be closures, rebrands, or eateries going up on the market—has become significantly more frequent lately.
In fact, the Bureau of Labor Statistics reports that the number of eating and drinking establishments in Baltimore City has been steadily decreasing since 2013. (The number dropped from 1,613 to 1,539 from 2013 to 2016.) And recent headlines seem to support these numbers.
Following the closures of city-wide favorites including Metropolitan Coffeehouse & Wine Bar in Federal Hill, Tavern on the Hill in Mt. Vernon, and Bistro RX in Patterson Park, Locust Point's Wine Market Bistro announced earlier this week that it would be closing after 13 years. While the spot's front bar and wine shop will remain open for the foreseeable future, owner Chris Spann confirms that the dining room will operate its final night of service on Saturday, March 17.
"The bistro side was not hitting the necessary numbers," he says."It's a hyper-competitive time for operators who have to compete against many skilled and highly-funded restaurateurs, as well as the talented young men and women with dedication and passion to create compelling concepts and cult followings."
Though the number of restaurants is decreasing, the quality of the new ones opening in Baltimore has raised the bar. Fierce competition is something that Gia Fracassetti, who owns Cafe Gia in Little Italy, has noticed in the current culinary landscape.
"It's obvious that we're saturated with a lot of new outstanding restaurants," she says. "I'm up for the challenge and I know a lot of my business neighbors are, as well. We're very committed to making it work."
According to the National Restaurant Association's 2017 State of the Industry report, daily competition with other foodservice outlets remains a top challenge for large portions of the industry. On a national scale, more than two-thirds of restaurant operators cited competition and inability to attract new customers as significant or moderate challenges for their businesses last year. In Baltimore, some see lack of customer acquisition relating to parking problems and crime issues.
"It's tough to get diners down here," Sean White, owner of 101 Deli Bar in Federal Hill, recently told us. "We're the only neighborhood that's permit parking, so we do the best we can. A lot of the demographic is the residents in the neighborhood."
He adds that, as the dining scene continues to thrive in Baltimore County and other surrounding areas, some county dwellers aren't willing to make the trip into the city. Fracassetti has had similar experiences, adding that the negative perception of the city has deterred visitors from strolling around Little Italy.
"We've seen a difference in foot traffic," she says. "Our neighborhood is definitely one of the safest, but in Baltimore as a whole, when one community is suffering, we all suffer. We all take that on. We really need to pull together as a city and start to turn the tide here."
Fracasetti stresses the importance of making neighborhoods pedestrian friendly—something that she says will, in turn, drive foot traffic to restaurants and other small businesses.
"It's really important to go outside and sit on the steps, which is what I was raised doing," she says. "We all have to be out and about embracing our city and going out into the neighborhoods. That's vital in order for us to move beyond this."