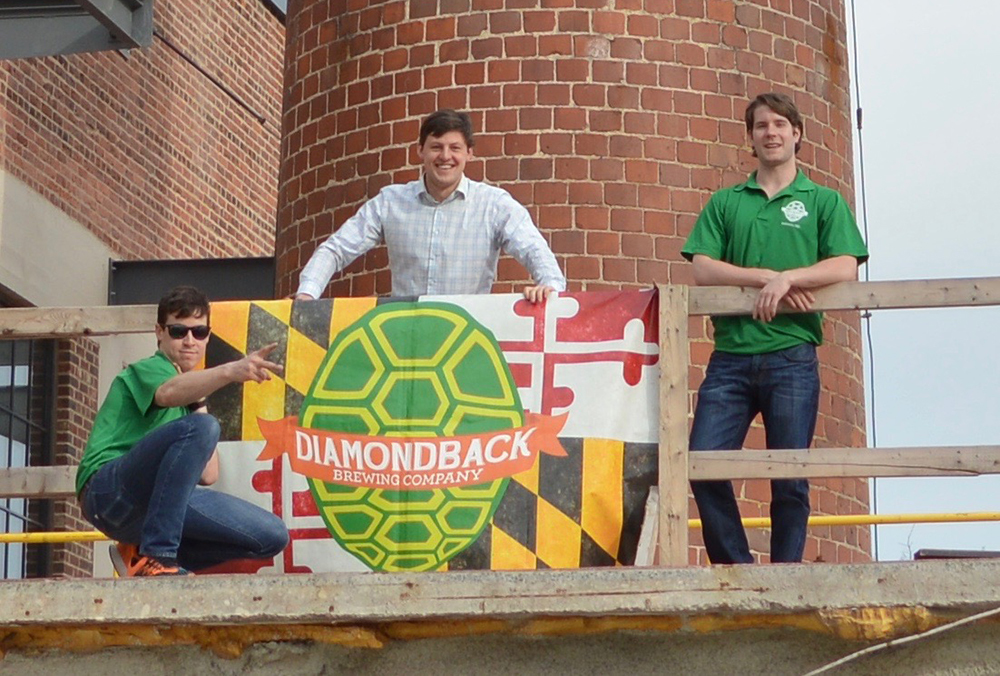 Courtesy of Diamondback Brewing Company
The trio behind the craft beer company Diamondback Brewing has come a long way since home-brewing in their dorm rooms at University of Maryland, College Park. Since starting production in late 2014, Diamondback has created six releases, contracted out of two breweries, and is now finally ready to settle into its own permanent home.
This fall, Diamondback will open a 7,000-square-foot brewing facility—which once housed the Phillips Seafood and Coca-Cola plants—in the second phase of McHenry Row development in Locust Point.
"It's going to be drastically different," says co-founder Colin Marshall on having their own space. "We'll be able to brew as we need, scale back as we need. It's going to provide that flexibility. When you own something, you can really personalize it."
The new facility is being leased from Mark Sapperstein's 28 Walker Development, which was also behind the build-out of Canton Crossing. The location—in South Baltimore, right near 95—was a big draw for Marshall and his two partners, Tom Foster and Francis Smith, for drawing visitors and achieving easy distribution routes.
"We love Locust Point, and the walkability that area has," Marshall says. "It's a great location, so people can hop in an Uber, hop on a bike, or get on their feet to come see us."
Previously, Diamondback was contracting out of the Eastern Shore Brewing in St. Michael's and, in March 2015, moved its production to Beltway Brewing Company in Sterling, VA. Marshall admits that having such a Maryland-themed product being brewed out of a different state wasn't ideal.
"People see the Maryland flag and logos and know that we're all here," he says. "We preach that identity and then they'd see Virginia on the back of the can. That was tough."
All the more reason the founders are thrilled about the new brewery, which will include a tasting room with a rustic, industrial feel looking out over a a production facility that they are hoping can brew 2,000 barrels per year, "a lot more" than the current capacity.
"It's going to be really accommodating, but it's not going to look like a million dollars was dumped here to wow you when you walk in," Marshall says of the tasting room, which will have some character elements, like a large brick exhaust stack. "We're a brewing company that came together for the love of craft. We still want that gritty, industrial feel."
Until the brewery opens, Diamondback products (likes its summer Citronova Session Ale and Omar's Oat Pale Ale) can be found in bars and liquor stores throughout the Baltimore area. The brewery will also be apart of the Beer Bacon and Music Festival in Frederick on May 21, St. Michael's Brew Fest on June 4, and a World of Beer block party on June 17.