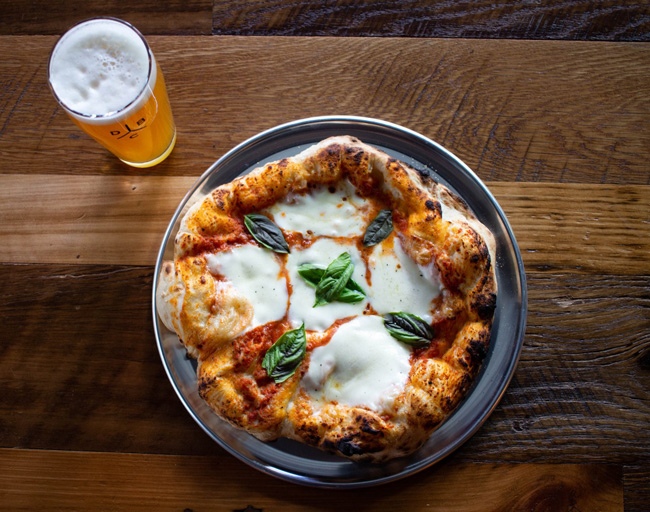 Photography by Zack Kaiser
In between brewing the signature Green Machine IPA and Forte pilsner, the team at Diamondback Brewing in Locust Point has been firing up the oven, rolling out dough, and testing recipes in an effort to make their dream of having an in-house food program a reality.
Though the prep space that the owners have built inside the modern-industrial brewery is only about 50 square feet, co-founder Colin Marshall assures that its size has no effect on the flavors: "The kitchen is small," he admits, "but the taste that comes out of there is pretty mighty."
This Wednesday, Diamondback will debut its inaugural menu featuring 12-inch Neapolitan pizzas, hand-twisted Bavarian pretzels with Green Machine beer cheese, and large charcuterie boards meant for sharing. The new eats are launching in conjunction with expanded hours at the taproom, which is staying open until 8 p.m. on Sundays and will begin opening on Tuesdays starting next week. (In addition, Diamondback's new food license has one drawback in that dogs are no longer allowed inside.)
Marshall says that offering food has been a priority since 2016, when the brewery opened and began hosting local food trucks and pop-ups on busy nights. But it took some time to come up with a plan to execute a menu made in-house.
"It's been in the works since we opened," he says. "But, in the past six months, we have really been working through the concept, deciding what we're going to serve, and figuring out how we would begin to keep it sustainable moving forward."
Taproom manager Ryan Belton and baker/bartender Cassidy Johnson—industry veterans who were both brought on within the past year—further helped to solidify the path toward pizza. Given the tiny kitchen space, the two thought it was best suited for a small menu of simple, well-executed fare.
With flavors ranging from a margherita with fresh basil to the "Inverno" topped with lemon and ricotta, the deep-crust pies are formed using dough handmade by Johnson. They are then covered in Belton's signature, herby red sauce and custom five-cheese blend by local distributor The Great Cheese before heading inside a TurboChef pizza oven.
"Theoretically and also conceptually, we just kind of thought, 'If we're going to do this, we're going to do it well,'" Marshall says. "It can't just be filler, like 'Hey, we have food now.' It needs to be something we would all enjoy ourselves if we were eating it elsewhere."
Of course, the food menu is also meant to align with the beer program. Just as the draft lineup rotates monthly, the pizzas will also change based on which toppings are in season.
"You can always count on Forte and Green Machine, but the other seven or eight beers on tap are changing from month to month," Marshall explains. "The same goes for the pizza—you're always going to be able to get a cheese, but with summer coming along you might have a lighter, zesty citrus option as well."
To further the seasonal approach, the brewery hopes to craft the summer menu using leftover vegetables from its Community Supported Agriculture program with One Straw Farm—one of the many neighborhood initiatives that Marshall hopes to continue as Diamondback evolves with its new menu and taproom hours.
"We want more of the community members around here to frequent us," he says. "Being out on the peninsula, we're a bit isolated, but we've definitely got that neighborhood feel."