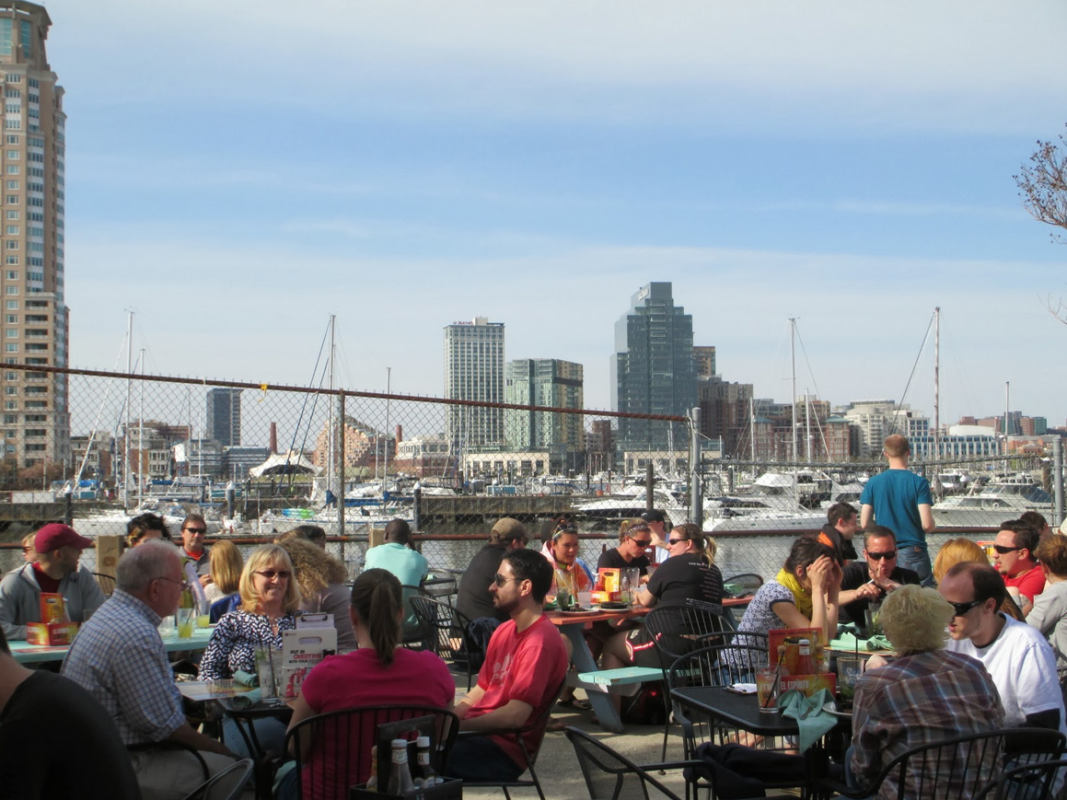 Courtesy of Baltimore You are Marvelous
It's no secret that the city's restaurant scene took a tremendous hit due to last week's curfew, so if there was ever a time to get out there and support the industry, now would be it.
From local marketing companies to restaurant higher-ups in neighboring counties across the state, organizations have been brainstorming ways to attract extra business to help city eateries recover.
Beth Laverick, owner of B Scene Events & Promotions, has launched #BeMoreFamilyEatOut, a month-long initiative to attract diners.
"We went through that whole week where everybody was thinking 'What can we do to make things better?'" Laverick says. "I really wanted to organize a way to encourage the community to patronize local restaurants, while also creating an overall awareness of all of the great restaurants that we have access to."
Laverick has gathered more than 40 family-friendly eateries across the city to participate in the promotion, each featuring unique specials throughout the month of May as an incentive to draw in business.
Some of the highlighted offers include receiving 25 percent of off your check when using the code #BeMoreFamilyEatOut to reserve a table at Pierpoint, $5 waffle-fry nachos for the entire month at The Abbey Burger Bistro, and a complimentary appetizer in the dining room or patio at Roy's.
Federal Hill Fitness and BeachFit Baltimore have also thrown personal-training deals into the mix to help diners stay fit after filling up on all of the discounted food. Another incentive: Anyone that spends $60 or more (receipts may be combined) at any of the participating spots can cash in on an hour of free personal training at Federal Hill Fitness or three free classes at BeachFit.
Another restaurant initiative bringing dining dollars to the city is the Restaurant Association of Maryland's Dine Out, Baltimore!, an opportunity for foodservice workers from all over the state to support their fellow members of the industry.
"I received lots of phone calls from member restaurants that felt terrible and really wanted to know how to help," says Restaurant Association of Maryland's president and CEO Marshall Weston. "These people understand—more than most—how significantly the livelihoods of cooks, servers, dishwashers, and bartenders were affected. We came up with the idea to set aside a day where the industry itself would come together and show support."
On Tuesday May 12, the association is encouraging restaurant employees hailing from all over the state to take a trip into Charm City with family and friends for lunch or dinner.
"We consciously picked a Tuesday because more employees are usually scheduled off for that day," Weston says.
Weston says that the purpose of the event is not only to highlight that it's safe to come back to the city, but to show solidarity for the Maryland foodservice as a whole.
"If you're on the outside of the industry there's often this perception that restaurants are always in competition," he says. "But the reality is that they're all part of a group that takes hospitality and helping others very seriously."