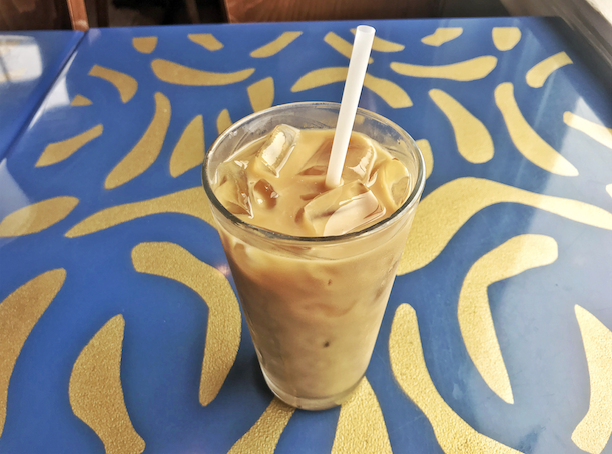 Courtesy of Atwater's
While some might raise an eyebrow at a cocktail arriving garnished with a straw made from raw pasta, The Laughing Pint owner Shannon Cassidy says that her patrons embrace the sipping substitute.
"Our customers are pretty forward thinking," says Cassidy, who started using bucatini pasta straws at her Highlandtown bar about a month ago. "People have generally really liked how we've always used recyclable cups and napkins, so they were pretty excited about it."
Cassidy's approach is part of a larger environmental movement that a number of local business owners are implementing in order to eliminate the use of plastic straws entirely.
According to the global Plastic Pollution Coalition, on a daily basis Americans use more than 500 million plastic straws—which end up contaminating oceans and harming marine life. At this rate, the World Economic Forum estimates that our oceans will be filled with more plastic than fish by 2050.
"Bettering the environment and the community is something that is always on our minds," says Sarah Bach, who heads up marketing efforts for local bakery and cafe chain Atwater's. "With us being so close to the Bay, we wanted to do something that would have a lasting impact on our streams, beaches, oceans, and landfills."
On Earth Day last month, Atwater's officially nixed plastic at all six of its locations in favor of biodegradable straws going forward. Bach says that the team did a good amount of research ahead of the turnover, and ultimately decided on compostable tubes made from corn by Jessup-based Acme Paper & Supply Co.
"I don't think that people can tell much of a difference," Bach says. "We just wanted to make sure that it wasn't falling apart, and pretty much felt the same."
Durability is top of mind for bartenders, who are looking to make the switch to recyclable products. While most paper straws are known to get soggy quickly, the new Hotel Revival in Mt. Vernon has found that American-made Aardvark Straws are a long-lasting alternative.
Aside from being strong and flexible, the compostable cylinders are made from food-grade approved inks so that they don't bleed into the cocktails.
"Our national director of bars did a lot of research on this," says Chelsea Gregoire, bar manager at Topside inside the hotel. "She would try out a bunch of non-plastic straws in tons of beverages. This was the one that held up best."
The Laughing Pint's pasta straws—which were inspired by a viral video about a restaurant using them in England—are stronger than one might think. Cassidy also did a lot of experimenting to see how the pasta would react in different liquids.
"Regular straws are pretty thin-walled, but these are a little harder and thicker and usually last for a whole drink," she adds. "People who drink faster can get a couple of drinks out of the same straw, but it does eventually give out."
She assures customers that the bucatini doesn't have much of an effect on flavor. In fact, she says that many of her regulars enjoy that the alternative is edible.
"People snack on them," she says with a laugh. "They'll just be sipping their drink and the next thing I know they'll be like, 'I just bit my straw.'"
Many anti-plastic organizations are focused on changing the consumer's mindset about straws. A lot of these institutions say that straws aren't essential, but bar owners keep some on hand for those who have dietary restrictions or require physical accommodations.
"For most people, it's more of a luxury," Bach says. "It's all about taking the small steps. If other restaurants and people in the community start to do the same thing we're doing, it can make a huge difference."