Lawn Party
Whether it's an extra-long lunch break or start of the weekend, enjoy a picnic with these Maryland-made treats.
What is it about eating outside that seems to make food taste better? Maybe it's the sunshine, or the breath of fresh air. Perhaps it's the touch of cool grass beneath our feet, or the primal smell of grill marks on a well-seared steak. All we know is, we don't need an excuse to pack a picnic. Whether it's an extra-long lunch break or the start of the weekend, in the rolling countryside or right here in the city, fill a basket with these Maryland-made treats, spread out a blanket, and dig in.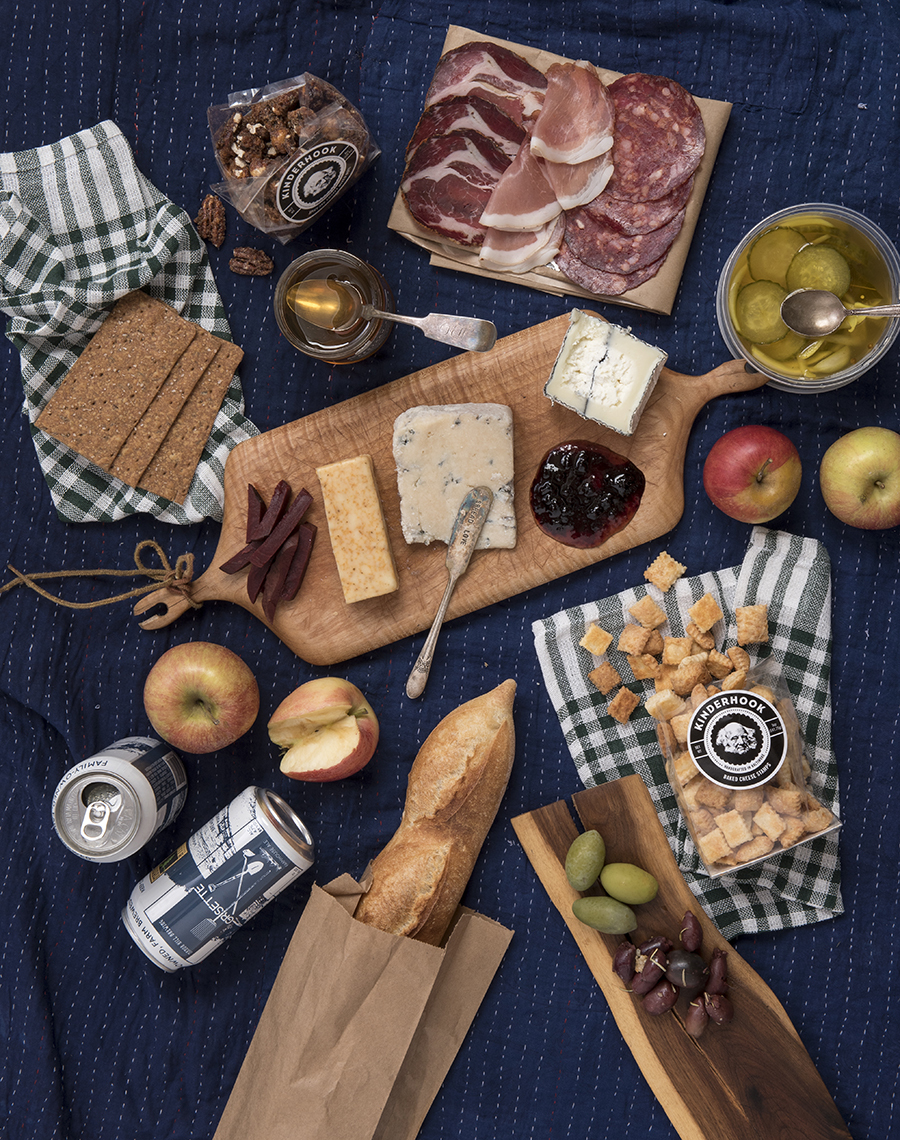 Cunningham's Baguette: Think of the baguette as the foundation for every picnic. Tear it in half and commence the feast. The Wine Source, 3601 Elm St.
Parts & Labor Charcuterie: The house-cured coppa, aged pork loin, and spicy bologna salami from this Remington butcher shop are musts for warm-weather spreads. Parts & Labor, 2600 N. Howard St.
FireFly Farms Black & Blue: Handmade in the mountains of Garrett County, this goat's milk marvel delivers a welcome bite of blue funk. Whole Foods, 1001 Fleet St.
Hawks Hill Creamery Chesapeake Cheddar: This Old Bay-infused cheddar imparts a smoky flavor to snack on all summer long. Graul's Market, 7713 Bellona Ave., Towson
Cherry Glen Goat Cheese: The popular MoCo cheesemonger makes a variety of piquant products, but the Monocacy Ash is its crème de la crème. Graul's Market, 7713 Bellona Ave., Towson
Waxing Kara Honey: A drizzle of this harvested honey tempers even the spiciest of charcuterie. Honey House, 10209 Grand Central Ave., Owings Mills
McCutcheon's Cherry Preserves: Use this old-fashioned chunky cherry spread as a tart topper for any type of cheese. Eddie's of Roland Park, 5113 Roland Ave.
Hex Ferments Beet Pickles: With a hint of ginger, these briny beets provide the tangy crunch you never knew you needed. Hex Ferments, 529 E. Belvedere Ave.
Kinderhook Snacks: Whether you're indulging in bite-size baked cheese stamps or spice-speckled smoked nuts, one handful of Kinderhook will never suffice. Trohv, 921 W. 36th St.
Manor Hill Brewing Grisette: This farmhouse ale out of Ellicott City is
like the love child of wheat beer and
dry white wine. Remington Wine Company, 329 W. 29th St.
Atwater's Local Rye Crackers: These buttery crisps are great on their own but also ideal for all forms of scooping and spreading. 798 Kenilworth Dr., Towson
Trinacria Foods Olives: At this overflowing olive bar, make your own mix of purple, green, and even garlic-covered goodies. Trinacria Foods, 406 N. Paca St. 
Modern Cook Shop Pickles: Ask for a pint of special housemade pickles, like these addictive bread-and-butter chips. Modern Cook Shop, 901 S. Wolfe St.
Rooster & Hen Produce: Round out your basket with juicy local apples. Rooster + Hen, 2302 Frederick Road, Catonsville