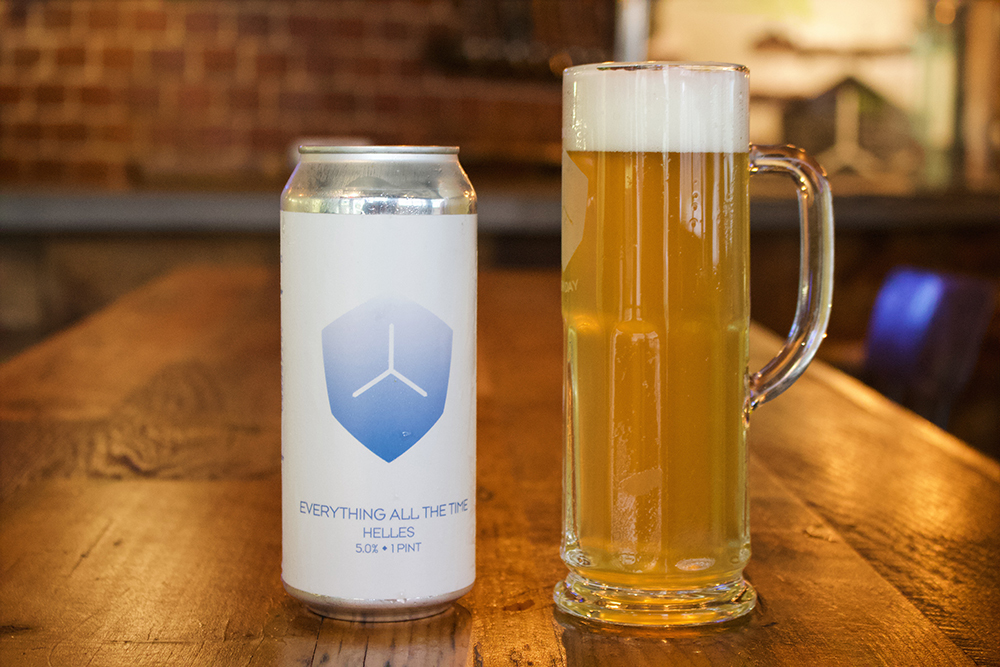 Zachary Kaiser
Usually when the weather gets chilly (or, in this case, becomes a sopping mess), craft breweries get ready to release stronger, more robust beers. We love imperial stouts and flavored porters as much as the next person, but this fall we're seeing a trend towards more session beers—aka lower octane, lighter, more crisp varieties. Lagers, in particular, have become more popular on a national level.
"The world is so saturated with IPAs and hazy beers, which have their place and definitely sell the best, but there's something to be said for lagers," says Colin Marshall, co-owner of Diamondback Brewing Company in Locust Point. "They are crisp and refreshing and you can drink two of them without your head buzzing. You're in it to enjoy the full 16 ounces."
Throughout the fall, Diamondback will be releasing three beers characterized by the style starting this week with Everything All The Time, a pale Helles lager, followed by a Kolsch called Atmospheric Changes, and a Märzen with the appropriately German name Pretzel Logic. Aside from the clean flavor profile, lagers are appealing to Marshall because of their fascinating brewing process.
"We love the maturation time, watching the beer change in the tank, and really learning how the yeast is interacting—how it cleans up from week to week," Marshall explains. "The process really teaches you patience with beer, which is usually very 'go, go, go.'"
All that patience will pay off when Diamondback hosts Stein Day on September 29, a festival where guest will get a 10-ounce glass and three pours with admission. The event will feature all three beers (as well as a pilsner), a traditional polka band, glass blowing from McFadden Art Glass, and German fare from 101 Baltimore.
"The season turn from this triple-digit heat into more of the flannel-sweater weather kind of excites people," Marshall says. "They feel like they can indulge a little more—especially in beer."
No matter what style you favor, light lagers or heavy stouts and everything in between, these local breweries have some exciting new releases (and welcome re-releases) sure to make the transition to fall that much easier.
Flying Dog Brewery: Sunday Best
Brewed especially for the Baltimore Ravens, this light lager clocks in at only 5-percent ABV. The camo-clad can premiered at M&T Bank Stadium this past Sunday and will be available all season long.
Waverly Brewing Company: Batty Noh
Yes, you read that right. This fun-loving brewery located in Waverly is releasing its take on the historically Baltimore beer, but their bohemian-style, lower ABV brew is made with real Maryland corn.
Independent Brewing Company: Your Move Paulie!
As the gold medal winner in the 2018 World Beer Cup German Märzen category, this seasonal beer is one not to miss. The light-bodied lager, with a 6-percent ABV, just got tapped at the Bel Air brewery.
Union Craft Brewing: Balt
This German-style amber ale has become a fall go-to for its clean, dry flavor profile and, new this year, debuted in a 16-ounce tall boy can. (While you're picking up a sixer at the brewery, don't forget about Foxy Red IPA, which has a lighter body and extra wallop of hops this year.)
Monument City Brewing: Roadways
As a part of the brewery's Haven series, to benefit Trash Free Maryland and Blue Water Baltimore, this October release is a double rye IPA inspired by Monument's citrusy and spicy flagship 51 Rye, but clocking in at 8.5-percent ABV.
Black Flag Brewing: Oktoberfest
This Columbia brewery returns with its Oktoberfest party featuring its titular beer that, this year, has a new lager yeast strain but still maintains its crisp, malty flavor profile. Other beers to look out for include pumpkin beer Basic Bee and Crimson Clouds, an upcoming Thanksgiving-themed Sour IPA.
Peabody Heights: Astrodon
This co-op brewery just released a hazy IPA with notes of guava and passionfruit, which is going to be a year-round core beer. The 7-percent ABV is named the Maryland state dinosaur (who knew?) and is available at local bars in the brewery's taproom.
Checkerspot Brewing
Though they haven't picked out a name for this beer quite yet, this newly opened South Baltimore brewery continues on its path of wild ingredients and daring brewing techniques with a Belgian quad they are aging on bourbon-soaked dates and releasing in October. Look out for parties at Barfly's and Wiley Gunter's.
Heavy Seas Beer: Great'er Pumpkin
One of our very favorite pumpkin beers nationwide, this imperial ale is aged in bourbon barrels and clocks in at 10-percent ABV. With notes of cinnamon, allspice, ginger, clove, brown sugar, and vanilla, this very autumnal ale is available now.