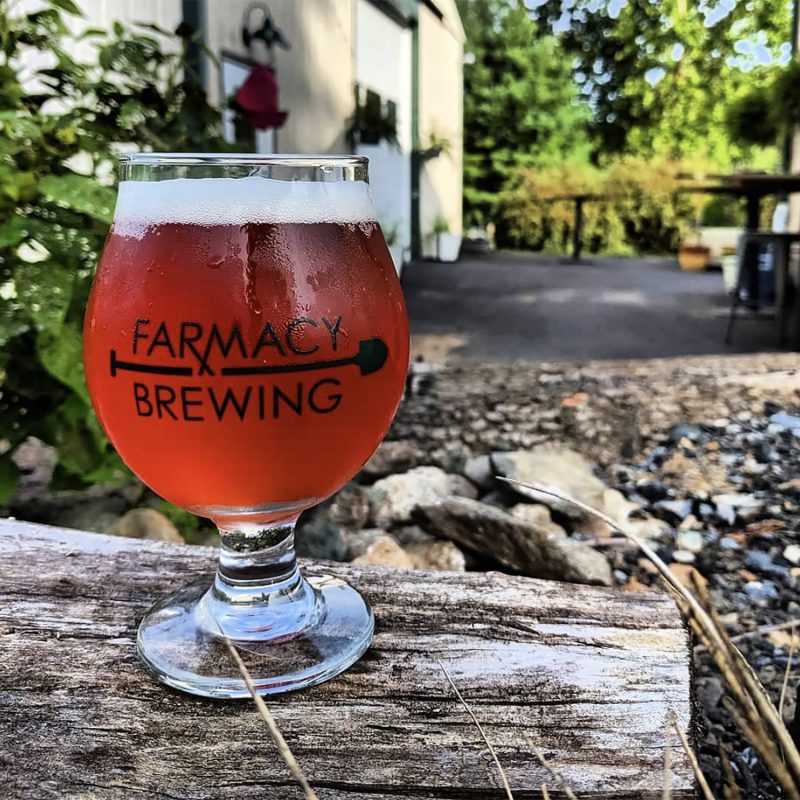 Farmacy Brewing
Tucked away on a horse farm in Reisterstown, just northeast of Butler, Maryland, you'll find rolling hills, acres of crops, and two brothers-in-law with a passion for brewing.
Four years ago, farmer Justin Harrison and pharmacist Craig Bryant combined their skillsets and love of beer to create the cleverly named Farmacy Brewing, which officially made its debut in early September.
The duo was able to make their vision a reality thanks to a 2012 Maryland General Assembly law that created the state's farm brewing license. Since then, nearly 25 farm breweries have opened in Maryland.
After originally conceiving the idea of running their own farm facility, Harrison and Bryant spent the last four years going through the process of obtaining the license, as well as the trial and error that enviably comes with brewing. They also spent time learning from other brewers in Maryland and beyond, including The Brewer's Art, Burley Oak Brewing Co., and Scratch Brewing Co. in Ava, Illinois.
Now that they've finally obtained all of the proper permits, the owners have begun brewing each of their beers with at least one ingredient—from beets and blueberries to ginger and spicebush—that comes directly from the surrounding farm.
"Above and beyond anything else, we've been able to try and capture what the purpose of the [2012] bill was," Harrison says. "Both of us come from farming backgrounds, and we've gone on and developed our skillsets in a different way. Now we've come together and brought the whole package with it. People come here, and hopefully have a great experience, but we also get to teach you a bit about our farming practice."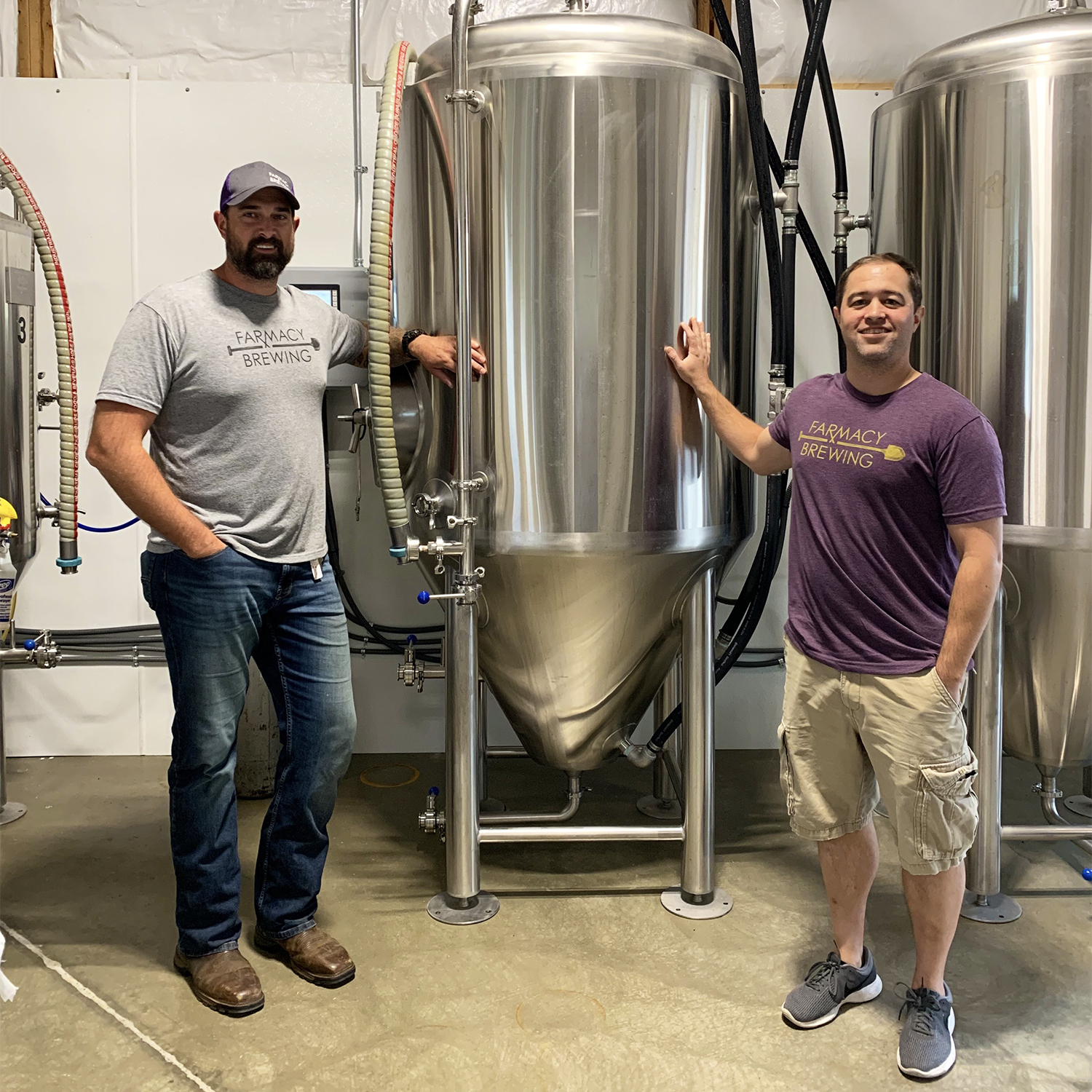 Owners Justin Harrison (left) and Craig Bryant (right) at Farmacy Brewing. —Sarah Kloepple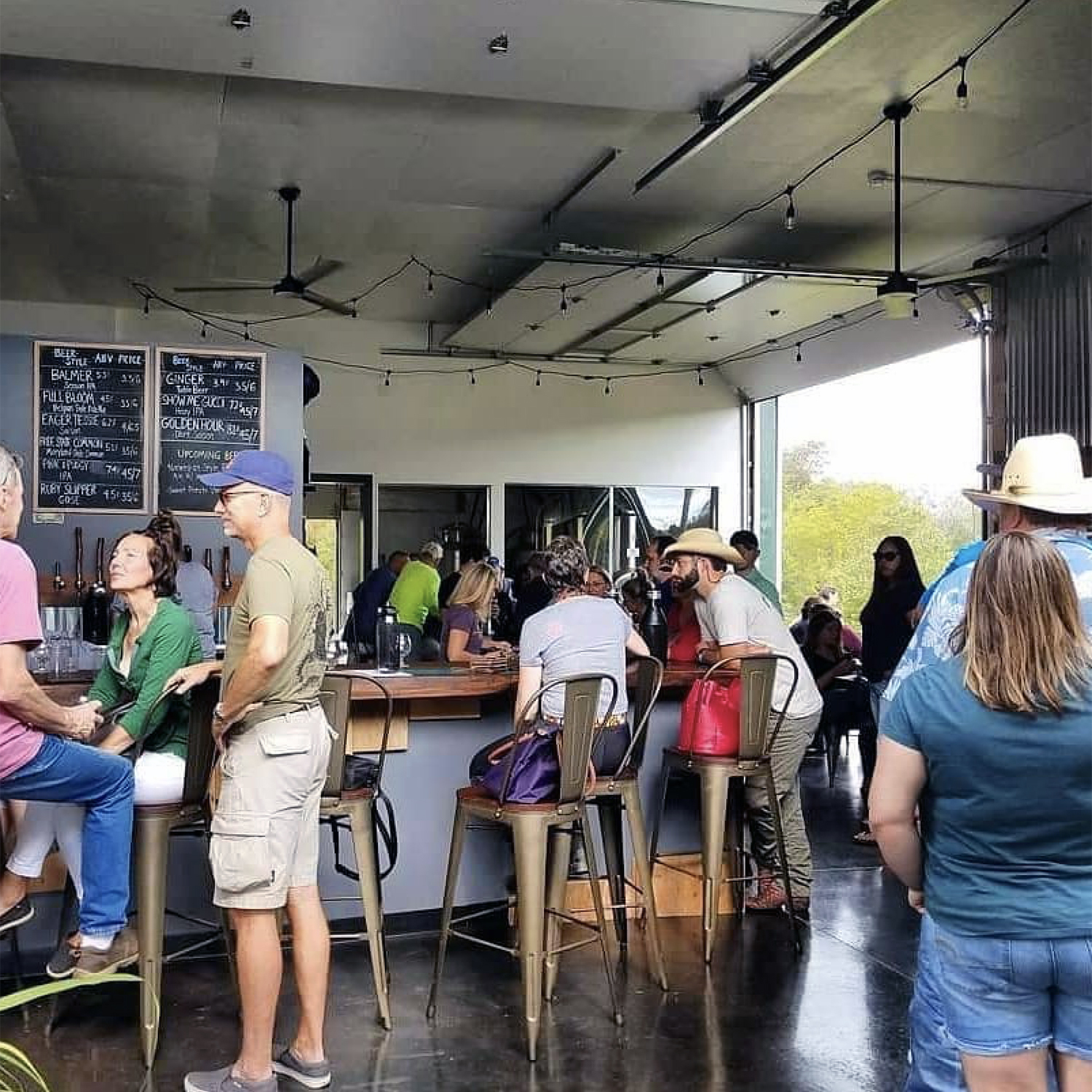 Visitors will likely hear horses in the distance while enjoying a pint in the taproom. —Farmacy Brewing
Farmacy resides on Harrison's family farm, Willowdale, which his grandfather purchased in the 1960s as a hobby farm. "Everyone still had an offsite job," Harrison explains. Years later, his dad, Michael, chose to focus the farm on horses after he went to vet school in Florida and returned to Maryland to begin accumulating brood stock (horses suitable for breeding). He still operates his equine veterinary practice on the grounds.
Now, brewery visitors will likely pass by grazing horses on their way to the taproom, or hear them neigh in the distance through the open barn doors while enjoying a pint. Farmacy's taproom is even located in a former horse barn that has been reconfigured to house the brewery's 3.5-barrel system—from which Bryant and Harrison marry a beer style with Willowdale's bounty.
The draft menu will likely change weekly, but standout releases have included the Show Me Gucci, a juicy IPA with gooseberries and red currants from the fields, as well as the Ginger Table Beer, a light Belgian-style table brew with ginger roots. The owners also recently began pouring their Triple Thai, a triple-hopped, Belgian-style beer made with Thai basil.
"We often brainstorm and think, 'This style would probably go well with this ingredient,'" Bryant says. "For example, Justin has chocolate mint right now, and I thought that'd go well with a stout." Adds Harrison: "A smaller system allows us to brew quickly and have that variety."
That attention to detail, and the surrounding atmosphere of Willowdale, are sure to remind visitors that beer isn't just about manufacturing. (Mid-interview, Harrison and Bryant throw around ideas for their next brews and rave about a certain yeast strain cultured from old Norwegian farm house breweries.)
"Beer is absolutely an agricultural product," Harrison says. "For us here, we've put an exclamation point on it."
When planning a visit to Farmacy, know that a few snacks are sold onsite, but outside food is allowed and encouraged. A few TVs are in the taproom, ready to air Ravens games. Live music, from local guitarists to banjo players, is also booked each weekend through the end of the year. The taproom is now open Fridays from 4 to 8 p.m., Saturdays noon to 8 p.m., and Sundays noon to 6 p.m.
Farmacy is also kid-friendly—it's a family-run brewery, after all.
"I can't believe what we talked about four years ago is now reality," Harrison says. "It's fun when you make something, put everything into it and then pour off a sample pour. But both of us are also competitive, and we're always thinking about what we can do to change the beer to make it better next time. It's that drive that's exciting."