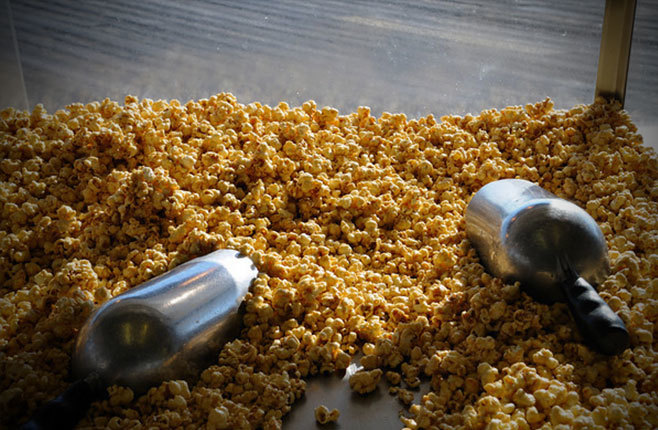 Courtesy of Fisher's Popcorn
As temperatures rise, it's only natural to have sandcastles and salt water on the brain. And if there's one thing all Marylanders know to be true, it's that no trip to Ocean City is complete without bringing back a bucket of Fisher's Popcorn.
"It's something people have come to associate with being at the beach," says Donald Fisher, the company's president and third-generation owner. "People tell me all the time, 'I came all the way down here just to get a tub of popcorn.'"
The beloved salty-sweet snack has long been a favorite of tourists visiting beach towns along the Eastern Shore, but the roots of the operation actually span further north. Fisher's grandfather, the late Everett Fisher, started the business in 1937 after selling popcorn at a shop in Philadelphia.
"As the story goes, the man he was working for went away and my grandfather ran out of product," Fisher shares. "But the other guy never told him the recipe. So my grandfather basically made up his own. And when he tried it, he liked it better than what the other man was selling. So he got himself a partner, came down to Ocean City, and opened up a store here."
Now celebrating its 80-year anniversary, the company has evolved with an array of additional flavors, expanded distribution, and new retail locations along Coastal Highway and beyond. But its top-secret caramel popcorn recipe is one thing that Fisher says has remained untouched: "People can ask me all the questions they want to," he says. "But I give no answers."
In the early '70s, when Fisher first got into the family business at 15 years old, the flagship boardwalk location off of Talbot Street employed five people—two cooks and three workers behind the counter. Now, in order to meet the demand Fisher oversees a staff of more than 60—some of whom have been working at the shop for decades.
Aside from the increase in employees, the flagship has also doubled in size. Back in 2011, the store expanded to take over a vacant tee-shirt shop next door. Fisher says that the upgrade gave the team more space to mass-produce its signature copper kettle batches in flavors including classic caramel with peanuts, white cheddar, cinnamon, and Old Bay.
"We buy kernels by the tractor-trailer load," he adds, estimating that the shop sells more than 78,000 pounds per year. "I've watched people wait 45 minutes in lines across the boardwalk just to get a small box of popcorn. It's pure sugar and appeals to your sweet tooth. There's an addictiveness to it."
These days, Fisher leaves the wholesaling duties to his older sister, Marty Hall, who opened her own shops in Bethany, Rehoboth, and Fenwick Island. But at one point in the '80s, he remembers selling to big-name retail clients.
"One day after we got off work, this kid Scott and I went to Bloomingdale's in Tyson's Corner," Fisher recalls. "We were dressed like we're going to the beach and bouncing through the store with all of the ladies dressed up really nice. We finally found the food display, and I remember standing there going, 'Hell, we made that.'"
Mary Ann Manganello, executive director of the Ocean City Downtown Association, says that that the novelty of the brand is something that surpasses generations.
"'Which way is Fisher's Popcorn?' is one of our most asked questions," says Manganello, who has worked the information booth on the boardwalk for several years. "It's kind of a landmark. So much of the boardwalk has changed around it, but it's still where it has always been."
As the company continues to thrive, Fisher is vowing to maintain the mom-and-pop shop legacy that his grandfather began 80 years ago. He says that his children—ages 11, 13, and 15—have already started to take interest in the family affair.
"When I was growing up, everybody figured I was going to be in the business," he says. "And I got tired of it and actually tried working at other places. I wanted to see what the rest of the world was like. But I ended up coming back. As it turns out, being in the popcorn business aint so bad."