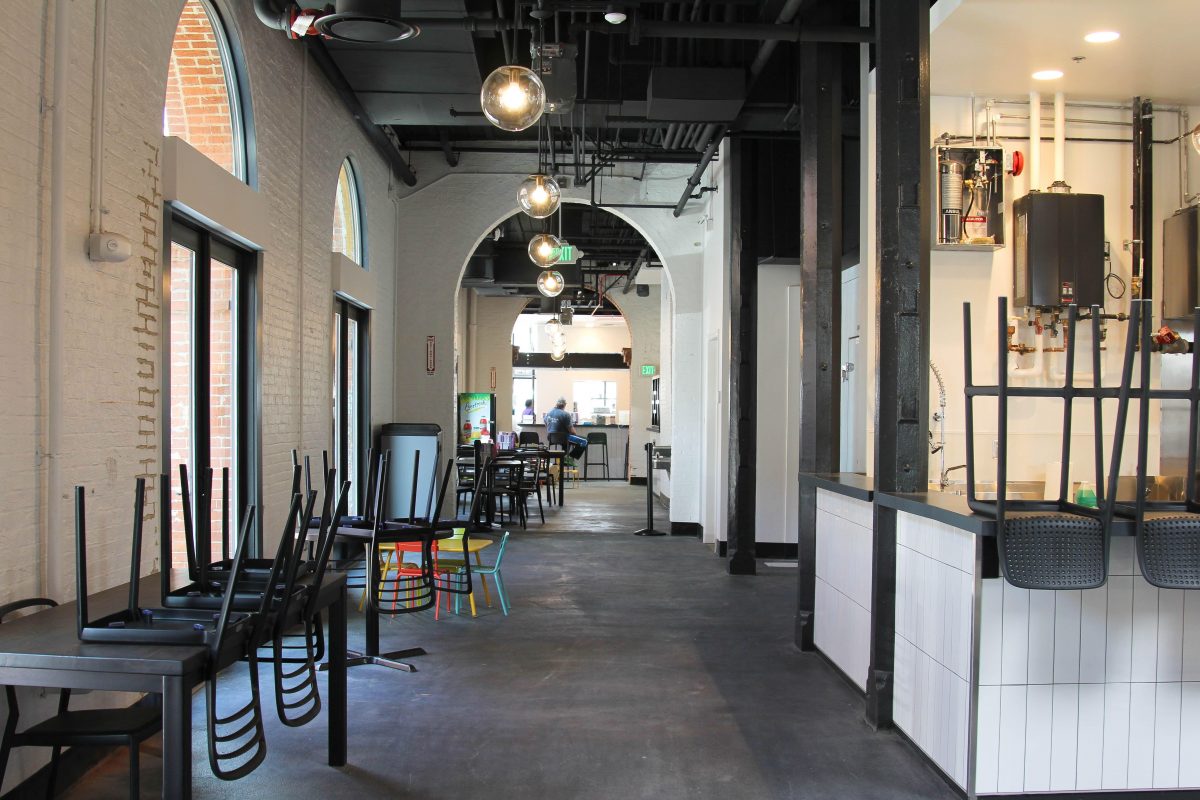 Meredith Herzing
In only a few short months, construction crews have managed to transform the north shed of Broadway Market in Fells Point from a property full of rubble to a bonafide dining destination housing nine local food concepts.
"People like seeing Baltimore City do something meaningful with market spaces," says Phil Han, the owner of a Dooby's in Mt. Vernon who is opening two stalls inside the market. "They did a really good job, too. It's not like they were Band-Aiding or patching up little things. They really found the funding to do something large here, and in a really fast time frame."
Thanks to Baltimore Public Markets and a team including Development Solutions and PI.KL Studio, the 233-year-old community hub—the city's oldest existing public market—now boasts a black-and-white aesthetic, more than 100 seats, and a huge outdoor patio in the middle of the square. As stalls begin to open for business (three are expected to be up and running by next week), here are a few things to note.
Vikki's Fells Point Deli reopens today.
Leading the wave of food concepts making their debut inside the space is veteran vendor Vikki's Fells Point Deli, a Broadway Market staple since 1983. The beloved breakfast- and-lunch spot officially reopened Tuesday morning at 7 a.m., serving a limited soft-opening menu of its classic diner fare.
"I went from 760 square feet to 320," owner Vikki Powers said while organizing her stall on Monday afternoon. "So this is going to be an adjustment. We're probably not going to have the full menu up and running until next week, but we're trying to get the most important things nailed down."
One of the most important components of Vikki's signature sandwiches and breakfast platters is bacon. As the smell of the frying strips permeated throughout the space, Powers broke down the numbers: "We go through about 30 pounds per day," she said. "So we'll prep 15 today and do 15 tomorrow."
The vendor lineup is meant to be a mix of old and new.
Neighborhood regulars will recognize other returning vendors such as Sophia's Place European Deli, expected to start offering soups and sandwiches by Friday, and Sal's Seafood, which is slated to serve its first ceviche by early next week.
The veteran stalls are stationed toward the Aliceanna Street entrance, while the new spots are situated on the opposite side of the building. Among them are farmers' market favorite Thai Street, Hampden-based Indian restaurant The Verandah, Lexington Market mainstay Connie's Chicken & Waffles, social justice-driven creamery Taharka Bros., and Old Boy—Han's authentic Korean concept whose kitchen will be headed up by Irvin Seo of the Haenyo pop-up. All of the new concepts are hoping to debut next month.
"It kind of feels like Grand Central Market in Los Angeles," Han says. "You have the old-school vendors, and then you have some of the new guys coming in and adding this nice balance in the space."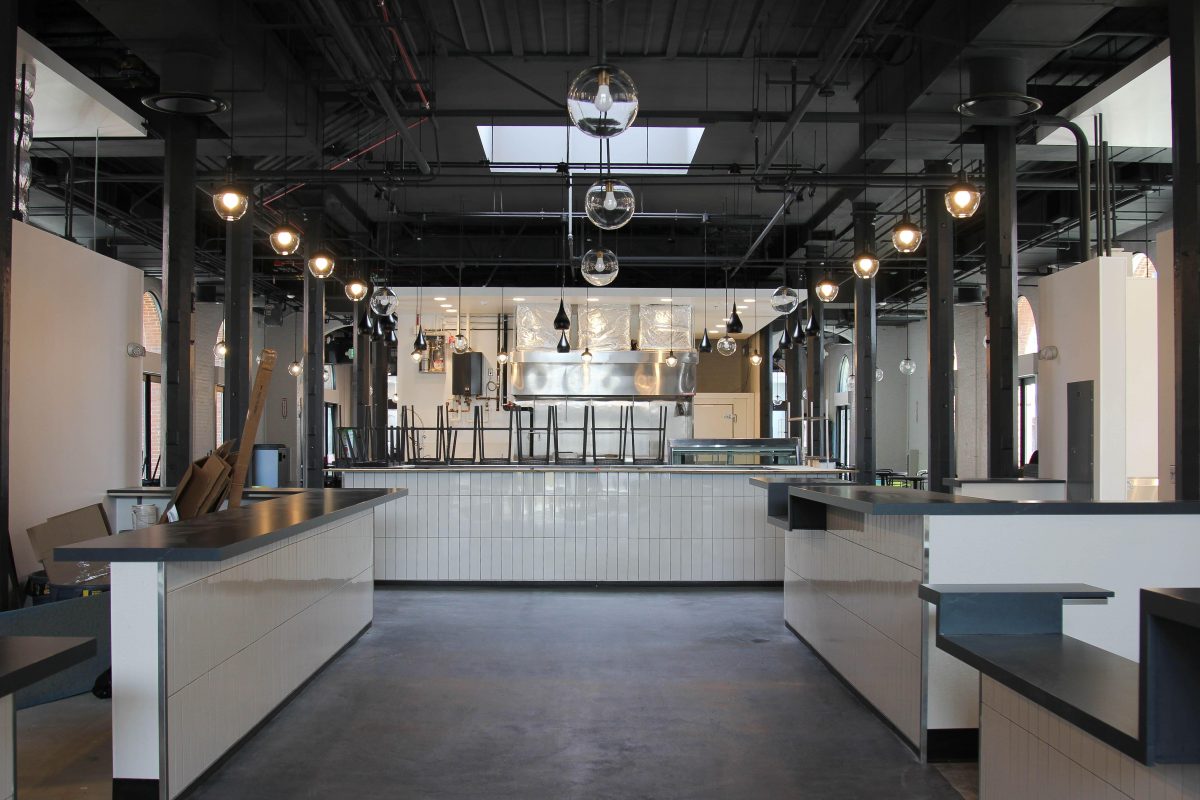 The all-day bar program will be called Fat Tiger.
Beneath a gleaming skylight in the center of the market is Fat Tiger, Han's all-day bar concept that sits directly across from Old Boy so that the two can share a kitchen.
"I wanted to incorporate a tiger in some capacity," Han says of the name. "It was the '88 summer olympic mascot for Korea, and the tiger is also my Chinese Year sign. We just wanted it to be playful—the idea of a fat tiger isn't so serious."
The centerpiece bar will open at 8 a.m. daily, offering cappuccinos, lattes, a New American-inspired weekend brunch menu, and pastries supplied by the Dooby's team. (Han says that Sundays, his short-lived doughnut pop-up at Cross Street Market, could make a return at Fat Tiger.) There will also be a full menu of beer, wine, and cocktails served all day.
"Fells Point already has a very rich and dynamic bar community," Han says. "So this is supposed to be more of an amenity bar. If you want that mimosa or Bloody Mary, or if you want to extend your evening and have a nicer cocktail, you can do that with us."
As temperatures warm up this summer, Han is looking forward to launching a El Tigre—a tiki-inspired play on the Fat Tiger concept that will expand bar service outside to the market's patio. Though the plan is still in flux, he is toying with the idea of using a shipping container as a homebase for the outdoor bar.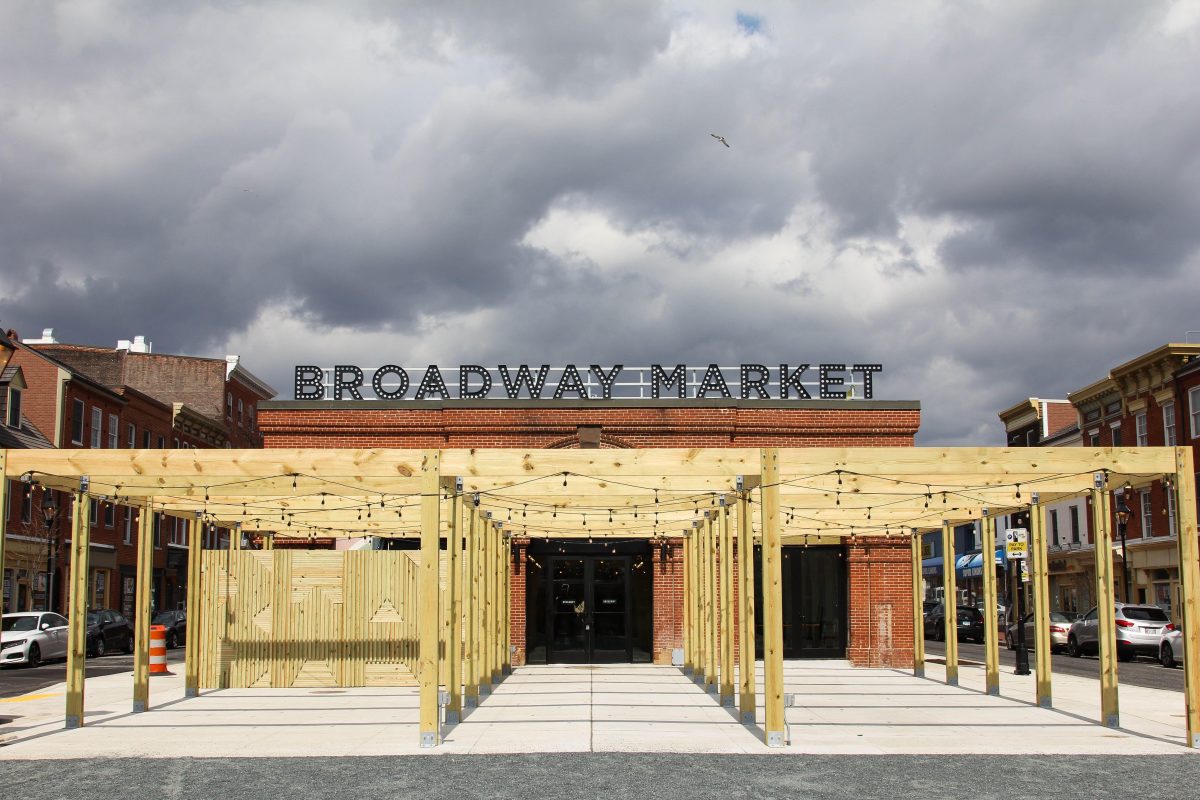 The outdoor patio will be pet-friendly.
Yet another perk of the outdoor space is that it will welcome leashed pets: "We want the residents around Upper Fells, Fells Point, and Patterson Park to make this a destination when they're out walking," says Stacey Pack, project manager for Baltimore Public Markets. "We're also near so many hotels that are pet-friendly, so when folks travel, it's nice to have the ability to take your animal for a walk and stop to get some coffee and food."
Aside from water bowls for dogs, the patio will also feature a wooden awning with strung lights, nearly 60 bistro chairs, and six massive communal tables crafted by Station North makerspace Open Works.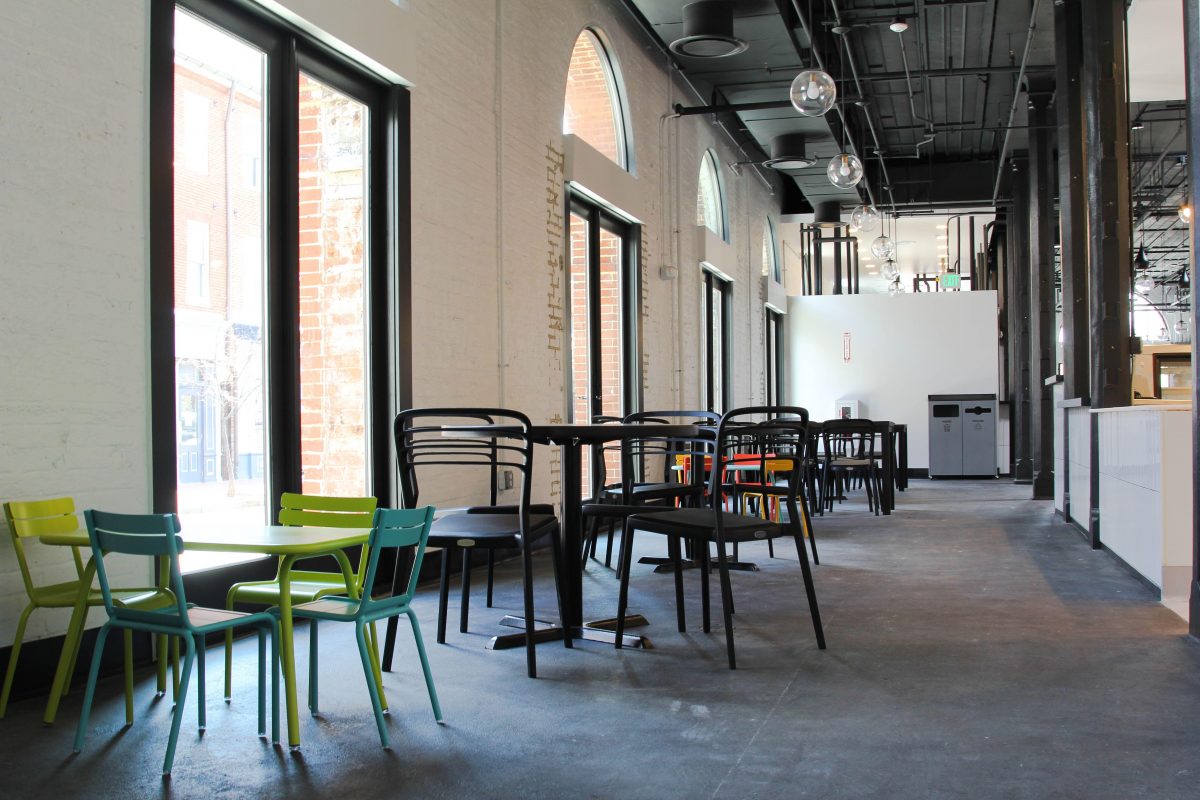 The building's original architecture was preserved in the design.
A hyper-local design team including Sandtown Millworks, Plano-Coudon Construction, Gruver Studios, Goodwood Design, and PI.KL Studio helped to execute the final product, which enhances structural features while adding more modern white tile, black furniture, and hanging lights.
The building's original interior archways have been preserved, and the arches above the floor-to-ceiling windows—which were previously filled in throughout the '70s and '80s—have been restored to their former glory.
With roots dating back to the early 1900s, the building had been vacant for a nearly a decade before construction began last year: "To be able to breathe life into the space and activate it fully is really nice," Pack says, "especially after it had been sitting vacant for so long."
The previous Broadway Market vendors operated inside the market's south shed, which is now being transformed into The Choptank restaurant from Atlas Restaurant Group. Han feels that all of the development adds to the overall vibrancy of the neighborhood.
"I think everyone's excited," he says. "Fells Point has historically done well as being this charming neighborhood by the water, so the more it can do to bring people to this area is a huge plus."