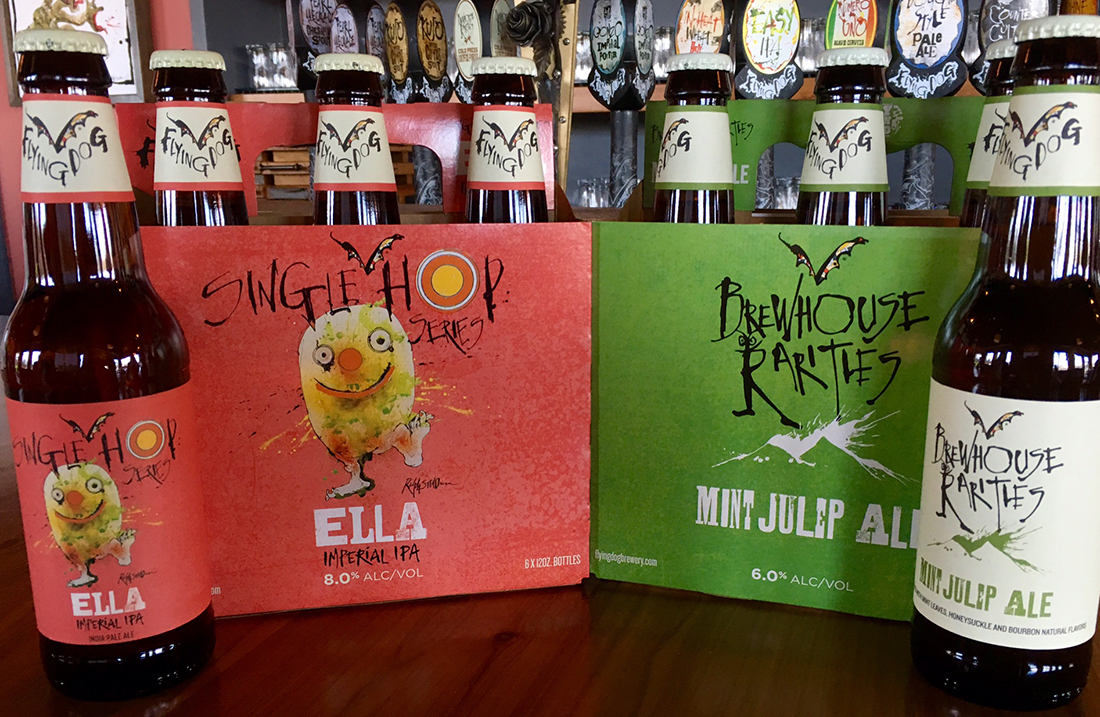 Photography by Jess Mayhugh
Hard to believe, but Maryland's largest brewery, Flying Dog, is celebrating its 25th anniversary this year. The milestone may surprise some, since it's only been on the East Coast for nine years, but started in its native state of Colorado back in 1990.
"This is really the coming of age of Flying Dog," says CEO Jim Caruso. "We had our youth in Aspen as a brewpub, then our adolescence in Denver, and are now experiencing our adulthood in Maryland."
As Caruso mentioned, the brewery had humble beginnings, first opening as a brewpub by George Stranahan in tiny Wood Creek, CO, just outside of Aspen. It was one of the first brewpubs to open in the region (which is now dominated by the craft-beer industry). In fact, at the time, there were only about 100 microbreweries in the country, compared to nearly 5,000 now.
"I like to joke that we've always been in the top 50, even when that didn't mean a whole lot," he laughs.
In 1994, the brewpub, with its flagship Doggy Style Pale Ale and chaotic label art by Stranahan's friend Ralph Steadman, outgrew its space and moved to a 50-barrel brewery in Denver. After a decade, the international demand for the beer grew so much that the company decided its best move was to head to the East Coast.
"It just made sense for us. There's an urban throb to the East Coast that really goes with the Flying Dog spirit," Caruso says. "And we have loved Maryland. We were one of the first breweries to go an inch wide and mile deep—meaning we really established deep roots here and made connections with local partners."
Today, Flying Dog's facility has a 100,000-barrel capacity and is, by far, the largest beer producer in the state.
"We love Maryland drinkers," Caruso says. "You guys drink a lot and are always willing to try the next thing, whether that's an obscure series or a cask ale."
In fact, Flying Dog became the first brewery in the country to have cask-conditioned ales inside an MLB stadium when it introduced Firkin Fridays at Camden Yards in 2012, a series continuing this season. The brewery will be hosting an opening day party this Monday, April 4, outside of the Hilton Hotel and its brews, including Dead Rise Old Bay and Bloodline Blood Orange, can be found on tap throughout the stadium.
Additionally, the brewery has come out with a few new releases this spring including Tropical Bitch, a spin on their Raging Bitch Belgian-style IPA with additional tropical fruit aromas and flavors. Being released today are the Mint Julep Ale with honey, mint, and lemon and the Ella, an imperial IPA with flavors of stone fruit. All will be available in Baltimore in the coming weeks.
There's also its continued events, like summer concert series (which will host The Violent Femmes on June 25) and Flying Dog University, where beer lovers can take classes on the science and flavor behind their favorite brews.
"We like not being boring," Caruso says. "Anything we can do to poke holes in that box and think of ways to get outside of it, we will."