Former Garage Owners Now Operate Chessie's Food Works in Stevenson
How the duo went from preparing for retirement to slinging some of the most celebrated lobster rolls in town.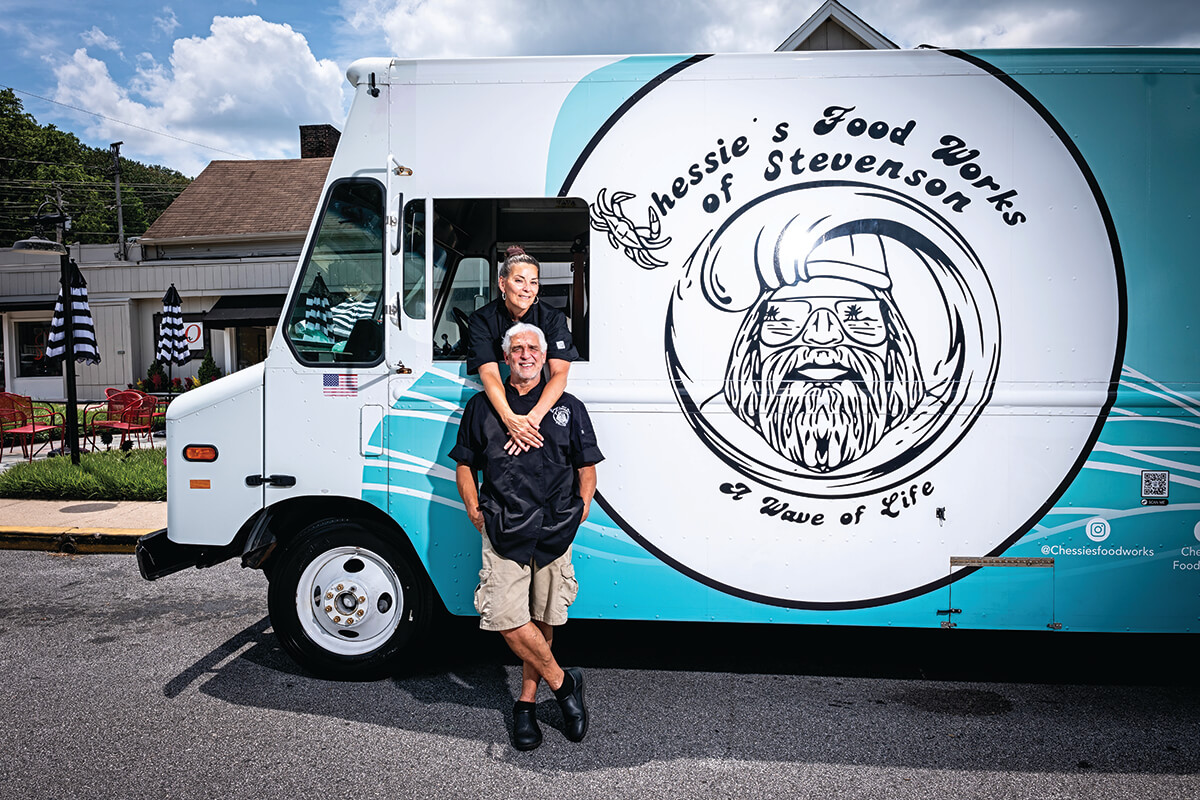 Just as the pandemic was hitting in early March of 2020, Trae Fackler III and Laura Duirk were preparing for retirement. They had sold their garage, Timonium Auto Specialists in Hunt Valley (the shop moved from Timonium to Hunt Valley and never changed its name), and were headed to Myrtle Beach, South Carolina to begin their next chapter.
"We had a contract on our house and were literally boarding the plane at BWI to retirement when my cell phone rang," recalls Duirk. "It was our real-estate attorney and he said, 'Laura, you'd better sit down for this. The buyer of the business rescinded their offer.' Then COVID really hit."
While the pandemic worsened, the couple tried to figure out how to salvage their life plan. Back in Baltimore, Fackler came up with the idea of opening a food truck. At the time, Duirk was in something of a state of shock.
"It was Memorial Day, and we were sitting on our deck drinking some wine, when Trae came up with the idea of starting a food truck business," recalls Duirk. "We've been through some journeys together, but when the food truck idea came about, at first, I was like 'After 29 years, you want to think about another business in the middle of COVID?' Then I thought, 'Oh, what the hell—let's just drink.'"
From his standpoint, Fackler calls the idea, "a matter of survival."
"People stopped driving during COVID, which made garages obsolete, and we were determined not to be a statistic," he says. "So, we sidestepped from one fire into another."
Out of the fire into the proverbial frying pan, or in this case, into Chessie's Food Works, a truck parked in the Stevenson Village parking lot. Though the couple had only a bit of experience, they became quick studies, buying a Workhorse truck, building it out to serve customers, and emblazoning the vehicle with the image of a wooden sculpture of a man they have in their house.
"It's a statue made out of a wood log," says Fackler, laughing. "We call him Cheech. We bought him on the side of the road in Rehoboth. I describe him as a 65-year-old man who lives on the beach and is a burnout and likes to eat good food and surf. Everyone thinks it's me."
Because they needed a commissary to prepare the food to comply with state laws, they took over the former Stone Mill Bakery Café space in Stevenson Village, where they now also do a brisk takeout business. They hired former executive chef from Pier 5 Hotel Robert Simon to do the cooking and menu planning and settled on a seafood concept including items like Maine lobster rolls, jumbo-lump crab cakes, and shrimp salad. Other inventive items include a surf and turf Lobster Smash (two beef patties topped by lobster on a brioche roll), as well as lighter fare such as yogurt parfaits and avocado toast.
"We thought the crab cakes would be our signature, but, boy, were we wrong," says Fackler. "The lobster roll has taken off! We have people who come here who are from Maine and they say, 'You know what? We found it! It's as good as we get at home.'"