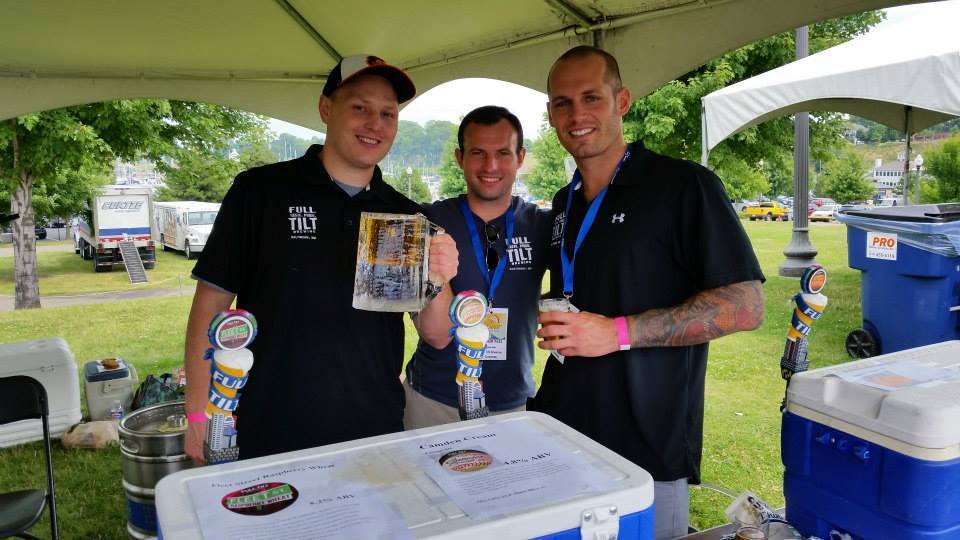 Courtesy of Full Tilt Brewing
Throughout their three-year search for a new space, the owners of Full Tilt Brewing came across a few promising properties in Towson, but were unsure if the college-town demographic would fit their brand.
As it turns out, participating in WTMD's second annual Brews & Bands festival off of the Towson Circle last April gave the owners the reassurance they needed.
"There were people in their mid-20s and people in their 50s all hanging out, having a good time, enjoying craft beer," says co-owner Nick Fertig. "Those are the types of people we're looking for. It was pretty comforting and encouraging."
Full Tilt, which currently contracts out of incubator Peabody Heights Brewing, recently signed a letter of intent to open a brewpub in the 89-year-old former police station that sits at 308 Washington Ave., behind the Baltimore County Circuit Courthouse in Towson.
Fertig—who co-owns the brewery with his cousin Dan Baumiller, a Towson University grad himself—says that, though the 10,000-square-foot building was most recently office space, its brick archways and abundance of windows made it an ideal choice.
"Once you start tearing down the walls in your mind, it's such a unique spot," he adds.
The overall vision is for the brewpub to be a laid-back destination for locals to listen to vinyl and pair craft beer flights with small plates of upscale bar fare from a rotating menu. The two-story space will feature a communal bar and glass-walled brewing area on the first floor, and a second bar with more sit-down seating upstairs. Fertig says he hopes to utilize the second floor for private events, and offer group tours of the brewing facility in the basement.
Though Full Tilt will continue to contract out of Peabody Heights for production and distribution, the owners are excited to use the brewpub to test new recipes on a smaller scale. With upwards of 20 draft lines, the new spot will offer plenty of room for experimentation.
"One fun thing I've always really wanted to do is take our core brands and fully tilt them," Fertig says. "It's basically using the same beer but tweaking it using more hops and grains to give it a higher alcohol content. We did it one time [with our pale ale], but it's hard to keep doing in huge batches."
On top of showcasing its own releases—including the Hops the Cat India Pale Ale, Patterson Pumpkin Imperial Ale, and Berger Cookie Chocolate Stout—the bar will also feature a number of other local meads, ciders, and whiskeys.
The owners have secured a bank loan to cover a portion of the cost of the build-out, and are hosting a walk-through presentation for other private equity investors on October 13. If all goes well with fundraising, the goal is for renovations to begin by the end of November and wrap up by July.
Looking ahead, Fertig hopes that opening the brewpub will be a stepping stone for Full Tilt to eventually operate its own warehouse facility. He says that the business, which started as a home-brewing experiment in Baumiller's garage in 2008, wouldn't have gotten off the ground if it weren't for Peabody Heights.
"We're still going to maintain that Baltimore presence," he says. "But one of the biggest struggles that we've had over the past few years with all of these other brewers popping up is that it makes it harder for us to stay relevant. We don't have our home. We want this to be the place where people can come and connect with us."