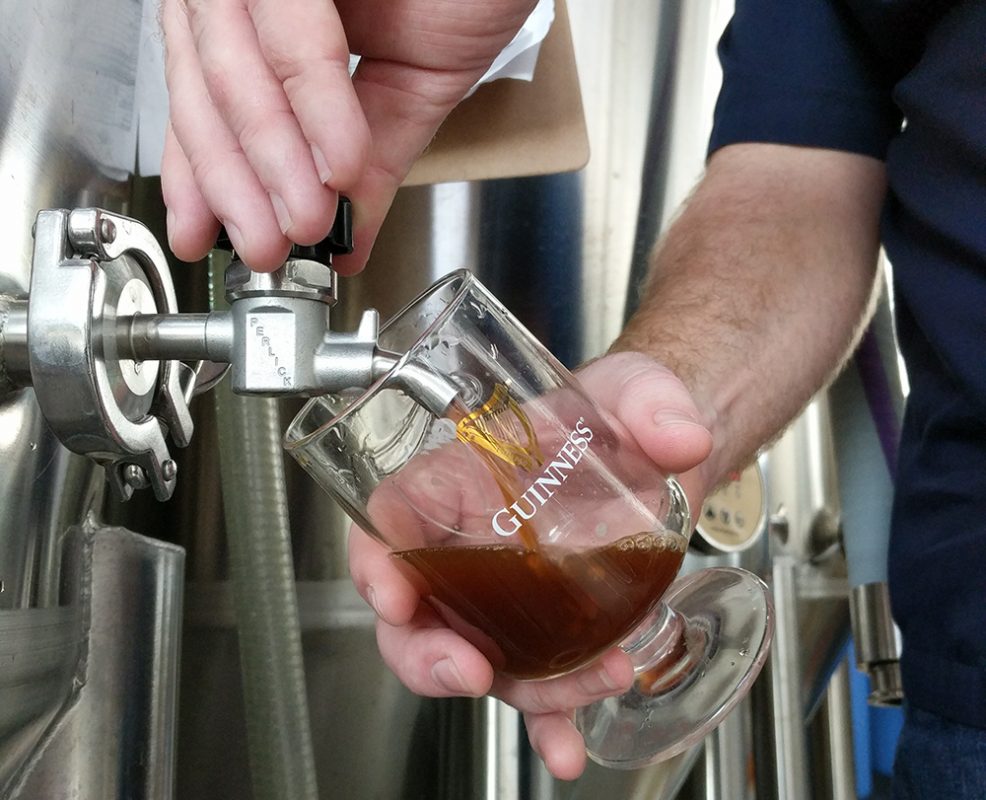 Guinness
While the new Guinness brewery near Halethorpe gears up for its big opening in spring 2018, its brewers have been busy. Peter Wiens and Hollie Stephenson have been pumping out golden ales, IPAs, and rye pale ales that guests can enjoy in the brewery's test taproom—and their latest creation involves a spot just down the street.
Guinness collaborated with Heavy Seas Beer on two releases that are debuting today. Though both are technically Belgian golden ales, the Guinness is a dark strong ale with notes of banana while Heavy Seas brewed a massively dry-hopped golden. The two brewed each on their own sites, which are just a mile apart.
"Even before I came on board with Guinness, I had been to Heavy Seas and chatted with [brewmaster] Chris Leonard," says Wiens. "With them being so close, it was a natural fit—quick and easy. We wanted to do something unique and have a home and away collaboration."
Alluding to the breweries' close proximity, as well as a James Joyce quote from Ulysses, the two beers are called "The Longest Way Round" and "The Shortest Way Home." The former will be tapped today at 3:30 p.m. at the Guinness brewery and the other at 5 p.m. at Heavy Seas. 
Wiens says this collaboration will be the first of many, both locally and nationally, for the Guinness brewery. The Belgian style, which is different for Guinness, is also indicative of the creative styles and outside-of-the-box flavors to come.
"It seems like I have a new favorite every week," Wiens says of the creations coming out of their two-barrel brewhouse right now. "Hollie just did a hazy IPA with a great pineapple aroma and there's been a rye pale ale with some nice maltiness to it. They're all a little bit different."
He says the Guinness team has been ingratiating itself into the Maryland beer scene, working with local malthouses and attending craft beer festivals to get to know the community. Though he's admittedly not a huge fan of shellfish (we'll see how long that lasts), Wiens has been impressed with the Baltimore food scene and just how much people appreciate local.
"I went to a beer festival in Sykesville and was pleasantly surprised how many people came out in a little town like that," he says. "The local folks here have been great."