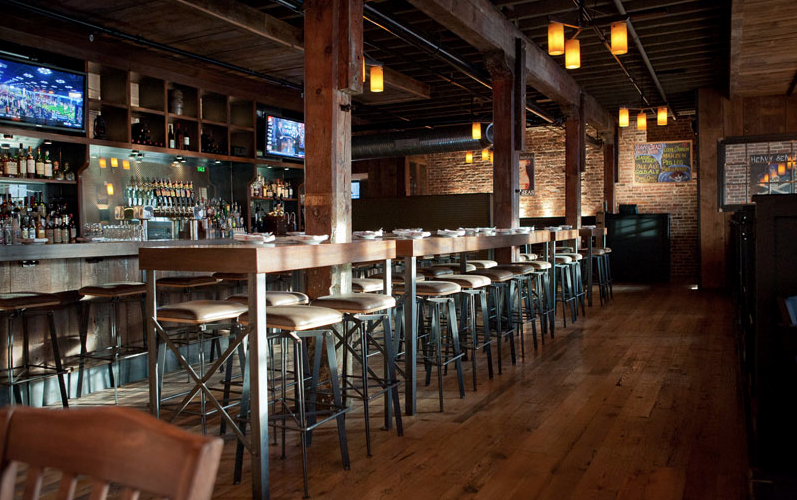 Courtesy of Heavy Seas Alehouse
Hard to believe, but it was three years ago when we first reported that Heavy Seas Beer was opening a bar near Little Italy and Harbor East. Beer titan Hugh Sisson tasked his stepson to open a space that would heavily feature Heavy Seas brews and an innovative menu in the former Holland Tack Factory, which also houses Mustang Alley's, Piedegrotta Bakery, and My Thai.
And the formula seems to have worked. Not only has Heavy Seas Alehouse hung on to the same chef this whole time (a real feat), but it also opened up another location in Arlington, VA, last year. A lot of success lies in executive chef Matt Seeber, who came from Tom Colicchio's Craftsteak restaurant in Las Vegas and invents stellar dishes infused with Heavy Seas beer (like Loose Cannon-battered fish and chips.) There's also the creative cocktails, like an H.S. Manhattan with an imperial stout-liqueur.
To celebrate the anniversary, the alehouse is hosting a party tomorrow from 1 to 4 p.m., where guests can enjoy free appetizers like crab poutine, sausage sliders, grilled flatbreads, and avocado crostinis. Every guest will get a free pint glass and one draft beer, with favorites like Gold Ale, Power Monkey, and Loose Cannon on tap.
Sisson will also be in attendance, from 1-3 p.m., when the bar will tap firkins of Black Cannon and Red Sky at Night, and possibly a keg of its new Scottish ale Desert Island.
"We originally intended to do a ticketed event," says general manager Carlos Lopez. "But we decided to drop the charge and make it free. This is a nice milestone, so we just want everyone to come, have a good time, and enjoy the exciting beers we've been keeping in our cellar."