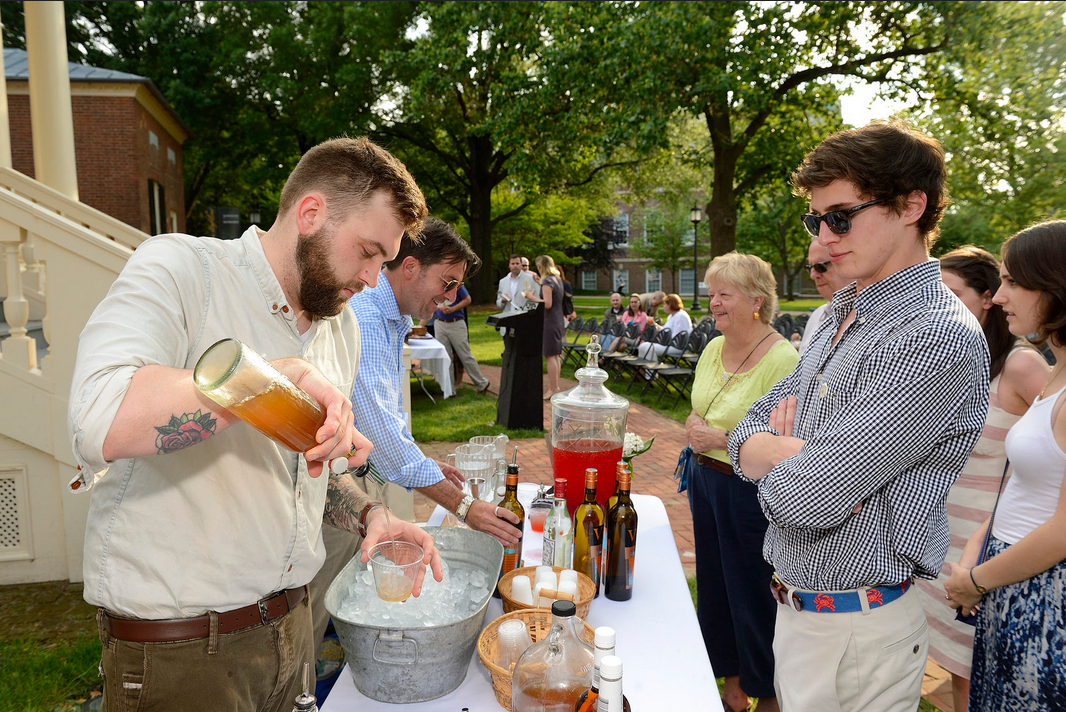 Courtesy of Johns Hopkins Museums
Twenty years ago, the curators at Johns Hopkins University's Homewood Museum were inspired by James Gabler's Passion: The Wines and Travels of Thomas Jefferson—a newly released book that delved into the former president's fascination with international libations.
The book was the catalyst for the museum's first-ever Evening of Traditional Beverages—an educational event that explores the history behind classic cocktails.
"It was a way for my predecessors to integrate a different interpretive element to Homewood," says Catherine Rogers Arthur, director and curator of Homewood Museum since 1997. "Between the book and the exploration of the alcoholism of [museum founder] Charles Carroll Jr., who died at the age of 50, they began looking at the popularity of beverages consumed in early America and used that as a stepping off point to do some more modern things at the museum."
In previous years, the event has taught attendees about everything from ales and ciders to bourbon and shrub cocktails. This time around, Homewood's 20th annual celebration on Thursday, May 19 at 6 p.m. will focus on one of the oldest beverages around—tea.
"Tea obviously figures pretty prominently in American history, and similarly in Maryland history," Arthur says. "Herbal teas show up in early 19th-century recipe books as a medicinal cure for the common cold, and we've found it mentioned in old newspapers where Baltimore merchants would advertise what they had imported."
The museum has habitually partnered with the team from Woodberry Kitchen to host the reception, ever since Arthur met restaurateur Spike Gjerde five years ago at a class that he was teaching on the history of Baltimore's food scene.
Woodberry's beverage and bar manager Corey Polyoka has once again created a cocktail menu that reflects the evening's theme, which will include a "welcome punch" fusing Madeira wine and Bohea black tea; a spicy and fruity concoction mixing dried peach tea, turmeric leaves, and Baltimore Whiskey Company's Shot Tower Gin; and a riff on a mint julep with dried mint and lavender blended with recently released Sagamore Spirit Rye. Light bites—such as deviled eggs, crudité, and (naturally) tea sandwiches—catered by Woodberry Kitchen will also be featured.
"Corey is always running with a lot of wildly creative ideas, but he's also so open to the historical element," Arthur says. "Who would have thought that late 1700s newspapers could be the spark of a cocktail?"
In keeping with Woodberry's sustainable mantra, Polyoka says that his recipes are not only inspired by the history of the drinks themselves, but also by the availability of locally sourced ingredients—such as mint from Moon Valley Farm in Cockeysville and the local spirits.
"It's interesting to make the connection to what life and food were like back then," he says. "Catherine always provides incredible research, pulling up articles and port records, and it's a great spark for us to look within the food system to find regional ingredients that could be used in a traditional beverage."
The museum, which was built in 1801 and boasts a collection of historic Baltimore arts and furniture, will be open for the public to tour before brief remarks by Arthur and Polyoka begin on the lawn at 6:15 p.m. Arthur says that she's excited to see regulars who frequent the event each year, while also educating newcomers about Homewood's mission.
"A huge part of its appeal is that it's a quick study course," she says. "People leave having had a good time, but also with tons of information to share so that they can be a cocktail party conversationalist."